It was a packed room to hear District 6 School Board Member Marcia Andrews at Wellington's Total Wine & More on Monday.
The Common Core Standards are an attempt to unify K-12 education across the nation around a set of grade-specific core skills, ostensibly aimed at raising the worldwide competitiveness of American students. Unfortunately, the devil is in the details, and much anecdotal evidence has surfaced that when the standards are translated into curricula, they represent a "fundamental transformation" that many would argue is not needed or wanted.
Implementation of the standards in Florida was mandated by then Governor Charlie Crist in 2010 and has been rolled out in kindergarten and first grade, with movement to the higher grades about to begin. As they roll out, opposition has been growing across the state, prompting Governor Scott to reject the assessment part of the program called PARCC (Partnership for Assessment of Readiness of College and Careers), leaving open the question of how assessment in the state will proceed. This, and the move to slow things down while the debate continues, shared by Ms. Andrews and others on the School Board and in the state-wide Florida School Board Association, has the possibility to create chaos in K-12 education as teachers are trained, materials are adopted and the rollout continues in the face of a groundswell of opposition.
Ms. Andrews and District Director of Secondary Education Diana Feldman gave the group an overview of history and plans for Common Core in Florida, and fielded many questions from the floor regarding required reading lists, data collection on students, the autonomy of local teachers to shape the curriculum in their classroom, and other hot-button issues.
Although few who have formed positions regarding Common Core would have been swayed by the session, it was informative and gave us the impression that the School Board is listening.
Last evening, the Jupiter chapter hosted a presentation by Phyliss Frey of the American Coalition 4 Property Rights, on the regional planning protocol known as "Seven50″.
Background: The title stands for "Seven Counties, 50 Years", and is a work product in the area of "Regional Plans for Sustainable Development", funded by a $4.6M HUD grant in 2010. A consortium, the developers of Seven50 formed the "South Florida Regional Partnership" to help create, support and implement the plan. Participants include local governments and NGOs (Non-Governmental Organizations) through membership in the Treasure Coast Regional Planning Council (TCRPC) and the South Florida RPC. The plan attempts to address how to manage an expected 50% growth in population (from 6M to 9M) in the seven target counties of Indian River, St. Lucie, Martin, Palm Beach, Broward, Miami-Dade, and Monroe. They have analyzed housing density, mass transit, diversity, planning and zoning and other regional attributes. The underlying assumption is a future of global climate change and rising sea levels, scarcity of energy and water, and challenges to "food security" among other things. The group's proposals are considered advisory by many of the city and county jurisdictions that indirectly support it. Their work product can be viewed at seven50.org
Our guest speaker is a leader in the movement to challenge this planning protocol, and along with others associated with the American Coalition 4 Property Rights and many tea party activists, sees regional planning consortiums (they are all over the country, spurred on by HUD grants) as a threat to our way of life.
In her presentation, Ms. Frey used several very professional videos to make the case that the Seven50 plan would move us toward "stack 'em and pack 'em" high rise dwellings, the end of the suburbs, clusters of development along rail routes and elimination of local and county planning and zoning authority in favor of super-regional control.
Going back to the origins of "Sustainable Development" starting with the UN "Agenda 21″, she profiled the federal government's role in implementation, starting with an executive order by George H. W. Bush, and expansion through every administration since. The Obama team has ratcheted it up a notch, using the EPA (Environmental Protection Agency) and HUD (Dept. of Housing and Urban Development) to promulgate a set of rules that require "neighborhood diversity" defined racially rather than economically, limits on resource use, and strings attached to federal grants flowing to local communities.
A test case and clear warning bell is provided by Westchester County, NY. A video of County Executive Rob Astorino, describing the federal lawsuits that county is struggling with, and his vow to fight back against federal overreach was a most compelling argument.
Invited to the meeting to hear the "other" side of the issue were our district 1 county commissioner Hal Valeche, Mayor Bert Premuroso and Councilman Joe Russo of Palm Beach Gardens. After the speaker made the point several times that MOUs ("Memorandums Of Understanding") executed by local commissions and councils have limited their defense against the attacks on the local planning and zoning autonomy, Commissioner Valeche thought he needed to set the record straight. Taking the microphone to explain that the PBC commission is not constrained by Seven50 or the TCRPC, but look to groups like that as consultants and advisors. Some issues really need a regional perspective he said – like inter-county rail projects or large developments near county borders. He used the example of Avenir – the proposed development for the Vavrus Ranch in Palm Beach Gardens, as an example where TCRPC is being asked to help by collecting input from the region's residents about such a large development in the western county.
Gardens councilman Joe Russo expanded on that, and explained that regional planning really did have a hand in developments like Abacoa, but state law has changed and it is now local rules that prevail. The Avenir development will be a decision for the Gardens Council, not the TCRPC.
Both Valeche and Russo left us with the impression that these kind of radical proposals as discussed by the speaker can happen, but only if we (and our local elected officials) let it.
At this point the meeting had become a "Town Hall" with both Hal and Phyliss taking questions from the audience.
Many were not buying that Seven50 was not a major threat though, and several called for Hal to get the PBC commission to "opt out" of Seven50, much the way that Indian River County and the city of Vero Beach have. Hal declined, saying such a motion would not pass in the current commission, and although this may be an issue in the future, currently he does not see it as an immediate issue in Palm Beach County. At one point it got raucus enough that Joel Channing, a PBCTP member who is close to the Gardens Council and is a leader in the PGA Corridor Association, made the point that "these guys are really heros" (the commissioner and councilmen) and were being unfairly criticized.
---
Also present at the meeting were candidates for CD18 Ellen Andel and Ilya Katz, CD21 candidate (against Ted Deutch) Henry Colon, and Senate 32 candidate Brandon Cannon (a Republican challenging Joe Negron).
The public hearings on the county budget are Monday 9/9/13 and 9/23/13 at 6:00 PM.
I attended several sessions and found most invaluable, especially when panelists made points that provoked new insights or paradigms.  Listed are brief descriptions of the panels and my 'takeaways'.   If you attended the same sessions, please add your comments.  If you attended different sessions and would like to have your 'take-aways' posted – email us at info@palmbeachcountyteaparty.org  and we'll post it for you.
Medicaid Expansion:  Breaking the Bank while Cheating the Poor
 "Did you know that 13% of patients on Medicaid are more likely to die than patients without any insurance?  It's a true and startling fact.  This workshop will focus on the problems and cost associated with expanding this broken program, and show how enterprising doctors are offering better solutions."
Tarren Bragdon, Foundation for Government Accountability, CEO
Medicaid should only be for the truly needy
Largest cause of government spending and borrowing
Avik Roy, Manhattan Institute, Senior Fellow
Our system is breaking by cost overruns by Medicaid
Medicaid pays only ¼ of the price that private insurers must pay, so most providers will not take Medicaid patients
Health outcomes are worse for Medicaid patients than for people who have no insurance and go to emergency rooms.  Government run single-payer outcomes are worse than anything else
Lee S Gross, MD, Epiphany Health, Co-founder 
Epiphany Health is a concierge plan for the little guy, not insurance.  Those on Medicare cannot go to a concierge plan doctor and are forced to stay with Medicare providers.
Several Republican governors are opting for the Medicaid Expansion because Hospitals are lobbying like crazy:  Ohio, Michigan, Arizona
Hospitals love taking Medicaid money and then subsidize the shortfall by charging privately insured patients more to make up the difference!  Hospitals are the 'enemy' – not the insurance companies
Doctors now work to satisfy the hospitals not the patients because 7 years ago 70% of physicians had private practices while now – 70% of physicians are in hospital owned practices!
Getting Your Accounts in Order:  Tax Reform at the State Level
"….Come find out how activists across America have helped to decrease their state burden an put money back in the pockets of their fellow citizens."
Dr. Christine P. Ries, Georgia Institute of Technology, Professor of Economics
The GA Tax Reform Council has made significant progress in rolling back taxes
Tax Reform The Game was developed by Dr. Ries, and allows for interactive modeling of changes (eg implications of lowering/raising taxes and spending), incorporating dynamic assumptions for economic and job growth based on such changes.  Play with it!
Chris Farr, AFP Foundation, NC Deputy State Director
Succeeded in bringing down the tax rates, capped the state gas tax and eliminated the estate (death) tax in this purple state!
Joe Henchman, TAX Foundation, Vice President for State Projects
States that made significant progress in lowering rates in the past year were: Wisconsin, New Mexico, Indiana, Arizona, Texas, Kansas, Nebraska, Massachusetts, North Carolina, DC  (see details at their State section)
For state by state data on surges in income tax revenues go to their article: States see Spring Surge Income Tax Revenues
Waste Watchers: Finding Government Waste & Shedding Light On It
"We've all heard the stories about government wasting tax dollars on $12 bagels and parties in Las Vegas….Our seasoned experts will explain what causes this waste, and help you learn how to identify and expose all the pork"
The focus of this session was on state and local levels – however all were referred to a wiki-like site for federal spending (outrages) called Spendopedia! 
Susan Combs, TX Comptroller of Public Accounts
Schools are 1/3 of the state budget and school construction is the biggest boondoggle/source of waste!
It takes persistence, creativity and determination to find waste
"If you can't defend it, don't spend it"
She uses data-mining software to uncover Medicaid fraud
NO GOVERNMENT WANTS YOU TO KNOW WHAT THEY'RE DOING! – Be ruthless about demanding information
Dan Epstein, Cause of Action, Executive Director
Grant money from Federal Government to States is typically used (funneled) to groups lobbying for increased taxes!
Since government doesn't want to be watched, the FTC looks at all watch-dog groups' websites.
In order to get fee-waivers on the Federal level it's necessary to be a non-profit and categorized as a 'news media requestor".  Have to fight for your rights – eg AFL/CIO has 'news media requestor' status whereas his organization is suing since rejected for such status.
He recommends getting published on the Washington Freebeacon!
Mary Ellen Beatty, Franklin Center for Government & Public Integrity, Director of Citizen Outreach  (click on state for your state's websites)
Franklin Center is a network of 'investigative reporters/bloggers' looking for Waste, Fraud and Abuse at schoolboard, city councils, county commissions.
It only takes a handful of people to 'shine the light' on each of the above
Review their websites, and write about it!
Call out elected and government officials by name and link to their name in articles to trigger Google Alerts!
Tweet @ the officials' twitter accounts because the tweets are public
 Tips from the Q&A Session at the end of the panel:
To see examples of FOIA requests search on 'foia letter generator tool'
If you get pushback – MAKE A STORY OUT OF IT!  Use the Franklin Center.  Document every details and again – NAME NAMES!
Don't be labeled as a NUT!  Be professional and respectful
Be creative in fighting copying fees (used to hide stuff) – offer to come in and just read the material, use your phone to take pictures of the pages, don't accept paying per page!
Building Bridges and Creating an Army: The Importance of Relationships 
"So you want to make a difference.  Before you can truly be effective, you need to build a network.  These are fellow activists you can leverage when it comes time to act on your issue"
Jen Stefano, AFP State Director
Know who and what you are
Explain policy issues from the Point of View of those to whom you're speaking
Go to their meetings (the people you're trying to reach) – don't expect people to come to yours
Do you have the same people coming to your meetings over and over and they don't ever DO ANYTHING????  Stop!
Daniel Garza, The LIBRE Initiative, Executive Director
Of the self-identified Hispanic population, 1/3 speak only Spanish, 1/3 are bi-lingual and 1/3 only speak English
A very large percentage (of the Spanish-speaking) have their tv's tuned only to Univision and get all of their news/politics/etc from that station
 Evan Feinberg, Generation Opportunity, President
Aimed at youth
Jobs and NSA spying big issues
 IT'S AS IMPORTANT TO HAVE THE RIGHT MESSENGER AS IT IS THE RIGHT MESSAGE!


Speaker Videos
This past weekend in Orlando, Americans for Prosperity Foundation hosted a conference for grassroots activists from around the nation.
With informative breakout sessions in the mornings to highlight successes on the state and local levels, and "big tent" events in the afternoon with national conservative leaders, there was something for everyone, including ample free time to "network".
The "malaise" that affected many of us locally after the bitter results of the 2012 Presidential election has been pretty widespread, and organizers from many locations reported falling attendance at many of their events. Hopefully, that is now starting to change. Although we are still licking our wounds, conferences like this one demonstrate that there is still life in the conservative grassroots, we have leaders in the movement that "get it" and have the fortitude to take it to the President – to lead the fight against the train wreck that is Obamacare, the endless debt and deficits, the administration that cares little for the rule of law, the separation of powers, or the role of the states in our constitutional republic.
Bobby Jindal
"It's amazing what is possible in America", said Louisiana Governor Bobby Jindal, when people are free – free to make their own choices, free from the suffocating regulations of intrusive government. He talked about education as the key for the jobs of tomorrow, and the success they have had in his state in shutting down failing schools and greatly expanding the charter school system which has done a lot to improve the lot of minority children. Last week, unfortunately, Obama's Justice Department has decided to sue Louisiana to roll back these reforms and return students to their failing schools. Judging by his fiery critique of the President and his policies, it is clear he will stand up against our rogue Attorney General and fight to retain the success they achieved.
Marco Rubio
Our own Senator Marco Rubio declared "There is nothing wrong with America – but there is something wrong with this President". The good news, he said, is that "we still have time to save the American Dream", by reforming the tax code and eliminating regulations. "We don't need Common Core", he said, and he will not vote for any budget that funds Obamacare or to increase the debt ceiling without a balanced budget amendment and specific cuts.
Unfortunately for Senator Rubio, there is still a lot of anger in the movement about his role in passing the "gang of eight" Senate immigration bill. In the hall were members of Flimen with pink shirts that said "Pink Slip Rubio", and throughout his speech you could hear sporadic calls for "No Amnesty". Although he avoided this issue in the speech, he did address it in a smaller group that met with him prior to the session. In a hotel suite with about 40 supporters, after answering some questions about Syria, Obamacare and other issues for which he was among friends, someone in the back asked "what about immigration". A hush fell across the room at this point and he had no choice but to address it with a somewhat lengthy justification that amounted to "the status quo is unacceptable so we have to do something". To me it sounded like doubling down. Not good.
Arthur Brooks
Then Arthur Brooks, President of American Enterprise Institute, succinctly summed up the Obama message: "Rich people have your stuff and I'm going to get it back for you." This shouldn't have worked as envy is not American, but unfortunately all our side had to say to his supporters was "You're a moocher" – no wonder we lost. The words "fairness" and "compassion" have been kidnapped by the left and we should take them back and own them, because progressive ideology is neither fair nor compassionate. As a humorous and memorable side comment illustrating our difference in values, he recalled a bumper sticker seen in San Francisco – "Your body may be a temple but mine is an amusement park".
Rick Scott
Next up was Governor Rick Scott, gearing up his re-election bid with a positive jobs message. Recalling his 2010 pledge to create "700,000 jobs in 7 years", he reported us as on-track, with the likelihood of 900,000 jobs created by 2018. Scott is still popular with the Florida grassroots, although his support for Medicaid expansion had a lot of heads scratching. We do still remember that he declined to create a state Obamacare exchange, though. A few hecklers in the audience periodically shouted "No Common Core", reflecting dissatisfaction with the direction that our education system has taken over the last few years. Scott talked about his activities as a booster of the state's business climate and his good-natured rivalry with Texas and Governor Rick Perry who was the last major speaker of the day.
Rick Perry
A 2012 Presidential candidate until his campaign faltered early in the primary process, he is possibly gearing up for another run in 2016. Well known as a jobs governor, the record of the Texas economy on his watch has been very impressive. As he makes the rounds of the states selling the Texas miracle, he has gained the ire of many blue state governors who do not appreciate his pointing out the shortcomings of their performance or the failings of the Progressive economics.
On another theme, "All roads lead back to the states", said Perry. One size fits all federal programs (like Obamacare) are anathema to the founding principles of this country. A favorite target of the Obama administration, whose ideology sees the power in the states to be a roadblock to their big government agenda, Texas is now being sued by Eric Holder and the Justice Department as they try to end-run the Supreme Court and re-impose Voting Rights Act restrictions that require federal permission for such things as Voter ID laws.
Ted Cruz
On the final day of the conference, Texas Senator Ted Cruz, another possible 2016 presidential candidate and clearly the favorite of the gathering gave us reasons for optimism. With the success of Rand Paul's filibuster on drones, and the failure of gun control initiatives after Sandy Hook, the President was forced to "listen to the people", he said. On Syria, with Obama now going to Congress for authorization, on immigration, on common core, – the people are making their voices heard and throwing a wrench into the Obama agenda. His job as a Senator, he says, is to restore economic growth as the lack of growth is related to all of our other problems. Tax Reform ("Abolish the IRS"), and regulatory reform ("Repeal Obamacare – every single word") are the key. He sees Obamacare as the greatest job killer of all time and sees de-funding it in the upcoming budget process as the key. In answer to skeptics that see that tactic as a political liability for Republicans, he says "You lose 100% of the fights you surrender at the outset." Standing ovations were frequent for this speech.
All in all, the speakers reminded us that conservatism is not "in trouble" as the mainstream media may have you believe, but resurgent and full of fire. With his agenda in tatters, the Obama team sees winning back the House and holding the Senate next year as their only chance to have a legacy of anything but failure. Any thought of compromise or even dealing with a Republican House is not is the President's wheelhouse. Although 2014 will be a harder slog than 2010 when we took them by surprise, at the end of this conference it was clear that we have depth, we have tools and we have a maturity that comes from adversity and learning from the losses of 2012. Thanks to AFP and organizations like them, the conservative grassroots will have help and structure that will amplify our effectiveness going forward.
After leveling off last year following 4 years of decline, property values seem to have turned a corner and have ticked up 3.7% this year, easing pressure on county and municipal budgets. As the county has cranked up the millage rate as the valuations fell, will they now start to decrease them? Apparently not.
Hello, Fellow Lovers of Liberty!
I want to thank all of your who are planning with your friends and your family to come out to the United Stand for America. We appreciate your sharing and promoting of this pivotal event.
We all know that America is in dire circumstances on many levels. Our economic problems are glaring and obvious. Yet the cause of that looming catastrophe is not fundamentally economic, it is caused by misguided – or nonexistent – principles. We need to approach the solution to this problem and others not in a superficial fashion, but by addressing our solutions to the causes of the issues.
These solutions will be simple in principle and concept, though they will by no means be easy to carry out. Nevertheless it is absolutely imperative that we carry out the effort. Our children's lives, and their children's lives…in fact our own lives, are jeopardized by the huge amount of debt we are all assuming, on a scale never before imagined in any generation before.
I have 2 young children growing up facing this burden, and I fear that, if we as a nation do not immediately begin to be economically responsible, my children will be living in a very different country than the one we all grew up knowing…and it will happen because we allowed it to happen.
Yet, even in the face of this crisis, we are pressured to toe party lines on stereotyped grounds, and those people who choose not to occupy the box in which they are expected to reside, because of the color of their skin, or their gender, or some other aspect of their background, are reviled, and subject to vitriolic attacks. We absolutely must break out of those stereotyped ways of thinking. We have to reach out to the vast group of people who don't belong in any stereotype, who may not realize the fact that they are our allies. There are far more of them than you might think. We have to make outreach, and inclusion, a central plank in our platform, instead of the easy acceptance and reinforcement of false presumptions.
We must also remind our fellow Americans just why limited government is so crucial, and help them to recognize that government tinkering and intervention has only acted to decrease our prosperity, as individuals and as a nation. Before we leave for the USA event tomorrow, lets make sure to call our friends and knock on our neighbors' doors and invite them to come with us and share in the conversation. Let's invite the business-owners in our neighborhoods, in our personal networks, in our LinkedIn contacts, and point out to them that America the highest corporate income tax rate in the world, beating out openly communist and socialist nations. Because of this, the business environment in America has devolved into a trackless morass.
Just look at the history of Detroit in the last 60 years. Detroit was once among the leading manufacturing regions in the world, and the wealthiest locale in America. Over time, the government's intervention, coupled with the effects of Union overreaching, priced the workforce in the area out of the market…and contributed to the decline and fall of a great city, which now retains a fraction of its former population, many of whom only stay because they have been so devastated by the economic collapse that they have no ability to go anywhere else.
Do not think we are safe in affluent and wealthy neighborhoods in Palm Beach Country from such possibilities. Detroit is a visceral reminder, a microcosm of what could happen to the entire country. Bloomfield Hills, Michigan used to be so prestigious that the CEO of General Motors, the largest corporation in the world, called it his home. Now it too is suffering from the blight that has stricken the entirety of Southeastern Michigan.
These are also the reasons we in the Palm Beach County Tea Party are so concerned about the Medicaid expansion issue. The public has been misdirected by the fact that the State of Florida is being offered "federal money." People are being disingenuously misled that the Medicaid expansion is to be financed by free money. Yet we know that it's not. Federal money means nothing, because there simply is no money there anymore. We are in so much debt that our entire country's economy is on the verge of collapsing on itself, because right now we aren't creating anything like enough wealth to keep up with the bills.
We need to go into all levels of communities and remind people about this fact. The attacks by the President on the wealthy are reprehensible smoke and mirrors, stating that they must pay their "fair share" when they already pay the vast majority of the tax revenues, which are being poured into a pit of debt that is being dug far more rapidly than anyone could ever fill it. These wealth-disparaging statements breed enmity between people whose interest coincide, because the primary interest is rapidly becoming simple survival. When each side thinks the other is somehow taking or keep something that doesn't belong to them–the fallacies that the wealthy have unfairly large amounts of money that they obtained by cheating, or that the poor just want everything given to them and don't want to work and support themselves–the only ones who benefit are those who would seek power over the lives of others.
That is not the American way. We should be outraged that such concepts are being given respect and credence in our country.
Our speakers tomorrow are some of the most important patriots that we have in the Conservative movement. The very thought of throwing in the towel on our country would never cross their minds. They are reaching out to people from all walks of life, to urge them to take responsibility for their government, for their actions, for their prosperity. These admirable individuals are helping us call America to action, helping us to look at ourselves and reassess our priorities, to reach out to each other as lovers of our country, of freedom, and to recognize that freedom is responsibility for one's actions.
We must seize this call to action, with the energy born of our righteous indignation, we must be heard…and above all we must be seen, as we lead by example, as we reach out and as we make our STAND. We cannot give up. We cannot let the fact of the dysfunction in Washington or the election last year make us despair. We must be galvanized to action as we have never been before. The loss of the election is no reason not to stand up. We are not looking for a "dear leader," we are not looking for a "savior." We are our own only saviors. We are individually responsible.
We must make our Stand, tomorrow, and every day thereafter.
Thank you.
Dominique Feldman
Communications Director
Palm Beach County Tea Party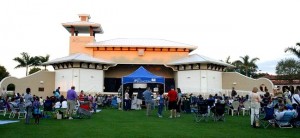 Please join us as we concentrate our focus for April on our major Annual Event, which we have renamed United Stand for America, at the Wellington Amphitheater!!!
NOTE: The Boca Raton Chapter Meeting, normally the first Tuesday of each month (or, April 2nd) is cancelled, as is the Wellington Chapter Meeting, normally the second Monday of each month (or, April 8th).  Bring your patriotic spirit to Wellington on April 14th, and join us for a fun-filled day with a great line-up of speakers and activities!!!!  Stay tuned to our web site and FaceBook page for more details!
With a crystal-clear night on the back end of a Florida "cold-snap" (getting into the 40's the day before), there was another exciting night of patriotism from the Palm Beach County Tea Party.  Though the turnout was lighter than this past month, it was an unquestionably exciting evening of brisk dialogue amongst Patriots in Boca Raton.   Slade O'Brien was the guest speaker, and his perspective as a leader of grassroots movements, and dealing with politics on the LOCAL level, was quite illuminating.  As the Florida Director of Americans For Prosperity, Slade has an extraordinary inside perspective on Florida politics, with access to all the "movers and shakers" within the political sphere in our state.
What he revealed about statewide graft and corruption in state contracts from legislators "thanking" their lobbyists and supporters who got them elected was both sickening and motivating at the same time.  Slade also updated us on the "Five For Florida" initiative that AFP began last year, and updated us on their progress.  While much has been accomplished, we have a "long road ahead", as Slade said.
This also marked the return to Boca Greens Country Club, and exceptional venue for our group in terms of space, facilities, location, and food.  Salad, Rolls, Chicken, and Salmon was served with a Vodka Penne dish, and a yummy-looking Apple-Cobbler type of dessert (I did not partake).  It was a great crowd, populated by both familiar faces, as well as many new people.  PBCTP Co-Founders Mel and Barbara Grossman made the trip from Jupiter to be with us, as did Terry Brady.
Boca Chapter Coordinator Alex Berry began the proceedings at 7:00pm with the Pledge of Allegiance. Carlos Manuel Santana then regaled us with his impassioned version of the National Anthem.  After the usual protocol of explaining what the PBCTP is, and what it stands for, Alex made general announcements, and then asked former Board member Francisco Rodriguez to come to the podium.  Francisco explained how he has recently published a book that addresses the critical issue of WINNING ELECTIONS, and how that starts on the local level, something we can all participate in.  And this dovetailed well with Slade O'Brien's discussion of the "pragmatics" of politics….
Alex then introduced Slade, who held the crowd captive with a personal account of his observations on how Florida has foolishly discouraged entrepreneurial activity with miles of red tape.  He was actually very encouraging, however, because he drew parallels between what Scott Walker has done in Wisconsin, and what is possible here in Florida.
Slade followed his presentation with a boisterous "Q&A" session with the audience, moderated by Alex Berry.  Tea Party members donated the raffle prizes, and the winners were announced at the drawing, concluding the evening.
We look forward to more great meetings in 2013 for our Boca Chapter—please INVITE YOUR FRIENDS to our next event, which will be on April 2nd, 2013!!! Remember—we always have our Boca Chapter Dinner/Speaker event on the FIRST TUESDAY of every month, so mark your calendars!  Please get involved if you aren't yet, and STAY involved if you already are!  Remember, we are LOOKING FOR ADDITIONAL BOCA TEAM LEADERS, including a Boca Chapter Coordinator (leader in Boca).  Please help out if you can!
Hello all,
The following was a letter from Mark Meckler.  Please review and comment .. . and most importantly, pick out the key points that mean the most to you and immediately send emails and make phone calls to your state legislators!
To Tea Partiers across Florida:
From my perspective it's very simple.
1.  Tea Partiers put principle before politics.  One of the core principles of tea partiers is fiscal responsibility.  As tea partiers, our job is to stand on principles, not be convinced by the politics of the moment.  Expanding huge, inefficient, bloated, government programs for which our federal government must borrow 43 cents of every dollar spent is hardly fiscally conservative.  In fact, supporting such a program expansion would be the antithesis of what the movement stands for.

2.  The best conservative Governor's in the nation are opposing the expansion of Medicaid.  Gov. Scott Walker, Gov. Rick Perry, Gov. Bobby Jindal, Gov. Nikki Haley, etc.  When the leading conservative Governors in the nation are rejecting the program, it's hard to see how tea partiers could think accepting it is a good thing.

3.  Four Important Points about the proposed Medicaid expansion that everyone should know:
Four Important Points About Medicaid Expansion
A.  Support for Medicaid Expansion is Support for Obamacare.  If your tea party group supports the expansion of Medicaid, it is a major statement in support of Obamacare.  One of the major provisions of Obamacare was the expansion of Medicaid, which is intended to dramatically increase the number of people dependent on the federal government.  The rejection of the Medicaid expansion, which states were given the right to do by the Supreme Court in the only conservative victory on Obamacare, is one of the few tools remaining to help prevent Obamacare from swallowing the nation.
B.  The Medicaid Expansion is a Fiscal Nuclear Time Bomb.  Medicaid is a fiscal time bomb; today, states and the federal government jointly fund the program, but over time, Congress is almost certain to curtail its support due to Washington's fiscal pressures.
C.  The Medicaid Expansion Drives the Cost of Insurance Up for Everyone Else.  Medicaid drives up the cost of insurance for everyone else, because hospitals overcharge people with private insurance to make up for the fact that they're underpaid by Medicaid.
D.  Medicaid is a Broken Program Providing Terrible Health Outcomes.  Medicaid provides the worst health outcomes of any insurance plan in America; in many cases, it's worse than having no coverage at all.
To me, it's not even a close call for tea partiers.  If we won't do our best to hold the line here…we should just fold up our tea party tents and go home.  It is impossible for fiscal conservatives to support the expansion of a bloated, broken federal program that borrows 43% of every dollar spent, and still consider ourselves principled fiscal conservatives.  If we support (or don't vociferously oppose) the expansion of Medicaid, then the criticism sometimes leveled at us that we are willing to cut, but not when those cuts affect us, is true.  Are we Democrat-lite, or are we true fiscal conservatives who will stand on principle?  In Florida, the time to make that decision is now.
Below you will find a summary of where each state currently stands (as of Feb. 20) on the proposed expansion.
Where each state stands on ACA's Medicaid expansion
A roundup of what each state's leadership has said about their Medicaid plans
Topics: Health Care Reform, Market Trends, Strategy, Medicaid, Reimbursement, Finance
February 20, 2013
Click to expand a quick-to-scan graphic or an interactive graphic. (Note: The interactive graphic may not be optimized for all mobile devices.)
Embed this map on your website
Text last updated on Feb. 20, 2013, at 5:30 p.m. ET
The Supreme Court's ruling on the Affordable Care Act (ACA) allowed states to opt out of the law's Medicaid expansion, leaving each state's decision to participate in the hands of the nation's governors and state leaders.
Based on lawmakers' statements, press releases, and media coverage, the Daily Briefing and American Health Line editorial teams have rounded up where each state currently stands on the expansion.
We will continue to update this map and list as more information becomes available. Send us news, tips, and feedback by commenting below or emailing dailybriefing@advisory.com.
* indicates a state's participation in the multistate lawsuit against ACA
NOT PARTICIPATING (13 states)
LEANING TOWARD NOT PARTICIPATING (5 states)
LEANING TOWARD PARTICIPATING (3 states)
Kentucky: Gov. Steve Beshear (D) when asked about the expansion in July said, "If there is a way that we can afford that will get more coverage for more Kentuckians, I'm for it." However, state lawmakers are putting pressure on Beshear to reject the expansion (Office of Gov. Beshear release, 6/28; AP/Evansville Courier & Press, 6/28; AP/Evansville Courier & Press, 7/17; Autry, WYU, 7/5; Cross, Louisville Courier-Journal, 6/29).
New York: Gov. Andrew Cuomo (D) in a statement on his website on June 28 said he was "pleased the Supreme Court upheld the [ACA]" and looks forward "to continuing to work together with the Obama administration to ensure accessible, quality care for all New Yorkers." On July 26, Danielle Holahan—project director for New York's health insurance exchange planning—said the state "largely meet[s] the federal required Medicaid levels already." Although Cuomo's office has not officially announced a decision, the Associated Press reported on Nov. 13 that New York will expand Medicaid (Office Gov. Cuomo release, 6/28; Grant, North Country Public Radio, 7/27; Delli Santi/Mulvihill, AP/San Francisco Chronicle, 11/13).
Oregon: Gov. John Kitzhaber (D) said on June 28 that he is confident that the Oregon Legislature will approve a state Medicaid decision. In an interview with the Oregonian just hours after the Supreme Court issued its ruling on the ACA, Kitzhaber said, "We'll make a decision on whether or not to expand the Medicaid program really based on, I think, the resources we have available in the general fund for that purpose going forward" (Budnick, Oregonian, 6/28).
PARTICIPATING (23 states and the District of Columbia)
UNDECIDED/NO COMMENT (8 states)
Alaska*: Gov. Sean Parnell (R) on Aug. 8 said he is guarded on the expansion "because our history with the federal government right now is they cut what they promise to fund." Parnell said he wants to thoroughly understand the costs to the state before making a decision (Bohrer, AP/San Francisco Chronicle, 8/8).
Indiana*: Gov. Mitch Daniels (R) in a statement on June 29 said, "Any decision to expand Medicaid in 2014 is entirely the province of the next General Assembly and governor." U.S. Rep. Mike Pence (R) was elected governor on Nov. 6. In a position statement earlier this year, Pence noted that the Medicaid expansion would double "down on an already broken and unaffordable Medicaid system." Addressing the Affordable Care Act as a whole, he wrote, "I believe the State of Indiana should take no part in this deeply flawed healthcare bureaucracy" (Office of Gov. Daniels release, 6/29; Pence letter).
Kansas*: Gov. Sam Brownback (R), who has been a vocal opponent of the Affordable Care Act, has not stated whether to opt in or out of the Medicaid expansion, the Associated Pressreported on Nov. 9 (AP/NECN, 11/9).
Tennessee: Gov. Bill Haslam (R) has not decided whether Tennessee will participate in the Medicaid expansion. However, two lawmakers—Sen. Brian Kelsey (R) and Rep. Jeremy Durham (R)—already have committed to introducing legislation that would block expansion, and the state's new Republican supermajority in the General Assembly means such a bill could pass (Bohs, "Bohs Column," The Jackson Sun, 11/9).
Utah*: In an email responding to a query by American Health Line, Nate McDonald—public information officer for Gov. Gary Herbert (R), who won re-election in the state's gubernatorial race in November 2012—said "[n]o official decision" has been made on the Medicaid expansion (McDonald email, 11/9).
West Virginia: Gov. Earl Ray Tomblin (D) in a statement on his website on June 28 said, "We know what the law is but as I've said before, I will continue to do what is best for West Virginia … We're going to review the Supreme Court's ruling, and work with our federal delegation on how we move forward." In the state's gubernatorial race in November 2012, Tomblin was re-elected (Office of Gov. Tomblin release, 6/28; AP/Marietta Times, 11/7).