Congressman Brian Mast Holds Townhall
---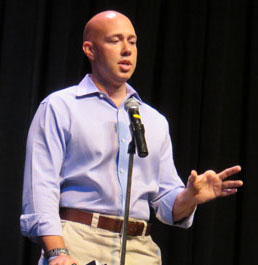 Along with District 6 County Commissioner Melissa McKinlay, Congressman Brian Mast stood center stage for over two hours today at Seminole Ridge High School and fielded a wide variety of questions, most from the Progressive point of view.
As he was battered by Obamacare fans berating his support for repeal & replace, Planned Parenthood partisans (very vocal those!!) who believe that a reduction of federal funding would put all women everywhere at risk of terrible diseases, those who demand Trump's tax returns and an "independent investigation" into the President's conspiring with the Russians to steal the election, Brian remained calm and collected and provided fearless and forthright answers to even the nastiest of questions.
Other topics included dealing with the opiate crisis (for which Commissioner McKinlay is a local leader), global warming, water quality, and tax reform. Surprisingly , there were no questions on immigration, the military or foreign policy. Many of the progressive contingent held up agree/disagree signs or red/green papers to indicate their feelings on the issues.
Judging by the questions and amount of applause for those asking them, about 90% of the 200-300 in the audience were clearly not Republican voters, yet our Congressman gave the impression that he is in Washington to support ALL the people in the district, regardless of party.
When Brian returns for his next town hall, probably during the next Congressional recess, it would behoove those who are his core supporters to actually show up. Brian carried the district by 11 points – he should not have to hear only from his opponents at these events.