WJNO's Brian Mudd at Boca Chapter 2/2
---
Please join us on Tuesday, February 2, as the Boca chapter will host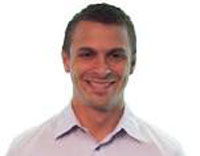 Brian Mudd
On-Air Weekday Mornings 5am-9am WJNO Financial Analyst & Co-Host for The Palm Beaches' Morning RushI work every day to keep you ahead of the curve on the crazy state of the economy, business, investments and technology.
My motto: Passion plus talent is unstoppable.
My faith: Don't worry I don't use the mic to preach but… I firmly believe that without God in our lives happiness will never be found. I believe that many of our societal failures have resulted from a general willingness to distance ourselves from our founding values while embracing political correctness.
I'm in my 18th year with iHeartMedia and 9th in South Florida. With my father as inspiration, I started investing in the stock market when I was 11 and co-founded a smoothie company at 18. The highlights of my radio career have been serving as a fill-in for Sean Hannity.
I've made my share of mistakes along the way as well. I shape my perspective from success and failure to provide you with a truly objective picture of business and money in your world. Business and investing are passions of mine. Some read Dean Koontz… I read financial reports.
I'm originally from the Atlanta area and am a die hard Braves & Falcons fan. I'm married to the love of my life Ashley, and yes I am related to Dr. Samuel Mudd, co-conspirator in the assassination of President Lincoln (he's four greats an uncle).
My name is Mudd.
Also speaking will be Wellington Chapter Leader Marion Frank on:
Steven Emerson from the Investigative Project on Terrorism
Iowa Caucus
Cruz Campaign
Tuesday February 2,  2016 – 6:00pm
Boca Community Center
150 Crawford Blvd, Boca Raton, FL 33432
(561) 393-7807
MAP
Please RSVP below; no meal is served with this meeting.