Karen Schoen and Agenda 21 at Boca
---
Get your questions ready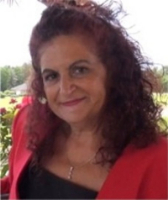 Karen Schoen
is here to answer them.
Agenda 21, Common Core & Sustainability
Karen Schoen, who resides in the Florida panhandle has a Bachelor's Degree in Education, a Master's Degree in Liberal Studies and post graduate credits from the New School of Social Research where she was trained in psychological manipulation.
Karen is a former teacher, dean and business owner who travels throughout the United States educating Americans to the true enemy of America, Communism and its many forms: UN, Agenda 21 aka Sustainable Development, Sustainable America, Resilient cities, Smart Growth, New Urbanism etc.
Karen is a founder of the AgEnders (Americans ending Agenda 21/ Sustainable Development.)' a Director of Panhandle Patriots, and a founding member of Florida Citizens Coalition. She writes for agenda21today.com, americaismyname.org, newswithviews.com, watchdogwire.com, and americanpatriotnews.us. She ran for office for FL State REP Dist 5.
Karen co-hosts a radio show, "American Freedom Watch Radio," on blogtalkradio.com/americanstatesman and you will find many videos on karenschoen.com, FB: Karen.schoen.3
For more information please go to her website http://karenschoen.com/contact
Tuesday November 3,  2015 – 6:30pm
Boca Community Center
150 Crawford Blvd, Boca Raton, FL 33432
(561) 393-7807
MAP
Please RSVP below; no meal is served with this meeting.