Blaise Ingoglia Fires Up the Boca Raton Chapter!
---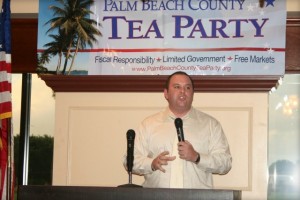 Despite another rainy and windy evening another night of good food, fellowship, and patriotism from the Palm Beach County Tea Party, we had a very respectable turnout at Boca Greens Country Club on May 1st, for the Boca Chapter's Monthly Dinner/Speaker event.  Our speaker was Blaise Ingoglia, Vice Chairman of the Republican Party of Florida.  Better known as the creator of the highly popular video series, Government Gone Wild, which has been extremely successful (read: "viral") on YouTube, Blaise has a definite knack for articulating complex issues, such as the National Debt, into east-to-understand vignettes, using examples lay people can relate to.  His message was powerful, and he came right out and said, "this is going to scare you…" on more than one occasion.  It definitely had the desired effect, but the message was inspiring, not depressing—it's important to know what the stakes are when November rolls around in a few short months!
Boca Greens Country Club definitely continued in their efforts to provide a comfortable venue with terrific food.  We had several local restaurants provide us with gift certificates to auction off for our silent auction, and there were many other items for the taking, too.  People came from all over the area, and we had several members make the trip from Jupiter—too many to name here.  We also had Marion Frank in the audience, who will be stepping in to help run the Wellington Chapter.
Boca Chapter Coordinator Alex Berry began the proceedings at 7:00pm with the Pledge of Allegiance. Carlos Manuel Santana then regaled us with his impassioned version of the National Anthem- truly exhilarating!  After the usual protocol of explaining what the PBCTP is, and what it stands for, Alex had a little fun with the audience by examining the new campaign slogan of our opposition, "Forward", and illuminating how that word has been used prolifically throughout the history of socialism.  Alex introduced Pam Wohlschlegel, PBCTP Founder and County Coordinator.  Pam announced several items of interest to our group, including the effort to prevent recall in Wisconsin, and Get Out The Vote efforts.
Local candidates Joe Talley (County Sheriff) and Geoff Summers (FL Senate district 25) made appearances, and introduced themselves before the main speaker was introduced.
Alex then introduced Blaise Ingoglia, who spent the next 40 minutes examining how dire our circumstances are with the debt addiction our country currently finds itself in, as well as the seeming blatant disregard for that debt—and the potentially disastrous outcome of these policies—from our elected officials in Washington.   Without doubt, Ingoglia has done a LOT of research and homework on all of this.  As a Florida entrepreneur, he witnessed gross mismanagement of political affairs on the local level, and then in government corridors on the federal level– and was so genuinely alarmed by what he found, that he created the GGW video series.  His presentation combined elements of topics covered in his videos, coupled with a "call to action" for people to get involved in the process locally—the best way to affect change!
Blaise then took questions from the crowd.  The reaction from our audience was truly passionate—we had a lot more questions than we had time to address!  There is no question that our audience was engaged deeply in the dialogue, and many were happy to express their patriotism through having their voices heard in our group.
It was a great night that was well attended and received.  For those who missed this event, I can emphatically say that if you ever get the opportunity to hear Blaise Ingoglia speak live, you should jump at the opportunity.  I encourage everyone to get involved in the political process, and join us for future events to enjoy irreplaceable fellowship with like-minded folk from all over the county, and reshape this country to it's true essence!!!
We look forward to more great meetings in 2012 for our Boca Chapter—please INVITE YOUR FRIENDS to our next event, which will be June 4th, 2012.  Remember—we always have our Boca Chapter Dinner/Speaker event on the FIRST TUESDAY of every month, so mark your calendars!  Time is drawing to a close to make a difference for the next election, so please get involved if you aren't yet, and STAY involved if you already are!
Here are some pictures of our event: