Press Release
September 3, 2013
---
The Palm Beach County Tea Party Board of Directors has elected Mel Grossman as its new President.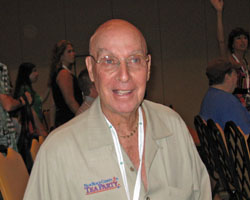 Mel Grossman
Mr. Grossman is a co-founder of the group, founded in 2011 as a spin off of the now defunct South Florida Tea Party, and has served as its Treasurer.
Mr. Grossman moved to Florida in October 2001 after selling his successful small business of 35 years and lives in northern Palm Beach County. He has been involved with the Tea Party efforts since 2010 and has taken an active role in grassroots activities across the county.
In a brief statement, he said:
"I am honored to accept the responsibility of becoming the President of the Palm Beach County Tea Party. I thank the board of directors for their vote of confidence and will do everything in my power to earn their trust. To all our leaders and thousands of our volunteers please know that everything you do is most appreciated. May GOD bless us all."
Mel replaces former President Michael Riordan who resigned last month.
June 21, 2011 – Jupiter, Florida – A number of local activists have recently come together, establishing the Palm Beach County Tea Party, Inc. This newly formed organization will be an affiliate of the nationally-recognized Tea Party Patriots.
The mission of the Palm Beach County Tea Party is to attract, educate, organize and mobilize fellow citizens to secure public policy consistent with the organization's three core values of Fiscal Responsibility, Constitutionally Limited Government, and Free Markets.
Utilizing a team approach to activism, the Palm Beach County Tea Party plans to provide new avenues of communication, oversight, education and training that will enable members to both be more effective as citizen advocates and better equipped to influence public policy at the county, state and federal levels. The Palm Beach County Tea Party will focus its efforts locally but will also coordinate and cooperate with other like-minded groups throughout Florida and the nation.
The Palm Beach County Tea Party will not be endorsing candidates. Instead, the organization will provide forums for candidates from all major parties to speak directly to attendees and explain their positions on key issues. The Palm Beach County Tea Party will not take positions on social issues, and does not seek to become a third political party. They believe it best to work within the framework of the two existing majority parties, helping to make improvements to both the parties themselves and the quality of candidates they offer to voters on Election Day.
The Co-founder and Coordinator of the Palm Beach County Tea Party, Pamela Wohlschlegel of Jupiter, explained that the organization plans to have monthly meetings in different parts of the county at which a variety of speakers will address issues of interest to the group's members. "I invite people to attend these meetings, regardless of political party affiliation or independent status if they support the core values of Fiscal Responsibility, Constitutionally Limited Government and Free Markets," Wohlschlegel states. "We want to give people the tools they need to be informed and to be more effective in getting their voices heard by all levels of government."
Jenny Beth Martin, Co-Founder & National Coordinator for Tea Party Patriots, a national organization that consists of more than 800 groups around the country, praised the formation of this new group and its leadership team. Martin noted "We are pleased to see this new group come together and welcome their experience and enthusiasm for working with other grassroots groups based in Florida and nationally. They are committed to improving the level of political discourse by providing education and training to people who live in Palm Beach County regarding their core principles of Fiscal Responsibility, Constitutionally Limited Government, and Free Markets."
Another national organization, FreedomWorks, based in Washington, D.C., joined in offering congratulations to the founders of the new group. Tom Gaitens, Florida State Director for Freedom Works commented, "We are thrilled to have another grassroots group join our fight for a new era of freedom, opportunity, limited government and prosperity. The Palm Beach County Tea Party will be a strong addition to the array of existing grassroots groups in Florida."
Interested citizens are encouraged to visit http://www.palmbeachcountyteaparty.org, which provides information about meeting dates, other activities and events, links, information about other grassroots organizations, current news, blogs and educational information on current issues. In addition, the Palm Beach County Tea Party can be contacted via Facebook at Palm Beach County Facebook , on Twitter at http://twitter.com/pbctp or by calling (561) 444-8086. There is no cost for membership in the Palm Beach County Tea Party.
The newly formed "Palm Beach County Tea Party", led by a group of veteran grassroots activists from older south Florida organizations, has been well received by its peers. The new group plans to work on collaborative project with like-minded groups to increase the effectiveness of their projects leading into the 2012 election season.
Here are some of the comments from local and national leaders:
---
"We are pleased to see this new group come together and welcome their experience and enthusiasm for working with other grassroots groups based in Florida and nationally. They are committed to improving the level of political discourse by providing education and training to people who live in Palm Beach County regarding their core principles of Fiscal Responsibility, Constitutionally Limited Government, and Free Markets." Jenny Beth Martin, Co-Founder & National Coordinator for Tea Party Patriots
"We are thrilled to have another grassroots group join our fight for a new era of freedom, opportunity, limited government and prosperity. The Palm Beach County Tea Party will be a strong addition to the array of existing grassroots groups in Florida." Tom Gaitens, Florida State Director for Freedom Works
"Dear Pam: I'd like to congratulate you, on behalf of the South Florida 912, for taking the step to form the Palm Beach County Tea Party. South Florida 912 looks forward to working together on common goals. Our twelve values and nine principles mesh well with your three values of Fiscal Responsibility, Limited Government and Free Markets and I'm sure that we'll be able to work together on informing and motivating like-minded citizens of Palm Beach County. There are huge issues that stand before us and it will take all of us working together to elect principled representatives at all levels of government in 2012! Using Rick Scott's phrase – "Let's Get to Work!" Shannon Armstrong, founder of the South Florida 912
"Fiscal responsibility, limited government, and free markets are three perspectives that any conservative can get behind. I welcome her to the movement, and look forward to the task at hand." Ed Fulop, a South Florida 912 organizer
"We are delighted to see the formation of another local grassroots group dedicated to achieving better government at all levels, and we welcome Pam and her team as TAB Coalition Partners for the 2012 county budget cycle." Fred and Iris Scheibl, PBC Taxpayer Action Board
"GOOD LUCK, Everyone." Sid Dinerstein, PBC GOP Chairman
"Best of luck in your new organization in Palm Beach County. If we can help with anything, please let us know." Martin 9/12 TeaParty Committee: Jim McGovern, Cindy Lucas, Shona Darress
What a pleasure it is to welcome the Palm Beach County Tea Party into the the grassroots tea party movement in Florida. We look forward to partnering with your organization on issues that will restore fiscal responsibility, freedom in the marketplace, and a smaller government footprint. Together we will make a difference.Karen Jaroch, Leader of Tampa 912
Welcome Palm Beach County Tea Party! Tampa Tea Party looks forward to working with you and our grassroots partners in our fight for fiscal responsibility, free markets and individual liberties. If we can be of help, please let us know. Sharon Calvert, Tampa Tea Party President