Hello friends,
It is only after considerable prayer and with sadness that I am resigning as the County Coordinator for the Palm Beach County Tea Party. I believe strongly that term limits and new leadership are both refreshing and critical to the long-term success of any program.
More importantly, this move will enable me to better contribute to the Palm Beach County Tea Party in the areas that I believe will will be critical in the coming 23 months before the 2014 midterm elections:
* Oversight — keeping our members up to date on key local, state, and federal issues and creating action alerts when needed.
* Hispanic Outreach
* College Outreach
I will continue to serve on the board and as the liaison to both the Tea Party Patriots and the Tea Party Alliance.
Please let me know if you would like to join me in any of these three programs! We will have some fun and definitely create value!
The board is actively recruiting my replacement. I can tell you that this is an exciting and fulfilling job. With the new addition of a Communications Director,Richard Bock, and my new role, the director position will be less time intensive and will be able to focus on strategy and operational efficiencies.
Other Changes in Our Organization
Jupiter/PBG Chapter
Gary Summers has resigned as the Chapter Coordinator for Jupiter/Palm Beach Gardens. Gary had only lived in Florida one month when he found us and almost immediately went to work as our Jupiter/PBG Chapter Leader. He did an awesome job despite his work and family commitments. He is now involved in a business start-up and must focus on that in the coming months. Thank you, Gary, for all that you have done for PBCTP in the past year!
Laura Hanley has accepted this position starting immediately. Laura has been involved in Palm Beach County politics and grassroots efforts for years and, through her efforts, willingness to work and effervescent personality, has a large network of friends and supporters. We look forward to working with her in this capacity. Laura will also serve on the Board of Directors.
Wellington Chapter
Gina Rascati and Joe Madej have also resigned as coordinators for the Wellington Tea Party. Joe did a Herculean job as the GOTV leader in Wellington, personally canvassing hundreds of homes despite hip and knee surgeries only months before. Joe was inspired by our recent visit by Brigitte Gabrielle and will be focusing on programs designed to understand radical Muslim issues in our country.
Marion Frank will be replacing Gina and Joe as the Wellington Chapter Coordinator and will also serve on the Board of Directors. Marion, like Laura, has been very active in the county, is on top of the issues, especially healthcare, and will be an energetic and valuable contributor to our organization.
Boca Raton Chapter
Alex Berry is stepping down as Chapter Coordinator in Boca Raton. In Alex' words, "The most pressing reason for my departure is that I need to spend more time with my family, my businesses, and my church. I wanted to do all I can up until this past election, and I was as disappointed as could be with the results. I look forward to re-engaging in the future as time and opportunity allow."
We would like to extend a special thanks to Alex for his hard work and commitment over the years!
Please Consider These Open Leadership Positions
Please contact Mel Grossman, our vice-chair, if you are interested in any of the following positions. His number is (561) 628-1873.
County Coordinator
Chapter Coordinator for Boca Raton (includes Delray Beach and Boynton Beach)
Assistant Coordinator for the Wellington Chapter
Yours in hope & action,
Pam Wohlschlegel
Co-founder & Oversight Coordinator
Palm Beach County Tea Party
Phone: 561.254.1036
pam@palmbeachcountyteaparty.org
Florida State Coordinator
Tea Party Patriots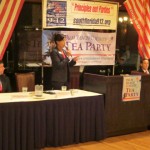 Moving closer to the critical national election next month, our Boca Chapter of the Palm Beach County Tea Party held another great night of discourse on the local level that certainly took into account what is happening to our country nationally by hosting another local candidate forum.  A palpable sense of excitement filled the air, as over 100 people filed in to hear how candidates from both sides would address key Tea Party issues.  While we had a full quiver of candidates from both the Republican AND Democratic sides slated to address those who would be on the ballot for November in Boca, the end result of those candidates who showed, versus those who elected not to appear was quite revealing…
Slated to appear were State Senate Candidates Melanie Peterson (District 25), her opponent Joe Abruzzo, James Ryan O'Hara (State House District 81), Cesar Henao (Congress District 21), Tom Gustafson (State House District 89), and Sean Kasper (State House District 90).  David Lutrin and Pat Rooney, opponents for State House District 83 were also invited, but that district was ultimately deemed not applicable for the geographic area that Boca Raton audiences would be voting for (it should be noted that David Lutrin accepted our initial invitation, but that Pat Rooney did not).  In the end, Tom Gustafson and Joe Abruzzo cancelled, leaving us with a still compelling field of O'Hara, Peterson, Kasper, and Henao.
Boca Chapter Coordinator Alex Berry began the proceedings at 7:00pm with the Pledge of Allegiance. Carlos Manuel Santana then regaled us with his impassioned version of the National Anthem, which was terrific!  After the usual protocol of explaining what the PBCTP is, and what it stands for, Alex made the usual announcements of upcoming events.  He introduced Pam Wohlschlegel, who announced the Precinct Walk Initiative to sway independents in our county.
Alex then introduced David DiCresenzo, who moderated the discussion for the evening with carefully prepared questions regarding how each candidate would address issues ranging from insurance to energy- and many other topics—and how those positions would relate to the core Tea Party issues of Limited Government, Free Markets, and Fiscal Responsibility.  The questions were excellent, and the answers truly helped our voters decide on who would best represent those principles we hold so dear to our hearts.  There was even time for an interactive audience "Question and Answer" time, which was edifying and worthwhile for all those in attendance.
Overall, it was a spectacular night that was full of fun and well received. I encourage everyone to get involved in the political process, by joining us for our events in Boca, which meet the first Tuesday of every month.  Get ready NOW for a HUGE "Election Day" victory celebration on November 6th, which happens to be the first Tuesday of the month for next month!  It will be a gala affair with monitors to watch election results, food and bar, entertainment, and speeches!  You will DEFINITELY want to mark your calendars for this one!!!  Time is drawing to a close to make a difference for the next election, so please get involved if you aren't yet, and STAY involved if you already are!
For more information and video of the event, please CLICK HERE.
On October 1, TAB, along with the South Florida 912 and the Palm Beach County Tea Party, hosted a candidate forum for County Commission district 1 and School Board district 1. Moderated by Steve Rosenblum of the blogTalkRadio show "CRF Radio with Steve and Daria", the candidates were asked a set of questions about current issues facing their respective bodies, some of which proved to offer a real choice between the candidates. Present for the forum (and keeping them honest) was outgoing Commissioner Karen Marcus, who we thank for her service, and several of Mayor Levy's councilmen, Bert Premuroso and Eric Jablin.
On Monday at the meeting of the Palm Beach County Tea Party in Wellington, two of the three candidates for State Attorney answered questions posed by moderator David DiCrescenzo and described themselves as professional prosecutors – not politicians lacking relevant skills in the courtroom. The empty chair, intended to be occupied by former State Senator Dave Aronberg (the "politician" to which the others referred on occasion), did not have a lot to say. Even Clint Eastwood would have had a hard time with that one.
The candidates, Republican Dina Keever and Independent Robert Gershman sounded similar themes. Neither had a political axe to grind and would enter the office without strings. They considered protecting the community and obtaining fair and just outcomes as the primary role of the office. Both highlighted their extensive courtroom experience on high profile cases – Keever as a federal prosecutor in Florida and Pennsylvania, Gershman as both a prosecutor in the SA office as well as a defense attorney. They distanced themselves from Aronberg who has described himself as a "CEO" who "doesn't have to know how to make coffee to run Starbucks".
They were asked about 12 questions, on topics ranging from their approach to corruption fighting, relationship to the Sheriff's office, attitudes towards the death penalty, low conviction rates in the county, and their attitude towards the Constitution.
On the issue of qualifications for the office (CEO vs experienced prosecutor), Dina Keever said flat out that "Dave Aronberg is not qualified" for the office. They both thought that political experience (although necessary to obtain the office) would not be the tool of choice while on the job.
Each was asked what was the most difficult or memorable case in their experience. Robert Gershman listed his role as the defense on the Dunbar Village rape case and the turnpike killings. In each case, although the defense lost, a fair and just verdict was reached and the trial was fair. Dina Keever listed her work on the prosecution of a bank robber in Philadelphia who had escaped justice twice before. She was able to get a conviction mainly based on a witness identification of the defendant's voice.
This race has received a lot of media attention in the past few months given the allegations of behind the scenes activities by Mr. Aronberg and his party, raised by the Palm Beach Post and others. Given the importance of the State Attorney's Office in fighting corruption in the county, any suggestion of impropriety that is not immediately answered should be disqualifying. Either of these two candidate would pass muster in that regard.
For the Post view of the event, see: Keever, Gershman debate issues, experience at forum on State Attorney's Office race; Aronberg a no-show
Some pictures from the event:
As many of you may have noticed, the PBCTP has elected to utilize it's significant power to best inform and educate our county from the perspective of not only the national election coming in November, but local elections, too.  As a result, we have attempted to shift from having a "Dinner/Speaker" type of event for our monthly chapter meetings, to creating actual "Candidate Forums" or "Debates", so that our attendees can better know the candidates.  As the Boca Chapter Coordinator, I can tell you it is no small effort to pull these events off successfully!  Of course, the closer we get to the elections in November, the more busy and active the candidates are as it comes close to "crunch time".  This has made the challenge of setting these events up that much more interesting.
This month, we went through any number of combinations of candidates for a host of different offices, but there was conflict in every case of having the candidate AND their opponents appear on the same stage.  Ultimately, time became the biggest factor.  We have always wanted to have Dina Keever, who is running for State Attorney appear in Boca, but asked for her patience as we explored the "debate" route.  Since that wasn't happening in time, Dina graciously accepted our offer to have her speak to our group.
The fact that we didn't begin promoting it until just a few days before the event, coupled with the fact that we had just hosted a HUGE Labor Day picnic in Carlin Park with Allen West the day before our event, and the fact that everyone was just coming off a major holiday, and the fact that the weather turned ugly just before our event, the attendance was lower than our usual banner crowd in Boca.  The meeting, however, was excellent, and Dina Keever was really a terrific speaker.  Meanwhile, the food at Boca Greens Country Club just seems to get better and better—we thank Roger Anderson and his staff for rolling out the red carpet for us yet again.
Boca Chapter Coordinator Alex Berry began the proceedings at 7:00pm with the Pledge of Allegiance. Carlos Manuel Santana then regaled us with his impassioned version of the National Anthem- truly exhilarating!  After the usual protocol of explaining what the PBCTP is, and what it stands for, Alex introduced Pam Wohlschlegel, PBCTP Founder and County Coordinator.  Pam announced several items of interest to our group, including her experience at the recent Republican National Convention in Tampa.  It was really quite interesting, because she interacted with our crowd in terms of questions, and discussed topics like how the delegates were chosen—and how that changed—at the convention.
Current and former local candidates Joe Talley (County Sheriff) and Cesar Haneo made appearances, and introduced themselves before the main speaker was introduced.
Alex then introduced Dina Keever, who discussed her personal journey to run for State Attorney.  I think what struck everyone in attendance was the sheer sincerity, honesty, and genuine-ness of her presentation.  If there were ever a candidate for office whose attitude was one of being "driven" to serve the public in a sacrificial way, Dina Keever is just that one.  There appeared to be no self-serving element to her at all—quite a refreshing change from the "career politician" types who we have all seen and heard.  Her motivation comes from the exact right place, and she shared in such a personal way that it almost defied the notion that she was at a podium, giving a speech.  It almost felt like a normal living room conversation (and, given our crowd size that evening, was not far from it, ha-ha!).  I believe many others running for office can take a page from her book by personalizing their story in a sincere and straightforward way.  The big "platform" issue if she were to take office?  CORRUPTION.  She left little doubt in anyone's mind that she would clean up those corridors in our county that feed off corruption.  All in all, it was a short speech, but it was no-nonsense and packed a good punch.  Dina then took questions from the crowd, and most were simply follow-up questions from her speech.
It was a great night that was full of fun and well received. I encourage everyone to get involved in the political process, by joining us for our events in Boca, which meet the first Tuesday of every month.  Stay tuned for announcements on our October 2nd meeting, and get ready NOW for a HUGE "Election Day" victory celebration on November 6th, which happens to be the first Tuesday of the month!  It will be a gala affair with monitors to watch election results, food and bar, entertainment, and speeches!  You will DEFINITELY want to mark your calendars for this one!!!  Time is drawing to a close to make a difference for the next election, so please get involved if you aren't yet, and STAY involved if you already are!
Beautiful skies, no rain, a gentle breeze, great friends, food and celebration of those values that make America an exceptional Nation were enjoyed by all Monday afternoon. Speakers as well as the afternoon's music emphasized the good and exceptional qualities of America and her people while we were also cautioned by the speakers of the current administration's disregard of the Constitution and separation of powers between the Legislative, Executive and Judicial branches, the negative impact of over-regulation and the soon to be stifling tax increases, already enacted. Looming deadlines of the American Affordable (Un-Affordable) Health Care Act, aka Obama Care and Dodd-Frank Wall Street Reform and Consumer Protection Act are set to trigger primarily after the November election, saving the worst impacts until the Presidential and Congressional elections are history – thus our only hope is to "repeal and replace".
Requests were made for Poll Watcher volunteers and were referred to Mr. Joe Madej who has been successful in signing up volunteers to date – let's cover all the polling sites in Palm Beach County ! Further announcements were made of the upcoming Freedom from the UN Rally to be held Saturday, October 20, 2012 in Tallahassee, and that Lynne Sherrer is available to help with new voter registration, address changes, party change and card replacements. See or contact Lynne.
Karen and Billy Vaughn, parents of Aaron Carson Vaughn, Special Warfare Operator First Class,U.S. Navy, one of thirty US Military personnel who died in the crash of their Chinook helicopter in Wardak Province of Afghanistan spoke of their son's steadfast Christian faith and commitment to America, fellow Seal Team members and family. The enormously-increased frequency of missions by Special Forces coupled with restrictive Rules Of Engagement and shortage of current technology transport aircraft are contributing to heavy loss of American military personnel; additionally, critical injuries to American service personnel have greatly increased over the past several years. Our prayers are with all family members, Aaron's wife Kimberly, three year old son Reagan and fifteen month old daughter Chamberlyn. (See Mother of SEAL Criticizes Obama Ad)
Pam Wohlschlegel, co-founder of and the county coordinator for Palm Beach County Tea Party (and Florida State Coordinator for Tea Party Patriots) recapped impressions of the Tampa RNC and stated several very anti-business and negative "ObamaCare" impacts to our liberties slated for the next four years, lest we retire our sitting President. Pam then introduced Congressman Allen West.
Congressman West spoke of service to country and the need to have leadership in Washington DC. Amid escalating and thunderous applause, Congressman West pointed out each of the "Gang Patches" as referred to by his opponent Patrick Murphy. Each patch had to do with LtCol (Ret) West's military service, and of course, not "gangs" as implied by Murphy. West also explained the enormous increases to income, dividend and capital gains taxes that are already-enacted by the Obama administration to begin next year. Dividend taxes will explode from 15 percent to 39.6 percent, capital gains from 15 to 20 percent.
NOTE: In addition to the above increases stated by Congressman West, with payroll tax rate cuts likely to expire and personal income, payroll taxes and other "Affordable Care" taxes, real increases in tax burden will range from 25 to 40 percent INCREASE for under $250K and over $250K joint income categories. These are capital-consuming social program-absorbed dollars and leave nothing to pay off the current and escalating national debt / unfunded liabilities. If $1 Billion were paid EACH DAY toward the US Unfunded Liabilities, it will require over 329 years to repay – only that which is currently due at present. For a dizzying "financial statement" and summary of this very real and virus-like problem, go to usdebtclock.org.
As elections approach, there are many venues in which to see and hear the candidates. Many of these, such as the network of political clubs of both parties, have rules that don't allow non-party members to speak, even in non-partisan elections like Sheriff or Supervisor of Elections.
Last evening's joint event with Palm Beach County Tea Party and South Florida 912, kicked off with a visit by Senate candidate Dave Weldon.
Tea Party Activists have at various times affected change on the national and state level, and more recently have become involved in county and city level issues. Case in point:
Last month, the Palm Beach Gardens City Council passed on first reading a charter amendment to go on the November ballot. The original proposal would have "repealed and replaced" the entire charter, and introduced substantive changes in the way elections were conducted, the relationship between the Council and City Manager, and other changes. The rationale was that some "cleanup" was necessary to bring the charter into compliance with state law.
This did not sit right with a number of Gardens residents, including some members of the Palm Beach County Tea Party. A loose coalition was formed, meetings were held, a line-by-line analysis of the charter and proposed changes was performed, and (at the request of the coalition) an informational session was provided by City Attorney Max Lohman who had developed the new charter language. A website was created (PBGwatch.com), letters were sent to the council, word was spread by social media and other means, and many turned out at last night's Council meeting to speak against the changes or support those who did.
The net result was a change in plans. The most troubling part of the amendment (Proposition Two), which would have eliminated runoff elections in favor of a "plurality" system that gives an advantage to the incumbent, was rejected by the council. The rest of the proposal (Proposition One) was approved, but not without a lot of discussion by the council, who took our concerns seriously by the end of the debate.
It has been my experience working at the county and local level, that most elected officials care what their citizens think about their actions, and in most cases will not plow ahead with something that is wildly disliked by people concerned enough to come to their meetings (there are exceptions of course – see "Obamacare"). The Gardens Council, to their credit, did listen to their constituents on this matter.
Thank you to all the Tea Party members who spoke at the meeting, including Mel Grossman, Terry Brady, Sally Schmiedl, Francisco Rodriguez, Fred Scheibl and Iris Scheibl.
For more information about these issues, please see: PBGwatch.com
"The best government is the one whose actions are constantly observed." – anon.
On July 10, the Palm Beach County Tea Party and South Florida 912 jointly sponsored a candidate forum for the State Senate Republican primary candidates in district 25 and 34. (click for district description.) Moderated by local radio personality Joyce Kaufman, the three candidates were asked ten questions of state-wide interest. Unlike our similar forum for the County Commission, the candidates were not given the questions to ponder in advance. The result was answers with less depth, but it did differentiate the candidates on their familiarity and grasp of the issues. Below you will find a summary of the event, with the questions, their answers, and a link to a video of that section of the forum.
With three candidates participating, it was easy to lose sight of the fact that Melanie Peterson and Geoff Sommers are direct competitors and Mike Lameyer is in a different race against incumbent Senator Ellyn Bogdanoff who was unable to attend the event because of scheduling conflicts. So let's first stipulate that Mike did a solid job. His answers were on point and he demonstrated a good grasp of the issues. Senator Bogdanoff is an excellent debater and a policy insider, but one could imagine Mike holding his own in a one-on-one if she had been able to attend. He had many facts and figures at his fingertips, and showed his passion for hot-button issues like e-Verify. The experience he gained in his 2010 run for S27 was evident in his confidence and command of the facts. Some notable answers were in prison privatization ("send them back to road patrol") and FRS reform ("state workers should pay their own way").
In the S25 contest, it will be an uphill battle for either of the contenders to best Joe Abruzzo in this D+12 district. Joe is an experienced legislator, with support on both sides of the aisle. It will take polish and depth to compete effectively.
On that basis, this was Melanie Peterson's night to shine. She answered the questions directly with no attempt at deflection, and drew from her experience to add depth and real context to the answers. On the gambling question, she related her time managing Indian gaming as part of a family business to the more subtle aspects of the issue like crime and security. On the Energy bill question, she jumped from crony capitalism to a discussion of incentives for all businesses, not just those favored by certain legislators. And then she hit a home run by deflecting what was a zinger by Geoff Sommers on her support for a wind farm in the Glades ("where there is no wind"), by pointing out that it was a private sector project, with private funding and she would always be in favor of businesses coming to the Glades to spend money, even if the project was a risk to the private investors.
Geoff Sommers did a credible job. On most of the issues he had similar positions to the other two – supporting the Governor on fighting Obamacare, against crony capitalism, and supporting school choice. One interesting answer was that gambling should be expanded within the framework of existing licenses. Geoff, who has less campaigning experience than the other two, came across earnest and sincere, and he held his own. He gave conservative answers to the questions, which pleased the audience, and would likely represent us well if elected.
The event at Boca Greens Country Club was well attended, and quite a few other candidates joined us, including: Cesar Henao (Congressional district 21 Independent), Joe Talley (County Sheriff), Fran Hancock and Cindy Tindell (State Committeewoman), and James O'Hara (State House district 81).
Some pictures from the event.