Mel and Barbara Grossman attended a lunch at the home of past Presidential Candidate Dr. Ben Carson on the subject of getting out the vote.
The meeting consisted of faith based projects with leaders of our community invited to discuss their thoughts.
Many of the subjects are in the process of being completed with a new book by Dr. Ben Carson, supported by video & full length movie by Kirk Cameron which should be out by Oct 2016.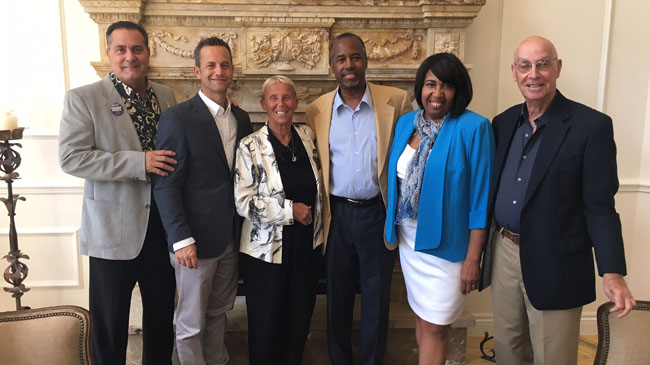 Pictured is Willy Guardiola, Kirk Cameron, Barbara Grossman, Dr. Ben & wife Candy Carson, and Mel Grossman.
The PBCTP Candidate expo at Abacoa drew a broad collection of candidates for office and staffers at all levels – US Senate, US House, Florida Senate and House, County Commission, School Board, Sheriff, Property Appraiser, Public Defender … who mingled with the voters and made their case.
Here's a few photos of the event:
With his catchphrase "Passion plus talent is unstoppable", WJNO's co-host for the Morning Rush (5am-9pm) Brian Mudd, explained some of his election modeling work to an engaged crowd at Abacoa on Monday.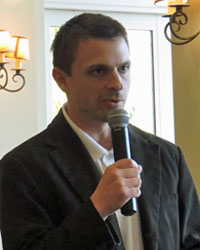 Brian Mudd
In our history, Presidential elections have followed a predictable pattern based on three conditions.
First, no Democrat President other than Harry Truman (who as Vice President succeeded after the death of Roosevelt) has ever been elected to follow a 2-term Democrat President. Advantage: Republicans.
Second, no President succeeded another of the same party who had less than a 54% approval rating. With Obama currently at 48%, advantage: Republicans.
Third, no President succeeded another of the same party when the "right track / wrong track" polling was less than 50%. With it currently standing at 28% right track, 65% wrong track – again advantage Republicans.
Taking these three indicators into account, Brian confidently predicts a Republican win, all things being equal. That said, there are still some wild cards this year. Clinton could be indicted, the Republicans could self destruct, etc. In general though, people vote their wallet and since the recession hasn't really ended for many Americans, it does not bode well for the party in power.
Taking a range of questions from the audience, Brian also discussed convention politics, economic growth, possible actions by the FED, and the so-called "Trump Bubble" (Mr. Trump's prediction of coming recession and risks in the stock market).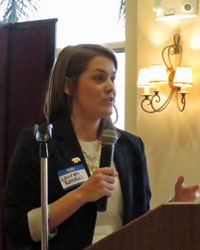 Lauren Konkol
A second speaker for the evening was Lauren Konkol, a millennial activist who describes some of her activities as "integrating the gospel in the public square." Formerly associated with Turning Point, USA, the student activist organization that recruits college students into the conservative fold, Lauren spoke of some of her projects to fight apathy among her age group. With the theme "the good is the enemy of the great", she explained how millennials can feel marginalized but will follow a political ideology that speaks to their needs and interests, and that her "generation is not one that can be stopped." Lauren has plans to run for the Florida House.
Candidates present at the meeting included Carl Domino and Rebecca Negron (CD18), and Alex Freeman (Sheriff).
If you missed Brian Mudd at this meeting, you can catch him in Wellington on April 6.
The PBC Tea Party participated in a demonstration on Saturday, shown here on Northlake Boulevard, opposing the All Aboard Florida (aka "Brightline") plan to run 32 passenger trains a day at high speeds through our communities.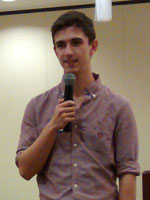 On his third tea party appearance (see: Cade Marsh – the Face of Tomorrow's Republican), Young Republican organizer Cade Marsh told us of the appeal of a "new conservative movement" to millennials who are not attracted to the conventional party structures. Involved in campus voter registration drives, he spoke of pressuring supervisors of election to place voting locations on college campuses and how students have the option of registering using their on-campus address.
Cade is a junior at Palm Beach Atlantic University in pre-Law and Business Administration and currently Executive Director of the Florida Federation of College Republicans. Check out Cade's group at ffcr.org.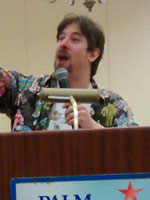 Political humorist Eric Golub, author of several satirical works including "Ideological Bigotry" "Ideological Idiocy" and others, calls himself "the younger version of Mort Sahl". Offering advice on how to counter liberal disdain he offers these steps: Offer a compromise on gun control – take all the guns from the liberals and give them to us. Offer a compromise on abortion – develop a test for liberals while they are still in the womb. Trump may want to temporarily ban Muslims from immigrating, but Obama got 250K of them killed in Syria by ignoring his red line. Trump may want to block Mexican immigrants, but Obama got 200 of them killed with Fast & Furious.
Declining to reveal his choice for President he offered good words for the three frontrunners: Rubio has Reagan's upbeat vision and is good with crowds. Depend on Cruz to do the right thing when a decision lands on his desk. Trump will deck Clinton like none of the others would.
Follow Eric on his blog, The Tygrrrr Express.
---
Next Tuesday's elections brought Gardens Council candidates
David Levy
and
Carl Woods
to the event, and we heard from supporters of
Ted Cruz
and
Donald Trump
. Then looking ahead to the August 30 primary, Republican candidates for CD18
Carl Domino
,
Rick Roth
,
Brian Mast
and
Rebecca Negron
made appearances, as did Independent
Carla Spalding
.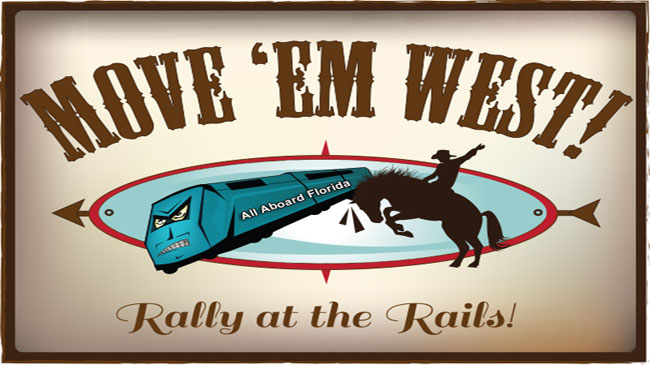 JOIN US IN PROTEST AGAINST AAF/BRIGHTLINE'S
HIGH-SPEED PASSENGER TRAINS
The "Move 'em West – Rally at the Rails" will be held Saturday, March 19, 2016 at 11am at six railroad crossings simultaneously on the Treasure Coast and Palm Beach County.
Rallies will be held near rail crossings in Micco, Vero Beach, Ft. Pierce, Stuart and two locations in Palm Beach. Protest signs will be available at the locations.
Residents will protest on the sidewalks (100 feet from the crossings) and share their anger that profits are being put above safety with the dangers posed by AAF/Brightline's 32 daily high-speed trains along with the transportation of hazardous chemicals on the freight line.
Let your voices be heard!
Citizens Against The Train
Fighting Non-stop to Stop All Aboard Florida
The Palm Beach County Tea Party co-sponsored this candidate forum for the Gardens Council race. View the video of the event here.
On Tuesday, February 2, the Boca Chapter heard a discussion of election prediction from WJNO's Brian Mudd.

Brian Mudd is the Weekday Mornings 5am-9am WJNO (1290 AM) Financial Analyst & Co-Host for The Palm Beaches' Morning Rush. Brian has graciously given his time to us on several occasions as the moderator in campaign debates, but this time he came to speak about how he uses his statistical analysis skills to predict the outcomes in elections. The methodology he uses for applying undecided voters is actually based on a concept that was first introduced more than 20 years ago called the "Incumbent Rule". The incumbent rule outlined how 80%+ of the time, undecided voters on Election Day would break for non-incumbent candidates. Through additional research Brian has been able to boil it down to the concept of the known vs. the unknown.
Brian analyzes races around the country in which the undecided voters can swing the outcome of an election. He then apply the undecided voters based on the historical trends in that particular state over the last twenty years. It's a lot more work but has proven to be extremely accurate as Brian has been able to accurately pick the outcome 98% of the time in the last two Presidential Elections since he began using this method. This cycle presents two challenges. First there isn't an incumbent that's running in either party and secondly, he doesn't fully apply the method to primary and Caucus races because the nature of the primaries isn't applicable from one cycle to another (variance with the number of candidates primarily).
Brian has also predicted based on several factors that there is a 92% chance that a Republican (he won't say which one) will win the Presidency. Brian received a standing ovation for that one.
The meeting started earlier than normal at 6 PM to accommodate Brian because of his early morning work schedule, he has to wake up at 2:30 in the morning. After Brian spoke, we heard from a representative from the Donald Trump campaign, Sue Snowden and a representative from the Ted Cruz campaign, Marion Frank. Marion then went on to discuss the differences between capitalism and socialism; how so many Americans don't even know what socialism is. However, all members in attendance at this tea party definitely knew the difference.
Read more: Cheat Sheet for 2/1/16 – Iowa Caucus special
Read more: Cheat Sheet for 2-5-16: Who would win New Hampshire today?
A past President of the PBAU Young Republicans who joined us in Wellington on Wednesday, Cade Marsh remembers when you could count the members on one hand, yet now there are several hundred. Now working on a state level, he is refining his techniques for recruiting the new conservative base.
Cade suggests that this next generation has a different view towards the news, often using social media to listen to those they trust rather than consuming mass media. This is all about "relationships" rather than "dictation". With 1.1 million college students in Florida, and only 20% (by one estimate) who are registered to vote, there is a big opportunity here.
Asked what drives these newly politically actives, that is, what makes them angry enough to get involved, he pointed to the escalating size of the student loan burden. A solution (other than Bernie Sander's concept of making the rich pay it off), involves new methods of education. Online learning for example, can deliver at much lower cost than the traditional classroom setting. Disruptive technologies are needed – think Uber.
Look for Cade at the Jupiter chapter in March.
Also at the meeting, we had volunteers from the Trump, Carson and Cruz campaigns boosting their guys, and we heard an update on the county plan to put a sales tax increase on the ballot this year – perhaps driving it up to 7.5%. The County Commission meets on it next Tuesday. For more information, see: Increasing Sales Tax a Bad Idea on the TAB website.