The PBC Tea Party participated in a demonstration on Saturday, shown here on Northlake Boulevard, opposing the All Aboard Florida (aka "Brightline") plan to run 32 passenger trains a day at high speeds through our communities.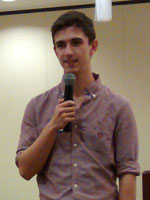 On his third tea party appearance (see: Cade Marsh – the Face of Tomorrow's Republican), Young Republican organizer Cade Marsh told us of the appeal of a "new conservative movement" to millennials who are not attracted to the conventional party structures. Involved in campus voter registration drives, he spoke of pressuring supervisors of election to place voting locations on college campuses and how students have the option of registering using their on-campus address.
Cade is a junior at Palm Beach Atlantic University in pre-Law and Business Administration and currently Executive Director of the Florida Federation of College Republicans. Check out Cade's group at ffcr.org.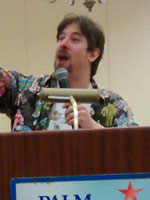 Political humorist Eric Golub, author of several satirical works including "Ideological Bigotry" "Ideological Idiocy" and others, calls himself "the younger version of Mort Sahl". Offering advice on how to counter liberal disdain he offers these steps: Offer a compromise on gun control – take all the guns from the liberals and give them to us. Offer a compromise on abortion – develop a test for liberals while they are still in the womb. Trump may want to temporarily ban Muslims from immigrating, but Obama got 250K of them killed in Syria by ignoring his red line. Trump may want to block Mexican immigrants, but Obama got 200 of them killed with Fast & Furious.
Declining to reveal his choice for President he offered good words for the three frontrunners: Rubio has Reagan's upbeat vision and is good with crowds. Depend on Cruz to do the right thing when a decision lands on his desk. Trump will deck Clinton like none of the others would.
Follow Eric on his blog, The Tygrrrr Express.
---
Next Tuesday's elections brought Gardens Council candidates
David Levy
and
Carl Woods
to the event, and we heard from supporters of
Ted Cruz
and
Donald Trump
. Then looking ahead to the August 30 primary, Republican candidates for CD18
Carl Domino
,
Rick Roth
,
Brian Mast
and
Rebecca Negron
made appearances, as did Independent
Carla Spalding
.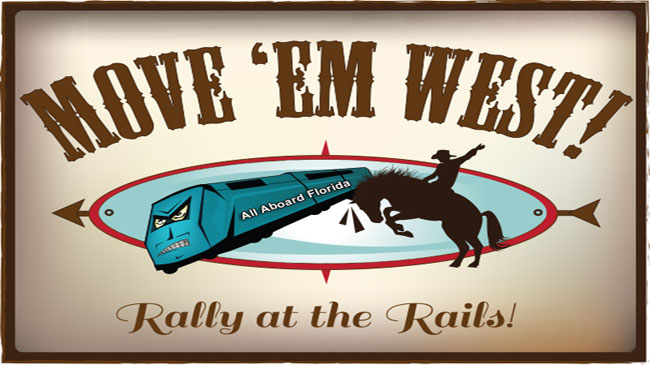 JOIN US IN PROTEST AGAINST AAF/BRIGHTLINE'S
HIGH-SPEED PASSENGER TRAINS
The "Move 'em West – Rally at the Rails" will be held Saturday, March 19, 2016 at 11am at six railroad crossings simultaneously on the Treasure Coast and Palm Beach County.
Rallies will be held near rail crossings in Micco, Vero Beach, Ft. Pierce, Stuart and two locations in Palm Beach. Protest signs will be available at the locations.
Residents will protest on the sidewalks (100 feet from the crossings) and share their anger that profits are being put above safety with the dangers posed by AAF/Brightline's 32 daily high-speed trains along with the transportation of hazardous chemicals on the freight line.
Let your voices be heard!
Citizens Against The Train
Fighting Non-stop to Stop All Aboard Florida
The Palm Beach County Tea Party co-sponsored this candidate forum for the Gardens Council race. View the video of the event here.
On Tuesday, February 2, the Boca Chapter heard a discussion of election prediction from WJNO's Brian Mudd.

Brian Mudd is the Weekday Mornings 5am-9am WJNO (1290 AM) Financial Analyst & Co-Host for The Palm Beaches' Morning Rush. Brian has graciously given his time to us on several occasions as the moderator in campaign debates, but this time he came to speak about how he uses his statistical analysis skills to predict the outcomes in elections. The methodology he uses for applying undecided voters is actually based on a concept that was first introduced more than 20 years ago called the "Incumbent Rule". The incumbent rule outlined how 80%+ of the time, undecided voters on Election Day would break for non-incumbent candidates. Through additional research Brian has been able to boil it down to the concept of the known vs. the unknown.
Brian analyzes races around the country in which the undecided voters can swing the outcome of an election. He then apply the undecided voters based on the historical trends in that particular state over the last twenty years. It's a lot more work but has proven to be extremely accurate as Brian has been able to accurately pick the outcome 98% of the time in the last two Presidential Elections since he began using this method. This cycle presents two challenges. First there isn't an incumbent that's running in either party and secondly, he doesn't fully apply the method to primary and Caucus races because the nature of the primaries isn't applicable from one cycle to another (variance with the number of candidates primarily).
Brian has also predicted based on several factors that there is a 92% chance that a Republican (he won't say which one) will win the Presidency. Brian received a standing ovation for that one.
The meeting started earlier than normal at 6 PM to accommodate Brian because of his early morning work schedule, he has to wake up at 2:30 in the morning. After Brian spoke, we heard from a representative from the Donald Trump campaign, Sue Snowden and a representative from the Ted Cruz campaign, Marion Frank. Marion then went on to discuss the differences between capitalism and socialism; how so many Americans don't even know what socialism is. However, all members in attendance at this tea party definitely knew the difference.
Read more: Cheat Sheet for 2/1/16 – Iowa Caucus special
Read more: Cheat Sheet for 2-5-16: Who would win New Hampshire today?
A past President of the PBAU Young Republicans who joined us in Wellington on Wednesday, Cade Marsh remembers when you could count the members on one hand, yet now there are several hundred. Now working on a state level, he is refining his techniques for recruiting the new conservative base.
Cade suggests that this next generation has a different view towards the news, often using social media to listen to those they trust rather than consuming mass media. This is all about "relationships" rather than "dictation". With 1.1 million college students in Florida, and only 20% (by one estimate) who are registered to vote, there is a big opportunity here.
Asked what drives these newly politically actives, that is, what makes them angry enough to get involved, he pointed to the escalating size of the student loan burden. A solution (other than Bernie Sander's concept of making the rich pay it off), involves new methods of education. Online learning for example, can deliver at much lower cost than the traditional classroom setting. Disruptive technologies are needed – think Uber.
Look for Cade at the Jupiter chapter in March.
Also at the meeting, we had volunteers from the Trump, Carson and Cruz campaigns boosting their guys, and we heard an update on the county plan to put a sales tax increase on the ballot this year – perhaps driving it up to 7.5%. The County Commission meets on it next Tuesday. For more information, see: Increasing Sales Tax a Bad Idea on the TAB website.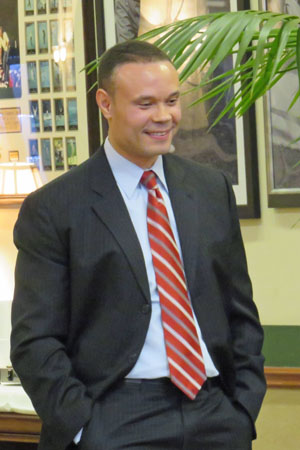 A good size crowd at Abacoa came to hear conservative pundit and former secret service agent Dan Bongino help summarize what Barack Obama has done to America.
Starting with a positive note – "The country will recover from Barack Obama", he gave his perspective of the President – a smart man with a far-left agenda, surrounded by equal minded ideologues. From the executive orders on immigration, where the President repeatedly said he didn't have the authority to act – then did just that, to the fanciful claims in the selling of Obamacare – "you can keep your doctor, etc. ..", Dan described the country after the last seven years as living in a "post-constitutional society". Our liberty is being taken away by "a man obsessed with power".
In a clever characterization of the right-left divide, Dan points out that "we are all bound together by stories" (ie. narratives), but the left and right have different stories, which makes agreement or even dialogue very difficult.
Opening up the floor to questions, Dan went on for about a half hour, giving thoughtful, knowledgeable answers to a wide variety of questions, from 2030 and Agenda 21 (it is real – look it up), the control of local law enforcement by the DOJ, and why the Congress hasn't moved to impeach Barack Obama (it would be unsuccessful, since 2/3 of the Senate would never vote to convict.)
Dan also had early copies of his book "The Fight, A Secret Service Agent's Inside Account of Security Failings and the Political Machine", available at Amazon for pre-order.
---
Candidates who were introduced at the meeting were Brian Mast and Paul Spain (CD18), and Christine Butler Spain, who is running for Supervisor of Elections.
We also had volunteers from three of Presidential campaigns, as Fred Scheibl, Marion Frank and Barry Carson laid out a rationale for Donald Trump, Ted Cruz and Ben Carson, respectively. A short "straw poll" by Mel yielded about 25 votes for Trump, 10-15 for Cruz, and about 5 for Carson, with a few mentions of the other 9 candidates.
The Sunshine Summit, last weekend's gathering of the Republican grassroots in Orlando, brought together 14 of the 15 candidates currently competing for presidential primary votes, along with most of the Senate candidates.
Unlike the events of the last two cycles in 2007 and 2011, which featured both televised debates and straw polls, this was mostly a candidate showcase – each was given 20 minutes to make their case. The extreme number of candidates this time, and the fact that Florida does not vote until March 15 – after 26 states will have already assigned their delegates, probably reduced attendance at the event. Still, there were upwards of 1000 in the hall, and the media presence was considerable. CSPAN covered the event live, and lots of recognizable on-air personalities could be seen roaming the halls.
External events played a role in what transpired, as reaction to the Paris attacks on Friday were integrated into the Saturday speeches, or in the case of Chris Christie, dominated their remarks. And the Democrat debate on Saturday night offered a unique opportunity to compare all of our contenders to Hillary Clinton and her two pesky sparring partners.
All the candidates remarks can be seen streaming on CSPAN.
After watching all the debates and attending the Heritage Action Event in South Carolina (with 10 of the candidates), I thought I had a good idea of the dynamics of the race and who was on my short list. That said, I left Orlando with a few new insights.
1. The outsiders have captured the imagination of large portions of the Republican base, even at an event comprised mostly of "insiders".
As an event sponsored by the Republican Party of Florida, with a large number of blue-badged party officials in attendance, I expected a great deal of support and enthusiasm for the "favorite sons" Jeb Bush and Marco Rubio, and less for the outsiders Trump, Carson, Fiorina, and (some would say) Ted Cruz. This was clearly not the case.
While Jeb and Marco have strong support, it was the outsiders who were the rock stars.
Ted Cruz laid out the red meat with a flourish and hit all the hot buttons from Obamacare to the border, the Iran deal, a flat tax, and support for Israel, to thunderous applause.
Donald Trump, avoiding any criticism of his rivals this time, took on illegal immigration (need a Dream Act for Americans), winning again, incompetent leaders, and suggested that college students should be taught about the first amendment. The response was widespread and overwhelming.
Ben Carson, after a quiet start discussing his upbringing, lit into an extensive litany of all the things he would do if he wanted to "destroy America" – all of which Obama has put into motion. His was the most complete and devastating attack on the incumbent President of all the candidates and the crowd responded with enthusiasm.
Carly Fiorina, the last speaker of the event, focused on the Paris attacks, the feckless and dangerous foreign policy of Obama/Clinton, and what she would be doing about ISIS. It seemed like Margaret Thatcher channeling Winston Churchill and left no doubt that she would be a serious and effective commander-in-chief. The response was loud and enthusiastic.
2. Almost all of the Republican contenders are displaying the vision, determination, skill and experience that could believably repair the damage that 7 years of Obama have wrought. Clinton is clearly not in the same league with these people, in spite of her over 25 years on the national stage, and tenure as Senator and Secretary of State.
One thing that has become obvious to many people is that there are many kinds of relevant experience besides being an elected official. The office of President is a unique job, unlike any other, and it takes a generalist to oversee a diverse set of tasks, a communicator to inspire the country and lead it in a positive direction, and a visionary to see our potential as a people and set the wheels in motion to carry us forward. Governors, Senators, Business Leaders – all have skills that are relevant to the job, and all of the candidates now in the race have been successful in their lives and bring serious qualifications and abilities to the table.
Some would say that the terrible state that the country is in – anemic growth, unsustainable debt, corruption at all levels, an abdication of world leadership – is a result of professional politicians and insiders (lobbyists, big donors, etc) having screwed everything up. Hillary Clinton, who is unarguably the stereotype of all those things, would represent more of the same, as could be seen on the debate stage in Des Moines. It was apparent in Orlando that our candidates (to a greater or lesser extent), reject the status quo and will lead the country in a different direction.
3. The weeding out process is going to be long and arduous, as very few of these contenders can be counted out, despite their current standing in the polls.
Until the first delegates are selected in the Iowa caucuses on February 1, the polls will be unreliable, as most likely voters appear to be making tentative selections. Many people, until they have to commit, will lean to the candidate that meets their ideological goals, appears to speak "for them", says the "right things", or wins debating points. When the rubber meets the road though, issues of electability, consistency, honesty, ethics, contrast with the Democrat candidate, and other issues will rise in importance. As this year is unusual in the number of candidates and the widespread dissatisfaction with elected officials, predictions are hard.
Some weeding out has already begun, as few would expect Lindsey Graham or Jim Gilmore to become the nominee, and two candidates have already left the race. But all the rest have ardent supporters and judging by the enthusiastic response at the summit to most of the candidates, there are many "acceptable alternatives". It is truly a deep bench.
Karen Schoen was the speaker for the Palm Beach County Tea Party for the November meetings.
All who attended were enlightened about Agenda 21 (or as it is currently referred to as Agenda 2030), Common Core, and a host of other subjects.  Karen gave the history of the origination of Agenda 21 by the United Nations and that President Bush 41 was the first to sign onto the plan. she spoke about the way the schools are teaching history starting from 1885 and dismissing the beginning years.
Karen is a very knowledgeable individual and all who attended the Jupiter, Boca and Wellington meetings came away with a better understanding of why our country is heading in the direction that it is going at this time.  We thank Karen for her time and her knowledge and hope to have her back again.