Representing the far northern communities of Palm Beach County, including Jupiter and Tequesta, the Republican team of Senator Joe Negron and Representative Mary Lynn Magar provided us with their perspective on this year's legislative session and the issues of interest to the audience.
Representative Magar represents house district 82, consisting of Jupiter/Tequesta and the southern part of Martin County. Her day job is VP and General Manager of Heart Care Imaging, and she addressed the issues surrounding health care in the state, including the House decision to reject the federal medicare expansion, legislation to increase access to the medicaid program by the elderly, and assistance to those afflicted with spinal cord injury. She highlighted some of her sponsored bills in the area of helping businesses collect on bad checks, and attracting manufacturers with a sales tax moratorium on equipment purchases, which she says helps us compete with other states in the Southeast.
Taking a few questions, she promised to "look into" the core curriculum status (which was signed into law under Charley Crist and not on the session agenda this year), and she thought "local is good" regarding planning decisions under 7/50.
Senator Negron, represents district 32 – the coastal communities from Jupiter / Tequesta north to Vero Beach. He hit briefly on three topics and then took some questions in a free flowing conversation. He first discussed the "stand your ground" statute in the context of the Zimmerman case, and said he does not want to see any changes to the law. Then he mentioned his "drone bill", which limits the use of unmanned aircraft by law enforcment except in limited circumstances, and explained it in the context of the balance between liberty and security. He also addressed the "public right to speak" bill which enables citizen input at meetings of public officials, which many cities and counties opposed.
Addressing issues of interest to the audience, he gave his view of the "tea party" – not a monolithic point of view but a decentralized body of opinion that reflects the diversity of its members. He was an early supporter of e-verify in the state (which didn't pass), and believes that businesses should not be overly dependent on illegal labor. He explained his view of medicaid expansion (which unlike the House bill would have accepted federal money), and explained (in answer to a question) that currently Florida does not provide medical care to illegals except in the case of 1) pregnancy and delivery, and 2) emergency care.
Other items at the meeting included the announcent that current PBCTP President Mike Riordan is stepping down to focus more time on his business. The board will carry on until he can be replaced.  Member Joel Channing also introduced Mike Stetson of the Pacific Legal Foundation.  The foundation had just won the Supreme Court case Koontz v St. Johns River Water Management District and Mike spoke a little bit about the case and PLF.  He also described PLF's ongoing case against Obamacare challenging it on the origination clause:  Now that the individual mandate has been declared a 'tax', the bill originated in the Senate and all taxes must originate in the House.
2014 candidates attending the meeting included Alan Schlesinger (CD18) and Brandon Cannon (FS32).
Some pictures from Fred and Ed:

Last evening at Abacoa, the June meeting of the Jupiter Chapter addressed the national scandal surrounding the IRS and how it relates to the local tea party.
Kicked off by chapter leader Laura Hanley, the microphone was passed to President Mike Riordan who started with an overview of the IRS harassment and intimidation suffered by conservative groups since 2010. As members of the Tea Party Patriots, we are supporting their legal activity and the board is meeting with leader Jenny Beth Martin later this week.
Mostly targeted have been 501(c)(4) "social welfare" applications, a category that allows some political activity, as long as it is not the primary purpose of the group (as opposed to 501(c)(3) that does not). At the present time, PBCTP does not hold either exemption, but a decision has been made to apply for both (3) and (4) designations. As Mike pointed out, with all the Congressional and public scrutiny of the IRS, now is probably the best opportunity for a speedy decision.
A primer on how best to communicate with public officials then followed, along with some talking points on the issue, including:
Targeting of ANY group based on political beliefs is unacceptable
What can happen to one American can happen to ANY American
The revenue collecting arm of the government cannot be used to target, intimidate or destroy
We demand a full investigation into the IRS at all levels
Following some Q&A, we then heard from Ed Wolff on Oversight updates,  Fred Scheibl of the Taxpayer Action Board (TAB) about the upcoming county budget hearing next Tuesday where county staff plans to propose a tax increase, Lynne Sherrer about current activities surrounding the Common Core fight, and Jack McLain of the Constitution Party of Florida with his book "Which Way America?"
Finally, Congressional candidates in CD18 Ellen Andel and Alan Schlesinger introduced themselves to the group.
The Palm Beach County Tea Party hosted their 2013 tax day rally – United Stand for America, at the Wellington Amphitheatre on Sunday, under a bright blue sky and seasonally warm temperature. South Florida 912 and Martin County Tea Party / 912, and Americans for Prosperity were co-sponsors of the event. Moderated by PBCTP President Mike Riordan, the afternoon's lineup of speakers covered a variety of conservative themes.
Keynote Kevin Jackson, a conservative blogger and creator of the "Black Sphere", gave the audience some good advice. "The Republican Party" he said, "is about civil rights, but may have lost its way.". We need to strengthen it though, not abandon it. For this two things are necessary: infuse the party with warriors, and understand that "liberalism is a disease, AND YOU CAN CATCH IT!". He cited Colin Powell as an example of one of those who "caught it".
Local radio personality Joyce Kaufman, heading to Washington on Tuesday to fight against the "gang of eight" immigration bill championed by Marco Rubio, told of politicians settling into office and abandoning the principles that got them elected.
Former NY radio personality Imre Beke likened the taxpayer to a pig with a wooden leg, and the politicians view that "You don't eat a special pig like that all at one time.".
Larry Kawa, of American Courage PAC gave us home economics analogies to the federal budget and pointed out the absurdity of the Washington stewardship of the national wealth.
Former Washington DC prosecutor Jeff Shapiro gave us insights into the current discussion of gun rights from his perspective of enforcing the DC gun ban in the pre-Heller days.
We also heard from Angela West about her new blog "Republican Coffee Corner with Angela", PBC GOP Chair Ira Sabin, South Florida 912 Founder Shannon Armstrong, Martin County 912 leader Cindy Lucas, Republican Black Caucus leader Sean Jackson, and Leigh Lamson, the leader of the Port St. Lucie Tea Party/912.
Some pictures from the event:
With a crystal-clear night on the back end of a Florida "cold-snap" (getting into the 40's the day before), there was another exciting night of patriotism from the Palm Beach County Tea Party.  Though the turnout was lighter than this past month, it was an unquestionably exciting evening of brisk dialogue amongst Patriots in Boca Raton.   Slade O'Brien was the guest speaker, and his perspective as a leader of grassroots movements, and dealing with politics on the LOCAL level, was quite illuminating.  As the Florida Director of Americans For Prosperity, Slade has an extraordinary inside perspective on Florida politics, with access to all the "movers and shakers" within the political sphere in our state.
What he revealed about statewide graft and corruption in state contracts from legislators "thanking" their lobbyists and supporters who got them elected was both sickening and motivating at the same time.  Slade also updated us on the "Five For Florida" initiative that AFP began last year, and updated us on their progress.  While much has been accomplished, we have a "long road ahead", as Slade said.
This also marked the return to Boca Greens Country Club, and exceptional venue for our group in terms of space, facilities, location, and food.  Salad, Rolls, Chicken, and Salmon was served with a Vodka Penne dish, and a yummy-looking Apple-Cobbler type of dessert (I did not partake).  It was a great crowd, populated by both familiar faces, as well as many new people.  PBCTP Co-Founders Mel and Barbara Grossman made the trip from Jupiter to be with us, as did Terry Brady.
Boca Chapter Coordinator Alex Berry began the proceedings at 7:00pm with the Pledge of Allegiance. Carlos Manuel Santana then regaled us with his impassioned version of the National Anthem.  After the usual protocol of explaining what the PBCTP is, and what it stands for, Alex made general announcements, and then asked former Board member Francisco Rodriguez to come to the podium.  Francisco explained how he has recently published a book that addresses the critical issue of WINNING ELECTIONS, and how that starts on the local level, something we can all participate in.  And this dovetailed well with Slade O'Brien's discussion of the "pragmatics" of politics….
Alex then introduced Slade, who held the crowd captive with a personal account of his observations on how Florida has foolishly discouraged entrepreneurial activity with miles of red tape.  He was actually very encouraging, however, because he drew parallels between what Scott Walker has done in Wisconsin, and what is possible here in Florida.
Slade followed his presentation with a boisterous "Q&A" session with the audience, moderated by Alex Berry.  Tea Party members donated the raffle prizes, and the winners were announced at the drawing, concluding the evening.
We look forward to more great meetings in 2013 for our Boca Chapter—please INVITE YOUR FRIENDS to our next event, which will be on April 2nd, 2013!!! Remember—we always have our Boca Chapter Dinner/Speaker event on the FIRST TUESDAY of every month, so mark your calendars!  Please get involved if you aren't yet, and STAY involved if you already are!  Remember, we are LOOKING FOR ADDITIONAL BOCA TEAM LEADERS, including a Boca Chapter Coordinator (leader in Boca).  Please help out if you can!
On February 28, PBG Watch, along with the South Florida 912 and the Palm Beach County Tea Party, Taxpayer Action Board and the Palm Beach Gardens Residents Coalition hosted a candidate forum for City Council election, featuring former Mayor David Levy and challenger attorney James D'Loughy..
Patriots!
You may have been disappointed about the 2012 elections, but get over it! You have a chance to make an impact on the municipal elections in your city – if you live in an incorporated area, on March 12. Generally only 7-12% of the voters turn out for a city election and the very few decide for everyone. Your municipality has a huge impact on your taxes, zoning, police, fire, licensing, etc. In turn, you can have a huge impact on the results!
The Supervisor of Elections lists all of the candidates/ballot items by city , however polling places are not listed. In many cases – a sample ballot or additional details can be found on the elections or municipality's clerk page.
The following cities are having an election. Click on the city name for the City Clerk page or elections page for your city. Find out where the candidates stand on the issues. For example – are any of the candidates for withdrawing from their city's participation in the IG Funding lawsuit? Cities in the lawsuit have an *. Are there other issues key to your city? Find out and vote!
BOYNTON BEACH
*DELRAY BEACH
GOLF
*HIGHLAND BEACH
*LAKE PARK
LAKE WORTH
LANTANA
LOXAHATCHEE GROVES
*MANALAPAN (no election but referendum question – contact clerk for details)
PAHOKEE
*PALM BEACH GARDENS
*PALM BEACH SHORES
*RIVIERA BEACH
ROYAL PALM BEACH
*WEST PALM BEACH
To a packed crowd at Abacoa, Tea Party Patriots founder Mark Meckler provided optimism and insights for the future, along with some anecdotes from his current work as founder of Citizens for Self Governance. Those who are still depressed about what the 2012 election says about our country should take heart by his analysis of where we stand.
In cowboy hat and boots, California native Meckler was upbeat and hopeful.
The American Revolution was not about the Stamp Act or any specific taxes, he said. Rather, it was the reaction of a free people who had governed themselves in the 180 years from Jamestown to Lexington and Concord, throwing off the moves of a foreign sovereign to place shackles on their liberty. Liberty is also at stake today, in an existential way – our freedoms are unique in history and if liberty is extinguished here it will be extinguished throughout the world.
The 2010 blowout that stopped the Obama train would not have happened without the tea party and its success with local and congressional elections. That said, it is hard to see that we could have had as much influence on the dynamics of the presidential election (does the President call me for advice? he asked). We didn't pick the candidate, and the local knowledge and organizing skills of the grassroots were ignored in favor of a top-down "we know best" campaign managed from Boston. That helps explain why the great success of the Scott Walker campaigns in Wisconsin were not repeated on the Presidential ticket in that state.
Change can happen from below – at the local and state level, he said. Mark has observed a new dynamic of business people becoming more than just "checkbooks" to the party apparatus and taking control of the process themselves. This has happened in Wisconsin (preparing the field for Walker and the win against the unions), Texas (where incumbent crony Republicans were thrown out in primaries), and Tennessee.
There is common ground to be found with the left, he said, as he imparted his meetings with left leaning academics and the leader of Moveon.org. We are not alone in opposing trillion dollar deficits or failing schools.
We should not buy the media drumbeat that the tea party is dead. How can it be, he asked, that the media portray us as omnipotent in preventing John Boehner from dealing with the President, yet impotent to affect events.
In closing, he asked us to get involved at our local level. Become members of appointed boards and commissions, run for town council or school board, go to your city council meetings. We can change the country from below, much as they did in the first revolution.
In its 2013 kickoff meeting, the Palm Beach County Tea Party introduced its new leadership to a good sized crowd at the Abacoa Golf Club last evening.
The meeting was called to order by new Jupiter chapter leader Laura Hanley, a local business owner and long time tea party member who was also a candidate for County Commission last year. Laura then passed the microphone to co-founder Mel Grossman who introduced the new county coordinator Michael Riordan.
Mike comes to us with an interesting background. A public relations practioner and local business owner, he started his career teaching special needs children in Massachusetts and did a three year stint as head of their Teacher's Union. Organizing for political action is nothing new for Mike. In his remarks, he laid out the challenges and opportunities facing us after the not so successful election of 2012. Honing the message of the three principles – consitutionally limited government, fiscal responsibility, and free markets, will be his primary focus. Getting all tea party members to internalize these principles and be able to explain them succinctly to friends and neighbors as well as the public at large is our task. (For the text of Mike's remarks see: Introducing Mike Riordan)
Mike then introduced the new Communications Director Dominique Feldman. Like Laura and Mike, Dominique is also a local business owner. Active in political campaigns in 2012, she is a familiar face having led seminars on social media for the South Florida 912 and other groups. In her PBCTP role, Dominque will use her MBA and technology skills in efficiently honing and disseminating our messsage.
Also at the meeting was the new chapter leader for Wellington, Marion Frank. Marion has been active in the PBCTP for quite a while and brings her insight as a healthcare professional to the fight against the government takeover of medicine.
As the group moves into 2013, the initial focus will be in three areas – communicating the conservative message led by Dominque, fundraising led by Terry Brady, and government oversight led by Ed Wolff. Volunteers for these committees are sought – contact info@palmbeachcountyteaparty.org for more information.
The February meeting will feature a forum for canididates in local municipal elections. Stay tuned for details.
Some pictures from the event:

Hello friends,
It is only after considerable prayer and with sadness that I am resigning as the County Coordinator for the Palm Beach County Tea Party. I believe strongly that term limits and new leadership are both refreshing and critical to the long-term success of any program.
More importantly, this move will enable me to better contribute to the Palm Beach County Tea Party in the areas that I believe will will be critical in the coming 23 months before the 2014 midterm elections:
* Oversight — keeping our members up to date on key local, state, and federal issues and creating action alerts when needed.
* Hispanic Outreach
* College Outreach
I will continue to serve on the board and as the liaison to both the Tea Party Patriots and the Tea Party Alliance.
Please let me know if you would like to join me in any of these three programs! We will have some fun and definitely create value!
The board is actively recruiting my replacement. I can tell you that this is an exciting and fulfilling job. With the new addition of a Communications Director,Richard Bock, and my new role, the director position will be less time intensive and will be able to focus on strategy and operational efficiencies.
Other Changes in Our Organization
Jupiter/PBG Chapter
Gary Summers has resigned as the Chapter Coordinator for Jupiter/Palm Beach Gardens. Gary had only lived in Florida one month when he found us and almost immediately went to work as our Jupiter/PBG Chapter Leader. He did an awesome job despite his work and family commitments. He is now involved in a business start-up and must focus on that in the coming months. Thank you, Gary, for all that you have done for PBCTP in the past year!
Laura Hanley has accepted this position starting immediately. Laura has been involved in Palm Beach County politics and grassroots efforts for years and, through her efforts, willingness to work and effervescent personality, has a large network of friends and supporters. We look forward to working with her in this capacity. Laura will also serve on the Board of Directors.
Wellington Chapter
Gina Rascati and Joe Madej have also resigned as coordinators for the Wellington Tea Party. Joe did a Herculean job as the GOTV leader in Wellington, personally canvassing hundreds of homes despite hip and knee surgeries only months before. Joe was inspired by our recent visit by Brigitte Gabrielle and will be focusing on programs designed to understand radical Muslim issues in our country.
Marion Frank will be replacing Gina and Joe as the Wellington Chapter Coordinator and will also serve on the Board of Directors. Marion, like Laura, has been very active in the county, is on top of the issues, especially healthcare, and will be an energetic and valuable contributor to our organization.
Boca Raton Chapter
Alex Berry is stepping down as Chapter Coordinator in Boca Raton. In Alex' words, "The most pressing reason for my departure is that I need to spend more time with my family, my businesses, and my church. I wanted to do all I can up until this past election, and I was as disappointed as could be with the results. I look forward to re-engaging in the future as time and opportunity allow."
We would like to extend a special thanks to Alex for his hard work and commitment over the years!
Please Consider These Open Leadership Positions
Please contact Mel Grossman, our vice-chair, if you are interested in any of the following positions. His number is (561) 628-1873.
County Coordinator
Chapter Coordinator for Boca Raton (includes Delray Beach and Boynton Beach)
Assistant Coordinator for the Wellington Chapter
Yours in hope & action,
Pam Wohlschlegel
Co-founder & Oversight Coordinator
Palm Beach County Tea Party
Phone: 561.254.1036
pam@palmbeachcountyteaparty.org
Florida State Coordinator
Tea Party Patriots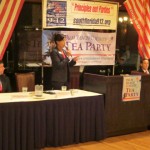 Moving closer to the critical national election next month, our Boca Chapter of the Palm Beach County Tea Party held another great night of discourse on the local level that certainly took into account what is happening to our country nationally by hosting another local candidate forum.  A palpable sense of excitement filled the air, as over 100 people filed in to hear how candidates from both sides would address key Tea Party issues.  While we had a full quiver of candidates from both the Republican AND Democratic sides slated to address those who would be on the ballot for November in Boca, the end result of those candidates who showed, versus those who elected not to appear was quite revealing…
Slated to appear were State Senate Candidates Melanie Peterson (District 25), her opponent Joe Abruzzo, James Ryan O'Hara (State House District 81), Cesar Henao (Congress District 21), Tom Gustafson (State House District 89), and Sean Kasper (State House District 90).  David Lutrin and Pat Rooney, opponents for State House District 83 were also invited, but that district was ultimately deemed not applicable for the geographic area that Boca Raton audiences would be voting for (it should be noted that David Lutrin accepted our initial invitation, but that Pat Rooney did not).  In the end, Tom Gustafson and Joe Abruzzo cancelled, leaving us with a still compelling field of O'Hara, Peterson, Kasper, and Henao.
Boca Chapter Coordinator Alex Berry began the proceedings at 7:00pm with the Pledge of Allegiance. Carlos Manuel Santana then regaled us with his impassioned version of the National Anthem, which was terrific!  After the usual protocol of explaining what the PBCTP is, and what it stands for, Alex made the usual announcements of upcoming events.  He introduced Pam Wohlschlegel, who announced the Precinct Walk Initiative to sway independents in our county.
Alex then introduced David DiCresenzo, who moderated the discussion for the evening with carefully prepared questions regarding how each candidate would address issues ranging from insurance to energy- and many other topics—and how those positions would relate to the core Tea Party issues of Limited Government, Free Markets, and Fiscal Responsibility.  The questions were excellent, and the answers truly helped our voters decide on who would best represent those principles we hold so dear to our hearts.  There was even time for an interactive audience "Question and Answer" time, which was edifying and worthwhile for all those in attendance.
Overall, it was a spectacular night that was full of fun and well received. I encourage everyone to get involved in the political process, by joining us for our events in Boca, which meet the first Tuesday of every month.  Get ready NOW for a HUGE "Election Day" victory celebration on November 6th, which happens to be the first Tuesday of the month for next month!  It will be a gala affair with monitors to watch election results, food and bar, entertainment, and speeches!  You will DEFINITELY want to mark your calendars for this one!!!  Time is drawing to a close to make a difference for the next election, so please get involved if you aren't yet, and STAY involved if you already are!
For more information and video of the event, please CLICK HERE.