Sunday November 5 on Clematis in West Palm Beach.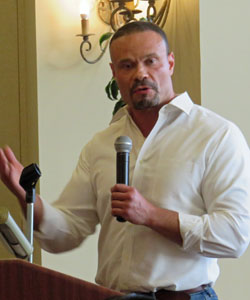 On Monday at Abacoa, our speaker was Dan Bongino, former NYC police officer, secret service agent, congressional candidate and Foxnews contributor.
It was a busy day for Dan – a morning appearance on "Fox & Friends", the "Hannity" radio show in the afternoon, and a scheduled appearance on "Tucker Carlson" at 8pm. That last engagement posed a scheduling problem for the meeting, so his presentation began about a half hour early. While most had arrived early for the 5:30pm buffet, some did not and we apologize if you missed the first part of Dan's remarks.
The phenomenon that is Trump was the focus of the talk. While late to the "Trump Train" as a Ted Cruz supporter, Dan had initially missed what Donald Trump has that the 16 others do not – he does not need anybody – not money, not endorsements, not the GOP establishment. This provides unprecedented power and independence.
The President is also a master at trolling the left, easily making them reveal what they really believe, and they fall for it over and over.
On Immigration for example, by outrageously promising to build the wall and make Mexico pay for it, many Democrats began to outwardly show that open borders and unrestricted immigration was their platform – a position held by only a small minority of the country.
On the NFL controversy, he easily forced the league and the teams into revealing a position of opposing the flag, the anthem and the military – putting them and their handlers on the left again way out of the mainstream. He also was able to claim patriotism and love of country for himself and the GOP.
On taxes, Trump easily manipulated the Democrats into their reflexive position of wanting to raise taxes on the "rich", not to raise revenue for government (it doesn't) but to punish the achievers in society.
The Democrat party is no longer a mainstream party in the US, holding influence only in the blue enclaves on the coasts. At the state level, they have been wiped out pretty much everywhere else.
Dan took some questions from the audience then and discussed Antifa and like groups and their "heckler's veto" which threatens violence at college speaking events, then asks the administrations to shut down the event because "there may be violence".
He also made the point that whenever a Democrat calls for tax cuts to be "paid for" – you should ask them if any tax cut in history cost the government money. The answer – no, tax cuts always result in more revenue. The Bush tax cuts for example, generated $755B for the treasury over 10 years.
Check out Dan's new book – "Protecting the President: An Inside Account of the Troubled Secret Service in an Era of Evolving Threats."
Over the last few weeks we have been making sure our senators know we want to see ObamaCare repealed. We delivered letters and signatures to senators' local offices as well as a few offices in DC. We also delivered 1.5 million signatures from around the country directly to Senate Majority Leader Mitch McConnell last week. Thank you so much for volunteering to go to your senators' offices.
Last week we saw the Senate fail to repeal ObamaCare. This has been discouraging and frustrating and it is time for Congress to live under ObamaCare with the rest of us. In hopes of uniting congressional Republicans to take action, we are encouraging President Donald Trump to end the congressional exemption from ObamaCare. Please call the White House and tweet President Trump this week. Check here for more information on our calls to action and talking points.
Please mark your calendars for an event in Washington, D.C. on Saturday, September 23rd. We are still working on details and will be in touch soon. This event will be focused around tax reform and growing the economy, it could possibly cover other major topics including: ObamaCare, the budget, and the national debt.
We are looking for names of people and stories from you that highlight the urgent need for tax reform. We need ways to illustrate how high taxes are harming you and your family or your business. Also, we need stories about how changing the tax code would benefit you. Please send these stories to localcoordinator@teapartypatriots.org.
An update from Tea Party Patriots Citizens Fund –
Last week we endorsed Congressman Mo Brooks for the U.S. Senate seat vacated by Attorney General Jeff Sessions in Alabama. He has been a strong fighter and has helped us through his work in the House Freedom Caucus. With the recent events in the Senate, it is critical we get another champion to work towards our values.  We will have volunteer efforts over the next two weeks supporting him, sign up now and let us know if you can help.
Washington Report: TPP Website, PDF, Audio
Constitution Minute: PDF
---
ANNOUNCEMENTS
-Don't forget to post events to our website so we can alert activists in the area to encourage more participation of in-person gatherings over the summer. This can include your monthly tea party meeting, an event that your group is participating in, a congressional town hall, or a sign waving event. www.teapartypatriots.org/events
-If you're interested in the Constitution Project or would like to receive occasional updates, please send an email to Chris Wright at constitution@teapartypatriots.org.
-Our Washington Report (legislative update) hosted by Bill Pascoe is held each Monday at 1:00pm Eastern and is open to all our supporters. You can catch it live on Facebook or through Go To Webinar.
-Tea Party Patriots Facebook Link: https://www.facebook.com/teapartypatriots/
-Go To Webinar Link: https://attendee.gotowebinar.com/register/7148725915499449346
Feel free to share these links with others so they can participate as well.
At an event dubbed "A Community Conversation", District 18 Congressman Brian Mast gave a legislative update to a welcoming and enthusiastic PBCTP crowd last evening at Abacoa.
Starting with bills he is personally submitting, he described two:
– the "Oath of Exit", an amendment to be offered on the 2018 National Defense Authorization Act, which asks veterans who are mustering out to pledge support for their fellow veterans and seek help with their own problems.
– the "Veterans Homestead Act", like the Homestead Act of the 1800's, would provide land – 1 acre per year of service, to veterans to provide them entrepreneurial opportunities.
Individual Unemployability
On May 23, the Trump Administration's Department of Veterans Affairs released the first budget request for Fiscal Year 2018. This budget proposal initially called for terminating Individual Unemployability (IU) benefits to those eligible for Social Security retirement benefits under the rationale that this constitutes a duplication of benefits when in fact, it does not. The Individual Unemployability program supports veterans who cannot find work due to service- connected injuries (injuries sustained while serving our country). Many have been unable to contribute to Social Security as they have been unable to maintain substantially gainful employment due to these injuries. This budget proposal would impact nearly every Vietnam-era veteran whose survival depends on the Individual Unemployability program.
Since the May 23rd proposal, veterans organizations have galvanized opposing such cuts. Congressman Mast is in agreement and would not support cuts to veterans in receipt of Individual Unemployability.
– Andrea Plescia
Although you wouldn't know it from the mainstream media, the House of Representative has accomplished a lot in their first six months. In particular, Brian talked about:
Deregulation – there have been 14 Congressional Review Acts signed by the President, rolling back much of the late-term Obama regulatory state
The REINS Act (Regulations from the Executive in Need of Scrutiny), which requires Congressional approval of regulations costing more than $100M
Repeal of much of the Dodd Frank Financial Reform
The 6 month budget that provides $1.5B for the border
Kate's Law
The sanctuary cities bill
The American Health Care Act, repealing and replacing Obamacare
The VA Accountability and Whistleblower Act that allows wrongdoers to be fired
Unfortunately, only the Congressional Review Acts have become law – the rest are gathering dust in our dysfunctional Senate. In Brian's view, the agenda today is driven by group-think and the GOP Senators are a disappointment.
There were many questions submitted on index cards from the audience, including:
When will Obamacare be repealed? Brian explained that without 60 votes in the Senate (like the Democrats had in 2009) the replacement possibilities are limited. There is much misinformation – Medicaid is not being "cut" just having its growth slowed. Repeal will be a very large tax cut. Whether the Senate acts or not we will have to wait and see.
Is there going to be a cut to veterans' benefits in the VA budget – specifically regarding Individual Unemployability (IU)? Brian opposes this provision, which would impact disabled veterans who become eligible for Social Security. (See the sidebar for a further explanation).
When will we see Tax Reform? All of Brian's Republican colleagues know that 2018 is looming and failure to act on tax reform will be a threat to re-election. He hopes to see something this year.
If Senate doesn't act on Obamacare Repeal, should we just let it fail and the Democrats take the blame? Brian does not think that is a good result for the people affected by it.
Should our embassy move to Jerusalem? YES – should happen now.
In closing, Brian said he is planning some townhalls during the August recess (assuming the House does not stay in session), one of which will be in Palm Beach County. He asks that all of his supporters show up and bring their friends. A lot of his townhalls in the past few months have been packed with opponents of Brian and the Trump agenda and he could really use our help to show balance.
The next PBCTP meeting will be at Abacoa on July 31 with Chris Gaubatz who will talk about "Understanding the Threat" of radical Islam in the US.
On Tuesday morning, well over 100 Tea Party stalwarts assembled for a breakfast buffet and some interaction with our CD18 Congressman Brian Mast.
With a Q&A format that started with written questions and progressed to passing the microphone around, the Congressman answered questions on a wide variety of topics, in many cases expanding on the questions to provide a nuanced look at the opportunities and challenges of this Congress.
Brian gave us a current status of the pictures on the wall at the VA, as the attention he brought to the issue resulted in a Presidential Order to mount the pictures of Donald Trump and VA Secretary David Shulkin in all VA facilities, then spoke of Congressional term limits as a way to help "drain the swamp". Term limits would stop the "tenured" nature of committee chair positions, part of that swamp infrastructure.
When asked about interactions with lobbyists, he told us he meets with those pushing all sides of issues every day, but also reaches out to stakeholders for bills, like state Governors and other representatives, and finally sorts through the BS and makes up his own mind. Doing the right thing matters more to Brian than pandering for re-election, something he wished would motivate more of his colleagues. This is part of the reason that he has not joined any "voting caucuses" like the Freedom Caucus or the Tuesday Group – he does not want to commit to voting in lockstep with a Caucus consensus if he doesn't agree with it.
On the budget, Brian was disappointed that there are not 12 individual appropriations bills in process as had been promised by House leadership, and he wished that the continuing resolution that passed had actually reduced spending. He was able to get $60M in that bill to reimburse the county for protecting the President when he comes to Mar-A-Lago though.
He spoke of co-authoring the "Hamas Sanction Bill" (Palestinian International Terrorism Support Prevention Act – H.R.2712), introduced a few days ago, his support for NASA and space exploration in general, and supporting the proposal for a water retention reservoir south of Lake Okeechobee as well as dike repairs.
And regarding the VA, he has asked Secretary Shulkin for space within the WPB Veterans Hospital for one of his staff to meet with Veterans regarding problems with care delivery. If Congressman were on-site to observe what transpires at VA facilities and raise the alarm when warranted, problems with the VA could be quickly improved. Since no space is yet forthcoming, Brian is asking his constituents, particularly the veterans, to contact the local VA Administrator and ask them to provide the space.
Following are some pictures provided by Carol Porter:
For several hours on "Tax Day", April 18, members waved signs on the corner of Military and PGA in Palm Beach Gardens.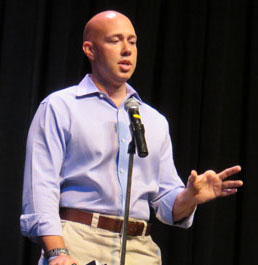 Along with District 6 County Commissioner Melissa McKinlay, Congressman Brian Mast stood center stage for over two hours today at Seminole Ridge High School and fielded a wide variety of questions, most from the Progressive point of view.
As he was battered by Obamacare fans berating his support for repeal & replace, Planned Parenthood partisans (very vocal those!!) who believe that a reduction of federal funding would put all women everywhere at risk of terrible diseases, those who demand Trump's tax returns and an "independent investigation" into the President's conspiring with the Russians to steal the election, Brian remained calm and collected and provided fearless and forthright answers to even the nastiest of questions.
Other topics included dealing with the opiate crisis (for which Commissioner McKinlay is a local leader), global warming, water quality, and tax reform. Surprisingly , there were no questions on immigration, the military or foreign policy. Many of the progressive contingent held up agree/disagree signs or red/green papers to indicate their feelings on the issues.
Judging by the questions and amount of applause for those asking them, about 90% of the 200-300 in the audience were clearly not Republican voters, yet our Congressman gave the impression that he is in Washington to support ALL the people in the district, regardless of party.
When Brian returns for his next town hall, probably during the next Congressional recess, it would behoove those who are his core supporters to actually show up. Brian carried the district by 11 points – he should not have to hear only from his opponents at these events.
In South Florida to speak at the Martin County Lincoln Day Dinner, Tea Party Patriots leader Jennie Beth Martin spent a couple of hours with a contingent from the Palm Beach County Tea Party on Saturday.
Meeting in the lobby of a resort hotel in Stuart, the discussion was wide-ranging. Fresh from a visit to the Oval Office to discuss Obamacare repeal with President Trump and other national grassroots leaders from Heritage, Heritage Action, FreedomWorks and others, she described that meeting and the current state of the repeal effort.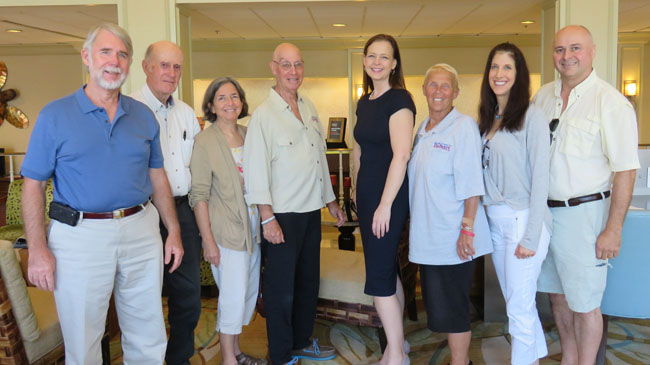 While not everyone agrees that the defeat of the American Health Care Act (AHCA) bill was a "victory", the opposition from the Freedom Caucus, supported by TPP and the other groups was principled and predicated on the limited effect the bill would have had on premium costs. Much of the TPP membership that was polled did oppose the bill.
Though repeal and replace is now showing some signs of new life from the administration and Congressional groups, the immediate reaction following the bill's withdrawal was that Obamacare would remain the "law of the land" for the forseeable future as Congressional Republicans are not unified enough to move forward. Jenny Beth was more optimistic, and did not agree that the issue was dead. There are things proceeding as we speak, she said, including some of the so-called "phase 2" items that HHS Secretary Price can enact on his own, and Congressional work will continue after the Easter recess.
Also discussed were the state of the national tea party movement, and ways that we could be more effective locally in turning out people to work on specific projects. Besides being very knowledgeable and open about the nature of the movement and how it must change now that our side has the tools to actually govern, she is a very good listener. She heard comments on combating voter fraud, influencing legislators, dealing with local issues like the proliferation of "Welcoming Cities" and other topics, offering advice and suggestions along with anecdotes from other areas of the country.
A national leader since the inception of the Tea Party in 2009, Jennie Beth was a speaker at the first March on Washington in September of that year that drew over 1 Million people to the capital.
---
Under the leadership of Jenny Beth Martin, Tea Party Patriots has grown to be the largest and most effective national umbrella group within the Tea Party movement. Jenny Beth Martin and Tea Party Patriots now use their network to reach millions of Americans every week with education and updates about fiscal responsibility, free market principles, and constitutionally limited government. Because of her continual involvement in the major events that set the course of the United States government, Jenny Beth Martin is a frequent guest on almost every major television, radio, print, and online news outlet in America. In 2010 Time Magazine listed Jenny Beth Martin as one of the 100 Most Influential Leaders in the World. Her first book, "Tea Party Patriots: The Second American Revolution", was published in 2012.
She is a lifelong Georgian and has a bachelor's degree from the University of Georgia. Jenny Beth is the mother of boy-girl twins.
Congressman-elect Brian Mast highlighted a packed meeting at Abacoa on Monday, thanking the members, many of whom worked hard for his election, and Brian was presented with a musical globe by PBCTP leaders Mel and Barbara Grossman. The globe plays "The Impossible Dream".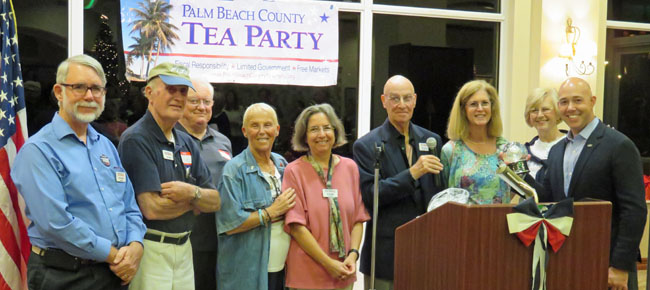 Tea Party leaders present musical globe to our Congressman-Elect. From left: Fred Scheibl, Joe Burge, Bert Shadowen, Barbara Grossman, Iris Scheibl, Mel Grossman, Marion Frank, Terry Gallagher, Congressman-Elect Brian Mast.
In his remarks, Brian related the process of coming up to speed, including the "Freshman Orientation" in Washington. A dinner, held in the "old halls of the capital" was particulary memorable as they dined in the same space where slavery and the other momentous issues in our history were debated. He will leave this job, Brian said, when he no longer feels chills upon entering the building.
Brian's office will be room 2182 of the Rayburn Office Building, where he plans to also reside – something that 80 or so other Congressman do while they are in the capital.
For committee assignments, in keeping with his desire to work on projects of interest in the district, Brian has selected Transporation and Infrastructure as his first choice, followed by Veterans Affairs, Armed Services, Foriegn Affairs and Homeland Security.
When the 115th Congress convenes in January, he expects the first order of business will be Obamacare Repeal through a reconciliation bill (with "replace" coming later). He does not expect smooth sailing however, and cautions that the Democrats, particularly in the Senate, will be working overtime to derail and obstruct progress on the Trump and Congressional agendas.
We were told that Brian plans to open offices in all three of the counties making up district 18, and will be holding town halls when he periodically returns to the district.
A number of interesting questions were asked, including his plans regarding "dialing for dollars" – the significant focus on fundraising that all Congressmen are expected by their Caucus to do. Brian was honest about it – running for Congress every two years is very expensive, and he feels an obligation to help "replenish the coffers" of the NRCC and other groups that helped him compete against the heavily funded Randy Perkins. But dollars won't buy his vote – he has been given good advice from the caucus leaders to "vote your district".
Present at the meeting were two candidates for City Council in Palm Beach Gardens – Mark Marciano and Matthew Lane. With three open seats in that city thanks to term limits, neither currently have an opponent, but that could change prior to the filing deadline of late January. Gardens Mayor Marcie Tinsley was also at the meeting.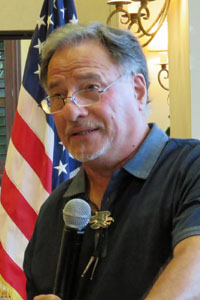 A self described "deplorable", immigration think-tank researcher Dr. Steven Steinlight, a policy analyst at the Center for Immigration Studies in Washington, gave us an insightful tour around US immigration policy past and present.
Concentrating on the "Cleveland Plank" – the immigration section of the Republican Party Platform, he cautioned that platforms are not binding on candidates or officials. The platform does contain much of what Donald Trump has been proposing, including opposing amnesty, using e-Verify, building the wall, increasing internal enforcement and ending sanctuary cities, and it is certainly good as far as it goes.
Dr. Steinlight does note some significant omissions though, including shifting legal immigration to merit rather than family (86% are now admitted because of family ties), dealing with Muslim immigration and using ideological vetting (accept our culture or don't come), and dealing with the deportation of resident illegals.
Calling the various attempts at "Comprehensive" immigration reform as an elitist juggernaut, he recalled how a grassroots uprising was able to shut it down on multiple occasions. Saying he does not consider himself a "citizen of the world" – the claim of the globalist elite and much of the left, he claims that much of the elite establishment loathing of Donald Trump is rooted in a desire for open borders and uncontrolled immigration.
Discarding the conventional wisdom that Romney lost because of the opposition of Hispanics (who don't really vote in large numbers), he cited the large number of white working-class voters who sat out the 2012 election but are now returning to the game behind the Trump banner.
He ended with a list of his three most important immigration policy imperatives: Building the wall, adopting e-Verify widely, and ending family-based immigration criteria in favor of skill and ability.
Also at the meeting were candidates Rick Roth (Florida House 85), Bruce Nathan (NPA for US Senate), and a surrogate for Sonny Maken (Port of Palm Beach Commissioner).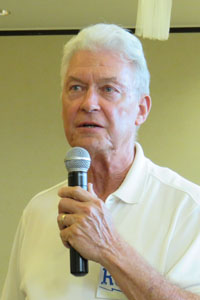 Rick Roth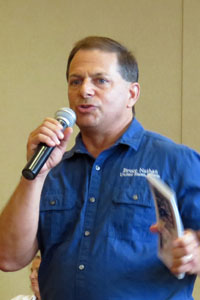 Bruce Nathan