"Candidate Night is Coming"
Monday, October 5, 2015
Abacoa Golf Club
Program 6:30pm, Buffet Starts at 5:30pm
Buffet $20.00, No Charge for Meeting
Map
---
Moderator: Michael Williams
8-time Emmy Award winner, co-anchors NewsChannel 5 at 5:30, 6 and 11 pm.
---
Don't miss this opportunity to get to know YOUR Candidates!
Thus far we have had confirmations of at least 7 candidates with more coming in.
We plan on giving YOU an opportunity to ask questions.
Please RSVP below.
Tell a friend!

Pastor Rafael Cruz, father of presidential candidate and Texas Senator Ted Cruz, brought his particular brand of bible driven politics to the PBCTP on Saturday at the library branch in Palm Beach Gardens.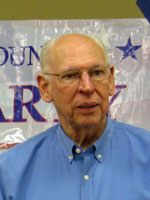 Pastor Cruz was introduced by Kiwi pundit Trever Loudon, who yearned for another Reagan to emerge and save us ("Now have Carter on steroids and need a Reagan on Meth"), and doesn't think much of some of the choices, such as "illegal immigration is an act of love, common core loving" Jeb Bush. While stopping short of an outright endorsement of Ted Cruz, Loudon made it clear he is a fan, and suggested that Senator Cruz should pre-announce his cabinet selections. (See sidebar).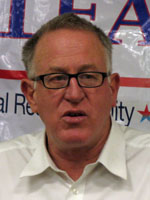 Trevor Loudon's Dream Cabinet
---
Vice President: Carly Fiorina
Secretary of State: John Bolton
Secretary of Treasury: Rand Paul
Secretary of Energy: Sarah Palin
Secretary of Labor: Scott Walker
Secretary of Commerce: Michele Bachmann
Secretary of HHS: Ben Carson
Secretary of Defense: Alan West
Secretary of Interior: Mike Lee
Attorney General: Trey Gowdy
UN Ambassador: NOBODY
With an overall theme of the urgency of action leading up to the 2016 election, Pastor Cruz's remarks were less a campaign speech for Ted Cruz as much as a call to action to save the country from the destroying influences that under the banner of social justice, encourage dependence on government rather than self reliance.
Using Common Core as an example, brainwashing created by the secular humanists with a political agenda, he tied it to the 1934 "Humanist Manifesto" which features situational ethics, values qualification, and the rights of the group over the individual – all concepts in opposition to the values of the founders.
"America is worth saving" he declared. If the most exceptional country on the face of the earth were to succumb, where would people go if freedom is lost?
He recalled the days of the "black robe regiments" when the American Revolution was driven and nurtured from the pulpit all across colonial America. If the evangelical voters stay home next year, as they did in 2012, we will lose. We are on the edge of a precipice in 2016, with a corrupt political establishment and a lack of values in many institutions. Pastors need to stop hiding behind their pulpits and the liberal's view of separation of church and state, and find the courage to stand up for America.
Although it's been said before, Pastor Cruz clearly left the audience with the impression that the next election is truly "the most important of your lifetime."
Pastor Rafael Cruz
Father of Senator Ted Cruz (2016 presidential candidate) speaks at
Palm Beach Gardens Library
11303 Campus Dr
Palm Beach Gardens, FL
(561) 626-6133
MAP
Free Admission
Saturday, June 20, 2015
Sign in at 9:30am.
Meeting will start promptly at 10:00am.
Introduction by Trevor Loudon
Seating is limited – Please RSVP below
Rafael Cruz is a powerful example of the American Dream. Born in Cuba, Rafael lived and suffered under a cruel, oppressive dictator. He began fighting Batista's regime as a teenager and was imprisoned and tortured for his role in that fight.
Rafael arrived in Texas on a student visa in 1957 with nothing but the clothes on his back and one hundred dollars sewn into his underwear. He got a job as a dishwasher, making 50 cents an hour, and worked his way through the University of Texas, while learning English. He later built a small business in further pursuit of the American Dream.
Concerned with the negative impact of the Carter administration policies on our country, Rafael Cruz became engaged in conservative politics as a grassroots activist during the 1980 Presidential Campaign of Ronald Reagan.  When his son Ted was a child growing up in Houston, Rafael would tell him, "When we faced oppression in Cuba, I had a place to flee to. If we lose our freedom here, where do we go?"
In 2012, Ted Cruz was elected U.S. Senator from Texas.
Today, Pastor Cruz is an ordained minister, sharing the Word of God in churches and Pastors' Conferences throughout the United States. He is also the president of Kingdom Translation Services.  As he travels the country sharing his story and speaking on the Biblical foundations of our nation, it is his passion to encourage Christians in what can be done to return our nation to the principles that made America exceptional.

In a quickly expanding field of GOP Presidential hopefuls, several candidates stand out for what they are not.
Most have been in the political arena for much of their careers and currently are sitting (or former) Governors or Senators, and few of these have made much of a mark in the private sector.
Only two – Ben Carson and Carly Fiorina, are known for their accomplishments outside of politics and have not held public office. Carson, a leading neurosurgeon, was inserted into the national psyche when he took on Obama at a national prayer breakfast. Fiorina, well known for being the first woman to lead a Fortune-50 tech company, made an unsuccessful attempt at a Senate seat from California. One of these, Carly Fiorina, visited Palm Beach County on Wednesday and spoke to a good size crowd of party regulars.
Considered a long shot, barely registering in the polls, Ms. Fiorina should not be overlooked. Since her debut on the national stage, she has rained fire on the presumptive Democrat nominee Hillary Clinton, deftly turned the tables on snarky media types like Chuck Todd and Katie Couric, and staked out her own territory in the emerging campaign narratives.
For whatever reason, Clinton is getting a pass from most of the other candidates, in spite of hiding from the press and having new scandals emerge on a regular basis. Carly Fiorina on the other hand, is not shy about pointing out Clinton's most outrageous failings, from the Benghazi coverup, to the server in her basement, to the "pay to play" aspects of Clinton Foundation slush fund collecting millions from foreign governments as she handed out favors as Secretary of State. Mrs. Clinton will not be able to hide behind the "war on women" shield with this candidate.
Speaking forcefully on the characteristics of leadership and what she can bring to the table, Ms. Fiorina's themes are compelling.
There is an uneasy feeling in the country she says, that we are losing something precious. The country that has offered the most opportunities to all people, regardless of who you are or where you came from, has lost its way. Oppressive regulations like Dodd-Frank have consolidated the too-big-to-fail banks, while driving smaller regional and community banks out of business. Crony capitalism is alive and well, and only the larger companies have the financial and legal resources to effectively deal with big government. Our foreign policy is in disarray as we curry favors with adversaries like Iran while turning back on our traditional allies like Israel and Egypt.
Carly Fiorina lays out a reasoned case that our government needs change, making the arguments without resorting to red meat and applause lines. Whether her campaign will catch fire is anybody's guess, but she brings a new perspective and should liven things up as we go forward into the debate season.
Governor Scott's re-election campaign is in the process of recruiting poll watchers for Early Voting and Election Day for the November 4, 2014 General Election. We appreciate your time and effort as a poll watcher for the Republican Party of Palm Beach County in past elections and now we need your help again for the 2014 General Election.
We need tons of volunteers to fill all the polling locations on Election Day as well as the early voting sites in Palm Beach County. You will play a vital part in protecting the fundamental constitutional rights of all Florida's citizens—regardless of race, color, ethnicity, or political persuasion. I know I do not have to tell you how important this election is. We have over 15 Early Voting sites and approximately 500 Election Day polling locations to cover in Palm Beach County, so the success of our Poll Watcher Program for the 2014 General Election depends on you. The Democrats will have people at every pollinglocation and we need to counter this and can only accomplish this with your participation. Please reply to my email with your name, address, daytime phone number, and date of birth. The Elections Office needs your date of birth to certify you.
Thank you in advance for your help and contribution to our success in the 2014 General Election. If you have any questions please do not hesitate to contact me.
Ryan Walker
South Florida Deputy Political Director
Rick Scott for Florida
(561) 373-7626
Medical marijuana, land use, judicial appointments, school taxes and the Children's Services Council – these are all topics about which you will be asked to decide on the November ballot.
Use the chart below to guide you through the ballot amendments and what they mean. Click on the question title for more information.
Candidates who will appear on the upcoming Election ballots in Palm Beach County were asked a series of questions to help the Tea Party members understand the candidates' positions on some of the important issues.
The responses received from the candidates were emailed to the members on July 5th in advance of the July Candidate Forums.
The responses are shown at

Final Voter Guide .
If you did not receive this voter guide and wish to be on our email list, you can provide your email address at Sign-Up.
Questions and comments on this Voter Guide can be sent to mailto:oversight@palmbeachcountyteaparty.org
Forums are never predictable. You issue invitations to the candidates that will be on the ballot in the local area (in this case for both the August and November elections), and see who responds and/or turns up.
In Wellington, the candidates for School Board district 6 were in attendance (incumbent Marsha Andrews and challengers Joseph Moore and Carla Donaldson), joined by one candidate from district 3 (John Hartman, who also attended the Boca event). Having the four of them allowed moderator Steven Rosenblum to solicit contrasting answers on key topics like Common Core, teacher tenure, and the roll of parents in influencing district policy and curriculum.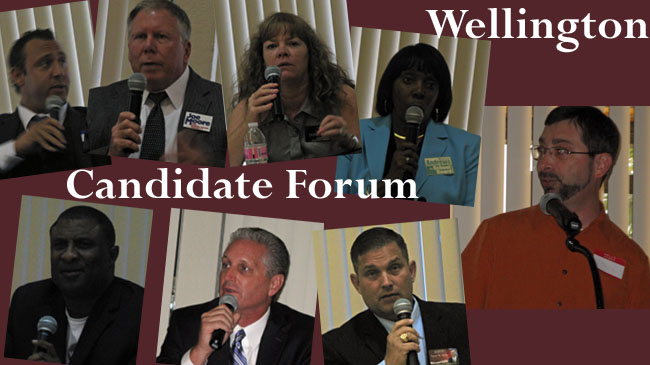 Clockwise from the top left: John Hartman, Joseph Moore, Carla Donaldson, Marica Andrews, moderator Steve Rosenblum, Stuart Mears, Andrew Schaller, Emmanuel Morel.
There were single candidates for other races as well, which allowed some discussion that spanned local, state and federal levels, but no way to contrast answers in a particular race. Democrat Emmanuel Morel, who is challenging Ted Deutch in the Congressional district 21 race participated, as did Republican candidate Andy Schaller for the open seat in county commission district 6 and Stuart Mears, the Republican challenger to Democrat Mark Pafford in State House district 86.
The district 6 school board race is interesting in that Marcia Andrews, herself a very capable and influential board member, has drawn two formidable challengers. Joseph Moore is a recently retired school district employee who served as both Chief Financial Officer and Chief Operation Officer, providing an insiders knowledge of business and finance functions. Carla Donaldson, is an "activist mom" who has been an advocate for various school issues since 2001. Incumbent Andrews, like Moore, is a long-term district insider, with 35 years experience as a principal and as a teacher in a variety of district schools.
On many issues the three are mostly in agreement (unhappy with common core, problems with teacher tenure, and the importance of parents in affecting policy). On the latter, Andrews said it best: "Parents are powerful", and can exert control. They should take a stand. One area where they differ is on the quality of the schools. A question from the audience – "why are the schools so bad", drew defensive answers from insiders Moore and Andrews, and a critique by outsider Donaldson who said the system should focus on the needs of the children, not what the adults want.
Asked what they would change about the system, Andrews would emphasize the basics – reading and math, and do less testing. Moore would formalize mentoring so institutional knowledge could be retained when good teachers and administrators leave. Donaldson would stop promotions before students are ready and bring in more specialized reading programs.
The candidates in the other races gave their views on All Aboard Florida (Morel: we should do "big things", Schaller: the junk bond status of their loan tells you all you need to know), climate change (Morel: it is real, Schaller: don't believe it, Mears: no shovel ready jobs in green energy), medical marijuana (all support the ballot issue as configured), and offshore drilling (Morel: "oil is not the answer", Schaller: oppose, Mears: we can do it and make it safe with technology).
The elections are August 26 (primary, school board and Judicial), and November 4. For more information about the candidates, see the Palm Beach County 2014 Voters Guide.