PROGRAM: The Wellington Chamber of Commerce has graciously invited the Wellington Chapter of the Palm Beach County Tea Party to a candidate forum for Wellington Village Council. Two seats are up for election on March 11, 2014.
MODERATOR: Jim Sackett
CANDIDATES: The 2 incumbents, Anne Gerwig and Howard Coates.
The 2 challengers, Matt Kurit and Sharon Lascola, have not yet responded to our invitation. If they do not attend, we will tell you everything we have learned about them.
DATE: Thursday, February 20, 2014
TIME: 6-8 PM
PLACE: The Wanderer's Club
1900 Aero Club Drive, Wellington, FL 33414
DIRECTIONS: MAP
State road 80 west past State Road 7 to Binks Forest Dr. South on
Binks Forest Dr. to end (Aero Club Dr.). Right on Aero Club Dr. to S. Club Dr. Left on S. Club Dr. to entrance on left.
Please RSVP so we are prepared to accommodate you, using the button below:

There will be no food and there is no charge to attend.
FOR MORE INFORMATION
Email: info@palmbeachcountyteaparty.org
With a crystal-clear night on the back end of a Florida "cold-snap" (getting into the 40's the day before), there was another exciting night of patriotism from the Palm Beach County Tea Party.  Though the turnout was lighter than this past month, it was an unquestionably exciting evening of brisk dialogue amongst Patriots in Boca Raton.   Slade O'Brien was the guest speaker, and his perspective as a leader of grassroots movements, and dealing with politics on the LOCAL level, was quite illuminating.  As the Florida Director of Americans For Prosperity, Slade has an extraordinary inside perspective on Florida politics, with access to all the "movers and shakers" within the political sphere in our state.
What he revealed about statewide graft and corruption in state contracts from legislators "thanking" their lobbyists and supporters who got them elected was both sickening and motivating at the same time.  Slade also updated us on the "Five For Florida" initiative that AFP began last year, and updated us on their progress.  While much has been accomplished, we have a "long road ahead", as Slade said.
This also marked the return to Boca Greens Country Club, and exceptional venue for our group in terms of space, facilities, location, and food.  Salad, Rolls, Chicken, and Salmon was served with a Vodka Penne dish, and a yummy-looking Apple-Cobbler type of dessert (I did not partake).  It was a great crowd, populated by both familiar faces, as well as many new people.  PBCTP Co-Founders Mel and Barbara Grossman made the trip from Jupiter to be with us, as did Terry Brady.
Boca Chapter Coordinator Alex Berry began the proceedings at 7:00pm with the Pledge of Allegiance. Carlos Manuel Santana then regaled us with his impassioned version of the National Anthem.  After the usual protocol of explaining what the PBCTP is, and what it stands for, Alex made general announcements, and then asked former Board member Francisco Rodriguez to come to the podium.  Francisco explained how he has recently published a book that addresses the critical issue of WINNING ELECTIONS, and how that starts on the local level, something we can all participate in.  And this dovetailed well with Slade O'Brien's discussion of the "pragmatics" of politics….
Alex then introduced Slade, who held the crowd captive with a personal account of his observations on how Florida has foolishly discouraged entrepreneurial activity with miles of red tape.  He was actually very encouraging, however, because he drew parallels between what Scott Walker has done in Wisconsin, and what is possible here in Florida.
Slade followed his presentation with a boisterous "Q&A" session with the audience, moderated by Alex Berry.  Tea Party members donated the raffle prizes, and the winners were announced at the drawing, concluding the evening.
We look forward to more great meetings in 2013 for our Boca Chapter—please INVITE YOUR FRIENDS to our next event, which will be on April 2nd, 2013!!! Remember—we always have our Boca Chapter Dinner/Speaker event on the FIRST TUESDAY of every month, so mark your calendars!  Please get involved if you aren't yet, and STAY involved if you already are!  Remember, we are LOOKING FOR ADDITIONAL BOCA TEAM LEADERS, including a Boca Chapter Coordinator (leader in Boca).  Please help out if you can!
On February 28, PBG Watch, along with the South Florida 912 and the Palm Beach County Tea Party, Taxpayer Action Board and the Palm Beach Gardens Residents Coalition hosted a candidate forum for City Council election, featuring former Mayor David Levy and challenger attorney James D'Loughy..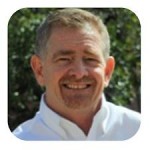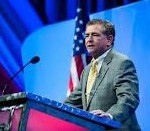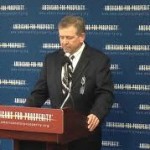 Join us on Tuesday, March 5th for another banner Chapter Meeting, featuring Slade O'Brien, the Florida State Director for Americans For Prosperity.  Slade has spoken to our group before, and is always a great hit with our crowd, and his message is destined to become MORE popular, as he is a rising star both as an activist, and as an expert in how to WIN elections.  If more people listened to Slade last year, many of the election results could have come out quite differently.  One other note: WE ARE BACK at Boca Greens Country Club!
Please join us!  Doors open at 5:30pm, with a cash bar.  Dinner begins promptly at 6:00pm, and our meeting begins at 7:00pm.  We will say the Pledge of Allegiance, and Carlos Manuel Santana will sing our National Anthem.  Announcements will follow, and then Slade O'Brien will be introduced.  He is always great with our crowd, and will be happy to answer questions after his presentation.  You can attend our meeting at 7:00pm at no cost, but we encourage you to come for the dinner.  For $20, you will enjoy salad, main course, dessert, coffee, and tea, with tax and tip included!  This will be a great evening of like-minded fellowship, and a true sense of deep patriotism permeates the experience– please RSVP on the button below!

Patriots!
You may have been disappointed about the 2012 elections, but get over it! You have a chance to make an impact on the municipal elections in your city – if you live in an incorporated area, on March 12. Generally only 7-12% of the voters turn out for a city election and the very few decide for everyone. Your municipality has a huge impact on your taxes, zoning, police, fire, licensing, etc. In turn, you can have a huge impact on the results!
The Supervisor of Elections lists all of the candidates/ballot items by city , however polling places are not listed. In many cases – a sample ballot or additional details can be found on the elections or municipality's clerk page.
The following cities are having an election. Click on the city name for the City Clerk page or elections page for your city. Find out where the candidates stand on the issues. For example – are any of the candidates for withdrawing from their city's participation in the IG Funding lawsuit? Cities in the lawsuit have an *. Are there other issues key to your city? Find out and vote!
BOYNTON BEACH
*DELRAY BEACH
GOLF
*HIGHLAND BEACH
*LAKE PARK
LAKE WORTH
LANTANA
LOXAHATCHEE GROVES
*MANALAPAN (no election but referendum question – contact clerk for details)
PAHOKEE
*PALM BEACH GARDENS
*PALM BEACH SHORES
*RIVIERA BEACH
ROYAL PALM BEACH
*WEST PALM BEACH
Palm Beach Gardens City Council

Candidate Forum
Join us for an evening of in-depth discussion of city issues with the candidates for the March 12th election in Group 4. The seat has been vacant since former Mayor (and current candidate) David Levy resigned to run for the County Commission.
Moderated by Daniel Martell, President and CEO, of the Economic Council of Palm Beach County.
Thursday, February 28, 2013
7:00 PM
Gardens Branch, Palm Beach County Library *
11303 Campus Drive
Palm Beach Gardens, FL 33410

The candidates are:

For information, call 561-972-8789
This event is jointly sponsored by:
Palm Beach County Taxpayer Action Board
Palm Beach County Tea Party
Palm Beach Gardens Residents Coalition
PBGWatch
South Florida 912

* This program is not sponsored/endorsed by the Palm Beach County Library
Candidate Biographies
---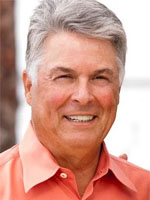 David Levy
Florida native David Levy was born in 1960 and is the owner of environmental engineering firm Southeast Remediation Technnology, and an adjunct professor in environmental geology at Palm Beach State College. He received a B.S in Geology from Florida State University, and a M.S. in Geological Services from Virginia Polytech.
He is the former Mayor of Palm Beach Gardens, and was a City Councilman from 2004 through 2012. County-wide, he chaired the League of Cities Environmental Committee, the Regional Hazardous Material Oversight Committee and the Water Resources Task Force, as well as participating with Workforce Alliance, the Biotech Land Advisory Board, and the Loxahatchee River Management Coordinating Council.
---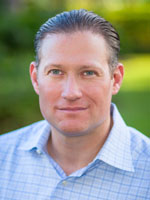 James D'Loughy
James D'Loughy, is a long-time resident of Palm Beach Gardens. A lawyer of over 17 years, James is the founder of AdvisorLaw PLLC, a legal firm that represents clients in complex business matters. He helps individuals and small businesses alike protect their assets, resolve conflicts, and plan for a rainy day.
James's knowledge of politics is informed by a degree in political science as well as experience working on Capitol Hill. Having worked on corporate transparency and compliance issues, James seeks to bring a new level of ethical governance to the Palm Beach Gardens City Council.
James lives with his wife, Anne Louise, his two daughters, Fredericka and Wilhelmina, and his newborn son, Maximilian, in Frenchman's Reserve, where he volunteers his time as a member of the community's governing body.
Moderator Biography
---
Daniel Martell
Daniel Martell is President and CEO of the Economic Council of Palm Beach County, a not-for-profit, non-governmental, non- partisan organization established in 1975. Its members come from all geographic areas of the county, represent all major business categories and encompass all sizes of businesses. Its mission statement is simply, "Create an environment to help business prosper."
Mr. Martell came to the Economic Council of Palm Beach County from local sugar company, Florida Crystals Corporation as Vice President of Real Estate. His responsibilities at Florida Crystals included overseeing local government affairs, corporate land development, and real estate investments.
Beginning his career as the Director of Government and Political Affairs for the Gold Coast Builders Association, he was responsible for the regulatory and political issues confronting the home building industry in Palm Beach and Broward counties. He received his undergraduate degree in Political Science from the University of Florida, Juris Doctor from the Shepard Broad Law Center at Nova Southeastern University, and obtained a Certificate of Corporate Finance from Cornell University in 2011.
Early Voting – 2012 General Election
Saturday, October 27, 2012 through Saturday, November 3, 2012
Voting Times
7:00 am – 7:00 pm Daily
Please
CLICK HERE
for location and details