The first televised debate between Brian Mast and Randy Perkins has been set for October 5th at Palm Beach State College. Tickets are free and open to the public, but you
must register ahead of time
and pick up the tickets ahead of time. I hope you can join us and show your support for Brian.
What
Congressional District 18 debate hosted by The Palm Beach North Chamber of Commerce
When
Wednesday October 5, 2016 from 6:00 PM to 8:00 PM EDT
5:30 p.m. Reception
6:00 p.m. Auditorium Doors Open
6:30 p.m. Auditorium Doors Close
(Due to the live broadcast, guests arriving after this time will not be allowed inside the auditorium)
7:00 p.m. Debate Begins
Where
Palm Beach State College Eissey Theatre
11051 Campus Drive
Palm Beach Gardens, FL 33410
The debate will air live on WPEC CBS12 from 7:00 p.m. to 8:00 p.m. in the West Palm Beach television market, which is comprised of households in Palm Beach, St. Lucie, Martin, Indian River, and Okeechobee Counties. It is the 38th largest television market in the nation including 825 thousand TV Households and more than 1.5 million Adults 18+.
Thank you,
Alex Melendez
Brian Mast for Congress
Cell: 727-692-3212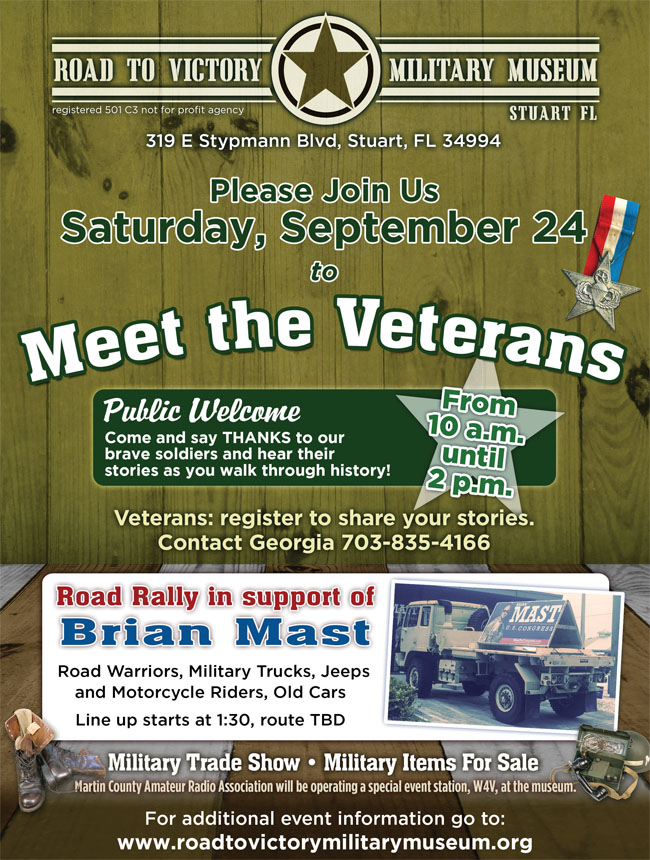 Mel and Barbara Grossman attended a lunch at the home of past Presidential Candidate Dr. Ben Carson on the subject of getting out the vote.
The meeting consisted of faith based projects with leaders of our community invited to discuss their thoughts.
Many of the subjects are in the process of being completed with a new book by Dr. Ben Carson, supported by video & full length movie by Kirk Cameron which should be out by Oct 2016.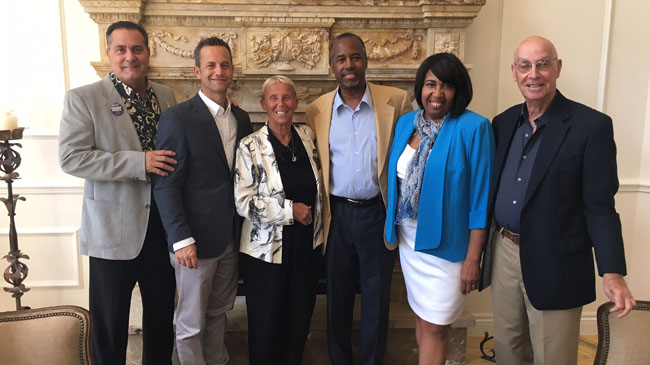 Pictured is Willy Guardiola, Kirk Cameron, Barbara Grossman, Dr. Ben & wife Candy Carson, and Mel Grossman.
The PBCTP Candidate expo at Abacoa drew a broad collection of candidates for office and staffers at all levels – US Senate, US House, Florida Senate and House, County Commission, School Board, Sheriff, Property Appraiser, Public Defender … who mingled with the voters and made their case.
Here's a few photos of the event:
We had the opportunity to attend a candidate forum at the North County Neighborhood Coalition meeting, on Tuesday 7/26. While the primary focus was on Palm Beach County Commission candidates, each of whom got 15 minutes, we also heard from candidates for Florida State House and Senate positions, as well as judicial candidates for County Court, and School Board. Additionally – two candidates announced for Palm Beach Gardens City Council for the March 2017 Municipal Elections. Some candidates had already addressed the NCNC at a prior meeting and were acknowledged, but did not speak.  Make sure you look up your  Sample Ballot  when you attend forums or Tea Party's Candidate Expo on August 1st.  Also – lookup candidate information on our Voters' Guide.  Thank you to Sal Faso, President of the NCNC and his board for a well attended event.
County Commission District 1 – November 8 Election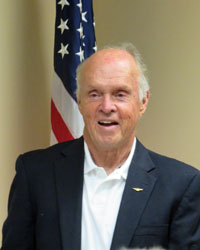 Hal Valeche
Hal Valeche, the Republican incumbent seeking his 2nd term, began with a brief bio. He then highlighted what he viewed has his key accomplishments:
United Technologies HQ on the Briger Tract – which with it's 'smart building' technologies and 450 new hires at $85K salaries should be an asset to the area
Fought against raising Impact Fees
Worked with PB Gardens to extend the North County Airport runway from 4300′ to 6000′, enabling larger corporations to consider bringing their HQ to north county.
When baseball in the Gardens 'fell apart', Hal was charged with finding a new location and is proud of bringing the Astros and Nationals to the WPB site. He pointed out that the $$ come from Bed taxes.
Uber – working out temporary agreements that permitted Uber to keep operating in the County despite opposition by the taxi industry.
Sales tax referendum – while he voted against it, and still feels County infrastructure maintenance backlogs should be funded by issuing bonds, he was glad that the Cultural Council and Economic Development proposals had been removed from the referendum.
As for big upcoming issues – he focused on Water Management as being a key issue.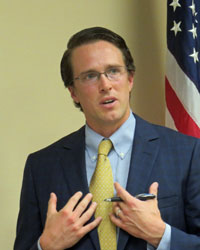 Tony Bennett
Tony Bennett, Hal's Democrat opponent, is new to politics. He is a native Floridian, who spent most of his life in Palm Beach County. A young attorney with young children, Tony is often asked why he is running:
His primary concern is Growth. While he is for economic opportunity – Quality of Life is primary and needs to be managed and protected. He doesn't think that the recent big projects approved will keep North County and in fact much of Palm Beach County special, and fears that the County will become like West Broward.
Traffic explosion, the backlog of current maintenance and infrastructure projects made him critical of the current Commission. He feels that his experience as a practicing attorney has taught him the ethical obligation to account for and spend as the client – which is the voter, not the developer, wishes.
Tony is for the Sales Tax referendum, and is very concerned about Water as well – and fears an algae bloom in Palm Beach County.
County Commission District 3 – August 30th Primary Election
David Kerner, one of two candidates for District 3 replacing term-limited Shelly Vana, spoke next. Most in the audience would not be able to vote for David but as Commissioners vote on all County issues, he wanted to reach out. Dave also went through his bio which included being a police officer, game warden, FL State Representative. Among his concerns are looking at the Sheriff's Offie as well as the County Budget.
During Qs and As for the Commission candidates:
Valeche opposes the sales tax; Bennett and Kerner support
All pledged to work with the City of West Palm Beach to examine/revise coastal impact fees.
All were outraged by the 'sham city' of Westlake but it wasn't clear much could be done about it.
Judicial Candidates – August 30th Election
Marnie Bryson – County Court Group 7 – cited her bio and trial experience as well as endorsements
Tom Baker –  County Court Group 11 – some trial experience, mostly family law, general magistrate for 9 1/2 year – listed endorsements as well
Dana Santino – County Court Group 11 – now in private practice but lots of varied experience as a probation officer, rape/homicide counselor, State Atty and Public Defenders offices and degrees in Law and Taxation.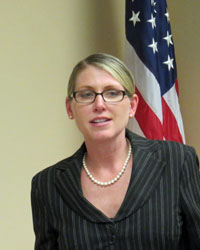 Marnie Bryson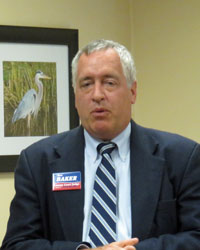 Tom Baker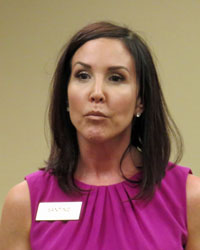 Dana Santino
Palm Beach County School Board District 1 – August 30th Election
Ellen Baker – 26 year Palm Beach Gardens resident, 15 years a teacher.  Need to reign in the new administrator and watch the spending.  She is for the Sales Tax referendum
Note – there are 5 candidates in this non-partisan election – others had already spoken at the NCNC.
FL House District 85 – August 30th Republican Primary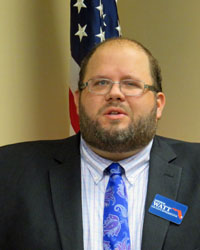 Andrew Watt
Andrew Watt – current Aide to Representative Rooney and lifelong Palm Beach Gardens resident, said he was the only candidate in the primary who lived in the district and could vote for himself.  He also described various accomplishments working on issues with Representative Rooney.
Fl Senate District 30 – August 30th Democrat Primary
Bobby Powell – urban planner, was a graduate of PB Gardens HS.  Listed his endorsement
Michael Steinger – listed his primary issues – schools, gun control and background checks, Medicaid expansion – wants it accepted.
The winner of this primary will go on to compete against Republican Ron Berman in
FL Senate District 30 – November 8th
Ron Berman – spoke very briefly – speaking of his various business experiences and co-founder of Quicken Loans.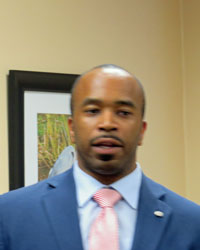 Bobbie Powell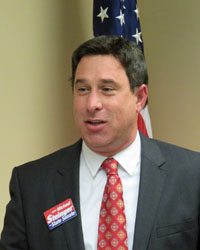 Michael Steinger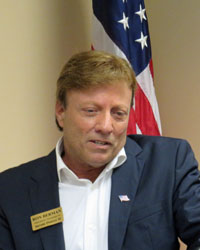 Ron Berman
Palm Beach Gardens City Council – March 2017
Mark Marciano – running for Bert Premuroso's seat – open due to term limits
Matthew Lane – running for Eric Jablins' seat – open due to term limits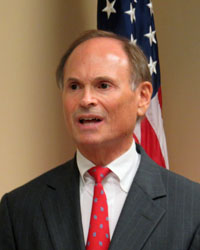 Matthew Lane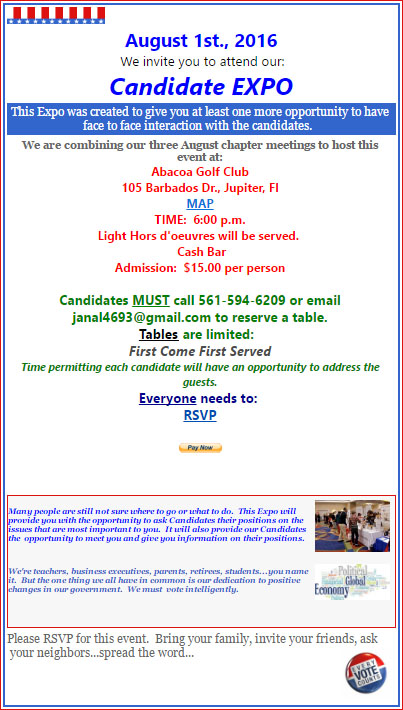 August 1st., 2016
We invite you to attend our:
Candidate EXPO
Monday, August 1, 2016
Abacoa Golf Club
105 Barbados Drive
Jupiter, Fl 33458
TIME: 6:00 PM
Light Hors d'oeuvres will be served.
Cash Bar
Admission: $15.00 per person
Please RSVP below.


Candidates MUST call 561-594-6209 or email janal4693@gmail.com to reserve a table.
Tables are limited: First Come First Served
Time permitting each candidate will have an opportunity to address the guests.
Many of the so-called "establishment" are seriously plotting ways to thwart the results of the primaries at the Republican convention. They apparently feel that "their" party has been taken over by the barbarians from flyover country. They think that a convention draft of someone who has entered no primaries, taken part in no debates, spent no time campaigning, would be preferable to either Donald Trump or Ted Cruz. Even a Hillary Clinton presidency (the likely outcome of such a draft) would be preferable to submitting to the rabble.
My first reaction was that they had seriously lost touch with the rank and file of the Republican party, but that is an oversimplification.
The party is defined by its voters – not those that consider themselves the "leaders". Who are they leading? People like Mitt Romney, John McCain, Mitch McConnell and Lindsey Graham have much more in common with Hillary Clinton than they do with the "real" Republicans who provide the heart and soul of the GOP. Maintaining the status quo in Washington, with a heavily Progressive bureaucracy controlling more and more of our daily lives and a Congress that sees being the majority as simply a means to a bigger office and more access to lobbyist dollars, is the goal of both parties. The so-called "GOP leadership", including our new Speaker who has given the Obama juggernaut everything it wants in their spending bills, have betrayed those that gave them the House in 2010 and the Senate in 2014.
I have been a Republican for my entire voting life and have worked for candidates at all levels since the 2004 re-election of George W. Bush. I held my nose and supported McCain, and supported (although with minimal enthusiasm) Romney as he threw away what should have been an easy win by running one of the worst campaigns in modern history. I will no longer support those who have such contempt for the voters as to tell us we are morons.
The McConnells and Boehners and Ryans tell us they can't govern from the Congress – even though they told us if we elected them in 2010 and 2014 they would change the dynamic. Now they claim they need the Presidency.
In my view, we need an insurgent – a real change agent, to alter the relationship between our government and its citizens. Currently what we have is condescension and scorn, with a dose of fraud and deceit for good measure. We are at an inflection point in our history – the country is circling the drain and everyone out there in flyover country knows it but people of the "GOP leadership" just can't (or won't) acknowledge it.
Without drastic change, starting immediately, the country is lost. Donald Trump may not be a movement conservative, but he is a change agent. Stopping illegal immigration, negotiating better trade deals, changing our tax and regulatory structure to bring whole industries back to the US, repudiating the "America Last" policies of Obama and Clinton – that is his agenda. Ted Cruz would proceed with a similar set of goals, but I think that Trump has a better chance of actually becoming President. He has already put a dent into the Clinton's machine by reminding us all that Bill is an un-indicted sex offender, and that she has committed felonies – whether the Justice department prosecutes them or not. He has already altered the party registration picture, generated unprecedented turnout and voter loyalty, and has a good chance to bring some blue states to the Republican fold.
It is not that Trump will "change the Republican Party" or if it can "survive". The party has already changed – Trump is just the best candidate suited to lead what it has become. Any attempt to ignore the will of the voters with shenanigans at the convention will not just disrupt this year's race – it will end the GOP.
The Palm Beach County Tea Party co-sponsored this candidate forum for the Gardens Council race. View the video of the event here.