The following has been distributed by the Florida Conference of Catholic Bishops:
---
O God, we acknowledge You today as Lord,
Not only of individuals, but of nations and governments.
We thank You for the privilege
Of being able to organize ourselves politically
And of knowing that political loyalty
Does not have to mean disloyalty to You.
We thank You for Your law,
Which our Founding Fathers acknowledged
And recognized as higher than any human law.
We thank You for the opportunity that this election year
puts before us,
To exercise our solemn duty not only to vote,
But to influence countless others to vote,
And to vote correctly.
Lord, we pray that Your people may be awakened.
Let them realize that while politics is not their
salvation,
Their response to You requires that they be politically
active.
Awaken Your people to know that they are not called to be
a sect fleeing the world
But rather a community of faith renewing the world.
Awaken them that the same hands lifted up to You in prayer
Are the hands that pull the lever in the voting booth;
That the same eyes that read Your Word
Are the eyes that read the names on the ballot,
And that they do not cease to be Christians
When they enter the voting booth.
Awaken Your people to a commitment to justice,
To the sanctity of marriage and the family,
To the dignity of each individual human life,
And to the truth that human rights begin when Human Lives
Begin,
And not one moment later.
Lord, we rejoice today
That we are citizens of Your kingdom.
May that make us all the more committed
To being faithful citizens on earth.
We ask this through Jesus Christ, our Lord.
Amen.
Shortly, the Economic Council and others will be spending over $200,000 to convince you that the county sales tax should be raised to 7%. You will hear that the infrastructure is crumbling, that the children are sweating in their classrooms with broken air conditioners, that the roads have potholes and the bridges are falling down. You will hear that a sales tax is good because 25% of it will come from tourists, and that tens of thousands of jobs will be created to rebuild those roads and bridges, county buildings, the jail and the parks.
Don't be fooled. This 17% increase in the sales tax will generate much more revenue than is arguably needed to repair the infrastructure that was neglected by conscious choices of county staff and commission. Over the last 5 years, the ad-valorem budget has grown 33%, yet Engineering and Public Works only saw a 3% growth. At the same time, the Sheriff's budget grew by 28% and county employees saw 12% in across the board raises (3% / year for 4 years). These conscious choices indicate that those running our county and school system were willing to defer maintenance until a pitch could be made for a new source of revenue.
A bond issue could have funded the critical needs. Instead, they want a sales tax that will generate $2.7B over 10 years whether it is needed or not. Do not doubt that they will spend every penny.
10 important reasons to reject the sales tax question on the upcoming ballot:
1. A 17% increase in the sales tax is a net tax increase of $270M per year, with no offsets to property taxes.
2. It is regressive and will affect low income residents the hardest.
3. It is not subject to the scrutiny applied to the annual ad-valorem budget.
4. It creates an incentive to purchase outside the county (Both Broward and Martin are at 6%, many internet retailers do not collect sales tax).
5. It is not an "infrastructure maintenance tax" but includes many new capital projects.
6. Unlike an infrastructure bond that would raise just enough money for critical needs, this granular tax generates a specific amount of money, and low priority projects will have to be funded in order to spend it all. Like previous proposals, it is a grab-bag of projects, many of which would never be done without a "must spend" windfall.
7. Charter schools get nothing.
8. Many of the municipalities (PBG, Boca) didn't want the money.
9. It comes on top of the largest ad-valorem tax haul at the county level in history, up 8.2% over last year and up 33% since 2012. If passed, the 2017 equivalent tax hike would be 18%.
10. Over the last 5 years, the county has consistently underfunded engineering and public works (+3%), while increasing the Sheriff's budget by 28% and giving across the board raises to employees of 12% (3%/year for 4 years). When the overall ad-valorem budget increased by 33%, engineering saw a total of 3% in 5 years. This was a conscious choice.
Don't be an enabler!
VOTE NO ON THE SALES TAX ON THE NOVEMBER BALLOT.
Show your support for Ron by attending this upcoming Meet & Greet. RSVP to Tom Plante, 561-236-8891.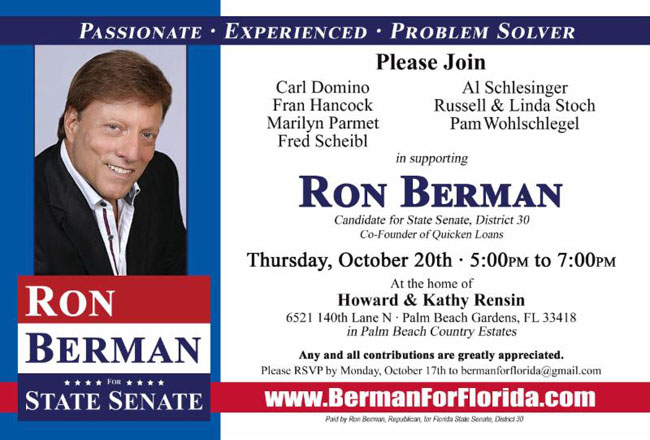 Here are the candidates that Mel and the board have picked for the November Election:
we are asking you to look at the picks, then choose for yourself. Whether you agree or disagree, feel free to add your comments to the end of this post..
Any races not listed are no-picks.
For an in-depth look at all the candidates and the districts, use our Online Voters Guide
Federal Offices
President / Vice President

Donald Trump

Mike Pence

US Senate

Marco Rubio
Congressional District 18

Brian Mast
Congressional District 22

Paul Spain
Congressional District 23

Joe Kaufman
State Offices
State Senate District 25

Joe Negron
State Senate District 30

Ron Berman
State House District 82

Mary Lynn Magar
State House District 85

Rick Roth
State House District 86

Laurel Bennett
County Offices
County Commission District 1

Hal Valeche
County Commission District 3

Sean Hogan
County Commission District 5

Taniel Shant
FL Amendment 1

RIGHTS OF ELECTRICITY CONSUMERS REGARDING SOLAR ENERGY CHOICE

NO

PBC 1: County Sales Tax Surcharge

PALM BEACH COUNTY DISTRICT SCHOOLS, CITIES AND COUNTY GOVERNMENT INFRASTRUCTURE ONE-CENT SALES SURTAX

NO
The Trump campaign is in need of sign wavers for the Jupiter location at the corner of Indiantown Road and Jupiter Farms Rd. (Publix shopping ctr.) on Oct. 8th for only about an hour or so starting at 10:30am. These folks would be our greeters and cheerers. As the Patriot Veterans and Bikers arrive we would like to show them support for the support they are riding for Mr. Trump and the Connected Warriors.