Shortly, the Economic Council and others will be spending over $200,000 to convince you that the county sales tax should be raised to 7%. You will hear that the infrastructure is crumbling, that the children are sweating in their classrooms with broken air conditioners, that the roads have potholes and the bridges are falling down. You will hear that a sales tax is good because 25% of it will come from tourists, and that tens of thousands of jobs will be created to rebuild those roads and bridges, county buildings, the jail and the parks.
Don't be fooled. This 17% increase in the sales tax will generate much more revenue than is arguably needed to repair the infrastructure that was neglected by conscious choices of county staff and commission. Over the last 5 years, the ad-valorem budget has grown 33%, yet Engineering and Public Works only saw a 3% growth. At the same time, the Sheriff's budget grew by 28% and county employees saw 12% in across the board raises (3% / year for 4 years). These conscious choices indicate that those running our county and school system were willing to defer maintenance until a pitch could be made for a new source of revenue.
A bond issue could have funded the critical needs. Instead, they want a sales tax that will generate $2.7B over 10 years whether it is needed or not. Do not doubt that they will spend every penny.
10 important reasons to reject the sales tax question on the upcoming ballot:
1. A 17% increase in the sales tax is a net tax increase of $270M per year, with no offsets to property taxes.
2. It is regressive and will affect low income residents the hardest.
3. It is not subject to the scrutiny applied to the annual ad-valorem budget.
4. It creates an incentive to purchase outside the county (Both Broward and Martin are at 6%, many internet retailers do not collect sales tax).
5. It is not an "infrastructure maintenance tax" but includes many new capital projects.
6. Unlike an infrastructure bond that would raise just enough money for critical needs, this granular tax generates a specific amount of money, and low priority projects will have to be funded in order to spend it all. Like previous proposals, it is a grab-bag of projects, many of which would never be done without a "must spend" windfall.
7. Charter schools get nothing.
8. Many of the municipalities (PBG, Boca) didn't want the money.
9. It comes on top of the largest ad-valorem tax haul at the county level in history, up 8.2% over last year and up 33% since 2012. If passed, the 2017 equivalent tax hike would be 18%.
10. Over the last 5 years, the county has consistently underfunded engineering and public works (+3%), while increasing the Sheriff's budget by 28% and giving across the board raises to employees of 12% (3%/year for 4 years). When the overall ad-valorem budget increased by 33%, engineering saw a total of 3% in 5 years. This was a conscious choice.
Don't be an enabler!
VOTE NO ON THE SALES TAX ON THE NOVEMBER BALLOT.
Palm Beach County is a Democrat stronghold. We all know that. With 43% of the registered voters (versus 28% for the Republicans), Democrats hold all of the county-wide offices except Property Appraiser, all of the Congressional seats, and about 70% of the county legislative delegation. In spite of those demographics, the County Commission does not usually behave in an overtly partisan way.
It was curious then, and unseemly, that Democrat County Mayor Shelley Vana, term limited on the commission but running for that lone Republican seat of Property Appraiser, would decide to propel the commissioners into one of the most divisive issues of all – illegal immigration and President Obama's expansion of DACA and DAPA by (most would say) his illegal executive order.
The proposed resolution in support of the order, also asked Florida Attorney General Bondi to withdraw Florida from the 26 state lawsuit seeking to nullify the Obama overreach.
The 27 members of the public that spoke on the issue were mixed – 13 in favor of the resolution and 14 against. Those in favor seemed to be those who would seek to benefit from additional amnesty, as many had individual stories of coming to this country and having a hard time working, going to school, etc. Those against primarily focused on the rule of law and that we cannot ignore the laws that we do not like.
Many PBCTP members and friends turned out against the proposal, including Janet Campbell, Marion Frank, Pam Wohlschlegel, Lynn Scherer, Victoria Theil and Barry Carson, as well as CD18 candidate Paul Spain. Virginia Savietto, a Democrat candidate for House district 87 (which is 31% Hispanic) spoke in favor.
This highly divisive issue should never have been brought before the Commission, and Vana cited a county Hispanic Democrat group for requesting it. Republican Steven Abrams, highly critical of the county stirring up something for which it has no jurisdiction, moved to table the resolution indefinitely, which was seconded by the other Republican Hal Valeche. Three of the Democrats joined them in opposing the resolution including Priscilla Taylor (although she strongly supports President Obama), and Mary Lou Berger (who does support a path to citizenship for illegals). Mellisa Mckinlay voted against it but praised those from the immigrant community who came forth to speak for the record. Only Paulette Burdick and Mayor Vana voted for it. Mayor Vana did not like the "tone" of the debate. "What I saw here wasn't very good," she said.
Once again, the voices of the people made a measurable difference. Thanks to all who spoke at the meeting, called the commissioners, or sent email.
For Wayne Washington's recap in the Palm beach Post, see: Immigration proposal begets raucous commission meeting
The Common Core standards and the processes that they have created, have a wide impact on K-12 education, with policy implications at the local, state, and national levels.
Many see them as an onerous regimen imposed on local school districts by the federal government, loaded with progessive bias in content, and counter to the local control of education that our system has featured since the dawn of public education. Teachers don't like the program because it has too much emphasis on testing, and whittles away at their autonomy in the classroom. Administrators oppose them for the high stakes they impose on scoring individual schools. Parents object to the way subjects are taught (which some find incomprehensible, particularly in basic mathematics), the critical importance given to test results, and the lack of local control over the classroom.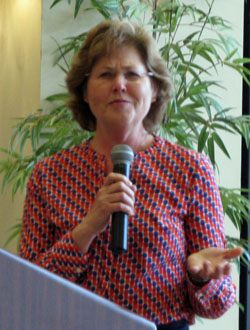 In spite of this opposition, the train has left the station and Common Core is being implemented to various degrees across the country. Our speaker, Rebecca Negron attempted to make sense of all this from the point of view of a Martin County School Board member who was drawn to the office when she did not like the way her own children were being taught.
So what is the current state of Common Core in Florida?
In her view, testing is out of control – the tests are too frequent, and because teachers pay and school rating depend so heavily on the results, the objective of learning is sometimes lost. Martin County this year has opted out of giving End of Year exams.
Teachers evaluations – an attempt to separate the excellent from the mediocre, have failed – after spending $1.3M on implementing an evaluation process for the county, almost all teachers fall in the top two categories – hardly the differentiator that was intended.
School choice (vouchers) – in her view a good, market driven program, has caused a circle the wagons mentality within the system, with the FSBA (Florida School Board Association) joining with the teachers union (FEA) in a lawsuit to end the Tax Credit Scholarship Program. Martin County has considered withdrawing from FSBA membership for this reason.
Mrs. Negron claimed that the problem is not the content of the Common Core Standards themselves, but the implementation, particularly in the "approved" textbooks that she describes as choosing the "best of the worst". Change is hard though, and she has had little success in convincing her school board colleagues to seek new textbooks or push back against the state imposition of the standards and curriculum. The issues have moved up in the government food chain and local School Boards can do little given what is mandated at the state level, which in turn is influenced by the education dollars flowing from the federal government.
Quite a few questions led to a lively discussion at the end of the session, with many in the audience having been on the front lines of the common core fight. Identified by some as the villian of the piece, Jeb Bush and his "Excellence in Education" foundation have been a driving force for common core. It was pointed out that many in the legislature, including Rebecca's husband Senator Joe Negron, have served on Bush's board, making opposition in Tallahassee an uphill fight.
As many continued the discussion with Mrs. Negron after the session ended, it seemed clear that her assessment of the state of common core does not sit well, and there is much frustration that School Boards in Martin and Palm Beach County are not doing enough to push back against the common core juggernaut.
"I am a Frederick Douglass Republican" – thus begins K. Carl Smith's method for penetrating the walls that separate conservatives from minority voters.
On the premise that many minority families hold conservative values (eg. school choice, life, self reliance) and have much in common with us, yet are conditioned by upbringing and / or liberal propaganda to reject conservative thought, Mr. Smith explained how for many, "Republican", or "Conservative" means "Racist". Starting from that perspective, it is no wonder that "outreach" efforts are difficult.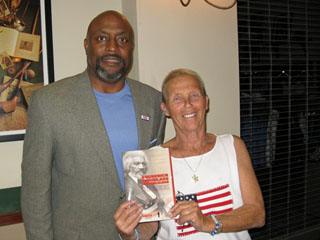 In order to "retake control of the narrative" with Black and Hispanic constituencies from the liberal media and the Democrat party, we must expose their ongoing practice of rewriting history and routine accusations of racism against any who oppose them. Example: Lincoln (a Republican) ended slavery, and was opposed by the Democrats who were invested in it, yet the DNC website claims that "Democrats have been the champion of civil rights for 200 years!"
Frederick Douglass, a Black contemporary of Lincoln, has said "The best representation of slavery in politics is the Democrat Party". He was a strong supporter of the Constitution, life, the limited power of government, and personal responsibility. By identifying with Douglass, in K. Carl Smith's view, we can begin to explain that conservative principles are color blind, and knock down the wall that limits dialogue.
Mr. Smith holds seminars on his methods, and has helped local GOP groups do effective outreach, and his lectures at the three PBCTP chapters this month were well received. For more information, check out his book: "Frederick Douglass Republicans: The Movement to Re-Ignite America's Passion for Liberty"
The American Coalition for Property Rights (ac4pr.org), with some help from members of the Palm Beach County Tea Party, has been able to convince three County Commissions (St. Lucie, Martin and Indian River) to 'opt out' of Seven50 – the HUD funded regional plan that sets out a progressive vision for "seven counties, 50 years". Now their sights are set on Palm Beach County.
Predicting significant population growth in South Florida over that time frame along with rising sea levels and constraints on natural resources, the Seven50 plan sees public transportation, high density housing situated close to transit corridors, and restrictions on private land use as the solution. Implementation would involve changes in zoning regulations, and adoption of a regional blueprint which would supersede today's system of county and municipal land use rules.
Free Speech in PBC
---
A bit of drama ensued during the meeting as Palm Beach County Tea Party's President, Mel Grossman was ejected from the meeting by a heavy handed PBSO deputy. The deputy patrolled the room, trying to intimidate the attendees and chastized (loudly) anyone who deemed to whisper to their seatmate. Mel spoke too loudly and thus the ensuing drama. Mayor Taylor also admonished anyone who clapped or called out in support of those speaking. Ultimately, 3 other deputies joined the first one to ensure that the 'unruly and dangerous' elderly people in the audience were held in check.
To his credit, County Administrator Bob Weisman met Mel outside the chambers and arranged for him to come back in and speak, although he was asked to remain in the outside seating area after that. The deputy was clearly out of line (at one point dangling handcuffs over Mel's head), and the Administrator wisely acted to prevent what could have been an ugly scene.
One can only wonder if this deputy has the full support of Mayor Taylor and the Commission. We have observed her in the past harrassing speakers at the podium by standing next to them and glaring, and disrupting the meeting by loudly admonishing against applause. At one point the Mayor joked as if the deputy was actually in charge of the meeting.
Fearing loss of local control and influence by property owners and other citizens, opponents of the plan have been asking county governments to "opt out" of the Seven50 MOU ("memo of understanding") which they signed in 2010. Our three northern neighbors acquiesced, but so far Palm Beach County has not been willing to accept the premise that any of their authority would be preempted by the plan, nor do they feel bound to implement any of its provisions. Commissioner Hal Valeche, certainly not a proponent of the "New Urbanism", does not see Seven50 as anything more than a federally funded study that lays out some proposals – that the county can accept or reject (or ignore) at their leisure.
Phyllis Frey, a leader in this fight, along with Mel Grossman, president of PBCTP, arranged for interested citizens to come to the February 4th Palm Beach County Board of County Commissioners (BCC) meeting, to speak "off agenda" during the "Matters by the Public" session.
The 80 or so activists wore red shirts in support of the 15 or so who spoke, and the speakers covered a range of issues, from the impacts to Home Rule, development density concerns, the relationship to UN Agenda 21 and other topics.
For the most part, the session was cordial, and the Commissioners made comments and suggestions, although it was clear none of them saw any reason to "opt out". There was a little bit of drama, as leader Mel Grossman was thrown out of the meeting room by an overzealous deputy. (see sidebar). In the Sun-Sentinel ("SFL Tea Party Leader Ejected from PBC Commission Meeting) and the PB Post ("About 80 seven/50 opponents pack palm beach county commission") that part was the lead.
Drama notwithstanding, potential progress was made in the meeting. Seeking a way to address the concerns – namely that home rule would be compromised or that the county would be compelled to implement the seven50 plan, Commissioner Steven Abrams suggested that the County Attorney draft an addendum to the agreement(s) with the Seven50 committee, clarifying that nothing in those agreements in any way compromises our Home Rule or otherwise overrides the County's planning and zoning. The addendum would be signed by both the BCC and Seven50 officials. The rest of the BCC agreed and County Attorney Denise Nieman said she would return at the next BCC meeting on March 11th. After the meeting, Ms. Nieman spoke with members of the public – including Mel and Phyllis. The latter plan to work with Ms. Nieman's team to see if the proposed wording would satisfy their concerns.
All should recognize however, that whenever government grants are accepted, there are strings attached. And having an addendum or an opt-out, no matter how it is worded, does not relieve interested citizens from having to continue to monitor various development projects from appearing on Consent Agendas for passage without discussion. Also – most if not all on our County Commission, are in support of the goals of Seven50 and other regional planning initiatives – and one shouldn't just assume that all regional planning is good or bad. As citizens, it is up to us to watch what is going on, hold our elected officials accountable, speak out, educate others and vote!
2/4/2014 ACTION ALERT REMINDER
FOR PATRIOTS OPPOSED TO UN AGENDA 21 A.K.A. SEVEN/50
Our Challenge! We must have hundreds of Palm Beach County residents to support our speakers in our quest to defeat seven/50.
ACTION RECOMMENDED:
Join fellow Palm Beach County residents as we support the American Coalition 4 Property Rights in their effort to defeat 7/50 in Palm Beach County. We have been challenged by our friends in Indian River County, Pt. St Lucie County and now Martin County. The results speak for themselves: Victory in Indian River and Pt. St. Lucie Counties, and hopefully in Martin County. We had record crowds at all of above county meetings, including 350 people cheering on our speakers at the commission meeting in Pt. St. Lucie. Surely we can top the 350 supporters when we all show up on Feb. 4th at the meeting.
Please wear RED to show our solidarity.
EVENT:
Palm Beach County Commissioners Meeting
PLACE:
County Commission Building 301 N. Olive, WPB (one block north of Clematis St.)
TIME:
Tuesday February 4, 2014. 2:00 PM
TRANSPORTATION AVAILABLE:
Please call Mel Grossman at 561 627 2774 if you need transportation.
BACKGROUND:
The following links provide background information on the struggle against seven/50.
Tea Party, other activists wage campaign against regional development plan
Vero Beach Mayor Fletcher on Seven50 2m53s
The American Coalition 4 Property Rights
AC4PR's Stunning Presentation to St Lucie County Board