2/4/2014 ACTION ALERT REMINDER
FOR PATRIOTS OPPOSED TO UN AGENDA 21 A.K.A. SEVEN/50
Our Challenge! We must have hundreds of Palm Beach County residents to support our speakers in our quest to defeat seven/50.
ACTION RECOMMENDED:
Join fellow Palm Beach County residents as we support the American Coalition 4 Property Rights in their effort to defeat 7/50 in Palm Beach County. We have been challenged by our friends in Indian River County, Pt. St Lucie County and now Martin County. The results speak for themselves: Victory in Indian River and Pt. St. Lucie Counties, and hopefully in Martin County. We had record crowds at all of above county meetings, including 350 people cheering on our speakers at the commission meeting in Pt. St. Lucie. Surely we can top the 350 supporters when we all show up on Feb. 4th at the meeting.
Please wear RED to show our solidarity.
EVENT:
Palm Beach County Commissioners Meeting
PLACE:
County Commission Building 301 N. Olive, WPB (one block north of Clematis St.)
TIME:
Tuesday February 4, 2014. 2:00 PM
TRANSPORTATION AVAILABLE:
Please call Mel Grossman at 561 627 2774 if you need transportation.
BACKGROUND:
The following links provide background information on the struggle against seven/50.
Tea Party, other activists wage campaign against regional development plan
Vero Beach Mayor Fletcher on Seven50 2m53s
The American Coalition 4 Property Rights
AC4PR's Stunning Presentation to St Lucie County Board


Speaker Videos
This past weekend in Orlando, Americans for Prosperity Foundation hosted a conference for grassroots activists from around the nation.
With informative breakout sessions in the mornings to highlight successes on the state and local levels, and "big tent" events in the afternoon with national conservative leaders, there was something for everyone, including ample free time to "network".
The "malaise" that affected many of us locally after the bitter results of the 2012 Presidential election has been pretty widespread, and organizers from many locations reported falling attendance at many of their events. Hopefully, that is now starting to change. Although we are still licking our wounds, conferences like this one demonstrate that there is still life in the conservative grassroots, we have leaders in the movement that "get it" and have the fortitude to take it to the President – to lead the fight against the train wreck that is Obamacare, the endless debt and deficits, the administration that cares little for the rule of law, the separation of powers, or the role of the states in our constitutional republic.
Bobby Jindal
"It's amazing what is possible in America", said Louisiana Governor Bobby Jindal, when people are free – free to make their own choices, free from the suffocating regulations of intrusive government. He talked about education as the key for the jobs of tomorrow, and the success they have had in his state in shutting down failing schools and greatly expanding the charter school system which has done a lot to improve the lot of minority children. Last week, unfortunately, Obama's Justice Department has decided to sue Louisiana to roll back these reforms and return students to their failing schools. Judging by his fiery critique of the President and his policies, it is clear he will stand up against our rogue Attorney General and fight to retain the success they achieved.
Marco Rubio
Our own Senator Marco Rubio declared "There is nothing wrong with America – but there is something wrong with this President". The good news, he said, is that "we still have time to save the American Dream", by reforming the tax code and eliminating regulations. "We don't need Common Core", he said, and he will not vote for any budget that funds Obamacare or to increase the debt ceiling without a balanced budget amendment and specific cuts.
Unfortunately for Senator Rubio, there is still a lot of anger in the movement about his role in passing the "gang of eight" Senate immigration bill. In the hall were members of Flimen with pink shirts that said "Pink Slip Rubio", and throughout his speech you could hear sporadic calls for "No Amnesty". Although he avoided this issue in the speech, he did address it in a smaller group that met with him prior to the session. In a hotel suite with about 40 supporters, after answering some questions about Syria, Obamacare and other issues for which he was among friends, someone in the back asked "what about immigration". A hush fell across the room at this point and he had no choice but to address it with a somewhat lengthy justification that amounted to "the status quo is unacceptable so we have to do something". To me it sounded like doubling down. Not good.
Arthur Brooks
Then Arthur Brooks, President of American Enterprise Institute, succinctly summed up the Obama message: "Rich people have your stuff and I'm going to get it back for you." This shouldn't have worked as envy is not American, but unfortunately all our side had to say to his supporters was "You're a moocher" – no wonder we lost. The words "fairness" and "compassion" have been kidnapped by the left and we should take them back and own them, because progressive ideology is neither fair nor compassionate. As a humorous and memorable side comment illustrating our difference in values, he recalled a bumper sticker seen in San Francisco – "Your body may be a temple but mine is an amusement park".
Rick Scott
Next up was Governor Rick Scott, gearing up his re-election bid with a positive jobs message. Recalling his 2010 pledge to create "700,000 jobs in 7 years", he reported us as on-track, with the likelihood of 900,000 jobs created by 2018. Scott is still popular with the Florida grassroots, although his support for Medicaid expansion had a lot of heads scratching. We do still remember that he declined to create a state Obamacare exchange, though. A few hecklers in the audience periodically shouted "No Common Core", reflecting dissatisfaction with the direction that our education system has taken over the last few years. Scott talked about his activities as a booster of the state's business climate and his good-natured rivalry with Texas and Governor Rick Perry who was the last major speaker of the day.
Rick Perry
A 2012 Presidential candidate until his campaign faltered early in the primary process, he is possibly gearing up for another run in 2016. Well known as a jobs governor, the record of the Texas economy on his watch has been very impressive. As he makes the rounds of the states selling the Texas miracle, he has gained the ire of many blue state governors who do not appreciate his pointing out the shortcomings of their performance or the failings of the Progressive economics.
On another theme, "All roads lead back to the states", said Perry. One size fits all federal programs (like Obamacare) are anathema to the founding principles of this country. A favorite target of the Obama administration, whose ideology sees the power in the states to be a roadblock to their big government agenda, Texas is now being sued by Eric Holder and the Justice Department as they try to end-run the Supreme Court and re-impose Voting Rights Act restrictions that require federal permission for such things as Voter ID laws.
Ted Cruz
On the final day of the conference, Texas Senator Ted Cruz, another possible 2016 presidential candidate and clearly the favorite of the gathering gave us reasons for optimism. With the success of Rand Paul's filibuster on drones, and the failure of gun control initiatives after Sandy Hook, the President was forced to "listen to the people", he said. On Syria, with Obama now going to Congress for authorization, on immigration, on common core, – the people are making their voices heard and throwing a wrench into the Obama agenda. His job as a Senator, he says, is to restore economic growth as the lack of growth is related to all of our other problems. Tax Reform ("Abolish the IRS"), and regulatory reform ("Repeal Obamacare – every single word") are the key. He sees Obamacare as the greatest job killer of all time and sees de-funding it in the upcoming budget process as the key. In answer to skeptics that see that tactic as a political liability for Republicans, he says "You lose 100% of the fights you surrender at the outset." Standing ovations were frequent for this speech.
All in all, the speakers reminded us that conservatism is not "in trouble" as the mainstream media may have you believe, but resurgent and full of fire. With his agenda in tatters, the Obama team sees winning back the House and holding the Senate next year as their only chance to have a legacy of anything but failure. Any thought of compromise or even dealing with a Republican House is not is the President's wheelhouse. Although 2014 will be a harder slog than 2010 when we took them by surprise, at the end of this conference it was clear that we have depth, we have tools and we have a maturity that comes from adversity and learning from the losses of 2012. Thanks to AFP and organizations like them, the conservative grassroots will have help and structure that will amplify our effectiveness going forward.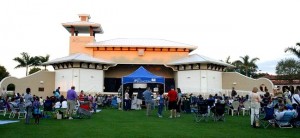 Please join us as we concentrate our focus for April on our major Annual Event, which we have renamed United Stand for America, at the Wellington Amphitheater!!!
NOTE: The Boca Raton Chapter Meeting, normally the first Tuesday of each month (or, April 2nd) is cancelled, as is the Wellington Chapter Meeting, normally the second Monday of each month (or, April 8th).  Bring your patriotic spirit to Wellington on April 14th, and join us for a fun-filled day with a great line-up of speakers and activities!!!!  Stay tuned to our web site and FaceBook page for more details!
With a crystal-clear night on the back end of a Florida "cold-snap" (getting into the 40's the day before), there was another exciting night of patriotism from the Palm Beach County Tea Party.  Though the turnout was lighter than this past month, it was an unquestionably exciting evening of brisk dialogue amongst Patriots in Boca Raton.   Slade O'Brien was the guest speaker, and his perspective as a leader of grassroots movements, and dealing with politics on the LOCAL level, was quite illuminating.  As the Florida Director of Americans For Prosperity, Slade has an extraordinary inside perspective on Florida politics, with access to all the "movers and shakers" within the political sphere in our state.
What he revealed about statewide graft and corruption in state contracts from legislators "thanking" their lobbyists and supporters who got them elected was both sickening and motivating at the same time.  Slade also updated us on the "Five For Florida" initiative that AFP began last year, and updated us on their progress.  While much has been accomplished, we have a "long road ahead", as Slade said.
This also marked the return to Boca Greens Country Club, and exceptional venue for our group in terms of space, facilities, location, and food.  Salad, Rolls, Chicken, and Salmon was served with a Vodka Penne dish, and a yummy-looking Apple-Cobbler type of dessert (I did not partake).  It was a great crowd, populated by both familiar faces, as well as many new people.  PBCTP Co-Founders Mel and Barbara Grossman made the trip from Jupiter to be with us, as did Terry Brady.
Boca Chapter Coordinator Alex Berry began the proceedings at 7:00pm with the Pledge of Allegiance. Carlos Manuel Santana then regaled us with his impassioned version of the National Anthem.  After the usual protocol of explaining what the PBCTP is, and what it stands for, Alex made general announcements, and then asked former Board member Francisco Rodriguez to come to the podium.  Francisco explained how he has recently published a book that addresses the critical issue of WINNING ELECTIONS, and how that starts on the local level, something we can all participate in.  And this dovetailed well with Slade O'Brien's discussion of the "pragmatics" of politics….
Alex then introduced Slade, who held the crowd captive with a personal account of his observations on how Florida has foolishly discouraged entrepreneurial activity with miles of red tape.  He was actually very encouraging, however, because he drew parallels between what Scott Walker has done in Wisconsin, and what is possible here in Florida.
Slade followed his presentation with a boisterous "Q&A" session with the audience, moderated by Alex Berry.  Tea Party members donated the raffle prizes, and the winners were announced at the drawing, concluding the evening.
We look forward to more great meetings in 2013 for our Boca Chapter—please INVITE YOUR FRIENDS to our next event, which will be on April 2nd, 2013!!! Remember—we always have our Boca Chapter Dinner/Speaker event on the FIRST TUESDAY of every month, so mark your calendars!  Please get involved if you aren't yet, and STAY involved if you already are!  Remember, we are LOOKING FOR ADDITIONAL BOCA TEAM LEADERS, including a Boca Chapter Coordinator (leader in Boca).  Please help out if you can!
Hello all,
The following was a letter from Mark Meckler.  Please review and comment .. . and most importantly, pick out the key points that mean the most to you and immediately send emails and make phone calls to your state legislators!
To Tea Partiers across Florida:
From my perspective it's very simple.
1.  Tea Partiers put principle before politics.  One of the core principles of tea partiers is fiscal responsibility.  As tea partiers, our job is to stand on principles, not be convinced by the politics of the moment.  Expanding huge, inefficient, bloated, government programs for which our federal government must borrow 43 cents of every dollar spent is hardly fiscally conservative.  In fact, supporting such a program expansion would be the antithesis of what the movement stands for.

2.  The best conservative Governor's in the nation are opposing the expansion of Medicaid.  Gov. Scott Walker, Gov. Rick Perry, Gov. Bobby Jindal, Gov. Nikki Haley, etc.  When the leading conservative Governors in the nation are rejecting the program, it's hard to see how tea partiers could think accepting it is a good thing.

3.  Four Important Points about the proposed Medicaid expansion that everyone should know:
Four Important Points About Medicaid Expansion
A.  Support for Medicaid Expansion is Support for Obamacare.  If your tea party group supports the expansion of Medicaid, it is a major statement in support of Obamacare.  One of the major provisions of Obamacare was the expansion of Medicaid, which is intended to dramatically increase the number of people dependent on the federal government.  The rejection of the Medicaid expansion, which states were given the right to do by the Supreme Court in the only conservative victory on Obamacare, is one of the few tools remaining to help prevent Obamacare from swallowing the nation.
B.  The Medicaid Expansion is a Fiscal Nuclear Time Bomb.  Medicaid is a fiscal time bomb; today, states and the federal government jointly fund the program, but over time, Congress is almost certain to curtail its support due to Washington's fiscal pressures.
C.  The Medicaid Expansion Drives the Cost of Insurance Up for Everyone Else.  Medicaid drives up the cost of insurance for everyone else, because hospitals overcharge people with private insurance to make up for the fact that they're underpaid by Medicaid.
D.  Medicaid is a Broken Program Providing Terrible Health Outcomes.  Medicaid provides the worst health outcomes of any insurance plan in America; in many cases, it's worse than having no coverage at all.
To me, it's not even a close call for tea partiers.  If we won't do our best to hold the line here…we should just fold up our tea party tents and go home.  It is impossible for fiscal conservatives to support the expansion of a bloated, broken federal program that borrows 43% of every dollar spent, and still consider ourselves principled fiscal conservatives.  If we support (or don't vociferously oppose) the expansion of Medicaid, then the criticism sometimes leveled at us that we are willing to cut, but not when those cuts affect us, is true.  Are we Democrat-lite, or are we true fiscal conservatives who will stand on principle?  In Florida, the time to make that decision is now.
Below you will find a summary of where each state currently stands (as of Feb. 20) on the proposed expansion.
Where each state stands on ACA's Medicaid expansion
A roundup of what each state's leadership has said about their Medicaid plans
Topics: Health Care Reform, Market Trends, Strategy, Medicaid, Reimbursement, Finance
February 20, 2013
Click to expand a quick-to-scan graphic or an interactive graphic. (Note: The interactive graphic may not be optimized for all mobile devices.)
Embed this map on your website
Text last updated on Feb. 20, 2013, at 5:30 p.m. ET
The Supreme Court's ruling on the Affordable Care Act (ACA) allowed states to opt out of the law's Medicaid expansion, leaving each state's decision to participate in the hands of the nation's governors and state leaders.
Based on lawmakers' statements, press releases, and media coverage, the Daily Briefing and American Health Line editorial teams have rounded up where each state currently stands on the expansion.
We will continue to update this map and list as more information becomes available. Send us news, tips, and feedback by commenting below or emailing dailybriefing@advisory.com.
* indicates a state's participation in the multistate lawsuit against ACA
NOT PARTICIPATING (13 states)
LEANING TOWARD NOT PARTICIPATING (5 states)
LEANING TOWARD PARTICIPATING (3 states)
Kentucky: Gov. Steve Beshear (D) when asked about the expansion in July said, "If there is a way that we can afford that will get more coverage for more Kentuckians, I'm for it." However, state lawmakers are putting pressure on Beshear to reject the expansion (Office of Gov. Beshear release, 6/28; AP/Evansville Courier & Press, 6/28; AP/Evansville Courier & Press, 7/17; Autry, WYU, 7/5; Cross, Louisville Courier-Journal, 6/29).
New York: Gov. Andrew Cuomo (D) in a statement on his website on June 28 said he was "pleased the Supreme Court upheld the [ACA]" and looks forward "to continuing to work together with the Obama administration to ensure accessible, quality care for all New Yorkers." On July 26, Danielle Holahan—project director for New York's health insurance exchange planning—said the state "largely meet[s] the federal required Medicaid levels already." Although Cuomo's office has not officially announced a decision, the Associated Press reported on Nov. 13 that New York will expand Medicaid (Office Gov. Cuomo release, 6/28; Grant, North Country Public Radio, 7/27; Delli Santi/Mulvihill, AP/San Francisco Chronicle, 11/13).
Oregon: Gov. John Kitzhaber (D) said on June 28 that he is confident that the Oregon Legislature will approve a state Medicaid decision. In an interview with the Oregonian just hours after the Supreme Court issued its ruling on the ACA, Kitzhaber said, "We'll make a decision on whether or not to expand the Medicaid program really based on, I think, the resources we have available in the general fund for that purpose going forward" (Budnick, Oregonian, 6/28).
PARTICIPATING (23 states and the District of Columbia)
UNDECIDED/NO COMMENT (8 states)
Alaska*: Gov. Sean Parnell (R) on Aug. 8 said he is guarded on the expansion "because our history with the federal government right now is they cut what they promise to fund." Parnell said he wants to thoroughly understand the costs to the state before making a decision (Bohrer, AP/San Francisco Chronicle, 8/8).
Indiana*: Gov. Mitch Daniels (R) in a statement on June 29 said, "Any decision to expand Medicaid in 2014 is entirely the province of the next General Assembly and governor." U.S. Rep. Mike Pence (R) was elected governor on Nov. 6. In a position statement earlier this year, Pence noted that the Medicaid expansion would double "down on an already broken and unaffordable Medicaid system." Addressing the Affordable Care Act as a whole, he wrote, "I believe the State of Indiana should take no part in this deeply flawed healthcare bureaucracy" (Office of Gov. Daniels release, 6/29; Pence letter).
Kansas*: Gov. Sam Brownback (R), who has been a vocal opponent of the Affordable Care Act, has not stated whether to opt in or out of the Medicaid expansion, the Associated Pressreported on Nov. 9 (AP/NECN, 11/9).
Tennessee: Gov. Bill Haslam (R) has not decided whether Tennessee will participate in the Medicaid expansion. However, two lawmakers—Sen. Brian Kelsey (R) and Rep. Jeremy Durham (R)—already have committed to introducing legislation that would block expansion, and the state's new Republican supermajority in the General Assembly means such a bill could pass (Bohs, "Bohs Column," The Jackson Sun, 11/9).
Utah*: In an email responding to a query by American Health Line, Nate McDonald—public information officer for Gov. Gary Herbert (R), who won re-election in the state's gubernatorial race in November 2012—said "[n]o official decision" has been made on the Medicaid expansion (McDonald email, 11/9).
West Virginia: Gov. Earl Ray Tomblin (D) in a statement on his website on June 28 said, "We know what the law is but as I've said before, I will continue to do what is best for West Virginia … We're going to review the Supreme Court's ruling, and work with our federal delegation on how we move forward." In the state's gubernatorial race in November 2012, Tomblin was re-elected (Office of Gov. Tomblin release, 6/28; AP/Marietta Times, 11/7).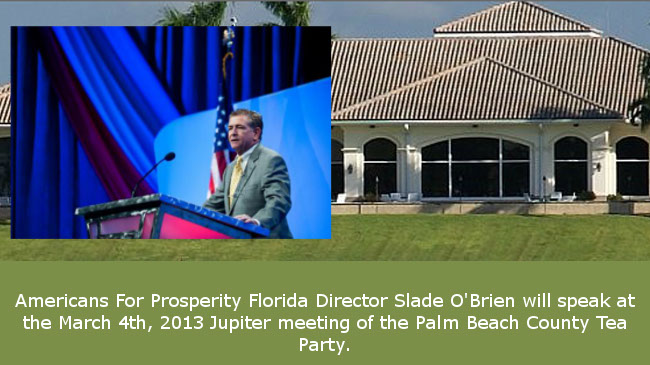 Join us on Monday, March 4th for another banner Chapter Meeting, featuring Slade O'Brien, the Florida State Director for Americans For Prosperity.  Slade has spoken to our group before, and is always a great hit with our crowd, and his message is destined to become MORE popular, as he is a rising star both as an activist, and as an expert in how to WIN elections.  If more people listened to Slade last year, many of the election results could have come out quite differently.
 Monday, March 4, 2013
5:30pm buffet ($20), 6:30 Program
Abacoa Golf Club
105 Barbados Drive, Jupiter, Florida 33458
Please join us!  Doors open at 5:30pm, with a cash bar.  Dinner begins promptly at 6:00pm, and our meeting begins at 7:00pm.  Slade is always great with our crowd, and will be happy to answer questions after his presentation.  You can attend our meeting at 7:00pm at no cost, but we encourage you to come for the dinner.  For $20, you will enjoy salad, main course, dessert, coffee, and tea, with tax and tip included!  This will be a great evening of like-minded fellowship, and a true sense of deep patriotism permeates the experience– please RSVP on the button below!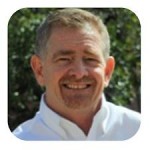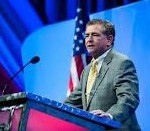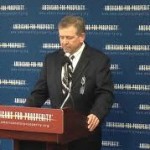 Join us on Tuesday, March 5th for another banner Chapter Meeting, featuring Slade O'Brien, the Florida State Director for Americans For Prosperity.  Slade has spoken to our group before, and is always a great hit with our crowd, and his message is destined to become MORE popular, as he is a rising star both as an activist, and as an expert in how to WIN elections.  If more people listened to Slade last year, many of the election results could have come out quite differently.  One other note: WE ARE BACK at Boca Greens Country Club!
Please join us!  Doors open at 5:30pm, with a cash bar.  Dinner begins promptly at 6:00pm, and our meeting begins at 7:00pm.  We will say the Pledge of Allegiance, and Carlos Manuel Santana will sing our National Anthem.  Announcements will follow, and then Slade O'Brien will be introduced.  He is always great with our crowd, and will be happy to answer questions after his presentation.  You can attend our meeting at 7:00pm at no cost, but we encourage you to come for the dinner.  For $20, you will enjoy salad, main course, dessert, coffee, and tea, with tax and tip included!  This will be a great evening of like-minded fellowship, and a true sense of deep patriotism permeates the experience– please RSVP on the button below!

ATTENTION!!!  UPDATE AS OF NOVEMBER 4TH, 2012: CHANGE OF VENUE!!!  THIS EVENT WILL NOW BE HELD AT MILLER'S ALE HOUSE ON 1200 YAMATO ROAD IN BOCA RATON (JUST WEST OF I-95, AND ADMISSION IS FREE!!!  EAT AND DRINK AS YOU WISH ON YOUR OWN TAB FROM 7PM- ???
November 6th, 2012 will surely go down as one of the most important dates of the 21st Century in history books of the future.  It has been said many times, "This is the most important election of our lifetime", and that has never rung more true when one considers the principles at stake at this election.  Our deep involvement in attempting to steer our voting populace towards all the principles and founding history of this country will ultimately have their collective effect on this great night.  All the hard work, the personal and professional sacrifices that we make, the time and energy commitment in an increasingly liberal public, and the risk of voicing your opinion publicly will definitely prevail in the long run.  On this night, we will get to witness "real time" results on all the monitors that will be on display, NOW AT MILLER'S ALE HOUSE IN BOCA RATON!!  Map is HERE.
This evening promises to be one that you will remember for years to come, and is definitely NOT to be missed!  The Palm Beach Tea Party will be joining up with several other individuals and organizations of like mind to make this night one "for the books"!
Admission is FREE, and we will be gathering starting at 7:00pm.  Eat and drink as you choose on your own tab!  Full coverage of election results will be seen on the many monitors placed throughout Miller's Ale House.
PLEASE RSVP HERE so we can get an idea of a head count– knowing that the button for "buffet" is irrelevant, based on our venue change to Miller's Ale House):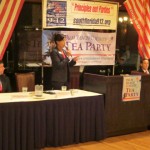 Moving closer to the critical national election next month, our Boca Chapter of the Palm Beach County Tea Party held another great night of discourse on the local level that certainly took into account what is happening to our country nationally by hosting another local candidate forum.  A palpable sense of excitement filled the air, as over 100 people filed in to hear how candidates from both sides would address key Tea Party issues.  While we had a full quiver of candidates from both the Republican AND Democratic sides slated to address those who would be on the ballot for November in Boca, the end result of those candidates who showed, versus those who elected not to appear was quite revealing…
Slated to appear were State Senate Candidates Melanie Peterson (District 25), her opponent Joe Abruzzo, James Ryan O'Hara (State House District 81), Cesar Henao (Congress District 21), Tom Gustafson (State House District 89), and Sean Kasper (State House District 90).  David Lutrin and Pat Rooney, opponents for State House District 83 were also invited, but that district was ultimately deemed not applicable for the geographic area that Boca Raton audiences would be voting for (it should be noted that David Lutrin accepted our initial invitation, but that Pat Rooney did not).  In the end, Tom Gustafson and Joe Abruzzo cancelled, leaving us with a still compelling field of O'Hara, Peterson, Kasper, and Henao.
Boca Chapter Coordinator Alex Berry began the proceedings at 7:00pm with the Pledge of Allegiance. Carlos Manuel Santana then regaled us with his impassioned version of the National Anthem, which was terrific!  After the usual protocol of explaining what the PBCTP is, and what it stands for, Alex made the usual announcements of upcoming events.  He introduced Pam Wohlschlegel, who announced the Precinct Walk Initiative to sway independents in our county.
Alex then introduced David DiCresenzo, who moderated the discussion for the evening with carefully prepared questions regarding how each candidate would address issues ranging from insurance to energy- and many other topics—and how those positions would relate to the core Tea Party issues of Limited Government, Free Markets, and Fiscal Responsibility.  The questions were excellent, and the answers truly helped our voters decide on who would best represent those principles we hold so dear to our hearts.  There was even time for an interactive audience "Question and Answer" time, which was edifying and worthwhile for all those in attendance.
Overall, it was a spectacular night that was full of fun and well received. I encourage everyone to get involved in the political process, by joining us for our events in Boca, which meet the first Tuesday of every month.  Get ready NOW for a HUGE "Election Day" victory celebration on November 6th, which happens to be the first Tuesday of the month for next month!  It will be a gala affair with monitors to watch election results, food and bar, entertainment, and speeches!  You will DEFINITELY want to mark your calendars for this one!!!  Time is drawing to a close to make a difference for the next election, so please get involved if you aren't yet, and STAY involved if you already are!
For more information and video of the event, please CLICK HERE.