---
As Director of Policy, Patrick Hedger manages the Regulatory Action Center at the FreedomWorks Foundation. Patrick previously worked at FreedomWorks from 2012 to 2014 as a policy analyst. Before re-joining FreedomWorks, Patrick served as Policy Director of the group American Encore and as a senior policy analyst at the Charles Koch Institute. In these previous roles, Patrick produced research and analysis on domestic economic policy across a wide range of areas. He also developed policy alternatives and issue campaigns aimed at reversing the intrusion of government in the economy while defending free-market principles. Patrick continues this work at the FreedomWorks Foundation, with a focus on regulation and red-tape.
Education: B.A.: Government and International Politics, George Mason University; M.P.P., George Mason University, School of Public Policy.
Wellington Chapter RSVP:
Mr. Hankerson will speak of the vast differences between 1984 and 2016 from 2 perspectives.
---
Mr. Hankerson was born in Chicago; however, he grew-up in Prince George's County Maryland, 15 miles outside the Nation's Capital has held 3 Presidential Appointments, worked for 3 Presidents and 2 Vice Presidents.
He has been actively engaged in government and politics for 34 years and started his career at Reagan-Bush 1984 Presidential Campaign where at the age of 18 when he first served as staff on Reagan- Bush 84 in the Political Division in Washington, DC and worked with" African Americans for Reagan-Bush." He has served on every GOP Presidential campaign as staff except Governor Romney and Herman Cain as either the political or advance staff!
To include having served a President Trumps Northeast Regional director responsible for 9 northeast counties in the primary and then sent to St. Lucie county as part of Victory 2016 Field Operations in the general, which was flipped red for the first time while electing congressman Brian Mast and President Trump. In fact, St. Lucie put President Trump over the top in Florida.
Mr. Hankerson is a faculty member, world traveler, who conducts primary research, is a published author who give presentations and lectures on accurate American History including the African-Diaspora and the great migration on Africans in the New World, on Florida's rich multi-cultural past, international history and presidential politics.
Mr. Hankerson served as Producer of Freebooters Productions, which was an Independent Film and Digital Production Company located in St. Augustine.
Over 15 years in business he created marketing campaigns, produced and co-produced documentary films, educational training and curriculum programs that have expanded education related to the Gullah-Geechee Cultural Heritage Corridor, the Original Underground Railroad south to Spanish Florida and those indigenous people to the New World.
Mr. Hankerson has been the catalyst connecting St. Augustine and the first coast to Fort Mose, the National Park Service (NPS) Underground Railroad Network to Freedom Project, and the NPS Gullah-Geechee Cultural Heritage Corridor.
He has also produced a number of documentaries related to Florida's rich history and served as the 2 terms Putnam County Tea Party chairmen.
His great, great, grandfather was appointed by President William Howard Taft as a Florida postmaster, and other relatives served as elected officials in numerous states as republicans!
Wellington Chapter RSVP:
For over a quarter century, FreedomWorks has identified, educated, and actuated citizens who are enthused about showing up to support free enterprise and constitutionally limited government.
They are not primarily a "think-tank," content to study the issues and publish papers and reports. FreedomWorks breaks down the barriers between the beltway insiders and grassroots America.
FreedomWorks members know that government goes to those who show up. That's why they give them the tools to break through the media noise and provide the same access to Washington as the big-moneyed lobbyists.
Preserving liberty depends on all Americans having access to their elected officials—not just special interests. FreedomWorks holds Washington accountable to the citizens that put them in office.
FreedomWorks was originally founded as Citizens for a Sound Economy in 1984. Founded to fight for liberty, they brought together some of the best and brightest minds of the liberty movement. Since then, they've expanded their ambitions from a free-market think tank to a service center for the grassroots freedom movement across the whole country.
---
Wellington Chapter RSVP:
---
Allen Page is the Southeast Director for FreedomWorks. He has been With FreedomWorks for 16 years. Allen works closely with the conservative and liberty minded groups in the southeast. Before joining FreedomWorks, Allen worked in grassroot campaigns for former Rep. Coble, former Senator John East, former Senator Jesse Helms, former Senator Duncan Faircloth and former senator Steve Symms.
Education: B.A,. Elon College
Kathy Hartkopf is a grassroots coordinator for FreedomWorks. She works directly with FreedomWorks activists, educating and empowering them to stand together for lower taxes, less government, and more freedom. Kathy joined FreedomWorks (then Citizens for a Sound Economy), as a grassroots activist in 2000, when CSE formed in her county to help citizens fight an egregious bond referendum.
Education: A.A., Peace College; Graduated Fellow of the Institute of Political Leadership, University of North Carolina at Wilmington, and East Carolina University.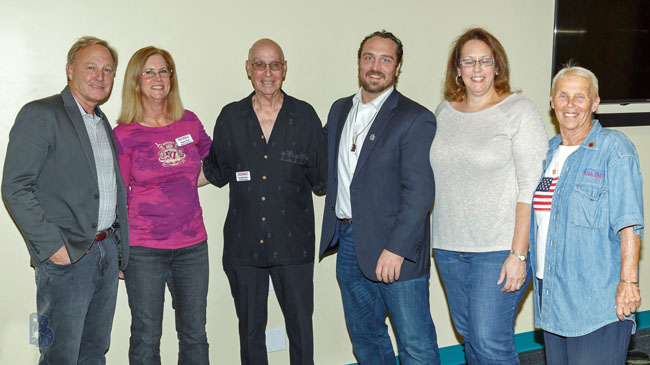 NOTE: This is PART 2 of the presentation that Chris began at Abacoa last August.
Please RSVP:
---
As the son of a career Air Force OSI Special Agent, Chris Gaubatz grew up in England, Korea, California, and Utah, and today calls southwest Virginia home.
Chris worked for several Fortune 500 companies conducting fraud investigations and asset protection, as well as insurance sales.
In 2007, Chris began researching the threat of jihadi organizations in the United States by posing as a Muslim convert and attending Muslim Brotherhood/Hamas conferences gaining access as an intern with the Hamas organization Council on American Islamic Relations (CAIR) in Virginia.
While working at the CAIR MD/VA office, Chris uncovered a fraud scheme being perpetrated by CAIR's "immigration attorney" who was defrauding Muslims in the community and lying about handling their immigration proceedings. In fact, he was not even a licensed attorney.
When that office was shut down by CAIR in an effort to conceal this criminal activity, Chris was invited by Hamas/CAIR leaders to work at their headquarters office in Washington, D.C.
During his time there, Chris obtained over 12,000 pages of documents from Hamas/CAIR and over 300 hours of covert audio/video recordings.
The entire story is featured in the book Muslim Mafia authored by investigative journalist Paul Sperry and Dave Gaubatz (Chris' Father).
Mayor Gerwig will discuss the current state of Wellington and Representative Roth will bring us up to date on the happenings in Tallahassee.
This will be a very informative meeting, please bring your friends and neighbors.
Please RSVP below; no meal is served with this meeting.
Ed Bender is a Regional Captain for Convention of States Action, responsible for 12 districts in the Greater Palm Beach County area. He will offer a presentation regarding the Convention of States project and update our current progress and success so far.
In light of recent events in Washington, D.C., it has become clear that our federal government either cannot, or will not act according to the will of their constituents to fix the major problems we face. The Founders foresaw this day and provided a solution as big as the problem, the Convention of States, to restore the balance of power to our republic.
Questions and answers will follow the presentation.
Please RSVP below; no meal is served with this meeting.
Marion is one of the board members of the Palm Beach County Tea Party and is the Wellington Chapter Leader. She is our resident expert on healthcare and she speaks on the subject whenever new issues arise.
This time, Marion will talk about how we got to where we are now with the healthcare mess, starting in 1965 with the implementation of Medicare and Medicaid on through to Obamacare and what will happen next with the Republican congress.
We will have a lively discussion and the floor is always open for comments.
Please RSVP below; no meal is served with this meeting.
Our Wellington Chapter Leader and sometimes keynote speaker will address the group again to speak about what is going on with the healthcare situation in Washington DC. The news changes on a minute to minute basis and it is very hard to keep up. Marion will guide you into understanding what is going on and what should be going on. Marion is a practice manager for a small medical practice in Palm Beach County for the last 20 years. She deals with doctors, nurses, patients, insurance companies and the government. She has a unique perspective and understanding of how healthcare works and how it is failing.
At this meeting, we are also going to allow every Tea Party member in attendance to speak their mind on whatever topic they wish. Sometimes it is hard to sit at these meetings and keep your mouths shut. Well, not at this meeting! You will get to speak, if you wish!
Please RSVP below; no meal is served with this meeting.