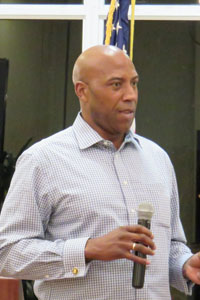 Is Donald Trump the return of Ronald Reagan? How are they similar and how do they differ?
Speaking at the Abacoa meeting on Monday, Derek Boyd Hankerson, who was the NE Florida Regional Coordinator for the President in the 2016 election, made the case that they are much more similar than many would admit.
Getting his start in politics for the 1984 Reagan-Bush ticket, he did opposition research for the legendary Lee Atwater. A good start, given that campaign's 49 state blowout win over Walter Mondale.
Obviously, President Trump is something new in American politics, but he shares with Reagan many characteristics that make both men different from "typical" politicians. Both have roots in the entertainment industry – Trump as producer and star of the Apprentice and many years of beauty pageants, and Reagan as a prolific movie star and television host of "Death Valley Days" and "General Electric Theater". Both were elected in times when people were calling out for radical change from their far left predecessors. Both were dismissed by the media and other politicians as lightweights who could not win a national election, and both were considered at the same time extreme and simplistic.
The two men shared deep passions and held strong principles and they were persistent in selling their agenda. Both were Democrats before they were Republicans, and both were divorced. On policy, they both favor a strong national defense, protected gun rights, low taxes and fewer regulations. Both believe that America is an exceptional country and would "Make America Great Again".
Derek then suggested some differences between their presidencies. Trump was a newcomer to politics whereas Reagan had been Governor of California and President of the Screen Actor's Guild. Significantly in the 36 years between, communications technology has changed enough to provide President Trump an advantage that Reagan lacked – the ability to circumvent the liberal media in a direct way and every day. Trump's mastery of all types of media, particularly Twitter and cable news, allows him to eliminate the gatekeepers. Furthermore, his showman's instincts let him "mess up the heads" of his detractors in a way that has never before been practiced.
Derek ended with the goal that we all share – "Trump 2020!"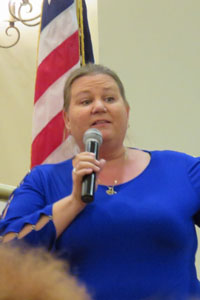 Dawn Witherspoon
There were several other speakers at this meeting, including Dawn Witherspoon. Dawn's husband, a local paramedic, was killed in an auto accident by a drunk illegal immigrant from Guatemala. She told a compelling tale of the considerable resources that are available in the area, particularly Jupiter, to aide illegals, but very little assistance is available for their victims. When her husband's killer was about to be released by a judge on $5000 bond, to then disappear into the illegal community or leave the country, she reached out to Representative Brian Mast who was able to get an ICE hold on him.
Her story is very timely given the recent news of the death of Indianapolis Colts linebacker Edwin Jackson. He was also killed by a drunken illegal immigrant, who had also been deported multiple times.
---
There were also several short remarks from other speakers. Governor candidate
Bob White
introduced himself.
Iris Scheibl
spoke about the March election in Palm Beach Gardens that will present 4 changes to the charter – including a weakening of term limits (Vote no on all 4 questions!!).
David Caulkett
of FLIMEN described for us the upcoming meeting regarding the Florida Constitution Revision Commission. Gardens councilman
Matthew Lane
spoke about his approach to evaluating city contracts.
Upcoming meetings will include a forum for Governor candidates on April 2, and the Tax Day Tea Party rally in Wellington on 4/15.
Please join us on Monday, March 5, 2018 as the Jupiter Chapter Hosts: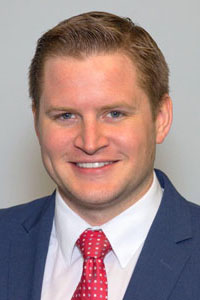 Patrick Hedger
Director of Policy,
Freedomworks Foundation
---
As Director of Policy, Patrick Hedger manages the Regulatory Action Center at the FreedomWorks Foundation. Patrick previously worked at FreedomWorks from 2012 to 2014 as a policy analyst. Before re-joining FreedomWorks, Patrick served as Policy Director of the group American Encore and as a senior policy analyst at the Charles Koch Institute. In these previous roles, Patrick produced research and analysis on domestic economic policy across a wide range of areas. He also developed policy alternatives and issue campaigns aimed at reversing the intrusion of government in the economy while defending free-market principles. Patrick continues this work at the FreedomWorks Foundation, with a focus on regulation and red-tape.
Education: B.A.: Government and International Politics, George Mason University; M.P.P., George Mason University, School of Public Policy.
Monday, March 5, 2018
Abacoa Golf Club
105 Barbados Drive
Jupiter, Fl 33458
TIME: 5:30 PM Buffet – $20.00
6:30 PM Meeting.
Please RSVP below.

Please join us on Tuesday, January 2, 2018 as the Jupiter Chapter Hosts: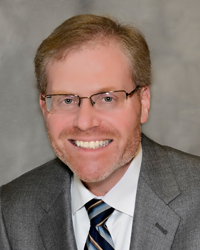 "Mark Miller"
Managing Attorney
PLF Atlantic Center
---
PALM BEACH GARDENS, FL; March 12, 2014: Florida attorney Mark Miller, a veteran of business, property rights, and constitutional litigation, has joined Pacific Legal Foundation (PLF) as managing attorney with PLF's Florida (Atlantic Center) office based in Palm Beach Gardens.
Background, Practice Areas and Expertise:
Mark Miller is Managing Attorney for PLF's Atlantic Center in Florida. Consistent with the Atlantic Center's mandate to pursue the range of constitutional cases that PLF litigates, Mark represents clients in federal and state cases ranging from property rights, to economic liberty, to other constitutional violations.
He has represented clients before local zoning boards and all the way up to the Supreme Court of the United States. Mark is Board Certified in Appellate Practice by the Florida Bar, one of approximately 168 attorneys in Florida to have earned that recognition as an expert in appellate practice.
Education, Honors and Bar Membership:
After graduating with Honors from the University of Florida College of Law, Mark elbow clerked for U.S. District Judge Henry Lee Adams, Jr., in the Jacksonville Division of the Middle District of Florida, and Judge Emerson R. Thompson, Jr., of Florida's Fifth District Court of Appeal. The Stetson Law Review and the Florida Bar Journal both have published his works. Martindale-Hubbell has rated him an AV® Preeminent™ attorney, the highest ranking Martindale-Hubbell offers, and one that reflects the opinion of other members of the Florida Bar about Mark's ethical standards and legal ability.
Super Lawyers has named him a Florida Super Lawyer for 2014-15 and 2015-16. He is Vice-President of the Martin County Bar Association, founded and chaired the Martin County Catholic Lawyers' Guild for several years, and has served as a member of the board of directors for a number of charities. The James Madison Institute has named him an adjunct scholar. He is a member of the Florida Bar, the New Jersey Bar, and several federal circuit and district court bars.
Tuesday, January 2, 2017
Abacoa Golf Club
105 Barbados Drive
Jupiter, Fl 33458
TIME: 5:30 PM Buffet – $20.00
6:30 PM Meeting.
Please RSVP below.

Join us on Tuesday, October 24 for a SPECIAL MEETING at Abacoa with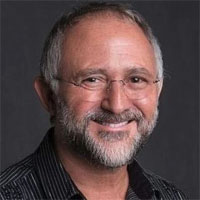 John Michael Chambers
John will discuss his new book – "Trump and the Resurrection of America"
Also Wednesday 10/25 there will be a John Michael Chambers workshop at the Marriot on PGA BLVD in Palm Beach Gardens 6:30pm no charge.
Tuesday, October 24, 2017
Abacoa Golf Club
105 Barbados Drive
Jupiter, Fl 33458
TIME: 5:30 PM Buffet
6:30 PM Program
Dinner – $20.00
(Buffet, Cash Bar)
No charge for meeting.
Please RSVP:

---
John Michael Chambers was born and raised in New York and has traveled across much of the United States. Presently residing in both the U.S. and Asia.
1996 – 2008: Financial Advisor, six independent offices in Colorado, Florida, and New Mexico with a focus on wealth preservation. Interviewed by the Wall Street Journal as well as many other newspapers and radio and television stations of note across the country, including CBS and NBC.
In Washington, D.C., John attended meetings held by members of Congress that were also attended by former President George W. Bush and First Lady Laura Bush, on Social Security Reform, Tax Reform, and Homeland Security. He was awarded by the Presidential Business Advisory Council of Washington DC, 2004 & 2005, The Businessman of the Year Award for the state of Colorado. John is a patriot who loves his country and serves as but one voice for humanity.
2008 -2017: Radio talk show host on 860 WGUL AM radio, a Salem Communications Company. Public speaking in over 30 cities, six states and three countries where he addressee both the dangers and opportunities as Trump deconstructs the New World Order. Founder of the Save America Foundation, a 501(c)4 not-for-profit foundation providing a variety of educational formats and modules. He has dedicated much of his time over the past two decades sharing insightful and empowering information to help keep freedom alive.
Author: 2013 – "Surviving Global Governance". 2015 – "Misconceptions and Course Corrections" 2016 – "What One Man Can Do" John's latest book – "Trump and the Resurrection of America". Presently John is posting daily on his blog site and will continue to write and publish books and blogs. https://johnmichaelchambers.com/
As of January 2017 John has embarked upon a public speaking tour across the nation beginning in the great state of Ohio. The name of his tour is "Trump and the Resurrection of America".
Please Join us at Abacoa on Monday, October 2 for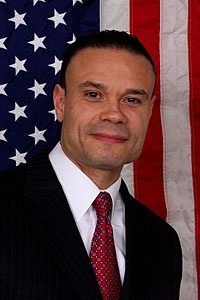 Dan Bongino
As a former secret service agent, best selling author, congressional candidate, and frequent contributor to the Fox News Network, Dan Bongino has a lot to say. Join us at Abacoa and hear what's on his mind these days.
Monday, October 2, 2017
Abacoa Golf Club
105 Barbados Drive
Jupiter, Fl 33458
TIME: 5:30 PM Buffet
6:30 PM Program
Dinner – $20.00
(Buffet, Cash Bar)
No charge for meeting.
Please RSVP:

---
Dan Bongino's public service career began with the NYPD in 1995. After joining the US Secret Service in 1999, Dan received a Department of Justice award for his many successful investigations while assigned to a financial fraud task-force.
In 2006, Dan joined the elite Presidential Protective Division during the administration of President George W. Bush. Dan became one of the earliest tenured agents to be given responsibility for an operational section of the presidential detail and he remained on protective duty with President Obama.
One of their most distinguished agents, Dan's assignments included the coordination of President Obama's visits to Prague, Jakarta, amongst a myriad of terror threats, and finally as the lead agent responsible for President Obama's visit to an active war zone in Afghanistan.
A New York Times Best Selling author of Life Inside the Bubble: Why a Top-Ranked Secret Service Agent Walked Away From It All, and The Fight: A Secret Service Agent's Inside Account of Security Failings and the Political Machine, Dan provides expertise on international security and political strategy for outlets such as Fox News, CNN, and others.
Dan has his MBA from Penn State University, and his MA and BA from the City University of New York.
This event has been CANCELLED because of Hurricane Irma.
Please Join us at Abacoa on Monday, September 11 for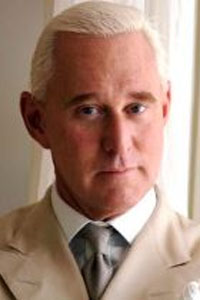 Roger Stone
Roger Stone has been a fixture in Republican politics stretching back to Barry Goldwater. A master of the use of operations research, he has been referred to as a "political dirty trickster", a "renowned infighter", and a "seasoned practitioner of hard-edged politics".
Serving as an adviser to the Trump campaign in 2016, he was responsible for raising doubts about the marital fidelity of Ted Cruz ("tabloid smear" said Cruz), and the pointing out connections between Hillary aide Huma Abedin and the Muslim Brotherhood. Although he left the campaign early, he was accused of potential involvement in russian hacking of John Podesta's emails, and asked to testify before the Senate Intelligence Committee, but the testimony was later canceled.
Author of "The Clinton's War on Women" (2015), and "Jeb! and the Bush Crime Family" (2016), his latest work is "The Making of the President 2016: How Donald Trump Orchestrated a Revolution".
Monday, September 11, 2017
Abacoa Golf Club
105 Barbados Drive
Jupiter, Fl 33458
TIME: 5:30 PM Buffet
6:30 PM Program
Dinner – $20.00
(Buffet, Cash Bar)
No charge for meeting.
Please RSVP:

---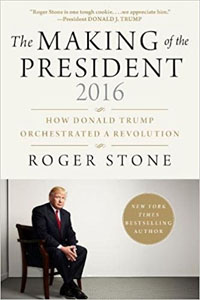 At an event dubbed "A Community Conversation", District 18 Congressman Brian Mast gave a legislative update to a welcoming and enthusiastic PBCTP crowd last evening at Abacoa.
Starting with bills he is personally submitting, he described two:
– the "Oath of Exit", an amendment to be offered on the 2018 National Defense Authorization Act, which asks veterans who are mustering out to pledge support for their fellow veterans and seek help with their own problems.
– the "Veterans Homestead Act", like the Homestead Act of the 1800's, would provide land – 1 acre per year of service, to veterans to provide them entrepreneurial opportunities.
Individual Unemployability
On May 23, the Trump Administration's Department of Veterans Affairs released the first budget request for Fiscal Year 2018. This budget proposal initially called for terminating Individual Unemployability (IU) benefits to those eligible for Social Security retirement benefits under the rationale that this constitutes a duplication of benefits when in fact, it does not. The Individual Unemployability program supports veterans who cannot find work due to service- connected injuries (injuries sustained while serving our country). Many have been unable to contribute to Social Security as they have been unable to maintain substantially gainful employment due to these injuries. This budget proposal would impact nearly every Vietnam-era veteran whose survival depends on the Individual Unemployability program.
Since the May 23rd proposal, veterans organizations have galvanized opposing such cuts. Congressman Mast is in agreement and would not support cuts to veterans in receipt of Individual Unemployability.
– Andrea Plescia
Although you wouldn't know it from the mainstream media, the House of Representative has accomplished a lot in their first six months. In particular, Brian talked about:
Deregulation – there have been 14 Congressional Review Acts signed by the President, rolling back much of the late-term Obama regulatory state
The REINS Act (Regulations from the Executive in Need of Scrutiny), which requires Congressional approval of regulations costing more than $100M
Repeal of much of the Dodd Frank Financial Reform
The 6 month budget that provides $1.5B for the border
Kate's Law
The sanctuary cities bill
The American Health Care Act, repealing and replacing Obamacare
The VA Accountability and Whistleblower Act that allows wrongdoers to be fired
Unfortunately, only the Congressional Review Acts have become law – the rest are gathering dust in our dysfunctional Senate. In Brian's view, the agenda today is driven by group-think and the GOP Senators are a disappointment.
There were many questions submitted on index cards from the audience, including:
When will Obamacare be repealed? Brian explained that without 60 votes in the Senate (like the Democrats had in 2009) the replacement possibilities are limited. There is much misinformation – Medicaid is not being "cut" just having its growth slowed. Repeal will be a very large tax cut. Whether the Senate acts or not we will have to wait and see.
Is there going to be a cut to veterans' benefits in the VA budget – specifically regarding Individual Unemployability (IU)? Brian opposes this provision, which would impact disabled veterans who become eligible for Social Security. (See the sidebar for a further explanation).
When will we see Tax Reform? All of Brian's Republican colleagues know that 2018 is looming and failure to act on tax reform will be a threat to re-election. He hopes to see something this year.
If Senate doesn't act on Obamacare Repeal, should we just let it fail and the Democrats take the blame? Brian does not think that is a good result for the people affected by it.
Should our embassy move to Jerusalem? YES – should happen now.
In closing, Brian said he is planning some townhalls during the August recess (assuming the House does not stay in session), one of which will be in Palm Beach County. He asks that all of his supporters show up and bring their friends. A lot of his townhalls in the past few months have been packed with opponents of Brian and the Trump agenda and he could really use our help to show balance.
The next PBCTP meeting will be at Abacoa on July 31 with Chris Gaubatz who will talk about "Understanding the Threat" of radical Islam in the US.
Join us on Thursday July 6 for
A Conversation with Congressman Brian Mast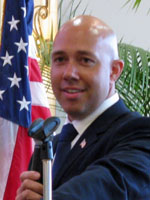 Congressman Brian Mast
NOTE: This is the only meeting in July for all of the chapters.
Thursday, July 6, 2017
Abacoa Golf Club
105 Barbados Drive
Jupiter, Fl 33458
TIME: 6:30 PM
Buffet starts at 5:30 PM
Buffet Dinner & Meeting $20.00 per person
There will be Questions & Answers
Please RSVP – NO ADMITTANCE WITHOUT RSVP

On Tuesday morning, well over 100 Tea Party stalwarts assembled for a breakfast buffet and some interaction with our CD18 Congressman Brian Mast.
With a Q&A format that started with written questions and progressed to passing the microphone around, the Congressman answered questions on a wide variety of topics, in many cases expanding on the questions to provide a nuanced look at the opportunities and challenges of this Congress.
Brian gave us a current status of the pictures on the wall at the VA, as the attention he brought to the issue resulted in a Presidential Order to mount the pictures of Donald Trump and VA Secretary David Shulkin in all VA facilities, then spoke of Congressional term limits as a way to help "drain the swamp". Term limits would stop the "tenured" nature of committee chair positions, part of that swamp infrastructure.
When asked about interactions with lobbyists, he told us he meets with those pushing all sides of issues every day, but also reaches out to stakeholders for bills, like state Governors and other representatives, and finally sorts through the BS and makes up his own mind. Doing the right thing matters more to Brian than pandering for re-election, something he wished would motivate more of his colleagues. This is part of the reason that he has not joined any "voting caucuses" like the Freedom Caucus or the Tuesday Group – he does not want to commit to voting in lockstep with a Caucus consensus if he doesn't agree with it.
On the budget, Brian was disappointed that there are not 12 individual appropriations bills in process as had been promised by House leadership, and he wished that the continuing resolution that passed had actually reduced spending. He was able to get $60M in that bill to reimburse the county for protecting the President when he comes to Mar-A-Lago though.
He spoke of co-authoring the "Hamas Sanction Bill" (Palestinian International Terrorism Support Prevention Act – H.R.2712), introduced a few days ago, his support for NASA and space exploration in general, and supporting the proposal for a water retention reservoir south of Lake Okeechobee as well as dike repairs.
And regarding the VA, he has asked Secretary Shulkin for space within the WPB Veterans Hospital for one of his staff to meet with Veterans regarding problems with care delivery. If Congressman were on-site to observe what transpires at VA facilities and raise the alarm when warranted, problems with the VA could be quickly improved. Since no space is yet forthcoming, Brian is asking his constituents, particularly the veterans, to contact the local VA Administrator and ask them to provide the space.
Following are some pictures provided by Carol Porter: