BOCA RATON CHAPTER
11/6/2013 MEETING UPDATE
PROGRAM
Come join us in a lively debate about ObamaCare.
DEBATERS:
Pro: Rabbi Barry M.Silver, public interest and personal injury attorney.
Con: Marion Frank, Practice Manager for private anesthesia group and National Co-Chair for the Docs 4 Patient Care Alliance
DATE: Wednesday, November 6, 2013
TIME: 7:00 PM.
Doors open at 6:30 PM
PLACE: Palm Beach County Library, West Boca Branch,
18685 State Rd. 7, Boca Raton, FL 33498. Phone: 561-470-1600
DIRECTIONS:  I-95 to Exit 48 (Yamato Rd.). West on Yamato Rd. to State Road 7.  Right onto State Road 7. Library is the first left.
Florida Turnpike to exit 81 (FL 806, W. Atlantic Ave.). At the end of the exit ramp turn right (westbound). Drive west to State Road 7. Left onto State Road 7. Library is approximately 4 miles on the west (right side) between Clint Moore and Yamato Roads.
INFORMATION:Email:  info@palmbeachcountyteaparty.org

PROGRAM: Susan Haynie, Deputy Mayor of Boca Raton.
She will give the "State of Boca" address and discuss the municipal budget for the city. There will be a question and answer session after her presentation.
DATE: Wednesday, October 2, 2013
TIME: 7:00 PM.
Doors open at 6:30 PM
PLACE:
Palm Beach County Library
West Boca Branch
18685 State Rd. 7
Boca Raton, FL 33498
Phone: 561-470-1600
DIRECTIONS:
I-95 to Exit 48 (Yamato Rd.). West on Yamato Rd. to State Road 7. Right onto State Road 7. Library is the first left.
Florida Turnpike to exit 81 (FL 806, W. Atlantic Ave.). At the end of the exit ramp turn right (westbound). Drive west to State Road 7. Left onto State Road 7. Library is approximately 4 miles on the west (right side) between Clint Moore and Yamato Roads.

INFORMATION: Email: info@palmbeachcountyteaparty.org
We're resuming monthly meetings for all three chapters in October.
Future Meetings have been scheduled as follows:
WELLINGTON
Monday, September 9, 2013
Monday, October 14, 2013
BOCA RATON
Tuesday, October 1, 2013
JUPITER

Monday, October 7, 2013
An announcement for the September meeting has been sent and a reminder will follow. Announcements for the October meetings will be sent as the programs are finalized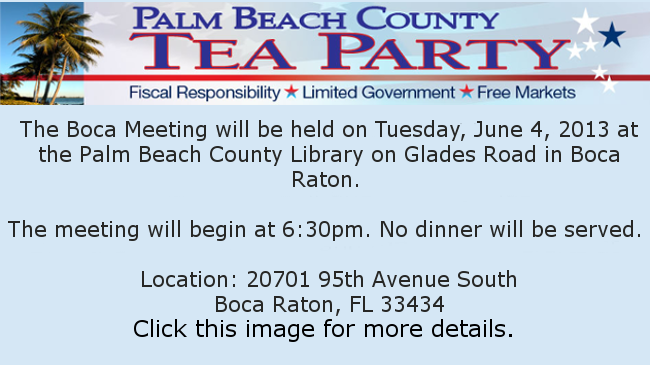 The last few weeks have certainly been very interesting. What many of us have long suspected as reality is starting to be proven true. Each day more details emerge regarding the IRS blatant misuse of their powers in targeting Tea Parties and other conservative groups.
Originally we had planned to do training on media relations; however, in light of these developments, we believe that it is necessary to address the IRS issue at our June meetings.
Our meetings will follow our new format of having a presentation, followed by our messaging and a training on what we all need to do with the information.
We will be discussing the most up-to-date information on the IRS abuses, our current filing status and the actions we will all need to take.
Let me make this very clear: This is a very, very serious situation that impacts all Americans of all faiths and political persuasions. We are talking about the most powerful arm of the United States government targeting specific Americans and organizations for increased scrutiny and intimidation.
This must not stand and we must be the ones to stop it.
Please note the new location!
Location: Palm Beach County Library on Glades Road. 20701 95th Avenue, South Boca Raton, FL 22424
Time and Dinner: Meeting starts at 6:30pm. NO DINNER WILL BE SERVED THIS MONTH.
Please RSVP by clicking the button below.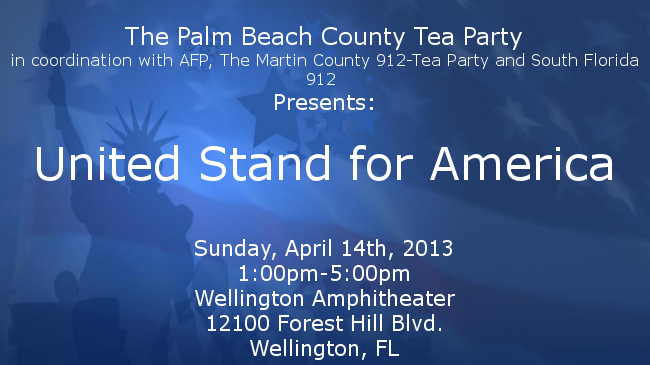 On April 14, 2013 the Palm Beach County Tea Party, in conjunction with The Martin County 912-Tea Party, Florida Americans for Prosperity and South Florida 912, presents The United Stand for America Event!
This year, on the day before taxes are due, Americans from all over South Florida will join us in celebrating and honoring the United States and all of the values and beliefs that have made it the greatest nation on Earth for over two centuries.
Speakers will include Doctor Larry Kawa, Attorney Jeff Shapiro, Radio Personality Joyce Kaufman and our keynote speaker Kevin Jackson (author of The Black Sphere).
The event will take place from 1:00pm – 5:00pm at the Wellington Amphitheater on April 14th, 2013. The day's program will start promptly at 1:30pm. This is an open and free event. Bring your family and friends. Onsite festival foods will be available for purchase.
Wellington Amphitheater
12100 Forest Hill Blvd.
Wellington, Fl
We can't wait to see you there!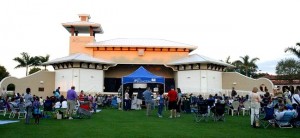 Please join us as we concentrate our focus for April on our major Annual Event, which we have renamed United Stand for America, at the Wellington Amphitheater!!!
NOTE: The Boca Raton Chapter Meeting, normally the first Tuesday of each month (or, April 2nd) is cancelled, as is the Wellington Chapter Meeting, normally the second Monday of each month (or, April 8th).  Bring your patriotic spirit to Wellington on April 14th, and join us for a fun-filled day with a great line-up of speakers and activities!!!!  Stay tuned to our web site and FaceBook page for more details!
With a crystal-clear night on the back end of a Florida "cold-snap" (getting into the 40's the day before), there was another exciting night of patriotism from the Palm Beach County Tea Party.  Though the turnout was lighter than this past month, it was an unquestionably exciting evening of brisk dialogue amongst Patriots in Boca Raton.   Slade O'Brien was the guest speaker, and his perspective as a leader of grassroots movements, and dealing with politics on the LOCAL level, was quite illuminating.  As the Florida Director of Americans For Prosperity, Slade has an extraordinary inside perspective on Florida politics, with access to all the "movers and shakers" within the political sphere in our state.
What he revealed about statewide graft and corruption in state contracts from legislators "thanking" their lobbyists and supporters who got them elected was both sickening and motivating at the same time.  Slade also updated us on the "Five For Florida" initiative that AFP began last year, and updated us on their progress.  While much has been accomplished, we have a "long road ahead", as Slade said.
This also marked the return to Boca Greens Country Club, and exceptional venue for our group in terms of space, facilities, location, and food.  Salad, Rolls, Chicken, and Salmon was served with a Vodka Penne dish, and a yummy-looking Apple-Cobbler type of dessert (I did not partake).  It was a great crowd, populated by both familiar faces, as well as many new people.  PBCTP Co-Founders Mel and Barbara Grossman made the trip from Jupiter to be with us, as did Terry Brady.
Boca Chapter Coordinator Alex Berry began the proceedings at 7:00pm with the Pledge of Allegiance. Carlos Manuel Santana then regaled us with his impassioned version of the National Anthem.  After the usual protocol of explaining what the PBCTP is, and what it stands for, Alex made general announcements, and then asked former Board member Francisco Rodriguez to come to the podium.  Francisco explained how he has recently published a book that addresses the critical issue of WINNING ELECTIONS, and how that starts on the local level, something we can all participate in.  And this dovetailed well with Slade O'Brien's discussion of the "pragmatics" of politics….
Alex then introduced Slade, who held the crowd captive with a personal account of his observations on how Florida has foolishly discouraged entrepreneurial activity with miles of red tape.  He was actually very encouraging, however, because he drew parallels between what Scott Walker has done in Wisconsin, and what is possible here in Florida.
Slade followed his presentation with a boisterous "Q&A" session with the audience, moderated by Alex Berry.  Tea Party members donated the raffle prizes, and the winners were announced at the drawing, concluding the evening.
We look forward to more great meetings in 2013 for our Boca Chapter—please INVITE YOUR FRIENDS to our next event, which will be on April 2nd, 2013!!! Remember—we always have our Boca Chapter Dinner/Speaker event on the FIRST TUESDAY of every month, so mark your calendars!  Please get involved if you aren't yet, and STAY involved if you already are!  Remember, we are LOOKING FOR ADDITIONAL BOCA TEAM LEADERS, including a Boca Chapter Coordinator (leader in Boca).  Please help out if you can!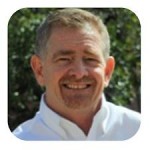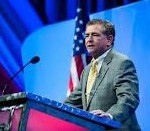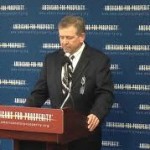 Join us on Tuesday, March 5th for another banner Chapter Meeting, featuring Slade O'Brien, the Florida State Director for Americans For Prosperity.  Slade has spoken to our group before, and is always a great hit with our crowd, and his message is destined to become MORE popular, as he is a rising star both as an activist, and as an expert in how to WIN elections.  If more people listened to Slade last year, many of the election results could have come out quite differently.  One other note: WE ARE BACK at Boca Greens Country Club!
Please join us!  Doors open at 5:30pm, with a cash bar.  Dinner begins promptly at 6:00pm, and our meeting begins at 7:00pm.  We will say the Pledge of Allegiance, and Carlos Manuel Santana will sing our National Anthem.  Announcements will follow, and then Slade O'Brien will be introduced.  He is always great with our crowd, and will be happy to answer questions after his presentation.  You can attend our meeting at 7:00pm at no cost, but we encourage you to come for the dinner.  For $20, you will enjoy salad, main course, dessert, coffee, and tea, with tax and tip included!  This will be a great evening of like-minded fellowship, and a true sense of deep patriotism permeates the experience– please RSVP on the button below!

Please join us Tuesday, February 5, at Embassy Suites Hotel Boca Raton, for an evening with Tea Party Patriot's founder Mark Meckler.  Mark will discuss the future of grassroots movements given the results of the November elections
Please click the button below to RSVP for the meeting.

Tuesday, February 5, 2013 5:30pm buffet ($20), 6:30 Program
Embassy Suites Hotel Boca Raton 
661 NW 53rd Street, Boca Raton, Florida, 33487
Meckler Bio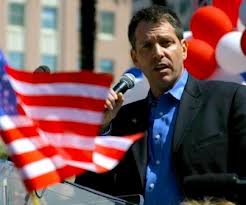 Mark Meckler is a genuine grassroots citizen-activist. Like most folks in the self-governance movement, he is relatively new to politics.
Mark hails from the rural foothills of northern California. He has a BA in English from San Diego State University and graduated with honors from University of the Pacific, McGeorge School of Law in 1988. He built a career in real estate and business law for almost a decade. Prior to his accidental entry onto the political scene, he specialized in Internet advertising law.
Mark knows what it is like to be a small business owner in America. He has owned a variety of businesses from manufacturing to food service, and has seen the legal challenges facing a wide variety of businesses across many industries.
For most of his life, Mark was not politically active. He never campaigned for, nor donated to, any candidate. Due to his distrust of both political parties, Mark has been registered as an independent for more than a decade.
Then, on February 19, 2009, Rick Santelli, a financial reporter on CNBC, issued his now famous "rant" against a government run amok, and called for a new tea party in America.  Like millions of others, Mark saw that rant on the web, saw on Facebook that people actually were organizing tea parties, and decided to get involved.
On Feb. 27, 2009, Mark held the first tea party in Sacramento, California, at the state capitol.  Not knowing what to expect, he arrived with his wife, his two kids, his retired parents and some handmade signs. Much to his surprise, 150 people showed up from across the societal and political spectrum. He considered it an amazing success, and he was inspired by those he met to keep organizing.
Returning home, he began networking with others around the state, and across the nation.  Eventually, he was among a small core group who helped to organize the April 15, 2009 Tax Day Tea Parties, which consisted of 850 events, and roughly 1.2 million participants spanning the country. Out of this initial surge of activity, Mark and a core group had the foresight to form Tea Party Patriots to be the go-forward entity for the tea party movement.
In 2009, Mark Meckler was one of many citizen "sparks" that helped to ignite a movement.  He was the Co-Founder and a former National Coordinator for Tea Party Patriots, a group which at its peak boasted 3,200 chapters nationwide and millions of members.
Mark resigned from Tea Party Patriots in February 2009 to focus on broadening the philosophical reach of the idea of "self-governance" outside of the Tea Party movement, by founding Citizens for Self Governance.
Mark now appears regularly on television outlets as diverse as MSNBC, ABC, NBC, Fox News, CNN, Bloomberg, Fox Business, and the BBC. You may have seen him sparring with Chris Matthews on Hardball, or pushing back against Geraldo Rivera on Fox Business. He is highly sought after for the self-governance perspective from print and online news outlets, including theWall Street Journal, The New York Times, The Los Angeles Times, The Washington Examiner,Politico and The Hill. His opinion pieces regularly run in many of the leading political outlets both on and offline.
Mark says, "I try to say what millions of American's would say if they had the chance I've been given. It's not really about my opinions, as much as it is my honest attempt to reflect what I hear from people involved in the self-governance movement all over the country." Mark has a unique political voice, which many have said most clearly represents the citizens of this country fighting back against the incumbent machine of both political parties at all levels.
When not fighting to put the future of our nation back in the hands of self-governing citizens, Mark is an avid horseman, and lives in rural northern California with his wife Patty and two children.
661 NW 53rd Street, Boca Raton, FL 33487
"Soldiers! Let us humble ourselves before the Lord, our God, asking through Christ, the forgiveness of our sins, beseeching the aid of the God of our forefathers in the defense of our homes and our liberties, thanking Him for His past blessings, and imploring their continuance upon our cause and our people."
"Knowing that intercessory prayer is our mightiest weapon and the supreme call for all Christians today, I pleadingly urge our people everywhere to pray.  Believing that prayer is the greatest contribution that our people can make in this critical hour, I humbly urge that we take time to pray - to really pray."
"Let there be prayer at sunup, at noonday, at sundown, at midnight – all through the day.  Let us pray for our children, our youth, our age, our pastors, our homes.  Let us pray for the churches."
"Let us pray for ourselves, that we may not lose the word "concern" out of our Christian vocabulary.  Let us pray for our nation.  Let us pray for those who have never known Jesus Christ and His redeeming love, for moral forces everywhere, for our national leaders.  Let prayer be our passion.  Let prayer be our practice."
General Robert E. Lee, 1863