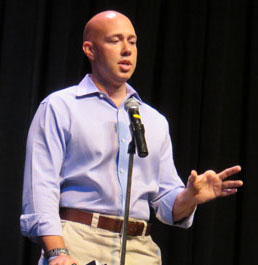 Along with District 6 County Commissioner Melissa McKinlay, Congressman Brian Mast stood center stage for over two hours today at Seminole Ridge High School and fielded a wide variety of questions, most from the Progressive point of view.
As he was battered by Obamacare fans berating his support for repeal & replace, Planned Parenthood partisans (very vocal those!!) who believe that a reduction of federal funding would put all women everywhere at risk of terrible diseases, those who demand Trump's tax returns and an "independent investigation" into the President's conspiring with the Russians to steal the election, Brian remained calm and collected and provided fearless and forthright answers to even the nastiest of questions.
Other topics included dealing with the opiate crisis (for which Commissioner McKinlay is a local leader), global warming, water quality, and tax reform. Surprisingly , there were no questions on immigration, the military or foreign policy. Many of the progressive contingent held up agree/disagree signs or red/green papers to indicate their feelings on the issues.
Judging by the questions and amount of applause for those asking them, about 90% of the 200-300 in the audience were clearly not Republican voters, yet our Congressman gave the impression that he is in Washington to support ALL the people in the district, regardless of party.
When Brian returns for his next town hall, probably during the next Congressional recess, it would behoove those who are his core supporters to actually show up. Brian carried the district by 11 points – he should not have to hear only from his opponents at these events.
Shortly, the Economic Council and others will be spending over $200,000 to convince you that the county sales tax should be raised to 7%. You will hear that the infrastructure is crumbling, that the children are sweating in their classrooms with broken air conditioners, that the roads have potholes and the bridges are falling down. You will hear that a sales tax is good because 25% of it will come from tourists, and that tens of thousands of jobs will be created to rebuild those roads and bridges, county buildings, the jail and the parks.
Don't be fooled. This 17% increase in the sales tax will generate much more revenue than is arguably needed to repair the infrastructure that was neglected by conscious choices of county staff and commission. Over the last 5 years, the ad-valorem budget has grown 33%, yet Engineering and Public Works only saw a 3% growth. At the same time, the Sheriff's budget grew by 28% and county employees saw 12% in across the board raises (3% / year for 4 years). These conscious choices indicate that those running our county and school system were willing to defer maintenance until a pitch could be made for a new source of revenue.
A bond issue could have funded the critical needs. Instead, they want a sales tax that will generate $2.7B over 10 years whether it is needed or not. Do not doubt that they will spend every penny.
10 important reasons to reject the sales tax question on the upcoming ballot:
1. A 17% increase in the sales tax is a net tax increase of $270M per year, with no offsets to property taxes.
2. It is regressive and will affect low income residents the hardest.
3. It is not subject to the scrutiny applied to the annual ad-valorem budget.
4. It creates an incentive to purchase outside the county (Both Broward and Martin are at 6%, many internet retailers do not collect sales tax).
5. It is not an "infrastructure maintenance tax" but includes many new capital projects.
6. Unlike an infrastructure bond that would raise just enough money for critical needs, this granular tax generates a specific amount of money, and low priority projects will have to be funded in order to spend it all. Like previous proposals, it is a grab-bag of projects, many of which would never be done without a "must spend" windfall.
7. Charter schools get nothing.
8. Many of the municipalities (PBG, Boca) didn't want the money.
9. It comes on top of the largest ad-valorem tax haul at the county level in history, up 8.2% over last year and up 33% since 2012. If passed, the 2017 equivalent tax hike would be 18%.
10. Over the last 5 years, the county has consistently underfunded engineering and public works (+3%), while increasing the Sheriff's budget by 28% and giving across the board raises to employees of 12% (3%/year for 4 years). When the overall ad-valorem budget increased by 33%, engineering saw a total of 3% in 5 years. This was a conscious choice.
Don't be an enabler!
VOTE NO ON THE SALES TAX ON THE NOVEMBER BALLOT.
The PBCTP Candidate expo at Abacoa drew a broad collection of candidates for office and staffers at all levels – US Senate, US House, Florida Senate and House, County Commission, School Board, Sheriff, Property Appraiser, Public Defender … who mingled with the voters and made their case.
Here's a few photos of the event:
We had the opportunity to attend a candidate forum at the North County Neighborhood Coalition meeting, on Tuesday 7/26. While the primary focus was on Palm Beach County Commission candidates, each of whom got 15 minutes, we also heard from candidates for Florida State House and Senate positions, as well as judicial candidates for County Court, and School Board. Additionally – two candidates announced for Palm Beach Gardens City Council for the March 2017 Municipal Elections. Some candidates had already addressed the NCNC at a prior meeting and were acknowledged, but did not speak.  Make sure you look up your  Sample Ballot  when you attend forums or Tea Party's Candidate Expo on August 1st.  Also – lookup candidate information on our Voters' Guide.  Thank you to Sal Faso, President of the NCNC and his board for a well attended event.
County Commission District 1 – November 8 Election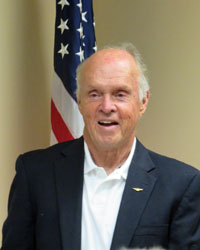 Hal Valeche
Hal Valeche, the Republican incumbent seeking his 2nd term, began with a brief bio. He then highlighted what he viewed has his key accomplishments:
United Technologies HQ on the Briger Tract – which with it's 'smart building' technologies and 450 new hires at $85K salaries should be an asset to the area
Fought against raising Impact Fees
Worked with PB Gardens to extend the North County Airport runway from 4300′ to 6000′, enabling larger corporations to consider bringing their HQ to north county.
When baseball in the Gardens 'fell apart', Hal was charged with finding a new location and is proud of bringing the Astros and Nationals to the WPB site. He pointed out that the $$ come from Bed taxes.
Uber – working out temporary agreements that permitted Uber to keep operating in the County despite opposition by the taxi industry.
Sales tax referendum – while he voted against it, and still feels County infrastructure maintenance backlogs should be funded by issuing bonds, he was glad that the Cultural Council and Economic Development proposals had been removed from the referendum.
As for big upcoming issues – he focused on Water Management as being a key issue.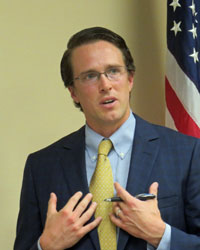 Tony Bennett
Tony Bennett, Hal's Democrat opponent, is new to politics. He is a native Floridian, who spent most of his life in Palm Beach County. A young attorney with young children, Tony is often asked why he is running:
His primary concern is Growth. While he is for economic opportunity – Quality of Life is primary and needs to be managed and protected. He doesn't think that the recent big projects approved will keep North County and in fact much of Palm Beach County special, and fears that the County will become like West Broward.
Traffic explosion, the backlog of current maintenance and infrastructure projects made him critical of the current Commission. He feels that his experience as a practicing attorney has taught him the ethical obligation to account for and spend as the client – which is the voter, not the developer, wishes.
Tony is for the Sales Tax referendum, and is very concerned about Water as well – and fears an algae bloom in Palm Beach County.
County Commission District 3 – August 30th Primary Election
David Kerner, one of two candidates for District 3 replacing term-limited Shelly Vana, spoke next. Most in the audience would not be able to vote for David but as Commissioners vote on all County issues, he wanted to reach out. Dave also went through his bio which included being a police officer, game warden, FL State Representative. Among his concerns are looking at the Sheriff's Offie as well as the County Budget.
During Qs and As for the Commission candidates:
Valeche opposes the sales tax; Bennett and Kerner support
All pledged to work with the City of West Palm Beach to examine/revise coastal impact fees.
All were outraged by the 'sham city' of Westlake but it wasn't clear much could be done about it.
Judicial Candidates – August 30th Election
Marnie Bryson – County Court Group 7 – cited her bio and trial experience as well as endorsements
Tom Baker –  County Court Group 11 – some trial experience, mostly family law, general magistrate for 9 1/2 year – listed endorsements as well
Dana Santino – County Court Group 11 – now in private practice but lots of varied experience as a probation officer, rape/homicide counselor, State Atty and Public Defenders offices and degrees in Law and Taxation.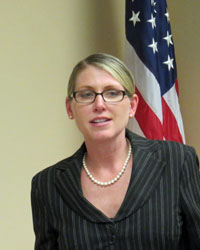 Marnie Bryson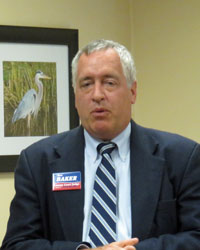 Tom Baker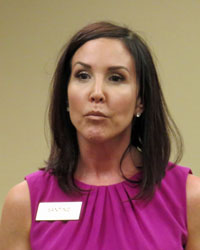 Dana Santino
Palm Beach County School Board District 1 – August 30th Election
Ellen Baker – 26 year Palm Beach Gardens resident, 15 years a teacher.  Need to reign in the new administrator and watch the spending.  She is for the Sales Tax referendum
Note – there are 5 candidates in this non-partisan election – others had already spoken at the NCNC.
FL House District 85 – August 30th Republican Primary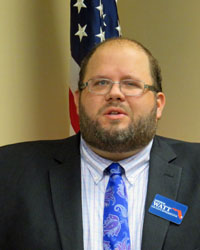 Andrew Watt
Andrew Watt – current Aide to Representative Rooney and lifelong Palm Beach Gardens resident, said he was the only candidate in the primary who lived in the district and could vote for himself.  He also described various accomplishments working on issues with Representative Rooney.
Fl Senate District 30 – August 30th Democrat Primary
Bobby Powell – urban planner, was a graduate of PB Gardens HS.  Listed his endorsement
Michael Steinger – listed his primary issues – schools, gun control and background checks, Medicaid expansion – wants it accepted.
The winner of this primary will go on to compete against Republican Ron Berman in
FL Senate District 30 – November 8th
Ron Berman – spoke very briefly – speaking of his various business experiences and co-founder of Quicken Loans.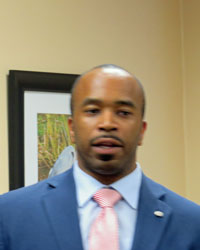 Bobbie Powell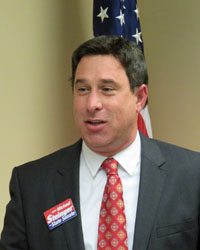 Michael Steinger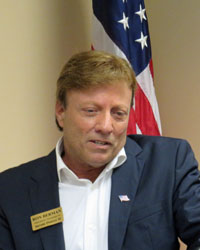 Ron Berman
Palm Beach Gardens City Council – March 2017
Mark Marciano – running for Bert Premuroso's seat – open due to term limits
Matthew Lane – running for Eric Jablins' seat – open due to term limits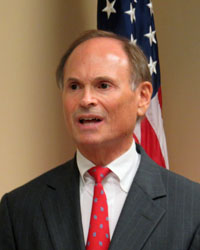 Matthew Lane
Many of the so-called "establishment" are seriously plotting ways to thwart the results of the primaries at the Republican convention. They apparently feel that "their" party has been taken over by the barbarians from flyover country. They think that a convention draft of someone who has entered no primaries, taken part in no debates, spent no time campaigning, would be preferable to either Donald Trump or Ted Cruz. Even a Hillary Clinton presidency (the likely outcome of such a draft) would be preferable to submitting to the rabble.
My first reaction was that they had seriously lost touch with the rank and file of the Republican party, but that is an oversimplification.
The party is defined by its voters – not those that consider themselves the "leaders". Who are they leading? People like Mitt Romney, John McCain, Mitch McConnell and Lindsey Graham have much more in common with Hillary Clinton than they do with the "real" Republicans who provide the heart and soul of the GOP. Maintaining the status quo in Washington, with a heavily Progressive bureaucracy controlling more and more of our daily lives and a Congress that sees being the majority as simply a means to a bigger office and more access to lobbyist dollars, is the goal of both parties. The so-called "GOP leadership", including our new Speaker who has given the Obama juggernaut everything it wants in their spending bills, have betrayed those that gave them the House in 2010 and the Senate in 2014.
I have been a Republican for my entire voting life and have worked for candidates at all levels since the 2004 re-election of George W. Bush. I held my nose and supported McCain, and supported (although with minimal enthusiasm) Romney as he threw away what should have been an easy win by running one of the worst campaigns in modern history. I will no longer support those who have such contempt for the voters as to tell us we are morons.
The McConnells and Boehners and Ryans tell us they can't govern from the Congress – even though they told us if we elected them in 2010 and 2014 they would change the dynamic. Now they claim they need the Presidency.
In my view, we need an insurgent – a real change agent, to alter the relationship between our government and its citizens. Currently what we have is condescension and scorn, with a dose of fraud and deceit for good measure. We are at an inflection point in our history – the country is circling the drain and everyone out there in flyover country knows it but people of the "GOP leadership" just can't (or won't) acknowledge it.
Without drastic change, starting immediately, the country is lost. Donald Trump may not be a movement conservative, but he is a change agent. Stopping illegal immigration, negotiating better trade deals, changing our tax and regulatory structure to bring whole industries back to the US, repudiating the "America Last" policies of Obama and Clinton – that is his agenda. Ted Cruz would proceed with a similar set of goals, but I think that Trump has a better chance of actually becoming President. He has already put a dent into the Clinton's machine by reminding us all that Bill is an un-indicted sex offender, and that she has committed felonies – whether the Justice department prosecutes them or not. He has already altered the party registration picture, generated unprecedented turnout and voter loyalty, and has a good chance to bring some blue states to the Republican fold.
It is not that Trump will "change the Republican Party" or if it can "survive". The party has already changed – Trump is just the best candidate suited to lead what it has become. Any attempt to ignore the will of the voters with shenanigans at the convention will not just disrupt this year's race – it will end the GOP.
The Palm Beach County Tea Party co-sponsored this candidate forum for the Gardens Council race. View the video of the event here.
The Sunshine Summit, last weekend's gathering of the Republican grassroots in Orlando, brought together 14 of the 15 candidates currently competing for presidential primary votes, along with most of the Senate candidates.
Unlike the events of the last two cycles in 2007 and 2011, which featured both televised debates and straw polls, this was mostly a candidate showcase – each was given 20 minutes to make their case. The extreme number of candidates this time, and the fact that Florida does not vote until March 15 – after 26 states will have already assigned their delegates, probably reduced attendance at the event. Still, there were upwards of 1000 in the hall, and the media presence was considerable. CSPAN covered the event live, and lots of recognizable on-air personalities could be seen roaming the halls.
External events played a role in what transpired, as reaction to the Paris attacks on Friday were integrated into the Saturday speeches, or in the case of Chris Christie, dominated their remarks. And the Democrat debate on Saturday night offered a unique opportunity to compare all of our contenders to Hillary Clinton and her two pesky sparring partners.
All the candidates remarks can be seen streaming on CSPAN.
After watching all the debates and attending the Heritage Action Event in South Carolina (with 10 of the candidates), I thought I had a good idea of the dynamics of the race and who was on my short list. That said, I left Orlando with a few new insights.
1. The outsiders have captured the imagination of large portions of the Republican base, even at an event comprised mostly of "insiders".
As an event sponsored by the Republican Party of Florida, with a large number of blue-badged party officials in attendance, I expected a great deal of support and enthusiasm for the "favorite sons" Jeb Bush and Marco Rubio, and less for the outsiders Trump, Carson, Fiorina, and (some would say) Ted Cruz. This was clearly not the case.
While Jeb and Marco have strong support, it was the outsiders who were the rock stars.
Ted Cruz laid out the red meat with a flourish and hit all the hot buttons from Obamacare to the border, the Iran deal, a flat tax, and support for Israel, to thunderous applause.
Donald Trump, avoiding any criticism of his rivals this time, took on illegal immigration (need a Dream Act for Americans), winning again, incompetent leaders, and suggested that college students should be taught about the first amendment. The response was widespread and overwhelming.
Ben Carson, after a quiet start discussing his upbringing, lit into an extensive litany of all the things he would do if he wanted to "destroy America" – all of which Obama has put into motion. His was the most complete and devastating attack on the incumbent President of all the candidates and the crowd responded with enthusiasm.
Carly Fiorina, the last speaker of the event, focused on the Paris attacks, the feckless and dangerous foreign policy of Obama/Clinton, and what she would be doing about ISIS. It seemed like Margaret Thatcher channeling Winston Churchill and left no doubt that she would be a serious and effective commander-in-chief. The response was loud and enthusiastic.
2. Almost all of the Republican contenders are displaying the vision, determination, skill and experience that could believably repair the damage that 7 years of Obama have wrought. Clinton is clearly not in the same league with these people, in spite of her over 25 years on the national stage, and tenure as Senator and Secretary of State.
One thing that has become obvious to many people is that there are many kinds of relevant experience besides being an elected official. The office of President is a unique job, unlike any other, and it takes a generalist to oversee a diverse set of tasks, a communicator to inspire the country and lead it in a positive direction, and a visionary to see our potential as a people and set the wheels in motion to carry us forward. Governors, Senators, Business Leaders – all have skills that are relevant to the job, and all of the candidates now in the race have been successful in their lives and bring serious qualifications and abilities to the table.
Some would say that the terrible state that the country is in – anemic growth, unsustainable debt, corruption at all levels, an abdication of world leadership – is a result of professional politicians and insiders (lobbyists, big donors, etc) having screwed everything up. Hillary Clinton, who is unarguably the stereotype of all those things, would represent more of the same, as could be seen on the debate stage in Des Moines. It was apparent in Orlando that our candidates (to a greater or lesser extent), reject the status quo and will lead the country in a different direction.
3. The weeding out process is going to be long and arduous, as very few of these contenders can be counted out, despite their current standing in the polls.
Until the first delegates are selected in the Iowa caucuses on February 1, the polls will be unreliable, as most likely voters appear to be making tentative selections. Many people, until they have to commit, will lean to the candidate that meets their ideological goals, appears to speak "for them", says the "right things", or wins debating points. When the rubber meets the road though, issues of electability, consistency, honesty, ethics, contrast with the Democrat candidate, and other issues will rise in importance. As this year is unusual in the number of candidates and the widespread dissatisfaction with elected officials, predictions are hard.
Some weeding out has already begun, as few would expect Lindsey Graham or Jim Gilmore to become the nominee, and two candidates have already left the race. But all the rest have ardent supporters and judging by the enthusiastic response at the summit to most of the candidates, there are many "acceptable alternatives". It is truly a deep bench.
The Florida primary election for all but the Presidential race is on August 30 – about 11 months from now. Even so, there are already 12 candidates (9 Republicans and 3 Democrats) that are competing for the CD18 seat currently held by Patrick Murphy. Six of them came together at Abacoa this week for a PBC Tea Party candidate forum hosted by channel 5's Michael Williams.
With the good sized, occasionally boisterous crowd, and a series of policy oriented questions from the moderator which challenged their conservative bona fides, it was good practice for these candidates as they launch their campaigns, and practice is important. Two of the candidates – Carl Domino and Paul Spain, ran for Congress in the last cycle, and Carl has 8 years of experience as a state legislator. These came across as polished and extremely prepared for whatever was thrown at them. The relative inexperience of the others was clearly in evidence as they stumbled over straightforward questions, but they all have a rationale for their candidacy and are quick enough to learn from their mistakes. At this point in the cycle, any of the six could emerge as the likely nominee.
The questions covered a lot of topics, including if they would shut down the government over Planned Parenthood or the debt limit, their tax plans, what in the budget they would cut, the 2nd amendment, the conflict in Syria, and social issues such as the definition of marriage. Many of the answers were within expected parameters for a Republican primary, but there were some unique positions that stood out.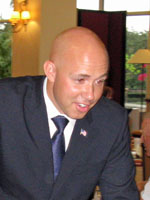 Brian Mast, the highly decorated Army veteran who is campaigning with energy and spirit and does not let his combat injuries hold him back, cast many answers from a military perspective, and listed fixing the VA as a top priority. He favors a "fair tax" (on consumption) of around 10% of GDP, would avoid shutting down the government over the budget or debt ceiling, and would favor means testing for Social Security and Medicare.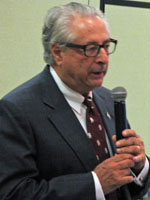 Carl Domino, the veteran Tallahassee lawmaker, would fight harder on the budget, casting a government shutdown as a political decision by the President in response to the Congress' authority to set spending priorities. He favors a Congressional limit on regulations based on the level of financial burden imposed, a modified flat tax, school choice as a way of attracting Hispanic and minority voters, limiting benefits to Congressmen and introducing term limits.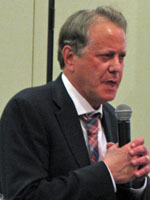 Marc Freeman, a Boca Raton doctor, would avoid a government shutdown as irresponsible. He would work to "simplify" Washington – pointing to Sarbanes-Oxley and Dodd-Frank as complicated rules that should be eliminated, and believes that "no able bodied person should be on the dole."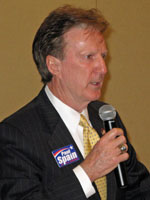 Paul Spain, who ran against Lois Frankel in CD22 last cycle, would never again raise the debt limit, believing the government doesn't ever "really" shut down and there is plenty of revenue to pay the interest on the debt. Individual agencies should be frozen. His tax plan is similar to Donald Trump's, with 3 rates and an exclusion below $30K. He was the only one to suggest (rightly) that Democrats favor open borders to increase their voting base.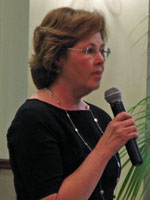 Rebecca Negron, Martin County school board member, would deal with the budget by not replacing government workers as they leave, and hopes to avoid "government by crisis" when spending bills are always up against a deadline. Her top priority is to kill the department of Education which brought us Common Core. Prior to sending troops to the middle east, she would want to see a plan (something current administration lacks).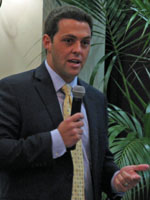 Rick Kozell, a Jupiter attorney with experience working for lawmakers in Washington, including Senators George LeMieux and Tom Coburn, opposes raising the debt limit and rejected the premise that raising the limit or shutting down the government were the only choices. He would work to roll back the regulatory state that is crushing small business and favors a flat tax. He opposes sending ground troops to the middle east "at this time", and favors an immigration plan with guest workers but no citizenship path.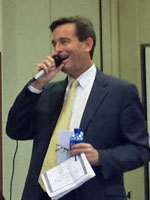 The moderator, Michael Williams, hosts the Sunday show on channel 5, "To the Point". In my view, on his show he is pretty fair and balanced in the way candidates and issues from both sides of the political spectrum are treated. He was heckled by the audience at times during this event though, as some thought he was favoring some candidates over others in time allotment, and others rejected some of the premises of the questions. He did frame several questions with "the tea party believes…" – such as that we are all dependent on Medicare and Social Security and thus are hypocrites for calling for spending cuts. Of course that is something which comes natural to our liberal friends in the media and it did not really detract from the event. Most would admit that the "tea party" is not monolithic in thought, and generally driven by concern for the country as opposed to narrow self-interest.