Why is Attorney General Jeff Sessions so inexplicably reticent about a nonpartisan investigation of the many criminal complaints against Hillary Clinton?
That question is not examined in the media, but ask the citizenry and they provide several possible explanations.
Some say Mr. Sessions is intimidated by the Clintons because he does not want to be added to the list of over a hundred mysteriously deceased people who were associated with the Clintons. They refer you to:The List of Clinton Associates Who Allegedly Died Mysteriously
Others say the Clintons must have derogatory information about Mr. Sessions (possibly obtained when the Clintons were in the White House and improperly accessed several hundred FBI personnel files) that could be embarrassing if released. They refer to: White House FBI files controversy
When I was an engineer working on defense programs, I had a security clearance needed to do my job. If I had mishandled classified information a fraction of the way the FBI said Hillary Clinton did, they would have locked me up and thrown away the key.
So what happened to "equal justice under the law" ?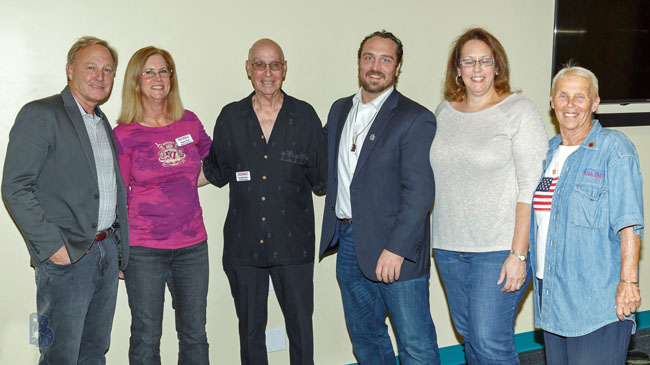 1. Constitution Minute-Chris Wright
The Constitution specifies that congress must issue declarations of war. Obama violated this requirement several times by stating that what he authorized were not full scale wars. This has resulted in a need to enforce the requirement that only congress can declare war.
2. Current Congressional Tax Reduction/code simplification bill situation- Guest Speaker; ex congressman; David McIntosh
Mr. McIntosh gave a description of the current bill features. He emphasized the economic growth provisions. He cautioned for Tea Party members not to believe democratic class warfare claims.
3. D.C. Report- Bill Pascoe
A six month old Comey E mail has been found where he described Hillary Clinton's actions as "gross negligence". In his subsequent verbal discussions he described her Email activities in "watered down terminology" that is not open to legal actions. The IRS manager, Kosigen was fired. Before leaving; as a last "action", he made sure that hundreds of IRS notices of financial claims were mailed to non participants of obama care insurance. President Trump cabinet confirmations are continuing to be very slow. The next congressional budget will not likely be ready before the December 8 deadline. A temporary bill will likely be issued for funding through next September. The first senate tax bill proposal was issued last Thursday.
4. Calls To Action-JBM (Ref. TPP Website & my E mail summary later this week)
Tax bill actions: 1.-House Parties, 2.- Letters to Editors, 3.- Volunteer to Tax Bill Review Group.
On site kits & Instructions.
Live during webinar, Votes on TPP work status surveys.
Please Join us at all three chapters in December for a feel-good fun-filled evening with political satirist Eric Golub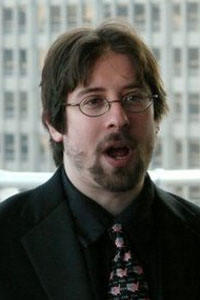 Eric Golub
"
Tygrrrr Express Blog Site
"
Monday, December 4, 2017
Abacoa Golf Club
105 Barbados Drive
Jupiter, Fl 33458
TIME: 5:30 PM Buffet
6:30 PM Program
Dinner – $20.00
(Buffet, Cash Bar)
No charge for meeting.
Abacoa RSVP:

---
Tuesday, December 5, 2017
Boca Community Center
150 Crawford Blvd, Boca Raton, FL 33432
(561) 393-7807
MAP
Boca RSVP:

---
Wednesday, December 6, 2017
Wellington Community Center
12150 Forest Hill Boulevard
(561) 753-2484
Wellington RSVP:

---
Eric Golub has spoken in all 50 states and has 25 years of radio experience behind the microphone. He is Brooklyn born, Long Island raised, and has lived in Los Angeles since 1990. He received his BA from the University of Judaism and his MBA from USC.
He has been a stock brokerage professional since 1994. He began writing on March 11th, 2007, the three-year anniversary of the Madrid bombings and the midpoint of 9/11. He has been inflicting his worldview on his unfortunate readers since then. He writes about politics Monday through Friday, and about football and other human interest items on weekends.
His site is the "Tygrrrr Express." In April of 2009 he published the book "Ideological Bigotry," endorsed on the back cover by Ward Connerly and Armstrong Williams. He followed that up in 2010 with "Ideological Violence," endorsed by Fox News Military Analyst Ralph Peters, and "Ideological Idiocy." In 2015 he published "Ideological Lunacy," endorsed by Fox News Military Analyst Bill Cowan and Kevin Jackson, and "Jewish Lunacy," endorsed by Rabbis Daniel Lapin and David Wolpe.
He currently has three fatwas against him: One from a Palestinian group, one from the Daily Kos, and one from the National Organization for Women. He is 100% alcohol, tobacco, drug, and liberalism free.
He has written for Andrew Breitbart's Big Hollywood, Tucker Carlson's Daily Caller, andWorld Net Daily, the Washington Times Communities, been linked to by Rush Limbaugh,Ann Coulter, Hugh Hewitt, and Mark Steyn, praised by Donald Trump, featured by the Politico, and been published in the Washington Times, Commentary Magazine, RealClearPolitics.com, Fox News Nation Online, Donna Tempo Magazine, and other publications. He has been a radio guest of Sean Hannity, Dennis Miller, Hugh Hewitt, Armstrong Williams, Lars Larson, and many others, where he discusses his desire to end Ideological Bigotry. He won the 2007 Bloggers Choice Award for Most Passionate Fan Base. Television appearances include OANN, NEWSMAXTV, ABC, NBC, CBS, FNC, CNN and more.
He speaks around the country to various chapters of the Republican Women's Federated, Republican Jewish Coalition, Young Republicans, College Republicans, Tea Party, 9/12 Project, and other conservative groups. He has spoken in front of Vice President Dick Cheney, Michael Reagan, Michele Bachmann, Michael Steele, Eric Cantor, Sarah Palin, Tim Pawlenty, Herman Cain, Michael Medved, Ann Coulter and many more. He spoke atseveral CPAC events and C-Span has carried his remarks on several occasions.
In his spare time he monitors college campuses and reports on Islamofascist professors. This has been published at Campus Watch, Front Page Mag, and American Thinker. He also speaks in Synagogues to show how Judaism meshes perfectly with conservatism.
He wants you to all to know that if he ever says anything that offends you in any way, you probably deserved it. After years of dating liberals, he has finally seen the light and isnow dating a Republican Jewish woman. His family is pleased over this
1. Constitution Minute- Chris Wright
He highlighted that our Constitution is not compatible with socialism.
2. This week's TPP action items relative to the current income tax system upgrades- JBM
– Schedule house parties
– Write letters to the letters
– Recruit tax reform coalition; new members
3. D.C. Report- Bill Pascoe
The house has passed a budget resolution bill. This insures that the democrats can not filibuster the final bill proposal.
Four federal judges were confirmed plus nine lower court judges. But there are still large numbers of confirmations in limbo.
Four house members have formally requested that Muller be forced to resign.
The senate vote on a new budget bill may be as early as next week.
4. TPP Current Actions- JBM
Four requests for webinar live member votes were made on the following issues:
– Should TPP include o'care individual mandate repeal in current repeal efforts? The vote was 89% yes.
– Will you sign up for membership or recruit members for the tax reform coalition? No results seen
– Will you write letters to the editors? No results seen
– Will you sign up for house parties? No results seen
JBM met with Sessions relative to IRS political targeting of conservative groups. He agreed to help where possible.
JBM was in two president Trump meetings.
JBM met with Senator Purdue to review his efforts to stop chain illegal migrations.
5. Q & A- Signed off here
Sunday November 5 on Clematis in West Palm Beach.
Come and join the Palm Beach County Tea Party as we march in the Veteran's Parade on Sunday November 5th on Clematis Street in West Palm Beach. See below for parade information:
---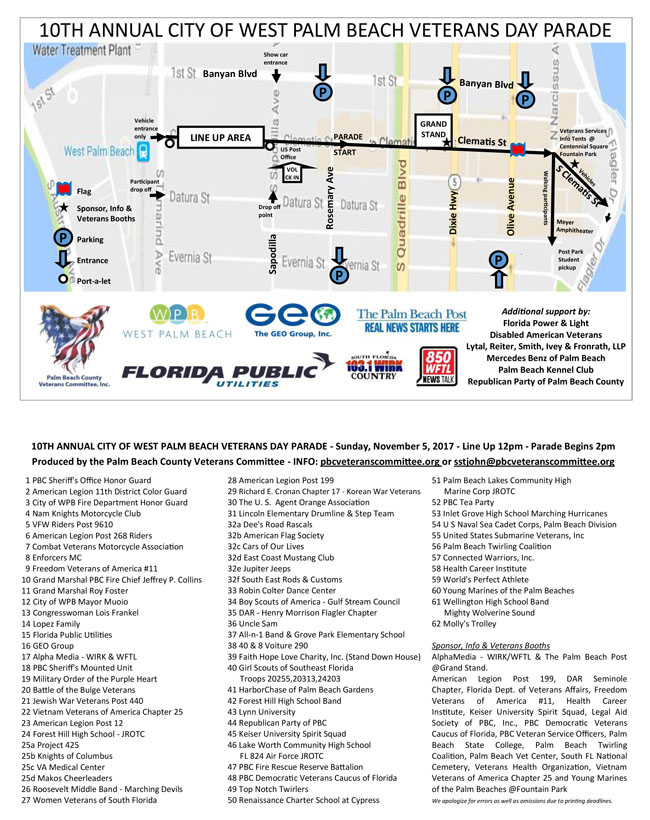 Dear Parade Participants,
The Palm Beach County Veterans Committee is honored to have you join us for the 10th annual City of West Palm Beach Veterans Day Parade!
The mission of Palm Beach County Veterans Committee, Inc., is to proudly honor through the Memorial Day Ceremony and the Veterans Day Parade our past, present, and future veterans in this our Country; the United States of America.
We thank you for your participation and support!
Below and attached you will find important information.
Please forward to those in your group that will be participating.
VETERANS DAY PARADE
Sunday, November 5, 2017.
Line up – 12 noon at Clematis and Tamarind or Sapodilla (see below)
Parade start – 2 pm and travels east on Clematis to Flagler
RAIN or SHINE – We start at 2 pm.
VOLUNTEERS are greatly needed to help distribute information and help with lineup – we need them from 11am (training, line up & parade) to 3pm (parade end) – we can give volunteer service letters to students as needed – please email me to confirm by Friday 11/3/17 by 12 noon. Volunteers will check in at the post office at Clematis and Sapodilla and be assigned a job during training at 11am.
PARKING is free in City garages and on streets other than Clematis – parking garages are highlighted on the attached route and line up document – please use their Banyan and Evernia entrances. (Clematis starts shutting down at 11am)
PARADE VEHICLES – Please enter at Tamarind and Clematis, we will have volunteers there to guide you to your spot.
MOTORCYCLES – Please enter at Datura and Sapodilla you will be lining up between Sapodilla and Rosemary on Clematis – ask for Gary who will help you with placement.
SHOW CARS – Please enter at Banyan and Sapodilla – ask for Dee who will help you with placement.
STUDENTS – There will be no dropping off at Tamarind and Clematis – it is for vehicles in the parade only. We recommend parents drop their child/children off at the corner of Datura and Sapodilla then have them walk 1 block north to the corner of Sapodilla and Clematis where a volunteer will help with placement. (We ask that you have at least one chaperone with your group in the lineup at all times – do not leave your child/children without supervision) Parking recommendation for parents: park in one of the Evernia garages as groups will be directed to Post Park at Evernia and Narcissus (3 blocks south of Clematis) for pick up – there will be no vehicle stopping or standing on the street.
CHECK IN – Please look for volunteers in flourescent vests at the corner of Clematis & Tamarind and Clematis & Sapodilla – they will direct your group to it's placement.
PLACEMENT – Much effort and thought has gone into placement and no changes will be made to the parade lineup order. (Although there may be some additions) Please let me know if you see a spelling error for your group. PLEASE NOTE – we reserve the right to change placement on event day because of challenges out of our control or if your group is late for line up.
SIGNAGE/BANNER – It is mandatory that your group display signage identifying your organization/group.
PORTALETS – Will be available at the corners of Clematis & Tamarind and Clematis & Sapodilla.
SAFETY – No throwing of candy or any items to spectators, if you have something you want to distribute you must walk it to them – it can not be given out from the vehicles. Bring water, sunscreen, first aid kit and wear comfortable shoes. If unable to complete parade please find volunteer at one of the cross streets who will contact parade staff to assist as able. Please contact parade staff or volunteers if you see or hear anything that may be of concern on the day of the parade – the safety of our participants and those in attendance is our primary concern!
SOLICITATION – There will be absolutely no solicitation of funds/donations from any organizations participating in or affiliated with the parade other than the PBC Veterans Committee.
GRAND STAND – Please advise those you are inviting to attend parade that the parade announcements will be made at Clematis and Dixie. It is the best spot for viewing. Please ask them to stop by and thank our media sponsors – Palm Beach Post and Alpha Media WIRK/WFTL!
NEW THIS YEAR – ROTCs, Bands and Dance/Baton Troops may perform at the bandstand – You/they are limited to 2 minutes and under. Please note that this means those behind you/them will have times during the parade when they will be at a complete stop. PLEASE INFORM THOSE YOU KNOW WHO ARE ATTENDING AS SPECTATORS!
END OF PARADE – Per the request of the City of West Palm Beach there will be a change in the end of the parade. Please follow directions of volunteers in fluorescent vests placed at the intersection. ONLY vehicles will travel on Clematis from Narcissus to Flagler. Walking participants (bands, ROTCs, etc) will turn right on Narcissus and proceed to Post Park for pickup. There will be no unloading of participants on Clematis – you must turn right on Flager and proceed to either Datura, Evernia, or the parking garage where your passengers parked. We must keep the parade moving.
VETERAN INFO TENTS – There will be many Veteran and community organizations located at the end of the parade (Clematis and Narcissus) at Fountain Park including: American Legion Post 199, DAR – Seminole Chapter, FL Dept of Veterans Affairs, Freedom Veterans of America Motorcycle Association #11, Health Career Institute, Keiser University Spirit Squad, Legal Aid Society of Palm Beach County, Inc., Palm Beach County Democratic Veterans Caucus of Florida, Palm Beach County Veteran Service Officers, Palm Beach State College, Palm Beach Twirling Coalition, Palm Beach Vet Center, South Florida National Cemetery, Veterans Health Organization, Vietnam Veterans of America Chapter 25 and Young Marines of the Palm Beaches – please stop by for important information.
MOLLY'S TROLLEY – Once again we will have Molly's Trolley as the last vehicle in the parade. Veterans who can not walk and have no other vehicle are invited to ride in the parade. At the end of the parade for those who need assistance to their vehicles parked at the beginning of the parade route we do have access for a very limited time after the parade. It is first come, first served and will only travel to City garages. (not street parking) You will be able to board the Trolley on the north side of the fountains. These trips are reserved exclusively for those who are physically in need of assistance.
SPONSORS/DONORS – Please make note of our sponsors and donors, who without their support we would be unable to produce our parade!
Host City of West Palm Beach; Gold sponsors Florida Public Utilities and GEO Group; Silver sponsors Florida Public Utilities and Palm Beach Kennel Club; Bronze sponsors Disabled Veterans of America and Lytal, Reiter, Smith, Ivey & Fronrath LLP; Supporters Mercedez Benz and Republican Party of Palm Beach County and Media sponsors Alpha Media – WIRK/WFTL and The Palm Beach Post.
If you or your organization would like to sponsor or make a donation, please contact me at sstjohn@pbcveteranscommittee.o rg. Your donation is tax deductible.
…and
PROMOTE – PROMOTE – PROMOTE
Please like and share our facebook page – we need you to help insure a huge turnout this year!
https://www.facebook.com/Palm- Beach-County-Veterans-Committe e-Inc
This is the page where you will find photos afterwards – and you are encouraged to share yours here as well!
Please #PBCVetparade2017!
WHEW!
I think that is it!
I am here to answer any other questions you have – please let me know if you have any 🙂
Again, we thank you for joining us in this exciting and meaningful day.
We hope you feel as we do that the day truly shows our support for Veterans and all they have and continue to do for us!
Thank you!
Serving in gratitude,
Shanna D St John
​Palm Beach County Veterans Committee
561-523-6553 cell
http://pbcveteranscommittee.or g
The mission of Palm Beach County Veterans Committee, Inc., is to proudly honor through the Memorial Day Ceremony and the Veterans Day Parade our past, present, and future veterans in this our Country; the United States of America.