Action Alert
Tax Day Rally
Tuesday April 18 th
4 PM to 6 PM
PGA Blvd and MILITARY Trail
Bring Signs / We will also have signs available
Please support
PresidentTrump's
Tax Reform Measure
The Palm Beach County Tea Party actively supports the monthly fairgrounds gun show. We consider the show as a great opportunity to meet & greet many many conservative, pro protective firearms ownership locals. We have a table at each show that is staffed by Tea Party members, including some very firearms knowledgeable members. We also have information about the Tea Party's goals and tenets. In addition, we welcome discussions and questions about current national and world events.
The next show is next weekend. It starts on Saturday; February 11th at nine A.M. There will also be a show starting at ten A.M. on Sunday.
Hope To See You There!
Joe Burge,PE
ACTION ALERT
We have just had 2 very important bills filed in the Florida Senate and House.
They Are: Senate Bill 386 (High Speed Rail Safety Act); House Bill 269 (High Speed Passenger Rail).
These bills require the Florida Dept. of Transportation to supervise and require companies to:
Construct, Maintain and Repair their needed infrastructure
Construct and Maintain Fences;
Be Liable for certain Damages and be Responsible for Certain Improvements/Upgrades;
Be Responsible for Administrative Fines, Suits and Legal Costs;
Comply with minimum Safety Requirements & Reporting;
Comply with Federal Laws & Regulations;
Authorizes local governments to enact certain railroad speed limits.
I said important! These requirements will help save our communities, many life's and put the costs on the back of the railroads. This is what we have been asking for many years.
Please Help! These bills will soon be assigned to committees and voted on.
WOULD YOU PLEASE CALL THE CO-SPONSORS OF THESE BILLS AND THANK THEM!
To write bills like these is very difficult, legally arduous and a real threats to the big money railroad proponents.
Indeed these Representatives Are Brave. Also if you ask them to keep you up to date as these bills go through committees, They Will.
District Office Phone Numbers:
Sen. Mayfield (321)-409-2025
Rep. Magar (772) 545-3481
Rep. Harrell (772) 221-4011
Rep. Grall (772) 778-5055
Sen. Joe Negron, Pres. of Sen. (772) 219-1665

Thank you for your help! It is important to let our legislature know that we appreciate what they are doing for us.
Palmbeach County TeaParty and TeaParty Patriots are working together in 2017, please join us as we WORK to get Senator Jeff Sessions nomination for Attorney General approved.
Rally at Senator Bill Nelson's office in West Palm Beach.
Where:
413 Clematis Street
Suite 210
West Palm Beach, FL 33401
(map)
When:
Tuesday, January 10, 2017
12:00 PM – 1:00 PM EST
Use this Link to Register (EventBrite)
Please join us for this Rally. Getting Mr. Trump elected was the first step. Now he needs his Amazing Team to get through the nomination process, and for that, PE Trump needs our help!
Please create your own Posters. We will have some Poster Board and Markers!
The Trump campaign is in need of sign wavers for the Jupiter location at the corner of Indiantown Road and Jupiter Farms Rd. (Publix shopping ctr.) on Oct. 8th for only about an hour or so starting at 10:30am. These folks would be our greeters and cheerers. As the Patriot Veterans and Bikers arrive we would like to show them support for the support they are riding for Mr. Trump and the Connected Warriors.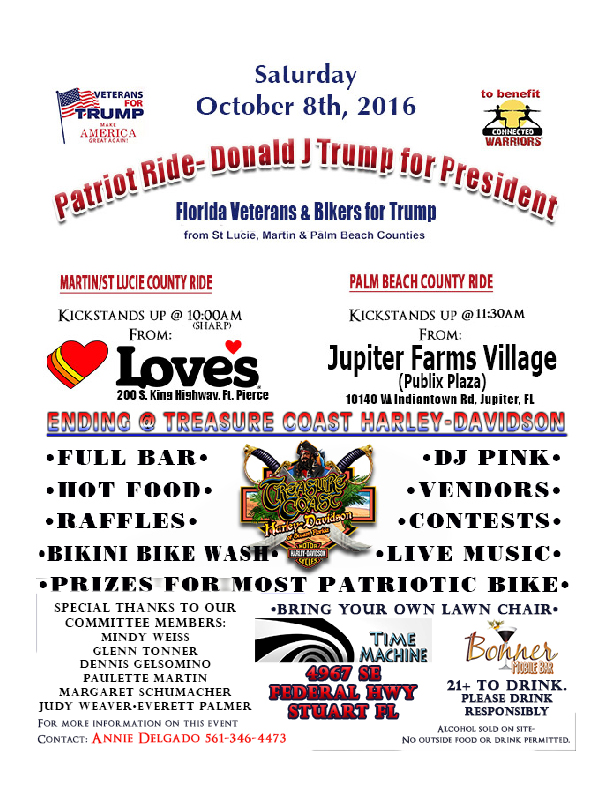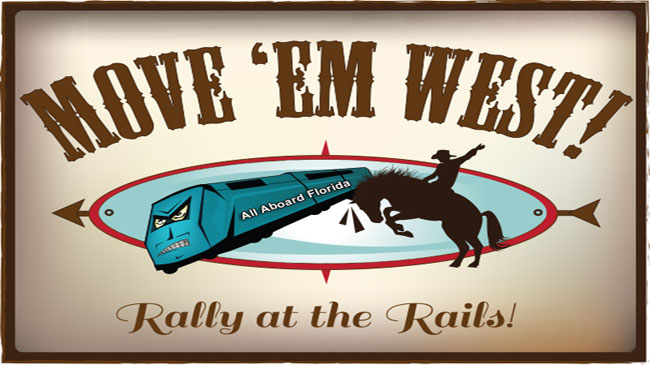 JOIN US IN PROTEST AGAINST AAF/BRIGHTLINE'S
HIGH-SPEED PASSENGER TRAINS
The "Move 'em West – Rally at the Rails" will be held Saturday, March 19, 2016 at 11am at six railroad crossings simultaneously on the Treasure Coast and Palm Beach County.
Rallies will be held near rail crossings in Micco, Vero Beach, Ft. Pierce, Stuart and two locations in Palm Beach. Protest signs will be available at the locations.
Residents will protest on the sidewalks (100 feet from the crossings) and share their anger that profits are being put above safety with the dangers posed by AAF/Brightline's 32 daily high-speed trains along with the transportation of hazardous chemicals on the freight line.
Let your voices be heard!
Citizens Against The Train
Fighting Non-stop to Stop All Aboard Florida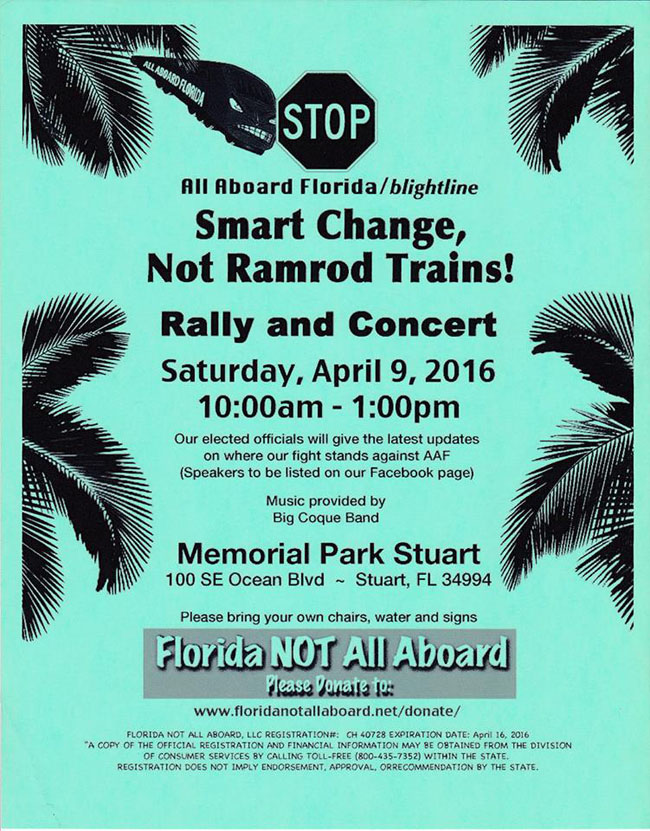 Here is what I sent to the Palm Beach County Board of  County Commissioners re: Agenda Item 4A-2 on the 11/3 evening BCC Mtg Agenda.  I encourage you to attend the meeting, call or send an email to the Commissioners.
---
Dear Mayor and Commissioners:
I don't recall any of you running for your current positions as Palm Beach County Commissioners on a platform of immigration reform. And for the most part, you refrain from being overtly political while on the dais. So why are you spending County staff resources on producing this resolution? Is the County so flush with cash and do we have so few county issues that this is a priority?
How immigration reform should be accomplished is not a County issue, nor are U.S. Constitutional issues. When AG Bondi joined the Texas vs United States lawsuit on behalf of Florida she stated:
"This lawsuit is not about immigration, rather this lawsuit is about President Obama — yet again — overstepping the power granted to him by our United States Constitution. The President repeatedly said he would not violate the law, then decided to do just that. The powers granted to the President are expressly laid out in the United States Constitution, yet President Obama has decided to ignore those parameters. We need to fix our system of immigration, but willfully turning a blind eye to the inconvenience of law and rule is not the path to a remedy, but a prescription for unwarranted presidential overreach."
The resolution in Agenda Item 4A-2 would not result in Florida withdrawing from the lawsuit, nor would specious arguments on the economic impact on Palm Beach County or compassionate merits of the President's Executive Order, have any impact on the Constitutional issue which is the basis for the lawsuit. Just because other municipalities have done so, does not make it right.
I can only assume that since five of you are running for office: two for Congress and three for County positions, that your rationale can only be grand-standing and pandering to a set of constituents.
Please desist. Withdraw or vote NO on item 4A-2, and leave your politicking for outside the Commission Chambers!