Come and join the Palm Beach County Tea Party as we march in the Veteran's Parade on Sunday November 5th on Clematis Street in West Palm Beach. See below for parade information:
---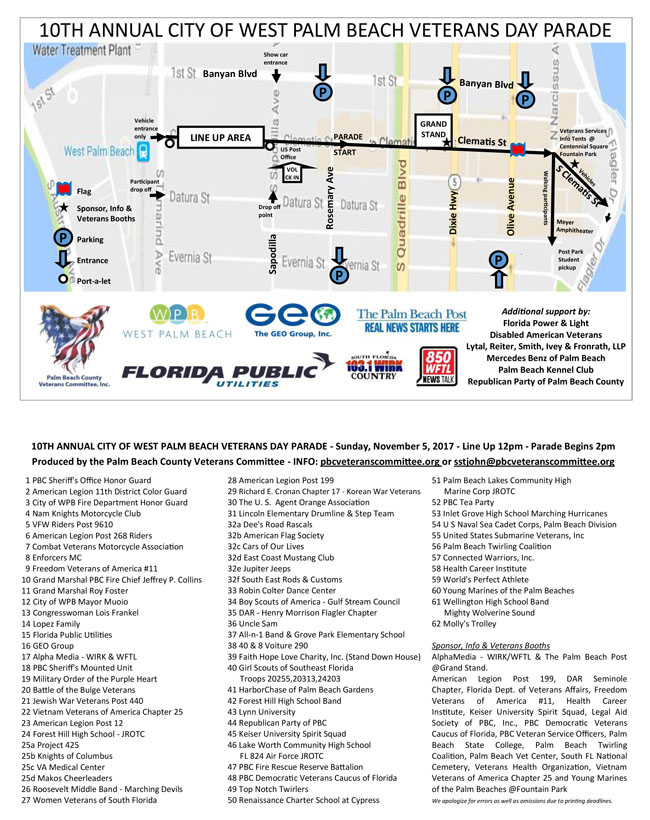 Dear Parade Participants,
The Palm Beach County Veterans Committee is honored to have you join us for the 10th annual City of West Palm Beach Veterans Day Parade!
The mission of Palm Beach County Veterans Committee, Inc., is to proudly honor through the Memorial Day Ceremony and the Veterans Day Parade our past, present, and future veterans in this our Country; the United States of America.
We thank you for your participation and support!
Below and attached you will find important information.
Please forward to those in your group that will be participating.
VETERANS DAY PARADE
Sunday, November 5, 2017.
Line up – 12 noon at Clematis and Tamarind or Sapodilla (see below)
Parade start – 2 pm and travels east on Clematis to Flagler
RAIN or SHINE – We start at 2 pm.
VOLUNTEERS are greatly needed to help distribute information and help with lineup – we need them from 11am (training, line up & parade) to 3pm (parade end) – we can give volunteer service letters to students as needed – please email me to confirm by Friday 11/3/17 by 12 noon. Volunteers will check in at the post office at Clematis and Sapodilla and be assigned a job during training at 11am.
PARKING is free in City garages and on streets other than Clematis – parking garages are highlighted on the attached route and line up document – please use their Banyan and Evernia entrances. (Clematis starts shutting down at 11am)
PARADE VEHICLES – Please enter at Tamarind and Clematis, we will have volunteers there to guide you to your spot.
MOTORCYCLES – Please enter at Datura and Sapodilla you will be lining up between Sapodilla and Rosemary on Clematis – ask for Gary who will help you with placement.
SHOW CARS – Please enter at Banyan and Sapodilla – ask for Dee who will help you with placement.
STUDENTS – There will be no dropping off at Tamarind and Clematis – it is for vehicles in the parade only. We recommend parents drop their child/children off at the corner of Datura and Sapodilla then have them walk 1 block north to the corner of Sapodilla and Clematis where a volunteer will help with placement. (We ask that you have at least one chaperone with your group in the lineup at all times – do not leave your child/children without supervision) Parking recommendation for parents: park in one of the Evernia garages as groups will be directed to Post Park at Evernia and Narcissus (3 blocks south of Clematis) for pick up – there will be no vehicle stopping or standing on the street.
CHECK IN – Please look for volunteers in flourescent vests at the corner of Clematis & Tamarind and Clematis & Sapodilla – they will direct your group to it's placement.
PLACEMENT – Much effort and thought has gone into placement and no changes will be made to the parade lineup order. (Although there may be some additions) Please let me know if you see a spelling error for your group. PLEASE NOTE – we reserve the right to change placement on event day because of challenges out of our control or if your group is late for line up.
SIGNAGE/BANNER – It is mandatory that your group display signage identifying your organization/group.
PORTALETS – Will be available at the corners of Clematis & Tamarind and Clematis & Sapodilla.
SAFETY – No throwing of candy or any items to spectators, if you have something you want to distribute you must walk it to them – it can not be given out from the vehicles. Bring water, sunscreen, first aid kit and wear comfortable shoes. If unable to complete parade please find volunteer at one of the cross streets who will contact parade staff to assist as able. Please contact parade staff or volunteers if you see or hear anything that may be of concern on the day of the parade – the safety of our participants and those in attendance is our primary concern!
SOLICITATION – There will be absolutely no solicitation of funds/donations from any organizations participating in or affiliated with the parade other than the PBC Veterans Committee.
GRAND STAND – Please advise those you are inviting to attend parade that the parade announcements will be made at Clematis and Dixie. It is the best spot for viewing. Please ask them to stop by and thank our media sponsors – Palm Beach Post and Alpha Media WIRK/WFTL!
NEW THIS YEAR – ROTCs, Bands and Dance/Baton Troops may perform at the bandstand – You/they are limited to 2 minutes and under. Please note that this means those behind you/them will have times during the parade when they will be at a complete stop. PLEASE INFORM THOSE YOU KNOW WHO ARE ATTENDING AS SPECTATORS!
END OF PARADE – Per the request of the City of West Palm Beach there will be a change in the end of the parade. Please follow directions of volunteers in fluorescent vests placed at the intersection. ONLY vehicles will travel on Clematis from Narcissus to Flagler. Walking participants (bands, ROTCs, etc) will turn right on Narcissus and proceed to Post Park for pickup. There will be no unloading of participants on Clematis – you must turn right on Flager and proceed to either Datura, Evernia, or the parking garage where your passengers parked. We must keep the parade moving.
VETERAN INFO TENTS – There will be many Veteran and community organizations located at the end of the parade (Clematis and Narcissus) at Fountain Park including: American Legion Post 199, DAR – Seminole Chapter, FL Dept of Veterans Affairs, Freedom Veterans of America Motorcycle Association #11, Health Career Institute, Keiser University Spirit Squad, Legal Aid Society of Palm Beach County, Inc., Palm Beach County Democratic Veterans Caucus of Florida, Palm Beach County Veteran Service Officers, Palm Beach State College, Palm Beach Twirling Coalition, Palm Beach Vet Center, South Florida National Cemetery, Veterans Health Organization, Vietnam Veterans of America Chapter 25 and Young Marines of the Palm Beaches – please stop by for important information.
MOLLY'S TROLLEY – Once again we will have Molly's Trolley as the last vehicle in the parade. Veterans who can not walk and have no other vehicle are invited to ride in the parade. At the end of the parade for those who need assistance to their vehicles parked at the beginning of the parade route we do have access for a very limited time after the parade. It is first come, first served and will only travel to City garages. (not street parking) You will be able to board the Trolley on the north side of the fountains. These trips are reserved exclusively for those who are physically in need of assistance.
SPONSORS/DONORS – Please make note of our sponsors and donors, who without their support we would be unable to produce our parade!
Host City of West Palm Beach; Gold sponsors Florida Public Utilities and GEO Group; Silver sponsors Florida Public Utilities and Palm Beach Kennel Club; Bronze sponsors Disabled Veterans of America and Lytal, Reiter, Smith, Ivey & Fronrath LLP; Supporters Mercedez Benz and Republican Party of Palm Beach County and Media sponsors Alpha Media – WIRK/WFTL and The Palm Beach Post.
If you or your organization would like to sponsor or make a donation, please contact me at sstjohn@pbcveteranscommittee.o rg. Your donation is tax deductible.
…and
PROMOTE – PROMOTE – PROMOTE
Please like and share our facebook page – we need you to help insure a huge turnout this year!
https://www.facebook.com/Palm- Beach-County-Veterans-Committe e-Inc
This is the page where you will find photos afterwards – and you are encouraged to share yours here as well!
Please #PBCVetparade2017!
WHEW!
I think that is it!
I am here to answer any other questions you have – please let me know if you have any 🙂
Again, we thank you for joining us in this exciting and meaningful day.
We hope you feel as we do that the day truly shows our support for Veterans and all they have and continue to do for us!
Thank you!
Serving in gratitude,
Shanna D St John
​Palm Beach County Veterans Committee
561-523-6553 cell
http://pbcveteranscommittee.or g
The mission of Palm Beach County Veterans Committee, Inc., is to proudly honor through the Memorial Day Ceremony and the Veterans Day Parade our past, present, and future veterans in this our Country; the United States of America.
ON TUESDAY, SEPTEMBER 12 from 10am to 2:00pm EDT
LET'S LIGHT UP SPEAKER PAUL RYAN and MAJORITY LEADER MITCH McCONNELL'S OFFICIAL PHONE LINES in WASHINGTON.
Numbers:
Speaker Paul Ryan: 202-225-0600
Senate Majority Leader Mitch McConnell: 202-224-2541
Mission:
Demand President Trump's agenda be presented in a clean bill(s) and be voted upon this calendar year. 2017.
Goal:
We will focus on the top 4 agenda items for this specific call so as to not dilute the impact. More mini phone revolutions will follow for other agenda items for the most powerful impact of we, the people.
We demand that our votes count and our voices are heard by passing President Trump's, and therefore our, agenda.
Note:
In the next 4 months, 121 days, Congress will be in session approximately 48 days; in fact they will be in session for only 5 Fridays out of those meager 48 days.!!!!!!!!
Outrageous and unacceptable especially during these dire times.

Suggested Script:
I am one of the 62 million or more people who voted for President Donald J.Trump and his agenda. My support is unwavering.
By the end of this year I expect you to pass:
Tax Reform and Tax Cuts
Repeal and Replace Obamacare ( NOT a propping up of Obamacare)
Financing for the Wall
Infrastructure
Do what you promised and STOP IGNORING THE VOTERS!
You are squandering the opportunity to make America Great Again as we, the people, voted for, expect and now demand.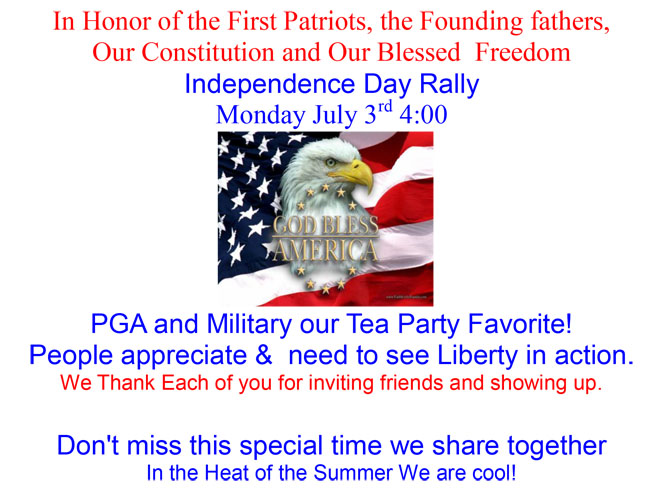 PALM BEACH COUNTY TEA PARTY PRESENTS:
A MEMORIAL DAY WEEKEND TO HONOR OUR COURAGEOUS BELOVED VETERANS
FRIDAY, MAY 26TH FROM 4:00-6:00 PM AT OUR FAMOUS TRUMP PATRIOT CORNER
(CORNER OF PGA BLVD. & MILITARY TRAIL IN P.B. GARDENS)
THEY DON'T CALL IT "MILITARY" FOR NOTHING, FOLKS…
Come Honor Those Brave Men & Women in Uniform who laid their lives & limb on the line
for our beloved United States so that we can live in the Land of the Free – because of the Brave!
Please invite your friends and family to this special event and let's show our community what a real Tea Party is all about.
Wear your Patriotic best – the Red, White & Blue – bring your American flags & your Trump T-shirts!!
This Memorial Day will be that much more significant now that we have a real American Patriot in the White House and an Administration who truly believes in the American Constitution and in Supporting our Veterans!!
Action Alert
Tax Day Rally
Tuesday April 18 th
4 PM to 6 PM
PGA Blvd and MILITARY Trail
Bring Signs / We will also have signs available
Please support
PresidentTrump's
Tax Reform Measure
The Palm Beach County Tea Party actively supports the monthly fairgrounds gun show. We consider the show as a great opportunity to meet & greet many many conservative, pro protective firearms ownership locals. We have a table at each show that is staffed by Tea Party members, including some very firearms knowledgeable members. We also have information about the Tea Party's goals and tenets. In addition, we welcome discussions and questions about current national and world events.
The next show is next weekend. It starts on Saturday; February 11th at nine A.M. There will also be a show starting at ten A.M. on Sunday.
Hope To See You There!
Joe Burge,PE
ACTION ALERT
We have just had 2 very important bills filed in the Florida Senate and House.
They Are: Senate Bill 386 (High Speed Rail Safety Act); House Bill 269 (High Speed Passenger Rail).
These bills require the Florida Dept. of Transportation to supervise and require companies to:
Construct, Maintain and Repair their needed infrastructure
Construct and Maintain Fences;
Be Liable for certain Damages and be Responsible for Certain Improvements/Upgrades;
Be Responsible for Administrative Fines, Suits and Legal Costs;
Comply with minimum Safety Requirements & Reporting;
Comply with Federal Laws & Regulations;
Authorizes local governments to enact certain railroad speed limits.
I said important! These requirements will help save our communities, many life's and put the costs on the back of the railroads. This is what we have been asking for many years.
Please Help! These bills will soon be assigned to committees and voted on.
WOULD YOU PLEASE CALL THE CO-SPONSORS OF THESE BILLS AND THANK THEM!
To write bills like these is very difficult, legally arduous and a real threats to the big money railroad proponents.
Indeed these Representatives Are Brave. Also if you ask them to keep you up to date as these bills go through committees, They Will.
District Office Phone Numbers:
Sen. Mayfield (321)-409-2025
Rep. Magar (772) 545-3481
Rep. Harrell (772) 221-4011
Rep. Grall (772) 778-5055
Sen. Joe Negron, Pres. of Sen. (772) 219-1665

Thank you for your help! It is important to let our legislature know that we appreciate what they are doing for us.
Palmbeach County TeaParty and TeaParty Patriots are working together in 2017, please join us as we WORK to get Senator Jeff Sessions nomination for Attorney General approved.
Rally at Senator Bill Nelson's office in West Palm Beach.
Where:
413 Clematis Street
Suite 210
West Palm Beach, FL 33401
(map)
When:
Tuesday, January 10, 2017
12:00 PM – 1:00 PM EST
Use this Link to Register (EventBrite)
Please join us for this Rally. Getting Mr. Trump elected was the first step. Now he needs his Amazing Team to get through the nomination process, and for that, PE Trump needs our help!
Please create your own Posters. We will have some Poster Board and Markers!
Shortly, the Economic Council and others will be spending over $200,000 to convince you that the county sales tax should be raised to 7%. You will hear that the infrastructure is crumbling, that the children are sweating in their classrooms with broken air conditioners, that the roads have potholes and the bridges are falling down. You will hear that a sales tax is good because 25% of it will come from tourists, and that tens of thousands of jobs will be created to rebuild those roads and bridges, county buildings, the jail and the parks.
Don't be fooled. This 17% increase in the sales tax will generate much more revenue than is arguably needed to repair the infrastructure that was neglected by conscious choices of county staff and commission. Over the last 5 years, the ad-valorem budget has grown 33%, yet Engineering and Public Works only saw a 3% growth. At the same time, the Sheriff's budget grew by 28% and county employees saw 12% in across the board raises (3% / year for 4 years). These conscious choices indicate that those running our county and school system were willing to defer maintenance until a pitch could be made for a new source of revenue.
A bond issue could have funded the critical needs. Instead, they want a sales tax that will generate $2.7B over 10 years whether it is needed or not. Do not doubt that they will spend every penny.
10 important reasons to reject the sales tax question on the upcoming ballot:
1. A 17% increase in the sales tax is a net tax increase of $270M per year, with no offsets to property taxes.
2. It is regressive and will affect low income residents the hardest.
3. It is not subject to the scrutiny applied to the annual ad-valorem budget.
4. It creates an incentive to purchase outside the county (Both Broward and Martin are at 6%, many internet retailers do not collect sales tax).
5. It is not an "infrastructure maintenance tax" but includes many new capital projects.
6. Unlike an infrastructure bond that would raise just enough money for critical needs, this granular tax generates a specific amount of money, and low priority projects will have to be funded in order to spend it all. Like previous proposals, it is a grab-bag of projects, many of which would never be done without a "must spend" windfall.
7. Charter schools get nothing.
8. Many of the municipalities (PBG, Boca) didn't want the money.
9. It comes on top of the largest ad-valorem tax haul at the county level in history, up 8.2% over last year and up 33% since 2012. If passed, the 2017 equivalent tax hike would be 18%.
10. Over the last 5 years, the county has consistently underfunded engineering and public works (+3%), while increasing the Sheriff's budget by 28% and giving across the board raises to employees of 12% (3%/year for 4 years). When the overall ad-valorem budget increased by 33%, engineering saw a total of 3% in 5 years. This was a conscious choice.
Don't be an enabler!
VOTE NO ON THE SALES TAX ON THE NOVEMBER BALLOT.