We had the opportunity to attend a candidate forum at the North County Neighborhood Coalition meeting, on Tuesday 7/26. While the primary focus was on Palm Beach County Commission candidates, each of whom got 15 minutes, we also heard from candidates for Florida State House and Senate positions, as well as judicial candidates for County Court, and School Board. Additionally – two candidates announced for Palm Beach Gardens City Council for the March 2017 Municipal Elections. Some candidates had already addressed the NCNC at a prior meeting and were acknowledged, but did not speak.  Make sure you look up your  Sample Ballot  when you attend forums or Tea Party's Candidate Expo on August 1st.  Also – lookup candidate information on our Voters' Guide.  Thank you to Sal Faso, President of the NCNC and his board for a well attended event.
County Commission District 1 – November 8 Election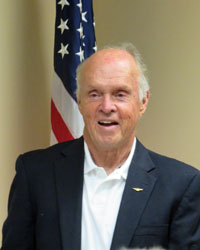 Hal Valeche
Hal Valeche, the Republican incumbent seeking his 2nd term, began with a brief bio. He then highlighted what he viewed has his key accomplishments:
United Technologies HQ on the Briger Tract – which with it's 'smart building' technologies and 450 new hires at $85K salaries should be an asset to the area
Fought against raising Impact Fees
Worked with PB Gardens to extend the North County Airport runway from 4300′ to 6000′, enabling larger corporations to consider bringing their HQ to north county.
When baseball in the Gardens 'fell apart', Hal was charged with finding a new location and is proud of bringing the Astros and Nationals to the WPB site. He pointed out that the $$ come from Bed taxes.
Uber – working out temporary agreements that permitted Uber to keep operating in the County despite opposition by the taxi industry.
Sales tax referendum – while he voted against it, and still feels County infrastructure maintenance backlogs should be funded by issuing bonds, he was glad that the Cultural Council and Economic Development proposals had been removed from the referendum.
As for big upcoming issues – he focused on Water Management as being a key issue.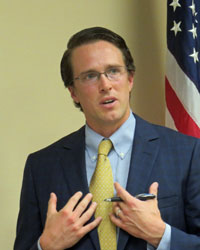 Tony Bennett
Tony Bennett, Hal's Democrat opponent, is new to politics. He is a native Floridian, who spent most of his life in Palm Beach County. A young attorney with young children, Tony is often asked why he is running:
His primary concern is Growth. While he is for economic opportunity – Quality of Life is primary and needs to be managed and protected. He doesn't think that the recent big projects approved will keep North County and in fact much of Palm Beach County special, and fears that the County will become like West Broward.
Traffic explosion, the backlog of current maintenance and infrastructure projects made him critical of the current Commission. He feels that his experience as a practicing attorney has taught him the ethical obligation to account for and spend as the client – which is the voter, not the developer, wishes.
Tony is for the Sales Tax referendum, and is very concerned about Water as well – and fears an algae bloom in Palm Beach County.
County Commission District 3 – August 30th Primary Election
David Kerner, one of two candidates for District 3 replacing term-limited Shelly Vana, spoke next. Most in the audience would not be able to vote for David but as Commissioners vote on all County issues, he wanted to reach out. Dave also went through his bio which included being a police officer, game warden, FL State Representative. Among his concerns are looking at the Sheriff's Offie as well as the County Budget.
During Qs and As for the Commission candidates:
Valeche opposes the sales tax; Bennett and Kerner support
All pledged to work with the City of West Palm Beach to examine/revise coastal impact fees.
All were outraged by the 'sham city' of Westlake but it wasn't clear much could be done about it.
Judicial Candidates – August 30th Election
Marnie Bryson – County Court Group 7 – cited her bio and trial experience as well as endorsements
Tom Baker –  County Court Group 11 – some trial experience, mostly family law, general magistrate for 9 1/2 year – listed endorsements as well
Dana Santino – County Court Group 11 – now in private practice but lots of varied experience as a probation officer, rape/homicide counselor, State Atty and Public Defenders offices and degrees in Law and Taxation.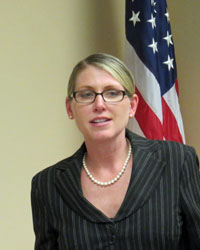 Marnie Bryson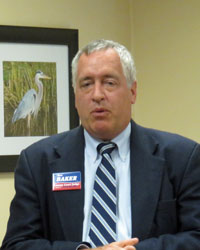 Tom Baker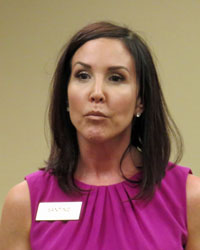 Dana Santino
Palm Beach County School Board District 1 – August 30th Election
Ellen Baker – 26 year Palm Beach Gardens resident, 15 years a teacher.  Need to reign in the new administrator and watch the spending.  She is for the Sales Tax referendum
Note – there are 5 candidates in this non-partisan election – others had already spoken at the NCNC.
FL House District 85 – August 30th Republican Primary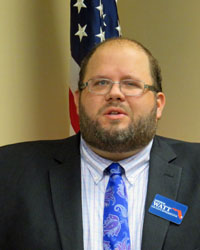 Andrew Watt
Andrew Watt – current Aide to Representative Rooney and lifelong Palm Beach Gardens resident, said he was the only candidate in the primary who lived in the district and could vote for himself.  He also described various accomplishments working on issues with Representative Rooney.
Fl Senate District 30 – August 30th Democrat Primary
Bobby Powell – urban planner, was a graduate of PB Gardens HS.  Listed his endorsement
Michael Steinger – listed his primary issues – schools, gun control and background checks, Medicaid expansion – wants it accepted.
The winner of this primary will go on to compete against Republican Ron Berman in
FL Senate District 30 – November 8th
Ron Berman – spoke very briefly – speaking of his various business experiences and co-founder of Quicken Loans.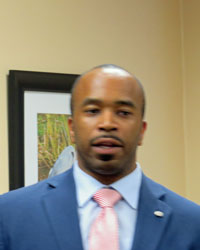 Bobbie Powell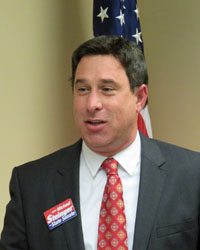 Michael Steinger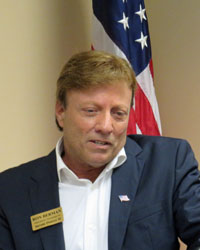 Ron Berman
Palm Beach Gardens City Council – March 2017
Mark Marciano – running for Bert Premuroso's seat – open due to term limits
Matthew Lane – running for Eric Jablins' seat – open due to term limits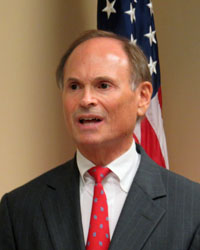 Matthew Lane
Here is what I sent to the Palm Beach County Board of  County Commissioners re: Agenda Item 4A-2 on the 11/3 evening BCC Mtg Agenda.  I encourage you to attend the meeting, call or send an email to the Commissioners.
---
Dear Mayor and Commissioners:
I don't recall any of you running for your current positions as Palm Beach County Commissioners on a platform of immigration reform. And for the most part, you refrain from being overtly political while on the dais. So why are you spending County staff resources on producing this resolution? Is the County so flush with cash and do we have so few county issues that this is a priority?
How immigration reform should be accomplished is not a County issue, nor are U.S. Constitutional issues. When AG Bondi joined the Texas vs United States lawsuit on behalf of Florida she stated:
"This lawsuit is not about immigration, rather this lawsuit is about President Obama — yet again — overstepping the power granted to him by our United States Constitution. The President repeatedly said he would not violate the law, then decided to do just that. The powers granted to the President are expressly laid out in the United States Constitution, yet President Obama has decided to ignore those parameters. We need to fix our system of immigration, but willfully turning a blind eye to the inconvenience of law and rule is not the path to a remedy, but a prescription for unwarranted presidential overreach."
The resolution in Agenda Item 4A-2 would not result in Florida withdrawing from the lawsuit, nor would specious arguments on the economic impact on Palm Beach County or compassionate merits of the President's Executive Order, have any impact on the Constitutional issue which is the basis for the lawsuit. Just because other municipalities have done so, does not make it right.
I can only assume that since five of you are running for office: two for Congress and three for County positions, that your rationale can only be grand-standing and pandering to a set of constituents.
Please desist. Withdraw or vote NO on item 4A-2, and leave your politicking for outside the Commission Chambers!
What: Resolution in Support of President Obama's Executive Order on Immigration
When: Tuesday, November 3 at 5pm
Where: 301 N Olive 6th Fl, West Palm Beach
On the agenda for the PBC Board of County Commissioners' infrequent evening meeting on 11/3 is agenda item 4A-2, requested by the Commissioners, in support of President Obama's Executive Order on Immmigration. The item reads:
Resolution of the Board of County Commissioners of Palm Beach County, Florida, supporting President Barack Obama's executive action on immigration reform expanding the Deferred Action for Childhood Arrivals (DACA) and Deferred Action for Parents of Americans and Lawful Permanent Residents (DAPA) programs; and requesting that Florida Attorney General Pam Bondi withdraw the State of Florida from Texas v. United States (United States Court of Appeals for the Fifth Circuit). SUMMARY: The Board has requested that a resolution supporting President Obama's executive action expanding DACA and DAPA and urging that Florida's Attorney General Pam Bondi withdraw the state from Texas v. United States be drafted and brought back for discussion. Miami-Dade County has passed a similar resolution, as has the City of Kissimmee. Twenty-six states, including Florida, have signed onto a lawsuit – Texas v. United States – seeking to block the President's executive actions. At least 76 cities and counties throughout the country, such as Atlanta, Baltimore, Boston, Chicago, New York, Philadelphia, and the counties of Dallas and Los Angeles, have signed onto an amicus brief opposing the lawsuit and supporting the President's executive action. In Florida, Tampa and North Miami have joined the brief. Countywide (DW)
You can see the Agenda Item in it's entirety here and the entire agenda here.
I know that this is a subject very important to many of you. Please make the Commission aware of your positions – either by attending the meeting and speaking out, emailing the Commission at BCC-AllCommissioners@pbcgov.org and by making your friends and organizations aware.
My personal position is that the Board of County Commissioners does not have the right to speak for me on State or National issues. They should focus on their own local responsibilities and there sure are enough of those issues. The motivations of those on the Commission running for national office would make their positions suspect as well. The resolution's claims that President Obama's Executive Order makes good financial sense for the County is ludicrous at best. I will encourage them to VOTE NO on this resolution and withdraw it from further consideration.
Terry Gallagher (Treasurer) and Mel Grossman (President) kicked off the well attended Jupiter meeting with announcements about future chapter meetings and the ongoing Mission: Awakening Rally  in Tequesta – supporting religious freedom. Beverely Hires, recent candidate for CD 18 thanked the audience for support and encouraged everyone to rally together behind the primary winner (Carl Domino) in order to defeat Patrick Murphy. Jerry Marazas spoke about the upcoming PBC Budget Hearings on September 8th and 22nd at 6pm at 301 N Olive and suggested that interested citizens should attend the hearings and support taking $20 million of the $44+ million in tax increases from the PBSO (Sheriff's) budget and return it to the tax-payer.
Our keynote speaker, John Casey, President, Space and Science Research Corporation, Orlando, Florida.  Author of the book, Cold Sun. Co-Founder and Chairman, International Earthquake and Volcano Prediction Center, Orlando, Florida, he has a new book entitled Dark Winter.  In 2007 he had a scientific epiphany while researching climate change models and realized that the sun's cycles, especially its 206 year cycle, more closely represented the climate change actually observed than do any of the so called 'global warming' models. Based on his observations of the correlation between the 206 year cycle and actual climatic changes, he predicts that we have already begun a 30 year period of cooling, with the temperatures bottoming out in around 2030. Our governments are not preparing us for this period where such cooling could have devastating effects on crops and lead to mass starvation and upheaval.
Mr. Casey, and other 'man-made global warming deniers' have met with strong opposition from governmental and scientific organizations (as well as political ones) who stand to lose a lot of credibility, funding and policy changes should Casey and his fellow-researchers be proven right. Casey has had complete strangers slander him and make claims against him. Closer to home, he outlined the fallacies in sea-level predictions and climate change predictions used in the Seven50 proposals. He also showed charts highlighting actual measurements (temperature, sea-level) versus predictions made over the last 20+ years, demonstrating that none of the models used by the UN's IPCC and related groups have had any level of accuracy. He also cited several of the key researchers' works in sea-level, solar impacts on climate and earthquake analysis to show that the sun and solar sun-spot activity, and not man-made carbon use, are key to the earth's climate.  Russian climate researchers have come to the same conclusion and have also predicted a period of global cooling.
(Note: As someone who has read a lot about climate change and a man-made climate change skeptic, I personally would have liked to have seen correlations with thousands of years, rather than 400 year charts and short term (30 year) predictions but Mr. Casey was covering a lot of material in his hour-long presentation and it would have been difficult for everyone in the audience to see that level of details in charts.)   All in all – it was an informative talk, generating a lot of questions and discussion afterwards.
A call to action was made by the speaker: use legal means, as do the organizations pushing the 'global warming fraud', generating lawsuits against those who have perpetrated such fraud and the governmental entities who have imposed policy changes as a result – knowing full-well that what they are predicting is untrue.
Mr. Casey's research efforts rely totally on private funding via sales of his books and reports and he encouraged the audience to check out his website and purchase his materials if they'd like more details. There is also a free 4-page summary of the climate assessment report available for download.
No – it's not Ted Cruz or any of the other potential presidential candidates!  Arthur Brooks of the Competitive Enterprise Institute explains why we're thinking about things all wrong.  And when we explain our conservative positions, we turn people off  with our explanations.  It's not just a matter of wording, it's how we even think about those terms, ie Compassion or Fairness!  Please take the time to watch it!
I attended several sessions and found most invaluable, especially when panelists made points that provoked new insights or paradigms.  Listed are brief descriptions of the panels and my 'takeaways'.   If you attended the same sessions, please add your comments.  If you attended different sessions and would like to have your 'take-aways' posted – email us at info@palmbeachcountyteaparty.org  and we'll post it for you.
Medicaid Expansion:  Breaking the Bank while Cheating the Poor
 "Did you know that 13% of patients on Medicaid are more likely to die than patients without any insurance?  It's a true and startling fact.  This workshop will focus on the problems and cost associated with expanding this broken program, and show how enterprising doctors are offering better solutions."
Tarren Bragdon, Foundation for Government Accountability, CEO
Medicaid should only be for the truly needy
Largest cause of government spending and borrowing
Avik Roy, Manhattan Institute, Senior Fellow
Our system is breaking by cost overruns by Medicaid
Medicaid pays only ¼ of the price that private insurers must pay, so most providers will not take Medicaid patients
Health outcomes are worse for Medicaid patients than for people who have no insurance and go to emergency rooms.  Government run single-payer outcomes are worse than anything else
Lee S Gross, MD, Epiphany Health, Co-founder 
Epiphany Health is a concierge plan for the little guy, not insurance.  Those on Medicare cannot go to a concierge plan doctor and are forced to stay with Medicare providers.
Several Republican governors are opting for the Medicaid Expansion because Hospitals are lobbying like crazy:  Ohio, Michigan, Arizona
Hospitals love taking Medicaid money and then subsidize the shortfall by charging privately insured patients more to make up the difference!  Hospitals are the 'enemy' – not the insurance companies
Doctors now work to satisfy the hospitals not the patients because 7 years ago 70% of physicians had private practices while now – 70% of physicians are in hospital owned practices!
Getting Your Accounts in Order:  Tax Reform at the State Level
"….Come find out how activists across America have helped to decrease their state burden an put money back in the pockets of their fellow citizens."
Dr. Christine P. Ries, Georgia Institute of Technology, Professor of Economics
The GA Tax Reform Council has made significant progress in rolling back taxes
Tax Reform The Game was developed by Dr. Ries, and allows for interactive modeling of changes (eg implications of lowering/raising taxes and spending), incorporating dynamic assumptions for economic and job growth based on such changes.  Play with it!
Chris Farr, AFP Foundation, NC Deputy State Director
Succeeded in bringing down the tax rates, capped the state gas tax and eliminated the estate (death) tax in this purple state!
Joe Henchman, TAX Foundation, Vice President for State Projects
States that made significant progress in lowering rates in the past year were: Wisconsin, New Mexico, Indiana, Arizona, Texas, Kansas, Nebraska, Massachusetts, North Carolina, DC  (see details at their State section)
For state by state data on surges in income tax revenues go to their article: States see Spring Surge Income Tax Revenues
Waste Watchers: Finding Government Waste & Shedding Light On It
"We've all heard the stories about government wasting tax dollars on $12 bagels and parties in Las Vegas….Our seasoned experts will explain what causes this waste, and help you learn how to identify and expose all the pork"
The focus of this session was on state and local levels – however all were referred to a wiki-like site for federal spending (outrages) called Spendopedia! 
Susan Combs, TX Comptroller of Public Accounts
Schools are 1/3 of the state budget and school construction is the biggest boondoggle/source of waste!
It takes persistence, creativity and determination to find waste
"If you can't defend it, don't spend it"
She uses data-mining software to uncover Medicaid fraud
NO GOVERNMENT WANTS YOU TO KNOW WHAT THEY'RE DOING! – Be ruthless about demanding information
Dan Epstein, Cause of Action, Executive Director
Grant money from Federal Government to States is typically used (funneled) to groups lobbying for increased taxes!
Since government doesn't want to be watched, the FTC looks at all watch-dog groups' websites.
In order to get fee-waivers on the Federal level it's necessary to be a non-profit and categorized as a 'news media requestor".  Have to fight for your rights – eg AFL/CIO has 'news media requestor' status whereas his organization is suing since rejected for such status.
He recommends getting published on the Washington Freebeacon!
Mary Ellen Beatty, Franklin Center for Government & Public Integrity, Director of Citizen Outreach  (click on state for your state's websites)
Franklin Center is a network of 'investigative reporters/bloggers' looking for Waste, Fraud and Abuse at schoolboard, city councils, county commissions.
It only takes a handful of people to 'shine the light' on each of the above
Review their websites, and write about it!
Call out elected and government officials by name and link to their name in articles to trigger Google Alerts!
Tweet @ the officials' twitter accounts because the tweets are public
 Tips from the Q&A Session at the end of the panel:
To see examples of FOIA requests search on 'foia letter generator tool'
If you get pushback – MAKE A STORY OUT OF IT!  Use the Franklin Center.  Document every details and again – NAME NAMES!
Don't be labeled as a NUT!  Be professional and respectful
Be creative in fighting copying fees (used to hide stuff) – offer to come in and just read the material, use your phone to take pictures of the pages, don't accept paying per page!
Building Bridges and Creating an Army: The Importance of Relationships 
"So you want to make a difference.  Before you can truly be effective, you need to build a network.  These are fellow activists you can leverage when it comes time to act on your issue"
Jen Stefano, AFP State Director
Know who and what you are
Explain policy issues from the Point of View of those to whom you're speaking
Go to their meetings (the people you're trying to reach) – don't expect people to come to yours
Do you have the same people coming to your meetings over and over and they don't ever DO ANYTHING????  Stop!
Daniel Garza, The LIBRE Initiative, Executive Director
Of the self-identified Hispanic population, 1/3 speak only Spanish, 1/3 are bi-lingual and 1/3 only speak English
A very large percentage (of the Spanish-speaking) have their tv's tuned only to Univision and get all of their news/politics/etc from that station
 Evan Feinberg, Generation Opportunity, President
Aimed at youth
Jobs and NSA spying big issues
 IT'S AS IMPORTANT TO HAVE THE RIGHT MESSENGER AS IT IS THE RIGHT MESSAGE!
Patriots!
You may have been disappointed about the 2012 elections, but get over it! You have a chance to make an impact on the municipal elections in your city – if you live in an incorporated area, on March 12. Generally only 7-12% of the voters turn out for a city election and the very few decide for everyone. Your municipality has a huge impact on your taxes, zoning, police, fire, licensing, etc. In turn, you can have a huge impact on the results!
The Supervisor of Elections lists all of the candidates/ballot items by city , however polling places are not listed. In many cases – a sample ballot or additional details can be found on the elections or municipality's clerk page.
The following cities are having an election. Click on the city name for the City Clerk page or elections page for your city. Find out where the candidates stand on the issues. For example – are any of the candidates for withdrawing from their city's participation in the IG Funding lawsuit? Cities in the lawsuit have an *. Are there other issues key to your city? Find out and vote!
BOYNTON BEACH
*DELRAY BEACH
GOLF
*HIGHLAND BEACH
*LAKE PARK
LAKE WORTH
LANTANA
LOXAHATCHEE GROVES
*MANALAPAN (no election but referendum question – contact clerk for details)
PAHOKEE
*PALM BEACH GARDENS
*PALM BEACH SHORES
*RIVIERA BEACH
ROYAL PALM BEACH
*WEST PALM BEACH
Early voting for the August 14th Primary begins tomorrow, Saturday August 4th. Hopefully – you've had a chance to meet the candidates and review them in our Voters' Guide. There still remain a few opportunities to interact with candidates early next week at two joint efforts between South Florida 912 and the Jupiter/PBG Chapter of the Palm Beach County Tea Party – Fl District 82 Forum and Senate Candidate Dave Weldon on Monday, and at the Boca Raton Chapter Candidate Round Up on Tuesday.
Early voting times are from Saturday, August 4th through Saturday, August 11th from 10am to 6pm Daily.
See the Early Voting page for the early voting locations and driving directions. There are 12 locations so there's no excuse – go to whichever one is convenient for you! As you know – during early voting you can vote anywhere in the county.
You should have already received your voter registration card as well as sample ballots. If you didn't receive a new card – look up your precinct at the Precinct Finder which will also bring up a link to your sample ballot. Please recall that there are Open Primaries and Non-Partisan races in which No Party Affiliation registered voters can participate. So check out the tool no matter your affiliation.
It is still possible to request or pick up an Absentee Ballot – see the Absentee Ballot information page of the Supervisor of Elections on how to do so.
There are a lot of important non partisan elections on the ballot that affect you and your family!
Please Vote – even if you don't usually participate in primaries!
The Supervisor of Elections has updated her website with new details on the August Election. You can bring up your Sample Ballot by putting in your address and your party registration (Democrat, Republican or Other) and it will list the offices and candidates on your ballot. Please recall that there are Open Primaries and Non-Partisan races in which No Party Affiliation registered voters can participate. So check out the tool no matter your affiliation. It will also tell you your precinct and voting location. On the left side of the same page you can click on Early Voting Locations as well.
Then check out our Voters' Guide  if you want additional details on the candidates.
June Clarke did a fantastic job serving as our PBCTP leader for the evening.  She ran a 'tight ship' keeping the meeting flowing and espousing the tenets of the Tea Party.  Thanks to June for stepping in for absent Gary Summers and Pam Wohlschlegel.
Prior to the meeting, member Tyce Fitzmorris ran a copy of one of his two Miracle Nation presentations on the issues facing our country and the upcoming election.  Tyce is selling copies of his dvd's to recover costs and is also willing to present at any group.  He can be contacted at 561 248 2295, or via his Facebook or Twitter accounts.
June kicked off the meeting and led us in the Pledge. Lindsey Tremble, a winner of Palm Beach's Got Talent, and upcoming eleventh grader at Jupiter High, sang the National Anthem beautifully, and June led us in prayer.  She also pointed out that the agenda on each table had place for people to commit to their own personal action plans to aid in the various efforts.  It isn't enough to just listen – it's time to act.  June then let elected officials, candidates for office and their surrogates introduce themselves.
Next, we heard a message from Pam and watched 3 videos from the Tea Party Patriots efforts to battle the recall election.   Tyce added his impressions as he too had volunteered in Wisconsin along with members Mary Adams and Barbara Grossman.
Mel Grossman, Treasurer and co-founder, talked about fund-raising, donating and the need for volunteers to assist in the effort to sell acknowledment placques. 
Ed Wolff gave a legislative update – describing the types of articles he posts and where they can be found on the website.
Fred Scheibl, co-founder, showed members where they could find the Voter's Guide on the website.  He pointed out the levels of information that can be found in both the guide and the website.  He also announced three opportunities for action – attending the first PBC Budget hearing on Tuesday June 12th, the County Commission District 1 Forum.  He and Iris Scheibl, co-founder, also mentioned an issue/call for action on Ordinance 20, 2012 which would put on the November ballot a referendum replacing the Palm Beach Gardens City Charter.  This item is on the agenda at the PBG City Council meeting on Thursday, June 7th.
Terry Gallagher, co-founder, mentioned an upcoming organizational meeting on Religious Freedom.
June then introduced our keynote speaker, Jim Kuretski – Jupiter Town Council member.  Jim described his engineering background and his goals and reasons for being on the City Council.  He then covered examples of the types of fiscal issues that come before the Town Council and the types of votes and questions that he asks and feels should be asked in approving various budget issues.  He strongly urged participation on the local level – because one can really have an impact.  During the Qs and As, hot topics arose – such as El Sol and Jupiter's participation in the lawsuit against Palm Beach County for funding of the Inspector General.  Mr. Kuretski answered with his rationale for his positions; the askers were not mollified – but all was civil.
Terry Gallagher concluded the meeting with a drawing for the tickets.
Some pictures from Anna: