Congressman-elect Brian Mast highlighted a packed meeting at Abacoa on Monday, thanking the members, many of whom worked hard for his election, and Brian was presented with a musical globe by PBCTP leaders Mel and Barbara Grossman. The globe plays "The Impossible Dream".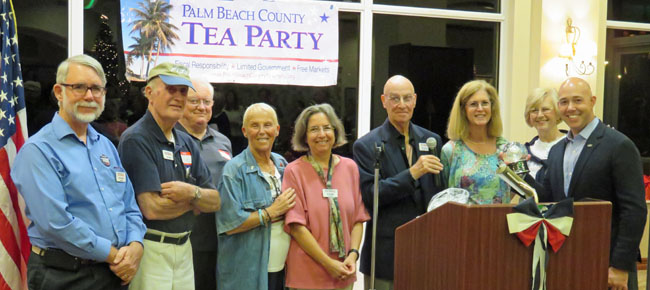 Tea Party leaders present musical globe to our Congressman-Elect. From left: Fred Scheibl, Joe Burge, Bert Shadowen, Barbara Grossman, Iris Scheibl, Mel Grossman, Marion Frank, Terry Gallagher, Congressman-Elect Brian Mast.
In his remarks, Brian related the process of coming up to speed, including the "Freshman Orientation" in Washington. A dinner, held in the "old halls of the capital" was particulary memorable as they dined in the same space where slavery and the other momentous issues in our history were debated. He will leave this job, Brian said, when he no longer feels chills upon entering the building.
Brian's office will be room 2182 of the Rayburn Office Building, where he plans to also reside – something that 80 or so other Congressman do while they are in the capital.
For committee assignments, in keeping with his desire to work on projects of interest in the district, Brian has selected Transporation and Infrastructure as his first choice, followed by Veterans Affairs, Armed Services, Foriegn Affairs and Homeland Security.
When the 115th Congress convenes in January, he expects the first order of business will be Obamacare Repeal through a reconciliation bill (with "replace" coming later). He does not expect smooth sailing however, and cautions that the Democrats, particularly in the Senate, will be working overtime to derail and obstruct progress on the Trump and Congressional agendas.
We were told that Brian plans to open offices in all three of the counties making up district 18, and will be holding town halls when he periodically returns to the district.
A number of interesting questions were asked, including his plans regarding "dialing for dollars" – the significant focus on fundraising that all Congressmen are expected by their Caucus to do. Brian was honest about it – running for Congress every two years is very expensive, and he feels an obligation to help "replenish the coffers" of the NRCC and other groups that helped him compete against the heavily funded Randy Perkins. But dollars won't buy his vote – he has been given good advice from the caucus leaders to "vote your district".
Present at the meeting were two candidates for City Council in Palm Beach Gardens – Mark Marciano and Matthew Lane. With three open seats in that city thanks to term limits, neither currently have an opponent, but that could change prior to the filing deadline of late January. Gardens Mayor Marcie Tinsley was also at the meeting.
Shortly, the Economic Council and others will be spending over $200,000 to convince you that the county sales tax should be raised to 7%. You will hear that the infrastructure is crumbling, that the children are sweating in their classrooms with broken air conditioners, that the roads have potholes and the bridges are falling down. You will hear that a sales tax is good because 25% of it will come from tourists, and that tens of thousands of jobs will be created to rebuild those roads and bridges, county buildings, the jail and the parks.
Don't be fooled. This 17% increase in the sales tax will generate much more revenue than is arguably needed to repair the infrastructure that was neglected by conscious choices of county staff and commission. Over the last 5 years, the ad-valorem budget has grown 33%, yet Engineering and Public Works only saw a 3% growth. At the same time, the Sheriff's budget grew by 28% and county employees saw 12% in across the board raises (3% / year for 4 years). These conscious choices indicate that those running our county and school system were willing to defer maintenance until a pitch could be made for a new source of revenue.
A bond issue could have funded the critical needs. Instead, they want a sales tax that will generate $2.7B over 10 years whether it is needed or not. Do not doubt that they will spend every penny.
10 important reasons to reject the sales tax question on the upcoming ballot:
1. A 17% increase in the sales tax is a net tax increase of $270M per year, with no offsets to property taxes.
2. It is regressive and will affect low income residents the hardest.
3. It is not subject to the scrutiny applied to the annual ad-valorem budget.
4. It creates an incentive to purchase outside the county (Both Broward and Martin are at 6%, many internet retailers do not collect sales tax).
5. It is not an "infrastructure maintenance tax" but includes many new capital projects.
6. Unlike an infrastructure bond that would raise just enough money for critical needs, this granular tax generates a specific amount of money, and low priority projects will have to be funded in order to spend it all. Like previous proposals, it is a grab-bag of projects, many of which would never be done without a "must spend" windfall.
7. Charter schools get nothing.
8. Many of the municipalities (PBG, Boca) didn't want the money.
9. It comes on top of the largest ad-valorem tax haul at the county level in history, up 8.2% over last year and up 33% since 2012. If passed, the 2017 equivalent tax hike would be 18%.
10. Over the last 5 years, the county has consistently underfunded engineering and public works (+3%), while increasing the Sheriff's budget by 28% and giving across the board raises to employees of 12% (3%/year for 4 years). When the overall ad-valorem budget increased by 33%, engineering saw a total of 3% in 5 years. This was a conscious choice.
Don't be an enabler!
VOTE NO ON THE SALES TAX ON THE NOVEMBER BALLOT.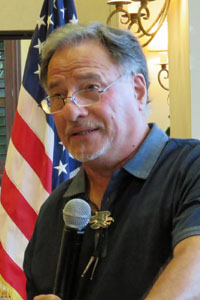 A self described "deplorable", immigration think-tank researcher Dr. Steven Steinlight, a policy analyst at the Center for Immigration Studies in Washington, gave us an insightful tour around US immigration policy past and present.
Concentrating on the "Cleveland Plank" – the immigration section of the Republican Party Platform, he cautioned that platforms are not binding on candidates or officials. The platform does contain much of what Donald Trump has been proposing, including opposing amnesty, using e-Verify, building the wall, increasing internal enforcement and ending sanctuary cities, and it is certainly good as far as it goes.
Dr. Steinlight does note some significant omissions though, including shifting legal immigration to merit rather than family (86% are now admitted because of family ties), dealing with Muslim immigration and using ideological vetting (accept our culture or don't come), and dealing with the deportation of resident illegals.
Calling the various attempts at "Comprehensive" immigration reform as an elitist juggernaut, he recalled how a grassroots uprising was able to shut it down on multiple occasions. Saying he does not consider himself a "citizen of the world" – the claim of the globalist elite and much of the left, he claims that much of the elite establishment loathing of Donald Trump is rooted in a desire for open borders and uncontrolled immigration.
Discarding the conventional wisdom that Romney lost because of the opposition of Hispanics (who don't really vote in large numbers), he cited the large number of white working-class voters who sat out the 2012 election but are now returning to the game behind the Trump banner.
He ended with a list of his three most important immigration policy imperatives: Building the wall, adopting e-Verify widely, and ending family-based immigration criteria in favor of skill and ability.
Also at the meeting were candidates Rick Roth (Florida House 85), Bruce Nathan (NPA for US Senate), and a surrogate for Sonny Maken (Port of Palm Beach Commissioner).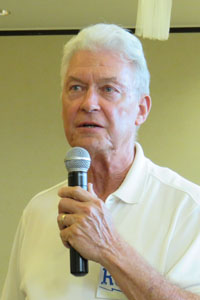 Rick Roth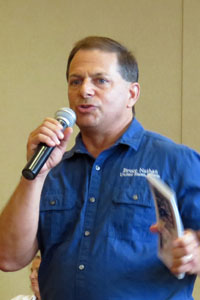 Bruce Nathan
The PBCTP Candidate expo at Abacoa drew a broad collection of candidates for office and staffers at all levels – US Senate, US House, Florida Senate and House, County Commission, School Board, Sheriff, Property Appraiser, Public Defender … who mingled with the voters and made their case.
Here's a few photos of the event:
With his catchphrase "Passion plus talent is unstoppable", WJNO's co-host for the Morning Rush (5am-9pm) Brian Mudd, explained some of his election modeling work to an engaged crowd at Abacoa on Monday.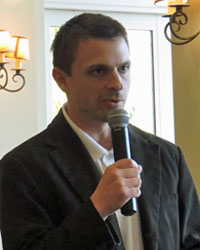 Brian Mudd
In our history, Presidential elections have followed a predictable pattern based on three conditions.
First, no Democrat President other than Harry Truman (who as Vice President succeeded after the death of Roosevelt) has ever been elected to follow a 2-term Democrat President. Advantage: Republicans.
Second, no President succeeded another of the same party who had less than a 54% approval rating. With Obama currently at 48%, advantage: Republicans.
Third, no President succeeded another of the same party when the "right track / wrong track" polling was less than 50%. With it currently standing at 28% right track, 65% wrong track – again advantage Republicans.
Taking these three indicators into account, Brian confidently predicts a Republican win, all things being equal. That said, there are still some wild cards this year. Clinton could be indicted, the Republicans could self destruct, etc. In general though, people vote their wallet and since the recession hasn't really ended for many Americans, it does not bode well for the party in power.
Taking a range of questions from the audience, Brian also discussed convention politics, economic growth, possible actions by the FED, and the so-called "Trump Bubble" (Mr. Trump's prediction of coming recession and risks in the stock market).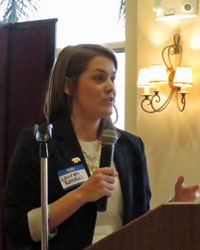 Lauren Konkol
A second speaker for the evening was Lauren Konkol, a millennial activist who describes some of her activities as "integrating the gospel in the public square." Formerly associated with Turning Point, USA, the student activist organization that recruits college students into the conservative fold, Lauren spoke of some of her projects to fight apathy among her age group. With the theme "the good is the enemy of the great", she explained how millennials can feel marginalized but will follow a political ideology that speaks to their needs and interests, and that her "generation is not one that can be stopped." Lauren has plans to run for the Florida House.
Candidates present at the meeting included Carl Domino and Rebecca Negron (CD18), and Alex Freeman (Sheriff).
If you missed Brian Mudd at this meeting, you can catch him in Wellington on April 6.
Many of the so-called "establishment" are seriously plotting ways to thwart the results of the primaries at the Republican convention. They apparently feel that "their" party has been taken over by the barbarians from flyover country. They think that a convention draft of someone who has entered no primaries, taken part in no debates, spent no time campaigning, would be preferable to either Donald Trump or Ted Cruz. Even a Hillary Clinton presidency (the likely outcome of such a draft) would be preferable to submitting to the rabble.
My first reaction was that they had seriously lost touch with the rank and file of the Republican party, but that is an oversimplification.
The party is defined by its voters – not those that consider themselves the "leaders". Who are they leading? People like Mitt Romney, John McCain, Mitch McConnell and Lindsey Graham have much more in common with Hillary Clinton than they do with the "real" Republicans who provide the heart and soul of the GOP. Maintaining the status quo in Washington, with a heavily Progressive bureaucracy controlling more and more of our daily lives and a Congress that sees being the majority as simply a means to a bigger office and more access to lobbyist dollars, is the goal of both parties. The so-called "GOP leadership", including our new Speaker who has given the Obama juggernaut everything it wants in their spending bills, have betrayed those that gave them the House in 2010 and the Senate in 2014.
I have been a Republican for my entire voting life and have worked for candidates at all levels since the 2004 re-election of George W. Bush. I held my nose and supported McCain, and supported (although with minimal enthusiasm) Romney as he threw away what should have been an easy win by running one of the worst campaigns in modern history. I will no longer support those who have such contempt for the voters as to tell us we are morons.
The McConnells and Boehners and Ryans tell us they can't govern from the Congress – even though they told us if we elected them in 2010 and 2014 they would change the dynamic. Now they claim they need the Presidency.
In my view, we need an insurgent – a real change agent, to alter the relationship between our government and its citizens. Currently what we have is condescension and scorn, with a dose of fraud and deceit for good measure. We are at an inflection point in our history – the country is circling the drain and everyone out there in flyover country knows it but people of the "GOP leadership" just can't (or won't) acknowledge it.
Without drastic change, starting immediately, the country is lost. Donald Trump may not be a movement conservative, but he is a change agent. Stopping illegal immigration, negotiating better trade deals, changing our tax and regulatory structure to bring whole industries back to the US, repudiating the "America Last" policies of Obama and Clinton – that is his agenda. Ted Cruz would proceed with a similar set of goals, but I think that Trump has a better chance of actually becoming President. He has already put a dent into the Clinton's machine by reminding us all that Bill is an un-indicted sex offender, and that she has committed felonies – whether the Justice department prosecutes them or not. He has already altered the party registration picture, generated unprecedented turnout and voter loyalty, and has a good chance to bring some blue states to the Republican fold.
It is not that Trump will "change the Republican Party" or if it can "survive". The party has already changed – Trump is just the best candidate suited to lead what it has become. Any attempt to ignore the will of the voters with shenanigans at the convention will not just disrupt this year's race – it will end the GOP.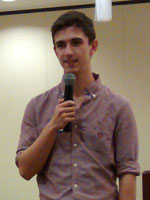 On his third tea party appearance (see: Cade Marsh – the Face of Tomorrow's Republican), Young Republican organizer Cade Marsh told us of the appeal of a "new conservative movement" to millennials who are not attracted to the conventional party structures. Involved in campus voter registration drives, he spoke of pressuring supervisors of election to place voting locations on college campuses and how students have the option of registering using their on-campus address.
Cade is a junior at Palm Beach Atlantic University in pre-Law and Business Administration and currently Executive Director of the Florida Federation of College Republicans. Check out Cade's group at ffcr.org.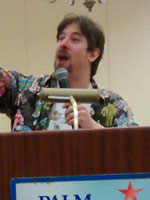 Political humorist Eric Golub, author of several satirical works including "Ideological Bigotry" "Ideological Idiocy" and others, calls himself "the younger version of Mort Sahl". Offering advice on how to counter liberal disdain he offers these steps: Offer a compromise on gun control – take all the guns from the liberals and give them to us. Offer a compromise on abortion – develop a test for liberals while they are still in the womb. Trump may want to temporarily ban Muslims from immigrating, but Obama got 250K of them killed in Syria by ignoring his red line. Trump may want to block Mexican immigrants, but Obama got 200 of them killed with Fast & Furious.
Declining to reveal his choice for President he offered good words for the three frontrunners: Rubio has Reagan's upbeat vision and is good with crowds. Depend on Cruz to do the right thing when a decision lands on his desk. Trump will deck Clinton like none of the others would.
Follow Eric on his blog, The Tygrrrr Express.
---
Next Tuesday's elections brought Gardens Council candidates
David Levy
and
Carl Woods
to the event, and we heard from supporters of
Ted Cruz
and
Donald Trump
. Then looking ahead to the August 30 primary, Republican candidates for CD18
Carl Domino
,
Rick Roth
,
Brian Mast
and
Rebecca Negron
made appearances, as did Independent
Carla Spalding
.
A past President of the PBAU Young Republicans who joined us in Wellington on Wednesday, Cade Marsh remembers when you could count the members on one hand, yet now there are several hundred. Now working on a state level, he is refining his techniques for recruiting the new conservative base.
Cade suggests that this next generation has a different view towards the news, often using social media to listen to those they trust rather than consuming mass media. This is all about "relationships" rather than "dictation". With 1.1 million college students in Florida, and only 20% (by one estimate) who are registered to vote, there is a big opportunity here.
Asked what drives these newly politically actives, that is, what makes them angry enough to get involved, he pointed to the escalating size of the student loan burden. A solution (other than Bernie Sander's concept of making the rich pay it off), involves new methods of education. Online learning for example, can deliver at much lower cost than the traditional classroom setting. Disruptive technologies are needed – think Uber.
Look for Cade at the Jupiter chapter in March.
Also at the meeting, we had volunteers from the Trump, Carson and Cruz campaigns boosting their guys, and we heard an update on the county plan to put a sales tax increase on the ballot this year – perhaps driving it up to 7.5%. The County Commission meets on it next Tuesday. For more information, see: Increasing Sales Tax a Bad Idea on the TAB website.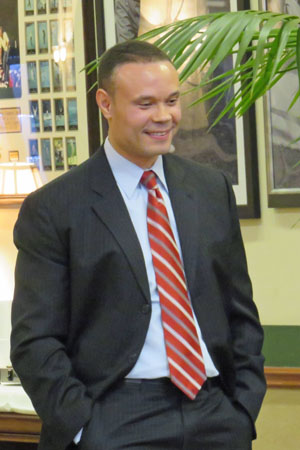 A good size crowd at Abacoa came to hear conservative pundit and former secret service agent Dan Bongino help summarize what Barack Obama has done to America.
Starting with a positive note – "The country will recover from Barack Obama", he gave his perspective of the President – a smart man with a far-left agenda, surrounded by equal minded ideologues. From the executive orders on immigration, where the President repeatedly said he didn't have the authority to act – then did just that, to the fanciful claims in the selling of Obamacare – "you can keep your doctor, etc. ..", Dan described the country after the last seven years as living in a "post-constitutional society". Our liberty is being taken away by "a man obsessed with power".
In a clever characterization of the right-left divide, Dan points out that "we are all bound together by stories" (ie. narratives), but the left and right have different stories, which makes agreement or even dialogue very difficult.
Opening up the floor to questions, Dan went on for about a half hour, giving thoughtful, knowledgeable answers to a wide variety of questions, from 2030 and Agenda 21 (it is real – look it up), the control of local law enforcement by the DOJ, and why the Congress hasn't moved to impeach Barack Obama (it would be unsuccessful, since 2/3 of the Senate would never vote to convict.)
Dan also had early copies of his book "The Fight, A Secret Service Agent's Inside Account of Security Failings and the Political Machine", available at Amazon for pre-order.
---
Candidates who were introduced at the meeting were Brian Mast and Paul Spain (CD18), and Christine Butler Spain, who is running for Supervisor of Elections.
We also had volunteers from three of Presidential campaigns, as Fred Scheibl, Marion Frank and Barry Carson laid out a rationale for Donald Trump, Ted Cruz and Ben Carson, respectively. A short "straw poll" by Mel yielded about 25 votes for Trump, 10-15 for Cruz, and about 5 for Carson, with a few mentions of the other 9 candidates.