On Tuesday morning, well over 100 Tea Party stalwarts assembled for a breakfast buffet and some interaction with our CD18 Congressman Brian Mast.
With a Q&A format that started with written questions and progressed to passing the microphone around, the Congressman answered questions on a wide variety of topics, in many cases expanding on the questions to provide a nuanced look at the opportunities and challenges of this Congress.
Brian gave us a current status of the pictures on the wall at the VA, as the attention he brought to the issue resulted in a Presidential Order to mount the pictures of Donald Trump and VA Secretary David Shulkin in all VA facilities, then spoke of Congressional term limits as a way to help "drain the swamp". Term limits would stop the "tenured" nature of committee chair positions, part of that swamp infrastructure.
When asked about interactions with lobbyists, he told us he meets with those pushing all sides of issues every day, but also reaches out to stakeholders for bills, like state Governors and other representatives, and finally sorts through the BS and makes up his own mind. Doing the right thing matters more to Brian than pandering for re-election, something he wished would motivate more of his colleagues. This is part of the reason that he has not joined any "voting caucuses" like the Freedom Caucus or the Tuesday Group – he does not want to commit to voting in lockstep with a Caucus consensus if he doesn't agree with it.
On the budget, Brian was disappointed that there are not 12 individual appropriations bills in process as had been promised by House leadership, and he wished that the continuing resolution that passed had actually reduced spending. He was able to get $60M in that bill to reimburse the county for protecting the President when he comes to Mar-A-Lago though.
He spoke of co-authoring the "Hamas Sanction Bill" (Palestinian International Terrorism Support Prevention Act – H.R.2712), introduced a few days ago, his support for NASA and space exploration in general, and supporting the proposal for a water retention reservoir south of Lake Okeechobee as well as dike repairs.
And regarding the VA, he has asked Secretary Shulkin for space within the WPB Veterans Hospital for one of his staff to meet with Veterans regarding problems with care delivery. If Congressman were on-site to observe what transpires at VA facilities and raise the alarm when warranted, problems with the VA could be quickly improved. Since no space is yet forthcoming, Brian is asking his constituents, particularly the veterans, to contact the local VA Administrator and ask them to provide the space.
Following are some pictures provided by Carol Porter:
Please join us on Wednesday, June 7
at the Wellington Community Center for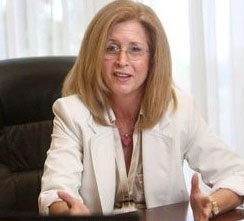 Marion Frank
Our Wellington Chapter Leader and sometimes keynote speaker will address the group again to speak about what is going on with the healthcare situation in Washington DC. The news changes on a minute to minute basis and it is very hard to keep up. Marion will guide you into understanding what is going on and what should be going on. Marion is a practice manager for a small medical practice in Palm Beach County for the last 20 years. She deals with doctors, nurses, patients, insurance companies and the government. She has a unique perspective and understanding of how healthcare works and how it is failing.
At this meeting, we are also going to allow every Tea Party member in attendance to speak their mind on whatever topic they wish. Sometimes it is hard to sit at these meetings and keep your mouths shut. Well, not at this meeting! You will get to speak, if you wish!
Wednesday, June 7, 2016, 6:30PM
Wellington Community Center
12150 Forest Hill Boulevard
(561) 753-2484
Please RSVP below; no meal is served with this meeting.

Please Join us at Boca Raton on Tuesday, June 6 for
Al Zucaro and Allan Ward of BocaWatch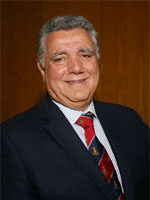 Al Zucaro
Tuesday, June 6, 2017, 6:30pm
Boca Community Center
150 Crawford Blvd, Boca Raton, FL 33432
(561) 393-7807
MAP
Please RSVP:

---
Alfred Zucaro has resided in Palm Beach County since 1982 and has been a resident of Boca Raton since 2008. A graduate of Fordham University, he holds a Magna Cum Laude degree in Economics. Mr. Zucaro attended Nova University receiving a Juris Doctorate Law Degree in 1986. He is a member in good standing with the Florida Bar, practicing in the area of Immigration Law for the majority of his career. Currently he is manager/member of Palm Beach Investment and Finance LLC, a USCIS approved regional center identifying foreign investment leading to permanent resident status. Mr. Zucaro served as a City Commissioner in West Palm Beach from 1995 to 2002 and as the President of the City Commission in 2000/2001. He has also been a member of and/or served on the Economic Council, the Business Development Board, the Film and Television Commission, the Tourist Development Council, the Workforce Alliance and the Palm Beach International Film Festival. Of particular interest is his founding of the World Trade Center Palm Beach, an organization that focuses on international economic development. Married to Yvonne Boice, they are avid world travelers having visited 6 continents and dozens of countries since their 2008 nuptials.
From the western suburbs of Chicago, Allan Ward lived in Marin County, CA for 27 years before moving to Boca Raton in 2010 after retirement from the USPS. Degrees in English and history from DePauw and Northwestern give him broad perspectives for his Constitutional concerns. Having organized a union and fought government mismanagement as a union steward and newspaper editor, he also led hikes, wine-tasting trips, and literature-lovers' evenings, and served as Treasurer on his condominium board in CA. Now in FL he enjoys other activities that fill his life: house remodeling, ballroom dancing, Masonry, target shooting, synagogue, Tea Party, bicycling, and pickleball.
Please Join us at Abacoa on Tuesday, May 30 for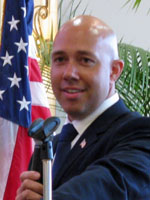 Congressman Brian Mast
NOTE: This meeting is in lieu of a June Abacoa Meeting.
Tuesday, May 30, 2017
Abacoa Golf Club
105 Barbados Drive
Jupiter, Fl 33458
TIME: 10:00 AM to NOON
Full Buffet Breakfast & Meeting $15.00 pp – NO FREE MEETING
There will be Questions & Answers
Please RSVP and BRING A FRIEND!

---
PALM BEACH COUNTY TEA PARTY PRESENTS:
A MEMORIAL DAY WEEKEND TO HONOR OUR COURAGEOUS BELOVED VETERANS
FRIDAY, MAY 26TH FROM 4:00-6:00 PM AT OUR FAMOUS TRUMP PATRIOT CORNER
(CORNER OF PGA BLVD. & MILITARY TRAIL IN P.B. GARDENS)
THEY DON'T CALL IT "MILITARY" FOR NOTHING, FOLKS…
Come Honor Those Brave Men & Women in Uniform who laid their lives & limb on the line
for our beloved United States so that we can live in the Land of the Free – because of the Brave!
Please invite your friends and family to this special event and let's show our community what a real Tea Party is all about.
Wear your Patriotic best – the Red, White & Blue – bring your American flags & your Trump T-shirts!!
This Memorial Day will be that much more significant now that we have a real American Patriot in the White House and an Administration who truly believes in the American Constitution and in Supporting our Veterans!!