GOP State Committeeman Joe Budd in March
---
Please Join us at Abacoa on Monday, March 6, and in Boca Raton on Tuesday, March 7 for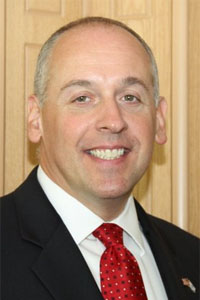 Joe Budd
Palm Beach County State Committeeman
Help us kick off the new year with a thoughtful discussion of the political environment under a Trump administration, and its effect on our Congressional delegation and the state party.
Note: There will be no March meeting in Wellington
Can we trust Paul Ryan and Mitch McConnell to follow through on the Trump agenda other than perhaps repealing Obamacare and some tax reform? If we want to really Make America Great Again, it is going to take constant pressure by the grassroots on our members of Congress to keep them on the path.
Newly elected State Committeeman Joe Budd, who campaigned against the status quo in the recent contest, is uniquely positioned to help us stay focused as the grassroots.
Besides a quick overview of what to expect from RPOF in 2017, we will hear Joe's views on why he supported Donald Trump from the beginning (and served as county co-chair), what he expects in the first 100 days, and what we need to do as Republican activists to help our new President achieve real change in our government.
Monday, March 6, 2017
Abacoa Golf Club
105 Barbados Drive
Jupiter, Fl 33458
TIME: 5:30 PM Buffet
6:30 PM Program
Dinner – $20.00
(Buffet, Cash Bar)
Abacoa RSVP:

---
Tuesday, March 7, 2016, 6:30pm
Boca Community Center
150 Crawford Blvd, Boca Raton, FL 33432
(561) 393-7807
MAP
Boca RSVP:

---
Joe Budd
is our newly elected State Committeeman and a member of the Palm Beach County Republican Executive Committee Board of Directors. He is the immediate past President of the Boca Raton Regional Republican Club and has been locally active in politics since his run for Congress in 2009. Joe served as a vice chair of the Palm Beach County Trump campaign helping President-Elect Trump win a decisive primary victory with 52% of the vote in our county.
Joe has been married to his wife Sherry for 31 years and has three children and one grandchild. Joe operates a successful Financial Planning firm in Boca Raton as well as an Insurance Brokerage firm.