Loren Spivack in January
---
Join us in January as all three chapters host "Free Market Warrior" Loren Spivack, the popular author, economist, political activist, and highly sought after speaker on economics and small government.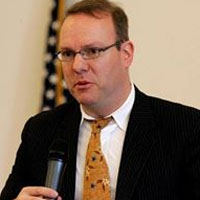 Loren Spivack
To RSVP, click on the links below:
---
Loren Spivack "The Free Market Warrior" was born and raised in Massachusetts and spent most of his adult life in New York City. Before becoming active in politics, Spivack worked for several non-profits and as a management consultant for both profit and non-profit companies.
Spivack founded "Free Market Warrior" in 2009 in an effort to make a positive difference in American politics and economics.
His "Free Market Warrior" store was expelled from Concord Mills Mall in North Carolina in July of 2009 for selling material critical of the Obama Administration. (Mall owners, Simon Property Group, are major Democratic donors.) Since then Loren has devoted his time to teaching conservative groups about free market economics. He conducts "Economic Literacy" seminars across the United States. So far, Spivack has delivered his famous seminar on "Economic Literacy" to over 300 groups in 25 states.
Spivack is also the author of "The New Democrat" a parody history of the Obama administration, based on a famous children's book. With pitch-perfect rhyme and clever illustrations, "The New Democrat" transforms the political personalities of our times into cartoon characters in a conservative morality play.
Spivack's second book "The Gorax" is an anti-environmentalism/pro-capitalism parody starring Al Gore and presenting his movement as a threat to American freedom and standard of living. Once again, Spivack is both funny and poignant as he makes the case that capitalism (represented by the "Onepercentler") is the real victim of environmental extremists who destroy prosperity without achieving even their own goals. Along the way, Spivack takes well aimed shots at everything from "The Fed" to the teachers unions. "The Gorax" came out on July 1, 2013.
Spivack's latest book, The Wizard of Iz, is a masterpiece of conservative humor and inspiration. When a tornado blows Dorothy from her constitutionally governed America (circa 1900) into the 2016 election she must rescue the "Free-Lunchkins" from the slavery of welfare dependence, save the brainless scarecrow from the mindless indoctrinations of graduate school and help the cowardly RINO find some courage. Our heroes must ford "The Main Stream", under the medias threatening glare, stop "The Wicked Witch of Chappaqua" and, ultimately learn the secret to restoring America, from a most unlikely source!