KCarl Smith at Boca on June 7
---
Please join us on Tuesday, June 7, 2016 as the Boca Chapter Hosts: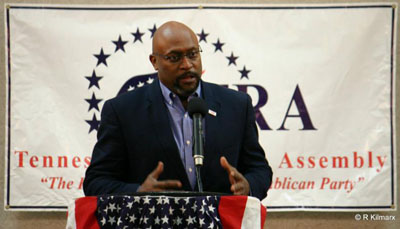 KCarl Smith
A former U.S. Army officer and President & Founder of LIBERTYMessenger USA, KCarl is considered the nation's #1 diversity engagement expert.
According to RedState, an online conservative news source, "KCarl Smith is one of the most influential people in America … Most certainly, KCarl is one of the most important people grassroots conservatives and Republican Party leaders should be listening to right now."
It was KCarl's Frederick Douglass Republican message that inspired Louisiana State Senator Elbert Guillory's party switch from Democrat to Republican. Here's what Senator Guillory has to say:
"KCarl helped me to articulate my need to change. Thank God for sending … , KCarl to my rescue."
As one of the greatest conservative thinkers in America, KCarl is the author of the bestselling book entitled, Frederick Douglass Republicans: The Movement to Re-Ignite America's Passion for Liberty and producer of the increasingly popular online course, Frederick Douglass Republicans 101: How to Share Your Conservative Values Without the Fear of Being Called a Racist, Uncle Tom, Bigot or Sellout.
You may have seen KCarl on the 700 Club, The BlazeTV and FoxNEWS.
Join us in welcoming KCarl.
Tuesday June 7,  2016 – 6:00pm
Boca Community Center
150 Crawford Blvd, Boca Raton, FL 33432
(561) 393-7807
MAP
Please RSVP below; no meal is served with this meeting.