Brian Mudd Predicts Election Results at Abacoa
---
With his catchphrase "Passion plus talent is unstoppable", WJNO's co-host for the Morning Rush (5am-9pm) Brian Mudd, explained some of his election modeling work to an engaged crowd at Abacoa on Monday.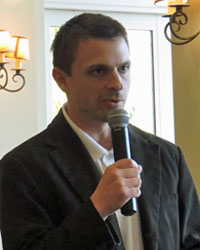 Brian Mudd
In our history, Presidential elections have followed a predictable pattern based on three conditions.
First, no Democrat President other than Harry Truman (who as Vice President succeeded after the death of Roosevelt) has ever been elected to follow a 2-term Democrat President. Advantage: Republicans.
Second, no President succeeded another of the same party who had less than a 54% approval rating. With Obama currently at 48%, advantage: Republicans.
Third, no President succeeded another of the same party when the "right track / wrong track" polling was less than 50%. With it currently standing at 28% right track, 65% wrong track – again advantage Republicans.
Taking these three indicators into account, Brian confidently predicts a Republican win, all things being equal. That said, there are still some wild cards this year. Clinton could be indicted, the Republicans could self destruct, etc. In general though, people vote their wallet and since the recession hasn't really ended for many Americans, it does not bode well for the party in power.
Taking a range of questions from the audience, Brian also discussed convention politics, economic growth, possible actions by the FED, and the so-called "Trump Bubble" (Mr. Trump's prediction of coming recession and risks in the stock market).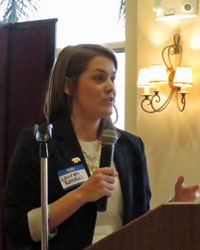 Lauren Konkol
A second speaker for the evening was Lauren Konkol, a millennial activist who describes some of her activities as "integrating the gospel in the public square." Formerly associated with Turning Point, USA, the student activist organization that recruits college students into the conservative fold, Lauren spoke of some of her projects to fight apathy among her age group. With the theme "the good is the enemy of the great", she explained how millennials can feel marginalized but will follow a political ideology that speaks to their needs and interests, and that her "generation is not one that can be stopped." Lauren has plans to run for the Florida House.
Candidates present at the meeting included Carl Domino and Rebecca Negron (CD18), and Alex Freeman (Sheriff).
If you missed Brian Mudd at this meeting, you can catch him in Wellington on April 6.