Upcoming PBCTP Meetings in May include:
CLick on the location for more information and to RSVP.
Please join us on Tuesday, May 3, 2016 as our Boca Chapter Hosts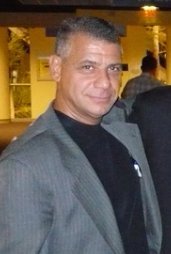 "Tom Trento"
Director, The United West, Lake Worth, FL. Co-Author.
Tom Trento is one of the leading academic activists in the United States. A highly skilled debater and dynamic public speaker, Tom frequently goes toe to toe with Muslim Brotherhood representatives exposing their radical agenda to the public and elected officials. Mr. Trento with earned degrees in Law Enforcement and Philosophy and Theology was awarded the The Carnegie Hero Medal Award for saving a man from a burning car.
Mr. Trento has traveled extensively throughout the US and Europe lecturing and exposing Islamic violence and infiltration in government, law enforcement and academic institutions. He is one of the co-authors of "Shariah: The Threat To America" and appears frequently on major media outlets and talk shows as an authority on Islamic ideology.
Tuesday May 3,  2016 – 6:00pm
Boca Community Center
150 Crawford Blvd, Boca Raton, FL 33432
(561) 393-7807
MAP
Please RSVP below; no meal is served with this meeting.

Please join us on Monday, May 2, 2016 as the Jupiter Chapter Host: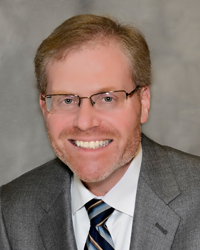 "Mark Miller"
Managing Attorney
PLF Atlantic Center
(561) 691-5000
Mark will discuss his experiences at the Supreme Court.
---
PALM BEACH GARDENS, FL; March 12, 2014: Florida attorney Mark Miller, a veteran of business, property rights, and constitutional litigation, has joined Pacific Legal Foundation (PLF) as managing attorney with PLF's Florida (Atlantic Center) office based in Palm Beach Gardens.
Background, Practice Areas and Expertise:
Mark Miller is Managing Attorney for PLF's Atlantic Center in Florida. Consistent with the Atlantic Center's mandate to pursue the range of constitutional cases that PLF litigates, Mark represents clients in federal and state cases ranging from property rights, to economic liberty, to other constitutional violations.
He has represented clients before local zoning boards and all the way up to the Supreme Court of the United States. Mark is Board Certified in Appellate Practice by the Florida Bar, one of approximately 168 attorneys in Florida to have earned that recognition as an expert in appellate practice.
Education, Honors and Bar Membership:
After graduating with Honors from the University of Florida College of Law, Mark elbow clerked for U.S. District Judge Henry Lee Adams, Jr., in the Jacksonville Division of the Middle District of Florida, and Judge Emerson R. Thompson, Jr., of Florida's Fifth District Court of Appeal. The Stetson Law Review and the Florida Bar Journal both have published his works. Martindale-Hubbell has rated him an AV® Preeminent™ attorney, the highest ranking Martindale-Hubbell offers, and one that reflects the opinion of other members of the Florida Bar about Mark's ethical standards and legal ability.
Super Lawyers has named him a Florida Super Lawyer for 2014-15 and 2015-16. He is Vice-President of the Martin County Bar Association, founded and chaired the Martin County Catholic Lawyers' Guild for several years, and has served as a member of the board of directors for a number of charities. The James Madison Institute has named him an adjunct scholar. He is a member of the Florida Bar, the New Jersey Bar, and several federal circuit and district court bars.
Monday, May 2, 2016
Abacoa Golf Club
105 Barbados Drive
Jupiter, Fl 33458
TIME: 5:30 PM
Dinner – $17.00
(Buffet, Cash Bar),
6:30 PM Meeting.
Please RSVP below.

Please join us on Wednesday, May 4, 2016 as our Wellington Chapter Hosts:

YOU!!!
Got something you want to get off your chest? Come and join us at the next Palm Beach County Tea Party Meeting in Wellington on Wednesday, May 4th and take a load off.
We will entertain any topic (within reason) pertaining to local, state or federal government.
Moderator: Our very own Marion Frank, Chapter Leader
---
Wellington
Wednesday May 4, 2016
Hurricane Grill and Wings
4075 Florida 7, Lake Worth, FL 33467
(561) 318-6107
Program 6:00pm
No Charge for Meeting
Please RSVP below; no meal is served with this meeting.

With his catchphrase "Passion plus talent is unstoppable", WJNO's co-host for the Morning Rush (5am-9pm) Brian Mudd, explained some of his election modeling work to an engaged crowd at Abacoa on Monday.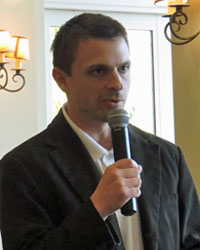 Brian Mudd
In our history, Presidential elections have followed a predictable pattern based on three conditions.
First, no Democrat President other than Harry Truman (who as Vice President succeeded after the death of Roosevelt) has ever been elected to follow a 2-term Democrat President. Advantage: Republicans.
Second, no President succeeded another of the same party who had less than a 54% approval rating. With Obama currently at 48%, advantage: Republicans.
Third, no President succeeded another of the same party when the "right track / wrong track" polling was less than 50%. With it currently standing at 28% right track, 65% wrong track – again advantage Republicans.
Taking these three indicators into account, Brian confidently predicts a Republican win, all things being equal. That said, there are still some wild cards this year. Clinton could be indicted, the Republicans could self destruct, etc. In general though, people vote their wallet and since the recession hasn't really ended for many Americans, it does not bode well for the party in power.
Taking a range of questions from the audience, Brian also discussed convention politics, economic growth, possible actions by the FED, and the so-called "Trump Bubble" (Mr. Trump's prediction of coming recession and risks in the stock market).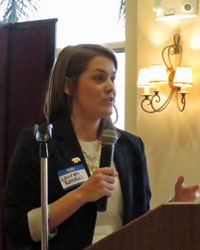 Lauren Konkol
A second speaker for the evening was Lauren Konkol, a millennial activist who describes some of her activities as "integrating the gospel in the public square." Formerly associated with Turning Point, USA, the student activist organization that recruits college students into the conservative fold, Lauren spoke of some of her projects to fight apathy among her age group. With the theme "the good is the enemy of the great", she explained how millennials can feel marginalized but will follow a political ideology that speaks to their needs and interests, and that her "generation is not one that can be stopped." Lauren has plans to run for the Florida House.
Candidates present at the meeting included Carl Domino and Rebecca Negron (CD18), and Alex Freeman (Sheriff).
If you missed Brian Mudd at this meeting, you can catch him in Wellington on April 6.