Cade Marsh at Wellington, 2/3
---
Please join us on Wednesday, February 3rd.when Wellington chapter will host: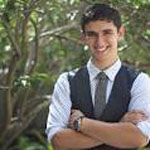 Cade Marsh
Founder/Operator at Millennial Ventures, Inc.and Chairman at PBA College Republicans.
Past: CRNC and Bill Diamond for PB Town Council.
Studied at Palm Beach Atlantic University
ABOUT CADE
Political Consultant and Digital Media Strategist. Studying Pre-Law at PBAU.
FAVORITE QUOTES
Early to bed and early to rise, makes a man healthy, wealthy and wise.
Wellington
Wednesday February 3, 2016
Hurricane Grill and Wings
4075 Florida 7, Lake Worth, FL 33467
(561) 318-6107
Program 6:00pm
No Charge for Meeting
Please RSVP below; no meal is served with this meeting.