Chapter Meetings for February include:
CLick on the location for more information and to RSVP.
Please join us on Wednesday, February 3rd.when Wellington chapter will host: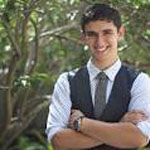 Cade Marsh
Founder/Operator at Millennial Ventures, Inc.and Chairman at PBA College Republicans.
Past: CRNC and Bill Diamond for PB Town Council.
Studied at Palm Beach Atlantic University
ABOUT CADE
Political Consultant and Digital Media Strategist. Studying Pre-Law at PBAU.
FAVORITE QUOTES
Early to bed and early to rise, makes a man healthy, wealthy and wise.
Wellington
Wednesday February 3, 2016
Hurricane Grill and Wings
4075 Florida 7, Lake Worth, FL 33467
(561) 318-6107
Program 6:00pm
No Charge for Meeting
Please RSVP below; no meal is served with this meeting.

Please join us on February 1st. at our Monday,
Jupiter Chapter Meeting as we host:
Dr. Keats Soder Un-politician running for
Jupiter Mayor
Dr. Keats Soder has experience in Community Activities. President of local HOA and Master Community of 13 HOAs in Coral Springs. His Manager Product Planning and Marketing skills have been successful though out his career.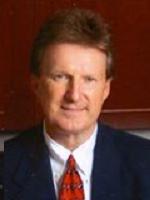 CD 18 CandidatePaul Spain, CD 18 Candidate
Paul Spain is a driven innovator and fresh face in Florida public policy. He is ready to ensure that the interests of District 18 are protected in Congress. Paul is an advocate for better fiscal practices and renewed ideals for education. Spain will dedicate the time and energy to attain results for the citizens of District 18.
A graduate of Virginia Commonwealth University, Paul has a lifetime of community service including Chambers of Commerce, Kiwanis Club, a current member of the College of Financial Planning with Advanced Planning Certifications (AAMS, CRPS), and a member of Maggie's List, which promotes and supports efforts by women to hold public office. He is the father of two and has three grandchildren.
CHRISTINE SPAIN, SUPERVISOR OF ELECTIONS CANDIDATE
She is the former Chairman of the Broward Republican Party (2014-2015), Vice Chairman (2012-2014) and Chairman of Congressional District #23 serving on the RPOF State Executive Committee in 2015.
Christine is an attorney in private practice in Boca Raton, serving Palm Beach and Broward Counties, and a Certified Public Accountant. She specializes in corporate law and business transactions and has years of experience working with both national law and accounting firms serving clients from Miami-Dade to Palm Beach.
Prior to her law career, she worked as an Audit Manager/CPA with a Big 4 Accounting Firm. Christine has also served on the Boards of non-profit organizations.
She has been a resident of South Florida for 40 plus years and is a graduate of Florida Universities, including the University of Miami School of Law, where she served on Law Review. She now resides in Jupiter with her husband.
Visit her on facebook
Monday, February 1, 2016
Abacoa Golf Club
105 Barbados Drive
Jupiter, Fl 33458
TIME: 5:30 PM
Dinner – $17.00
(Buffet, Cash Bar),
6:30 PM Meeting.
Please RSVP below.

Please join us on Tuesday, February 2, as the Boca chapter will host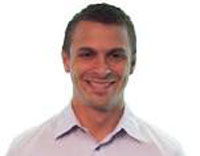 Brian Mudd
On-Air Weekday Mornings 5am-9am WJNO Financial Analyst & Co-Host for The Palm Beaches' Morning RushI work every day to keep you ahead of the curve on the crazy state of the economy, business, investments and technology.
My motto: Passion plus talent is unstoppable.
My faith: Don't worry I don't use the mic to preach but… I firmly believe that without God in our lives happiness will never be found. I believe that many of our societal failures have resulted from a general willingness to distance ourselves from our founding values while embracing political correctness.
I'm in my 18th year with iHeartMedia and 9th in South Florida. With my father as inspiration, I started investing in the stock market when I was 11 and co-founded a smoothie company at 18. The highlights of my radio career have been serving as a fill-in for Sean Hannity.
I've made my share of mistakes along the way as well. I shape my perspective from success and failure to provide you with a truly objective picture of business and money in your world. Business and investing are passions of mine. Some read Dean Koontz… I read financial reports.
I'm originally from the Atlanta area and am a die hard Braves & Falcons fan. I'm married to the love of my life Ashley, and yes I am related to Dr. Samuel Mudd, co-conspirator in the assassination of President Lincoln (he's four greats an uncle).
My name is Mudd.
Also speaking will be Wellington Chapter Leader Marion Frank on:
Steven Emerson from the Investigative Project on Terrorism
Iowa Caucus
Cruz Campaign
Tuesday February 2,  2016 – 6:00pm
Boca Community Center
150 Crawford Blvd, Boca Raton, FL 33432
(561) 393-7807
MAP
Please RSVP below; no meal is served with this meeting.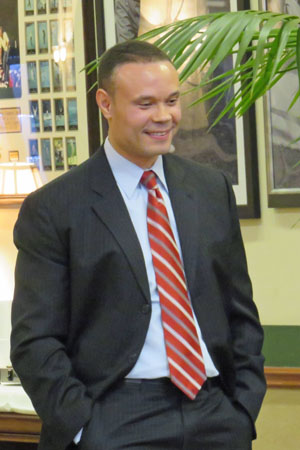 A good size crowd at Abacoa came to hear conservative pundit and former secret service agent Dan Bongino help summarize what Barack Obama has done to America.
Starting with a positive note – "The country will recover from Barack Obama", he gave his perspective of the President – a smart man with a far-left agenda, surrounded by equal minded ideologues. From the executive orders on immigration, where the President repeatedly said he didn't have the authority to act – then did just that, to the fanciful claims in the selling of Obamacare – "you can keep your doctor, etc. ..", Dan described the country after the last seven years as living in a "post-constitutional society". Our liberty is being taken away by "a man obsessed with power".
In a clever characterization of the right-left divide, Dan points out that "we are all bound together by stories" (ie. narratives), but the left and right have different stories, which makes agreement or even dialogue very difficult.
Opening up the floor to questions, Dan went on for about a half hour, giving thoughtful, knowledgeable answers to a wide variety of questions, from 2030 and Agenda 21 (it is real – look it up), the control of local law enforcement by the DOJ, and why the Congress hasn't moved to impeach Barack Obama (it would be unsuccessful, since 2/3 of the Senate would never vote to convict.)
Dan also had early copies of his book "The Fight, A Secret Service Agent's Inside Account of Security Failings and the Political Machine", available at Amazon for pre-order.
---
Candidates who were introduced at the meeting were Brian Mast and Paul Spain (CD18), and Christine Butler Spain, who is running for Supervisor of Elections.
We also had volunteers from three of Presidential campaigns, as Fred Scheibl, Marion Frank and Barry Carson laid out a rationale for Donald Trump, Ted Cruz and Ben Carson, respectively. A short "straw poll" by Mel yielded about 25 votes for Trump, 10-15 for Cruz, and about 5 for Carson, with a few mentions of the other 9 candidates.