Dennis Michael Lynch at Jupiter Chapter on 12/3
---
Please join us on Thursday, December 3 for our Jupiter chapter meeting at Palm Beach Gardens Library. Doors open at 5:30pm.
We will be showing the movie:
"Coming to America III"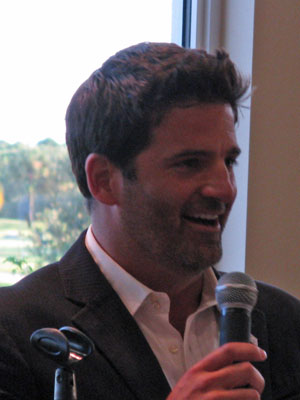 Producer: Dennis Michael Lynch
An entrepreneur, filmmaker and public speaker.
There is no charge for this meeting.
Get to know Dennis…
Facebook Website
MY FAVORITES…
MOVIE: Field of Dreams
BOOK: Chasing Daylight by Eugene O'Sullivan
PLACE: Beach at 5pm
POLITICIAN: George Washington
FOOD: Buffalo Chicken Pizza (1x per month)
CAR I'VE OWNED: Jeep Wrangler
ACTIVITY: Boating w/ my wife and 4 kids
SPORT: Football
SCENE IN MY FILMS: Going head to head w/ Nancy Pelosi
MANTRA: Never forget
ACTS…
FACTS…
– WON 2000 E&Y L.I. Entrepreneur of the Year Award in eBusiness.
– HELD tryouts with Montreal Expos and Chicago White Sox.
– HIT hole-in-one in Scotland then stopped playing the round.
– WAS lead guest on highest-rated episode ever of THE KELLY FILE.
– MARRIED to my high school sweetheart.
– WITNESSED 9/11 firsthand. It influenced me to enter filmmaking.
– REGISTERED to run for POTUS in 2016 but dropped out after a week.
– RECEIVED 88.5% "YESES" on poll published by Megyn Kelly that asked, "Would you vote for Dennis Michael Lynch for president in 2016.
TID BITS…
BIGGEST SCARE: Filming Bundy ranch.
BIGGEST ACHIEVEMENT: My happy family.
TATTOO: Left shoulder, shamrock.
DREAM JOB: At this point, Secretary of Homeland Security
NEW PROJECTS: Autobiography, action adventure film for big screen, expansion of web productions in the areas of food and health, remaking my first documentary called KING of the HAMPTONS.
GOAL: To help America recapture the spirit during the Reagan years.
Thursday, December 3, 2015, 6:30PM
County Library, Palm Beach Gardens
No Charge for Meeting
Map
---
Please RSVP below.