Senate Candidate Ron DeSantis pumps up Abacoa
---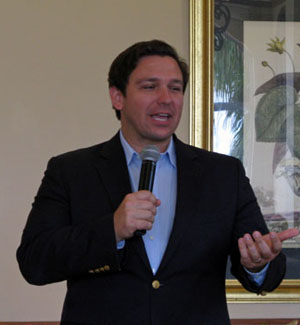 A Sunday brunch at Abacoa – not the typical time for a chapter meeting, but a good time to get to know Florida Senate candidate Ron DeSantis.
First elected to Congress in 2012, Ron represents Florida district 6, a coastal district stretching from south of Jacksonville to New Symrna Beach, and certainly has tea party roots. He was a frequent visitor to 912 and tea party groups throughout the state before his election, and visited us in Abacoa in February 2012. See: Ron DeSantis on the founding fathers' views versus the administration's
As a Congressman, Ron has been an active member of the Freedom Caucus led by Ohio's Jim Jordan. This group of 40 or so Conservatives have been instrumental in pushing House leadership towards doing what they were elected to do, and it was caucus member Mark Meadows of North Carolina's "motion to vacate the chair" that has led to Speaker Boehner's resignation.
Now running for the Republican Senate nomination against Representative David Jolly and Lt. Governor Carlos Lopez-Cantero and others, if successful he will likely face either our own Patrick Murphy, or Orlando's Alan "Die quickly" Grayson.
At the meeting, Ron was introduced by CD18 candidate Rick Kozell, who explained the importance of retaining this seat now held by Marco Rubio, and described Ron as someone who "walks the walk".
Much of his remarks concerned the issues of today as they are seen in the House. The Iran deal for example, which was recognized as an Obama capitulation long before it came to a vote was a bad deal that opponents Murphy and Grayson both voted for – putting party unity over national security.
He talked about the size and power of government, which has made the counties around Washington DC the richest in the nation, and how it can corrupt even those who go there hoping to make a difference. All Congressman take an oath to "protect and defend the Constitution" he said, but when the President shreds that document and works to make Congress irrelevant, members of his party cheer.
In Ron's view, the resignation of Speaker Boehner was not brought about by elected officials, but by the pressure of the 72% of Americans who dissapprove of the leadership in both the House and Senate. This has to change and his advice to the new Speaker would be to set measurable goals for the first 100 days to restore Congress as a co-equal branch of government. A good leader will put legislation on Obama's desk and dare him to veto it – and rally public opinion against the President and his party if he does. Congress should use the tools at their disposal – the power of the purse for example, and pass no more continuing resolutions that just continue the policies put in place by Harry Reid.
Ron took a lot of questions from the audience, ranging from immigration to the Pope's visit, how Congress works and ways to increase voter turnout ("let the people know that their vote will COUNT this time".)
There are many days left before the 2016 election, but judging by the positive response from this crowd, Ron is off to a great start.
Some Pictures at the event: