Rafael Cruz Brings Energy to Tea Party Meeting
---
Pastor Rafael Cruz, father of presidential candidate and Texas Senator Ted Cruz, brought his particular brand of bible driven politics to the PBCTP on Saturday at the library branch in Palm Beach Gardens.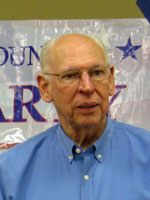 Pastor Cruz was introduced by Kiwi pundit Trever Loudon, who yearned for another Reagan to emerge and save us ("Now have Carter on steroids and need a Reagan on Meth"), and doesn't think much of some of the choices, such as "illegal immigration is an act of love, common core loving" Jeb Bush. While stopping short of an outright endorsement of Ted Cruz, Loudon made it clear he is a fan, and suggested that Senator Cruz should pre-announce his cabinet selections. (See sidebar).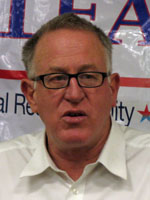 Trevor Loudon's Dream Cabinet
---
Vice President: Carly Fiorina
Secretary of State: John Bolton
Secretary of Treasury: Rand Paul
Secretary of Energy: Sarah Palin
Secretary of Labor: Scott Walker
Secretary of Commerce: Michele Bachmann
Secretary of HHS: Ben Carson
Secretary of Defense: Alan West
Secretary of Interior: Mike Lee
Attorney General: Trey Gowdy
UN Ambassador: NOBODY
With an overall theme of the urgency of action leading up to the 2016 election, Pastor Cruz's remarks were less a campaign speech for Ted Cruz as much as a call to action to save the country from the destroying influences that under the banner of social justice, encourage dependence on government rather than self reliance.
Using Common Core as an example, brainwashing created by the secular humanists with a political agenda, he tied it to the 1934 "Humanist Manifesto" which features situational ethics, values qualification, and the rights of the group over the individual – all concepts in opposition to the values of the founders.
"America is worth saving" he declared. If the most exceptional country on the face of the earth were to succumb, where would people go if freedom is lost?
He recalled the days of the "black robe regiments" when the American Revolution was driven and nurtured from the pulpit all across colonial America. If the evangelical voters stay home next year, as they did in 2012, we will lose. We are on the edge of a precipice in 2016, with a corrupt political establishment and a lack of values in many institutions. Pastors need to stop hiding behind their pulpits and the liberal's view of separation of church and state, and find the courage to stand up for America.
Although it's been said before, Pastor Cruz clearly left the audience with the impression that the next election is truly "the most important of your lifetime."