K. Carl Smith Brings Outreach Method to the PBCTP Chapters
---
"I am a Frederick Douglass Republican" – thus begins K. Carl Smith's method for penetrating the walls that separate conservatives from minority voters.
On the premise that many minority families hold conservative values (eg. school choice, life, self reliance) and have much in common with us, yet are conditioned by upbringing and / or liberal propaganda to reject conservative thought, Mr. Smith explained how for many, "Republican", or "Conservative" means "Racist". Starting from that perspective, it is no wonder that "outreach" efforts are difficult.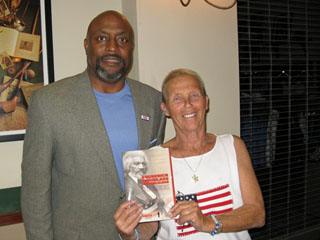 In order to "retake control of the narrative" with Black and Hispanic constituencies from the liberal media and the Democrat party, we must expose their ongoing practice of rewriting history and routine accusations of racism against any who oppose them. Example: Lincoln (a Republican) ended slavery, and was opposed by the Democrats who were invested in it, yet the DNC website claims that "Democrats have been the champion of civil rights for 200 years!"
Frederick Douglass, a Black contemporary of Lincoln, has said "The best representation of slavery in politics is the Democrat Party". He was a strong supporter of the Constitution, life, the limited power of government, and personal responsibility. By identifying with Douglass, in K. Carl Smith's view, we can begin to explain that conservative principles are color blind, and knock down the wall that limits dialogue.
Mr. Smith holds seminars on his methods, and has helped local GOP groups do effective outreach, and his lectures at the three PBCTP chapters this month were well received. For more information, check out his book: "Frederick Douglass Republicans: The Movement to Re-Ignite America's Passion for Liberty"