Wellington Forum Brings a Mix of Candidates
---
Forums are never predictable. You issue invitations to the candidates that will be on the ballot in the local area (in this case for both the August and November elections), and see who responds and/or turns up.
In Wellington, the candidates for School Board district 6 were in attendance (incumbent Marsha Andrews and challengers Joseph Moore and Carla Donaldson), joined by one candidate from district 3 (John Hartman, who also attended the Boca event). Having the four of them allowed moderator Steven Rosenblum to solicit contrasting answers on key topics like Common Core, teacher tenure, and the roll of parents in influencing district policy and curriculum.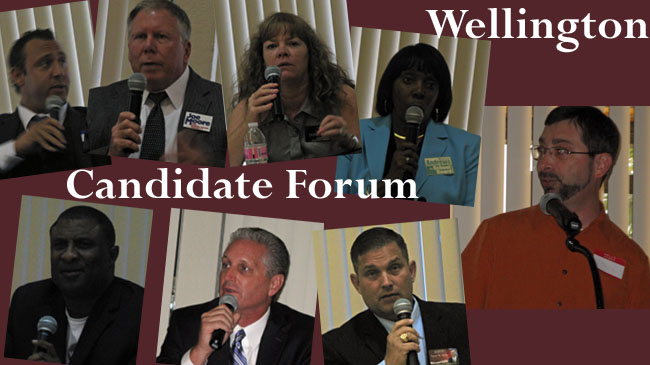 Clockwise from the top left: John Hartman, Joseph Moore, Carla Donaldson, Marica Andrews, moderator Steve Rosenblum, Stuart Mears, Andrew Schaller, Emmanuel Morel.
There were single candidates for other races as well, which allowed some discussion that spanned local, state and federal levels, but no way to contrast answers in a particular race. Democrat Emmanuel Morel, who is challenging Ted Deutch in the Congressional district 21 race participated, as did Republican candidate Andy Schaller for the open seat in county commission district 6 and Stuart Mears, the Republican challenger to Democrat Mark Pafford in State House district 86.
The district 6 school board race is interesting in that Marcia Andrews, herself a very capable and influential board member, has drawn two formidable challengers. Joseph Moore is a recently retired school district employee who served as both Chief Financial Officer and Chief Operation Officer, providing an insiders knowledge of business and finance functions. Carla Donaldson, is an "activist mom" who has been an advocate for various school issues since 2001. Incumbent Andrews, like Moore, is a long-term district insider, with 35 years experience as a principal and as a teacher in a variety of district schools.
On many issues the three are mostly in agreement (unhappy with common core, problems with teacher tenure, and the importance of parents in affecting policy). On the latter, Andrews said it best: "Parents are powerful", and can exert control. They should take a stand. One area where they differ is on the quality of the schools. A question from the audience – "why are the schools so bad", drew defensive answers from insiders Moore and Andrews, and a critique by outsider Donaldson who said the system should focus on the needs of the children, not what the adults want.
Asked what they would change about the system, Andrews would emphasize the basics – reading and math, and do less testing. Moore would formalize mentoring so institutional knowledge could be retained when good teachers and administrators leave. Donaldson would stop promotions before students are ready and bring in more specialized reading programs.
The candidates in the other races gave their views on All Aboard Florida (Morel: we should do "big things", Schaller: the junk bond status of their loan tells you all you need to know), climate change (Morel: it is real, Schaller: don't believe it, Mears: no shovel ready jobs in green energy), medical marijuana (all support the ballot issue as configured), and offshore drilling (Morel: "oil is not the answer", Schaller: oppose, Mears: we can do it and make it safe with technology).
The elections are August 26 (primary, school board and Judicial), and November 4. For more information about the candidates, see the Palm Beach County 2014 Voters Guide.