April 14th United Stand for America Event!
---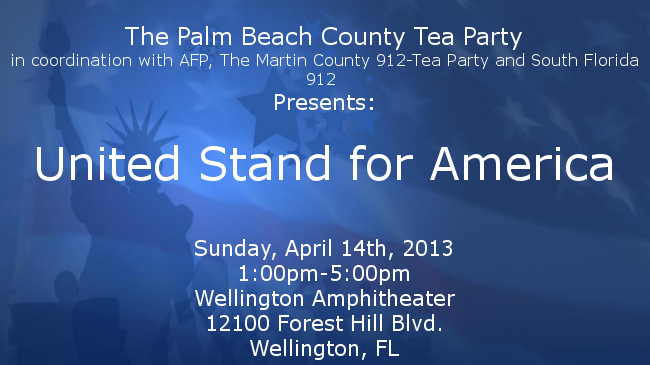 On April 14, 2013 the Palm Beach County Tea Party, in conjunction with The Martin County 912-Tea Party, Florida Americans for Prosperity and South Florida 912, presents The United Stand for America Event!
This year, on the day before taxes are due, Americans from all over South Florida will join us in celebrating and honoring the United States and all of the values and beliefs that have made it the greatest nation on Earth for over two centuries.
Speakers will include Doctor Larry Kawa, Attorney Jeff Shapiro, Radio Personality Joyce Kaufman and our keynote speaker Kevin Jackson (author of The Black Sphere).
The event will take place from 1:00pm – 5:00pm at the Wellington Amphitheater on April 14th, 2013. The day's program will start promptly at 1:30pm. This is an open and free event. Bring your family and friends. Onsite festival foods will be available for purchase.
Wellington Amphitheater
12100 Forest Hill Blvd.
Wellington, Fl
We can't wait to see you there!