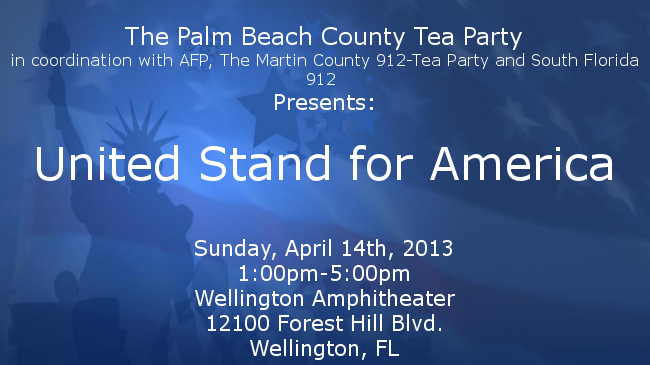 On April 14, 2013 the Palm Beach County Tea Party, in conjunction with The Martin County 912-Tea Party, Florida Americans for Prosperity and South Florida 912, presents The United Stand for America Event!
This year, on the day before taxes are due, Americans from all over South Florida will join us in celebrating and honoring the United States and all of the values and beliefs that have made it the greatest nation on Earth for over two centuries.
Speakers will include Doctor Larry Kawa, Attorney Jeff Shapiro, Radio Personality Joyce Kaufman and our keynote speaker Kevin Jackson (author of The Black Sphere).
The event will take place from 1:00pm – 5:00pm at the Wellington Amphitheater on April 14th, 2013. The day's program will start promptly at 1:30pm. This is an open and free event. Bring your family and friends. Onsite festival foods will be available for purchase.
Wellington Amphitheater
12100 Forest Hill Blvd.
Wellington, Fl
We can't wait to see you there!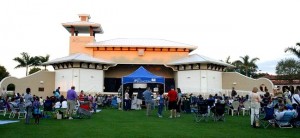 Please join us as we concentrate our focus for April on our major Annual Event, which we have renamed United Stand for America, at the Wellington Amphitheater!!!
NOTE: The Boca Raton Chapter Meeting, normally the first Tuesday of each month (or, April 2nd) is cancelled, as is the Wellington Chapter Meeting, normally the second Monday of each month (or, April 8th).  Bring your patriotic spirit to Wellington on April 14th, and join us for a fun-filled day with a great line-up of speakers and activities!!!!  Stay tuned to our web site and FaceBook page for more details!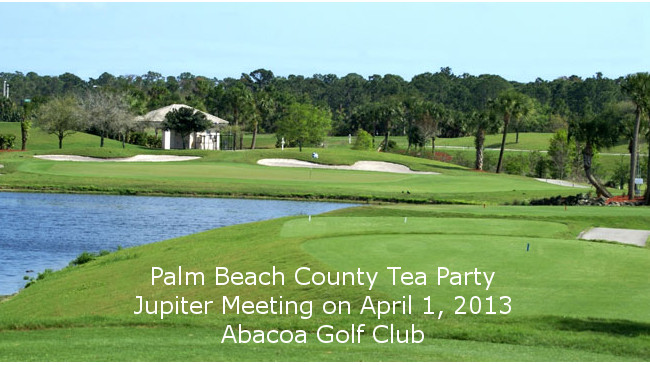 Join us on Monday, April 1st for our Jupiter Chapter Meeting.  Instead of having outside speakers, the board and leadership of the PBCTP will be updating the membership on current activities, recap of the leadership meeting and we will be providing all of you the opportunity for an open forum where we will answer all your questions about the current state, and future of, the PBCTP.
Monday, April 1, 2013
5:30pm Soup, Sandwiches and Pastries ($13), 6:30 Program
Abacoa Golf Club
105 Barbados Drive, Jupiter, Florida 33458
Please join us!  Doors open at 5:00pm, with a cash bar.  Dinner begins promptly at 5:30pm, and our meeting begins at 6:30pm.   You can attend our meeting at 6:30pm at no cost, but we encourage you to come for the dinner.  This will be a great evening of like-minded fellowship, and a true sense of deep patriotism permeates the experience– please RSVP on the button below!

With a crystal-clear night on the back end of a Florida "cold-snap" (getting into the 40's the day before), there was another exciting night of patriotism from the Palm Beach County Tea Party.  Though the turnout was lighter than this past month, it was an unquestionably exciting evening of brisk dialogue amongst Patriots in Boca Raton.   Slade O'Brien was the guest speaker, and his perspective as a leader of grassroots movements, and dealing with politics on the LOCAL level, was quite illuminating.  As the Florida Director of Americans For Prosperity, Slade has an extraordinary inside perspective on Florida politics, with access to all the "movers and shakers" within the political sphere in our state.
What he revealed about statewide graft and corruption in state contracts from legislators "thanking" their lobbyists and supporters who got them elected was both sickening and motivating at the same time.  Slade also updated us on the "Five For Florida" initiative that AFP began last year, and updated us on their progress.  While much has been accomplished, we have a "long road ahead", as Slade said.
This also marked the return to Boca Greens Country Club, and exceptional venue for our group in terms of space, facilities, location, and food.  Salad, Rolls, Chicken, and Salmon was served with a Vodka Penne dish, and a yummy-looking Apple-Cobbler type of dessert (I did not partake).  It was a great crowd, populated by both familiar faces, as well as many new people.  PBCTP Co-Founders Mel and Barbara Grossman made the trip from Jupiter to be with us, as did Terry Brady.
Boca Chapter Coordinator Alex Berry began the proceedings at 7:00pm with the Pledge of Allegiance. Carlos Manuel Santana then regaled us with his impassioned version of the National Anthem.  After the usual protocol of explaining what the PBCTP is, and what it stands for, Alex made general announcements, and then asked former Board member Francisco Rodriguez to come to the podium.  Francisco explained how he has recently published a book that addresses the critical issue of WINNING ELECTIONS, and how that starts on the local level, something we can all participate in.  And this dovetailed well with Slade O'Brien's discussion of the "pragmatics" of politics….
Alex then introduced Slade, who held the crowd captive with a personal account of his observations on how Florida has foolishly discouraged entrepreneurial activity with miles of red tape.  He was actually very encouraging, however, because he drew parallels between what Scott Walker has done in Wisconsin, and what is possible here in Florida.
Slade followed his presentation with a boisterous "Q&A" session with the audience, moderated by Alex Berry.  Tea Party members donated the raffle prizes, and the winners were announced at the drawing, concluding the evening.
We look forward to more great meetings in 2013 for our Boca Chapter—please INVITE YOUR FRIENDS to our next event, which will be on April 2nd, 2013!!! Remember—we always have our Boca Chapter Dinner/Speaker event on the FIRST TUESDAY of every month, so mark your calendars!  Please get involved if you aren't yet, and STAY involved if you already are!  Remember, we are LOOKING FOR ADDITIONAL BOCA TEAM LEADERS, including a Boca Chapter Coordinator (leader in Boca).  Please help out if you can!
On February 28, PBG Watch, along with the South Florida 912 and the Palm Beach County Tea Party, Taxpayer Action Board and the Palm Beach Gardens Residents Coalition hosted a candidate forum for City Council election, featuring former Mayor David Levy and challenger attorney James D'Loughy..