PBCTP Kicks of the New Year with New Leadership
---
In its 2013 kickoff meeting, the Palm Beach County Tea Party introduced its new leadership to a good sized crowd at the Abacoa Golf Club last evening.
The meeting was called to order by new Jupiter chapter leader Laura Hanley, a local business owner and long time tea party member who was also a candidate for County Commission last year. Laura then passed the microphone to co-founder Mel Grossman who introduced the new county coordinator Michael Riordan.
Mike comes to us with an interesting background. A public relations practioner and local business owner, he started his career teaching special needs children in Massachusetts and did a three year stint as head of their Teacher's Union. Organizing for political action is nothing new for Mike. In his remarks, he laid out the challenges and opportunities facing us after the not so successful election of 2012. Honing the message of the three principles – consitutionally limited government, fiscal responsibility, and free markets, will be his primary focus. Getting all tea party members to internalize these principles and be able to explain them succinctly to friends and neighbors as well as the public at large is our task. (For the text of Mike's remarks see: Introducing Mike Riordan)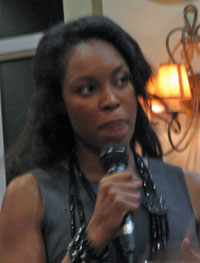 Dominique Feldman
Mike then introduced the new Communications Director Dominique Feldman. Like Laura and Mike, Dominique is also a local business owner. Active in political campaigns in 2012, she is a familiar face having led seminars on social media for the South Florida 912 and other groups. In her PBCTP role, Dominque will use her MBA and technology skills in efficiently honing and disseminating our messsage.
Also at the meeting was the new chapter leader for Wellington, Marion Frank. Marion has been active in the PBCTP for quite a while and brings her insight as a healthcare professional to the fight against the government takeover of medicine.
As the group moves into 2013, the initial focus will be in three areas – communicating the conservative message led by Dominque, fundraising led by Terry Brady, and government oversight led by Ed Wolff. Volunteers for these committees are sought – contact info@palmbeachcountyteaparty.org for more information.
The February meeting will feature a forum for canididates in local municipal elections. Stay tuned for details.
Some pictures from the event: