SSDI to the Rescue!
In the August 2012 issue of Newsmax magazine an article appeared entitled "America: A Disabled Nation?". Fleshing out the statistics in the article regarding the current state of the Social Security Administration's (SSA) disability program this is what the American taxpayer is up against. Allow me to apologize in advance for all the SSA acronyms in this posting. Bureaucrats are rendered inoperable without acronyms! To call the disability program perverse is a gross understatement, in my view. About 5 million more workers have joined the ranks of disability beneficiaries since President Obama took office in January 2009, adding to the approximately 4 million workers already on disability which is a striking addition in such a short time.
The definition of who is too disabled to "do any substantial gainful activity in the national economy" (the loose and imprecise SSA standard to which benefits are awarded has been broadened over the years to cover depression, chronic back pain, bipolar disorder, attention-deficit disorder, chronic fatigue syndrome, etc., etc., etc.). With this subjective standard (a Laundry list of disabilities that can't show up on an MRI) the Administrative Law Judges (ALJs) who preside over SSDI appeals apply this standard to the SSA Rules and deny approximately 50% of disability appeals nationwide, yet there are still about 9 million disability beneficiaries in 2012.
Running the numbers a 44 year old worker making $70,000.00 annually (based upon the required 40 quarters or 10 years of reported earnings) he/she would receive a benefit of about $1,900.00 per month according to the SSA benefits calculator on the SSA's website. This benefit could continue for 20 years until the recipient is 64 years old and then, at age 65, be rolled into the standard SS benefit, much more per month and decades longer than unemployment. There is a recent trend when state unemployment compensation runs out many more individuals are then taking a crack at SSDI benefits. Why not go for the much bigger prize of SSDI? Attorneys are waiting in the wings to assist you in your disability claim. In 2011 the cost of SSDI and SSI (Supplemental Security Income, i.e. welfare based on disability and financial need, not work quarters) payments was 132 billion dollars. Added to this is the 80 billion dollar cost of Medicare. The Newsmax article states that Medicare is awarded after 2 years, regardless of the age of the claimant. The rule is actually 2 years from when the SSA determines the "onset date" of total disability.
Therefore, Medicare could be awarded with the back benefits, and the 2 years is calculated from onset date, not the filing date. A lump sum payment for back benefits is awarded when the claimant receives a "fully favorable" decision from the ALJ after an initial denial of claim appealed to the Office of Disability Adjudication Review (ODAR). Using the $1,900.00 monthly benefit mentioned at the beginning of the foregoing paragraph times 24 months of back benefits (onset date going back 2 years which not unusual) the lump sum payment would be $45,600.00 plus Medicare! In fact SSI beneficiaries receive Medicare and, of course, Medicaid. SSI benefits automatically go together with Medicaid benefits. They're both welfare based, not work based.
Another aspect of SSDI and SSI is the "ticket to work" program. According to Bloomberg Business Week less than 1% of the disabled ever return to work. And if an individual does choose to return to work the SSA has a program for these individuals known as "ticket to work". Here we go again (just like my last post on this site)……….. cue up music from The Twilight Zone TV series while I explain "ticket to work" SSA's program to purportedly facilitate disability beneficiaries returning to work part time. Normally SSA conducts a "continuing disability review" (CDR) every 3 years or so to determine if the beneficiary is still totally disabled or can attempt to return to the work force. However, if a beneficiary, who is presumed to be 100% disabled, applies to the "ticket to work" program regardless of whether he/she ever gains employment no more CDRs are conducted while in the program.
In other words now the beneficiary is magically no longer considered 100% disabled by the SSA and is available to work part time and keep up to a certain amount of earned income as well as the SSDI or SSI benefit payment! According to the SSA's upside down logic the formerly 100% disabled beneficiary is now not 100% disabled and available to work (whether he/she is actually working is irrelevant) and will never again be subjected to a CDR while in the program even though he/she is, according to the SSA, no longer 100% disabled. Would it surprise anyone to know "ticket to work" is a miserable failure.
This is another very troubling example of a social program created by a federal law originally passed in July 1956 with the best of intentions that has morphed into the massive, tangled bureaucratic web and costly boondoggle we have today. What a surprising turn of events!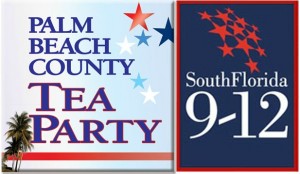 The Boca Raton Chapter of the Palm Beach County Tea Party, in conjunction with the SF912, present the "Pre-Primary Candidate Forum",  for Tuesday, August 7th at 7:00pm.  NOTE:  Due to the high number of candidates who wish to speak to our audience, we will likely begin EARLIER than 7:00!!!  It will be held at the Boca Greens Country Club (Map HERE), and the doors will be open at 5:30pm for a cash bar, and dinner will follow from 6pm to 7pm (as usual, the cost is $15, which includes tax and gratuity). We will have this event in lieu of our normal "Dinner/Speaker" meeting, which we normally have on first Tuesday of the month.  Our leadership has concluded that we would like to provide this type of event as a service to both the candidates, as well as the citizens in our county who wish to be better prepared when it comes time to vote- whatever their party of political "stripe".  This is a great opportunity for everyone involved to get to understand more of what the candidates stand for before their big Primary Election vote on August 14th.
The format will be simple:  Each candidate will be allowed 5 minutes at the podium and microphone after he/she is introduced.  We want each candidate to address the top two or three issues that they want to meet head-on if elected, an how they would be accountable to one or more of the Tea Party's 3 tenets: Fiscal Responsibility, Free Markets, or Limited Government, and how they will be manifested in your approach towards the office.  We ask that each candidate be very specific towards that, so that it's not just some generic "stump speech".    We will have a volunteer timer, who will hold up cards letting each candidate know when they have 1:00 and :30 seconds remaining.  A bell will ring to stop anyone who goes over time allotted.
As of August 6th, the officially confirmed candidate speakers will be: Joe Talley, Cleamond Walker, Susan Bucher, Fran Hancock, Jody Lane, Mike Lameyer, Cindy Tindell, Margherita Downey, Melanie Peterson, Gary Nikolits, Lisa Epstein, Timothy McCarthy, Sharon Bock, James Martz, Tom Thayer, Peter Evans, Peter Feaman, and Robert Weinroth.
This event  will be provided in a safe and fair environment which our leadership ensure will be the model of civility.  It is not a "Debate"– it is a "Forum".  There will be no mud-slinging, and the candidates are asked to confine their time at the podium to address what their platform is, NOT to attack their opponents.
Due to the number of candidates who wish to address our group, it is EXTREMELY UNLIKELY that there will be time left for a Q&A with the candidates.  Assuming there is, the microphone will be tightly  controlled by our leadership to avoid any questions designed with nothing more than malicious intent towards any of the candidates, determined at the sole discretion of SF 912/PBCTP personnel.
Come on out and get involved in how the government process works in YOUR neighborhood and community!  Please RSVP on the button provided:

The next Jupiter- Palm Beach Gardens Chapter Meeting will be Monday, August 6, 2012 at Abacoa Golf Club, Jupiter and will be a Candidate Forum for the District 82 Florida House Seat.  The Forum is  jointly sponsored by our South Florida 912 friends and those candidates confirmed to attend include:  Carl J. Domino (REP), Mary Lynn Magar (REP), Jonathan W. Milton (REP), Jonathan "Jon" W. Pasqualone (REP) and Calvin D. Turnquest (REP).
Doors will open at 5:00 with dinner buffet at 5:30, Dr. Dave Weldon speaking at 6pm  and the Candidate Forum beginning at 7:00 PM.  Be there, it will be an interesting and very timely meeting!
Mr. Brian Mudd of  WJNO has accepted our invitation to moderate the Candidate Forum and South Florida 912  will assist in time keeping of responses.  Questions are being developed relative to our Tea Party / SFL912  precepts of Fiscal Responsibility, Limited Government and Free Markets and more specifically – how the candidate's presence in the Florida House can make a difference for genuine Constitutional Governance; first in Florida, then serving as an example to other States on a national scale.
And now, we get to meet Dr. Dave Weldon, US Senate candidate and hear from him between dinner and our Florida District 82 House Candidate Forum!  Dr. Weldon is a practicing physician in Melbourne, Fl and was US Representative from 1994 to 2008.  This will make it a near sweep on hearing personally from each of our Senate primary candidates.  (See the Voters' Guide on the Senate Race.)  This promises to be a packed and very informative evening, hope to see you there.

JUPITER/TEQUESTA REPUBLICAN ORGANIZATION MEETING, JULY 31
 "YOUR DISTRICT, YOUR CANDIDATES"
Please join us!  Tuesday, July  31, 2012, 7PM
American Legion Post 271
775 North US Hwy 1
Tequesta, FL
Moderator: Bob Nichols
Cash Bar –Event is free
Jupiter/ Tequesta Republican Organization (www.jupitergop.com) is all about its residents and candidates.
We are sponsoring this Candidates Night event for YOU.
Races Covered:  US Senate, Circuit Court Judge, US Representative, School Board, State Representative, Sheriff, PBC State Attorney, Property Appraiser, State Committeeperson, Supervisor of Elections, County Commissioner, Jupiter Inlet Commission
RSVP- jupitergop@gmail.com
Palm Beach County Sheriff candidates Ric Bradshaw, Joe Talley and Cleamond Walker faced off in a relatively cordial exchange at the forum hosted by the Wellington Chamber of Commerce today at the Wanderer's Club
Did you know that in November you will be voting on changes to the homestead exemption and allowing tax increase caps on commercial property? Want to know how Amendment 4 will effect you, your homestead and your business?  Elected Constitutional Officer, Palm Beach County Property Appraiser, Gary Nikolits,  will give us an informative, interactive, educational presentation on Monday, August 13th  at Bink's Forest Country Club.  In addition,   Marion Frank will also present a follow-up to the Supreme Court's decision on Obamacare.
Doors open at 5:30 p.m. Buffet is served from 6-7 and is only $15.00 all inclusive.   Come enjoy the company of some great patriots, help support the club and enjoy a delicious meal, get informed and get ready to make a difference in November.  Click on the RSVP below so we can ensure we have enough seating. 
As always, volunteers are needed to sign in guests and sell raffle tickets and t-shirts. Please call Gina Rascati at 561-798-5498 if you can help.

The Washington Times reports that Barack Obama is now saying on the stump that people who create businesses and hire people are nothing special. The entire American experience is a mystery to this man. Some quotes:
"… look, if you've been successful, you didn't get there on your own. You didn't get there on your own. I'm always struck by people who think, well, it must be because I was just so smart.
If you've got a business — you didn't build that. Somebody else made that happen. The Internet didn't get invented on its own. Government research created the Internet so that all the companies could make money off the Internet.
For the video and the article, see: Obama – 'If you've got a business — you didn't build that. Somebody else made that happen'

Catchy Tune.


We had three exciting Independence Day Meet-ups on July 4th.  As you can see from the attached pictures, they were huge successes!  Our members were cordial and caused no problems, as usual.  Just clean, organized fun and festivity for all.  Plus, we bought food at the food courts and shopped in the malls afterward!  
Unfortunately, we were told by the Town Center Mall in Boca Raton and the Gardens Mall in Palm Beach Gardens that we are now on a list and no longer welcome!  Please post your thoughts on this posting!
Click for RayCadwell's pictures from Boca
Here is an important alert sent to us by our sister tea party organization in Jacksonville, Bear Witness.  Please read and post your comments!
ALERT
Parental Rights and the United Nations CRPD Treaty
Sen. John Kerry: "We'll Pass the CRPD by July 26!"
Senator John Kerry announced yesterday that he plans to pass the UN Convention on the Rights of Persons with Disabilities before July 26—just 13 days from today. He has scheduled a formal committee vote next Thursday—July 19. This is an unprecedented attempt to jam a binding international treaty through the Senate without proper time for debate or consideration.
Yesterday's "hearing" was a carefully-orchestrated attempt to get this treaty ratified without any serious consideration. There were nine total witnesses. Only two people opposed to the treaty were allowed to testify—Steven Groves from Heritage Foundation and me [Michael Farris, Parental Rights ].
The Administration seeks to promote two ideas that are simply inaccurate: 1. Disabled Americans who travel overseas will directly benefit by U.S. ratification of this treaty; 2. Ratifying a treaty does not require us to comply with international law.
They are arguing that a treaty is an empty promise with no actual substance. The Supremacy Clause of the Constitution makes it clear that the Administration is wrong. Treaties form a part of the Supreme Law of the Land once ratified.
And no one even attempted a serious answer to our core parental rights concern.
Article 7 of the UNCRPD gives government the ability to override every decision of a parent of disabled children if the government thinks that its views are in "the best interest of the child."
This is a radical attempt to take away parental rights. Make no mistake—if they succeed at ratifying this treaty, the Convention on the Rights of the Child is next. This is not a battle just for parents with disabled and special needs children. This is a battle for every parent.
We absolutelymust flood the US Senate with phone calls. Senator Durbin mentioned that they were hearing from homeschoolers (and he was annoyed at us for voicing our opinion of his side's planned assault on parental rights). But, we need to do even more.
This is the most important issue that we will face this year. By July 26—up or down—we will either take another step toward becoming the subjects of a world government OR we will preserve our rights as American citizens.
I urge you all in the strongest possible terms—CALL BOTH OF YOUR U.S. Senators today. If you have called them in their Washington, DC, office—call them again in their in-state offices which you can find on the web.
These are the contact links for our Florida Senators:
Get everyone you know to call their Senators as well. Network. Facebook. Phone lists. Every place you can network—please do it. And pray like mad.
Taking away our parental rights won't build wheelchair ramps for disabled Americans who travel to other countries. The promise being made that this treaty will result in new accessibility options in foreign countries is an illusion. The demise of our parental rights is a certainty.
Call. Call. Pray. And Call.
Sincerely,
Michael Farris
President
Parental RIghts