Wellington Chapter: Affordable Care Act-Fact v. Fiction
---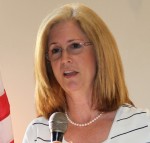 Marion Frank
Join us for a riveting discussion led by our own member Marion Frank,  the National Alliance Coordinator for a non-political grass roots organization of doctors who are seeking to preserve the doctor-patient relationship in health care,  Docs4PatientCare.org. 
Marion has a wealth of knowledge honed by her own research on how we will be paying for this act.  The purpose of her presentation is to arm us with the facts as they relate to the future of health care come June when the U.S. Supreme Courts ruling will be revealed.  Knowledge is Power and WE MEAN TO BE A POWERFUL FORCE IN THE FUTURE OF OUR COUNTRY!  Be there.
DATE
Monday, May 14th, 2012
TIME
Doors open 5:30pm. Buffet at 6pm. Meeting starts at 7pm, $15 per person (tax and gratuity included)
PLACE
Binks Forest Country Club
CLICK HERE for directions.
RSVP
Call 561-302-1479 or click on the "RSVP" button below.