Jupiter/PBG Chapter Meeting Welcomes Author and Former Prosecutor KrisAnne Hall
---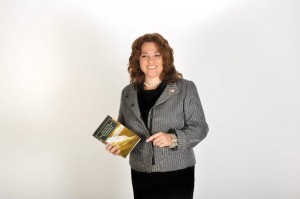 Constitutional expert, KrisAnne Hall, will address the Jupiter/Palm Beach Gardens Chapter on May 7th. KrisAnne is an attorney and former prosecutor.  Fired after teaching the Constitution to Tea Party groups, she would not sacrifice liberty for a paycheck. She is a disabled veteran of the US Army, a Russian linguist, a mother, a pastor's wife and a patriot. She now travels the country and teaches the Constitution and the history that gave us our founding documents.
The title of KrisAnne's talk is "Roots of Liberty", speaking to the roots and genealogy of the Constitution.
KrisAnne does not just teach the Constitution, she lays the foundations that show how reliable and relevant our founding documents are today. She will connect the dots for you like no one else can! Bring your family and friends for the most compelling and easily understood summary of our Constitution and what is happening in our country today.
KrisAnne is the author of Not a Living Breathing Document: Reclaiming Our Constitution, and the DVD series The Roots of Liberty: The Historic Foundations of The Bill of Rights and Bedtime Stories for Budding Patriots and Essential Stories for Junior Patriots. Two books that inspired KrisAnne's love for our history were Founding Brothers by Joseph Ellis and 1776 by David McCollough.
Awarded the Freedom Fighter award by Americans for Prosperity, the Certificate of Achievement from the Sons of the Revolution for her defense of Liberty, and Congressman James Blair Award for Defending the Constitution.
KrisAnne is an incredibly passionate speaker – a true Patrick Henry of our time. She speaks to audiences all across the country on Constitutional History, American Exceptionalism, and the Fight for Liberty. Her passion and enthusiasm is contagious and she is able to inspire any group. A steadfast warrior in the Tea Party battle.
| | |
| --- | --- |
| DATE: | Monday, May 7th 2012 |
| TIME: | Doors open 5:30pm. Buffet at 6pm. Meeting starts at 7pm, $15 per person (tax and gratuity included) |
| PLACE: | Abacoa Golf Club, 105 Barbados Dr, Jupiter, FL 33458. Click here for Map |