March Boca Chapter features Marielena Stuart
---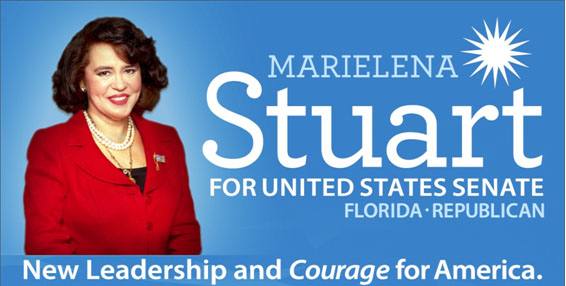 DATE
Tuesday, March 6th, 2012
TIME
Doors open 5:30pm. Buffet at 6pm. Meeting starts at 7pm, $15 per person (tax and gratuity included)
PLACE
Boca Greens Country Club
19642 Trophy Drive, Boca Raton, FL 33498
Click HERE for Map
RSVP
Call 561-302-1479 or click on the "RSVP" button below.
We look forward to seeing you there!!!
Bio for Marielena Stuart
---
Marielena Stuart is a conservative Republican candidate for the United States Senate 2012 (FL).
Marielena was born and raised in Cuba, where she and her family suffered greatly for opposing Castro's murderous Communist regime. Her father and uncles knew full well that Castro was a Marxist well before he took over Cuba, and they began to fight against Castro and his rebels as soon as they launched their terrorist activities in the 1950's. Her father and uncles were imprisoned by Castro's forces shortly after Castro took over on January 1, 1959. Her uncle became one of the longest-held political prisoners in the Western Hemisphere. Other members of her family were executed and killed fighting Castro's Communist forces.
From 2010-2011 Marielena Stuart was immensely influential in helping defeat the establishment of an anti-life genetic facility in Southwest Florida– a project seeking millions of taxpayer dollars– which was backed by powerful land developers and government bureaucrats. Marielena Stuart's courageous fight helped save Florida tax payers hundreds of millions of dollars. Her success in this grass-roots battle reflects Marielena's determination to give Florida citizens the right to be heard in the public square – citizens who have long been silenced by Socialist backroom deals and bail-outs.
Marielena has been fighting against Sustainable Development in Southwest Florida since 2008. Her experience living under Communism has equipped her with the necessary knowledge and determination to fight against the United Nation's Agenda 21 Sustainable Development– which has infiltrated our schools, local, county and state governments.
Marielena Stuart is a patriotic American who knows full well that Socialism is destroying our nation. She also knows that Sharia law has infiltrated America and our commerce– through powerful Islamic political influence.
Marielena is a popular and outspoken conservative columnist, covering military and foreign affairs– as well as other issues affecting our nation. Many of her articles can be read at RenewAmerica.com. Marielena speaks French and Spanish, and is an experienced international conference and legal interpreter. She has a world view of America– as the greatest nation on Earth.