Tea Party Express Bus Tour in West Palm Beach w Newt Gingrich
---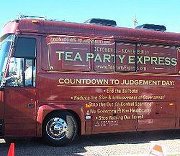 As you may or may not know, our Palm Beach County Tea Party is a non-profit organization affiliated with the national organization, Tea Party Patriots. The Tea Party Patriots is a 501C4 and does not endorse candidates.
There is another national tea party organization called the Tea Party Express. They are a PAC and do endorse candidates. Because we all have the same objectives to promote fiscal responsibility, limited government, and free markets, it is important that all of the tea party organizations support each other in the coming months.
There will be a Tea Party Express Rally this evening, January 28 at 7:30pm as the Tea Party Express Bus pulls through on the Florida "Rallying for Victory" tour. Join other South Florida activists for this event at Howard Park, 1302 Parker Avenue, West Palm Beach.CLICK HERE for more information.