Candidate Training Classes
---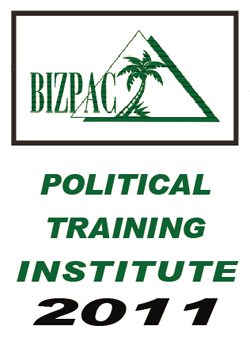 Are you thinking about being a candidate for public office? Not sure how to get started?
The BizPac Political Training Institute will be holding classes over the next four weeks that will answer all your questions.
For more information:
---
The BIZPAC Political Training Institute (PTI) is designed to give participants a firsthand look at the political process and the technical details of operating a political campaign. From demographic profiles to press relations and fund raising, PTI looks at every aspect and idiosyncrasy of the political campaign process and gives participants the knowledge and the resources they need to enter the political arena. Good for potential candidates, campaign workers or volunteers, PTI covers the do's and don'ts of successful political campaigning.
PTI includes four Tuesday night sessions beginning October 11th. Each session is held from 6pm-9pm and includes dinner. The schedule is as follows:
Session 1 – Becoming a Candidate and Creating a Campaign, October 11
Session 2 – Funding Your Campaign (Smile & Dial), October 18
Session 3 – Candidate Presentation and Image, October 25
Session 4 – Communicating The Campaign Message to Win, November 1
Each night will feature a panel of instructors including political consultants, elected officials, former candidates, representatives from the media and other professionals who work with candidates.
The cost to attend all four session is $95.