Boca Chapter Dinner/Speaker Night, Tuesday, November 1st, 2011
---
Join us for the Tuesday, November 1st meeting of the Palm Beach County Tea Party's Boca Raton Chapter, with keynote speaker, United States Senate candidate George LeMieux.
Throughout his career, George LeMieux has demonstrated a consistent commitment to public service. He served as Florida's Deputy Attorney General, Chief of Staff to Florida's Governor, and most recen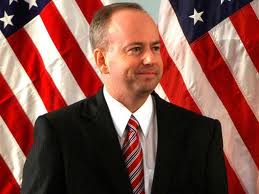 tly as United States Senator for the people of Florida.
As Deputy Attorney General, LeMieux led an agency of more than 400 attorneys. He argued a death penalty case before the United States Supreme Court and won the case with a unanimous decision. LeMieux oversaw the office of governor for the administration's first year as Chief of Staff and helped oversee and manage Florida's state agencies.
In 2008, George returned to the private sector to lead Gunster, a prominent Florida law firm. In the summer of 2009, George was called back into public service when U.S. Senator Mel Martinez retired before the end of his term.
While serving as Florida's 34th United States Senator, George was an active member of the Senate Armed Services Committee, the Commerce Committee, and the Special Committee on Aging. Senator LeMieux saw several of his legislative priorities signed into law including Medicare anti-fraud legislation and an export promotion act.
While in Congress, Senator LeMieux was given the "Tax Fighter" award by the National Tax Limitation Committee, the "Taxpayer Hero" award by Citizens Against Government Waste, the "Friend of the Family" award by the Christian Family Coalition, and the "Guardian of Small Business" award by the National Federation of Independent Business.
During his time in the Senate, George made the debt and deficit his primary focus because of our nation's unsustainable fiscal path. George introduced a balanced budget amendment to the Constitution and a proposal called the 2007 Solution, which would have reduced government spending to 2007 levels. Furthermore, he opposed wasteful earmark spending, which earned him a 93% rating from the National Taxpayers Union.
A lifelong Republican, George has been involved in grassroots efforts from a very young age. He was president of the Broward County Young Republicans, ran for the Florida State House as a Republican, and in 2000, was elected to lead the Broward County Republican Party. Demonstrating his firm commitment to Republican ideals, when Governor Crist left the Republican Party, George stated, "Our friendship runs deep, but my commitment to the principles of the Republican Party runs deeper. I cannot walk down the path he has chosen." LeMieux endorsed then-GOP Senate candidate Marco Rubio and helped Rubio gather support for the race.
At the conclusion of his Senate term in 2011, George returned to the Gunster law firm where he currently serves as Chairman of the Board. He lives in Broward County with his wife Meike and their four children Max, Taylor, Chase and baby girl Madeleine.
Q&A will follow his speech.
DATE: Tuesday, November 1st, 2011
TIME: Doors open at 5:30 PM, Buffet at 6:00 PM ($15, Cash Bar); Meeting at 7:00 PM
PLACE: Boca Greens Country Club, 19642 Trophy Drive, Boca Raton, FL  33498-4633
RSVP: Boca Greens Country Club is a gated community.  Click below to RSVP with name of each attendee:

For More Information
Email
Call: 561-302-1479
Palm Beach County Tea Party