Greece's profligate spending on social programs has taken it to the point where its Debt/GDP (Gross Domestic Product) ratio exceeds 150%.
The Greek deficit is growing out of control and its increasing inability to repay its debt threatens the fiscal stability of the Eurozone to which it belongs.
On October 26, 2011 the European council announced a plan to solve the Greek debt crisis:
The plan involves the European Union (EU) and the International Monetary Fund (IMF) contributing 100 Billion euros (€).
A euro equals 1.421US dollars so the IMF could end up paying as much as $142.1 billion,
The United States pays 17.7 percent of the IMF budget so the U.S. could end up contributing as much as $25.2 billion.
The Congressional budget office estimates the 2011 U.S. revenues will be $2,228 billion. Thus the U.S. portion of the IMF contribution for the short-term fix for the Greek debt could be 1.1 percent of U.S. revenues.
So as much as $11 of every $1,000 you and I paid in taxes this year will go to bail out Greece. For many of us that is more than the cost of a ticket to Greece.
We will not be going buy our money will.
If Greece and the other European countries want to give out goodies and live irresponsibly above their means, more power to them. But why do I have to pay for their excesses? Why don't they take responsibility for their actions?
Our country is also going bankrupt. We cannot afford Obamacare and regulations and other goodies of Obama's socialism ("Obamalism"). The fed is printing money, we are suffering inflation from Obamalism and we can ill afford to bail out Europe.
I have not seen anyone in Europe offering to pay for our Obamalism.
Our legislators need to kill the system that allows Europe to increase our debt load.
In response to the Immigration debate and an opinion piece that I read in the Washington Post entitled From Ellis Island to an electrified fence, why America is so torn on immigration,  I personally have no gripes with immigrants coming to our country legally. After all, that is how our great country was built.
Every one of us has a family member that originally came to this country from some foreign country. My major concern is when we allow people to come through our borders and have no check on them to see if they're criminals or terrorists. They also take the jobs, get benefits and strain our economy.
We need a strong President who will close our borders, and enforce the laws already on the books.  We don't need to have more regulations, we just need someone who knows how to lead and enforce the regulations we already have.
Let's all work together and look forward to 2012 when we can really make a difference at the voting booth!!!!
(editor:  Join the conversation and also attend the panel this Thursday, October 27 sponsored by the Republican Club of the Palm Beaches, entitled Illegal Immigration in Florida: Conservative Solutions to a Growing Problem)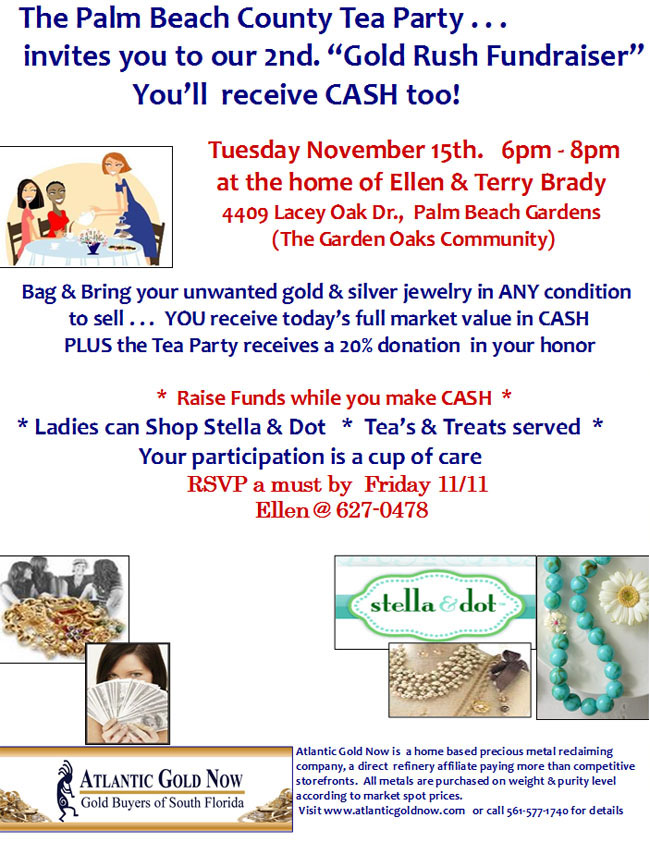 Click on the button below to RSVP or call Ellen at 627-0478 for details.

New to Florida?  Don't vote at every election (municipal, primary, general)?  Why not?!
Many of us are all fired up and ready to vote in the upcoming Presidential Preference Primary on January 31.  But not all folks know that Florida is a 'closed primary' state – which means that one can only vote in the primary for the candidate(s) in the party in which one is registered.  If you are NPA (no party affiliation) or registered in a party other than Republican or Democrat (should President Obama have an opponent qualified in the primary) – you will not be able to vote for the Republican or Democrat  Party candidates.
So take a look at your voter registration card and make sure that you're registered in the party in whose primary you plan to vote.  No?  Then you have until January 3, 2011 to change your registration (or to register to vote if you're not already).
Information on how to register or modify your registration can be found at the Supervisor of Elections Voter Registration website page.  Upcoming elections and the voter registration cut-off dates for each can be found at Upcoming Elections.  And get familiar with the Palm Beach County Supervisor of Elections website, because it has lots of invaluable information on precinct makeup, registrations by party, election results and answers to questions you may have on everything voter related in the county.  Check it out!
Join us the Doubletree Inn for the November Jupiter/PBG Chapter meeting featuring US Senate candidate George LeMieux.

Date: November 7, 2011
Time: Meet and Greet, 5:30, Buffet 6:00pm, Meeting 7:00pm
Location: Doubletree Inn, Palm Beach Gardens
Please click on the link below to RSVP.

From Border to Boarder
by Paula Maxwell
I love you from border to border
And from sea to shining blue sea
When you're wearing your star spangled banner
You're a sight for the eyes to perceive
I love all your snow covered mountains
And the eagles who nest in your trees
I love all your valleys and Rivers
That peacefully flow to the sea
I'll defend you whenever you need me
And I pray to God it won't be
And I'm ready whenever you call me
My sweet land of the brave and the free
And one day when my life is over
And my soul in eternity sleeps
Cover me with the star spangled banner
In the warmth of the brave  and the free
about the author:
Paula Maxwell Bio
o  Born in Matanzas, Cuba
o  Came to the United States in 1948 with her husband (U.S. Marine)
o  Mastered the English language
o  Mother of 5 children, grandmother of 5
o  College graduate
o  Montessori Instructor
o  Singer, Guitarist, Poet
Join us for a night of patriotism and enlightenment at the November Wellington Chapter meeting. 
Our guest speaker will be the president of  U.S. Term Limits, Philip Blumel.  Mr. Blumel managed the campaign to enact term limits for the Palm Beach County Commission.  Voters approved the law with 70% of the vote and it went into effect in 2010.  He is now involved in a national campaign to enact term limits.  Come to the meeting and get involved. 

Date: November 14, 2011
Time: Meet and Greet, 5:30, Buffet 6:00pm, Meeting 7:00pm
Location: Binks Forest Country Club, 400 Binks Forest Drive, Wellington

Doors open at 5:30 pm, dinner buffet for $15 (all inclusive) from 6:00 to 7:00.
Click on the button below to RSVP or call Wellington Co-ordinator Gina Rascati at 561-952-5298 for details.