Heritage Congressional Scorecard
---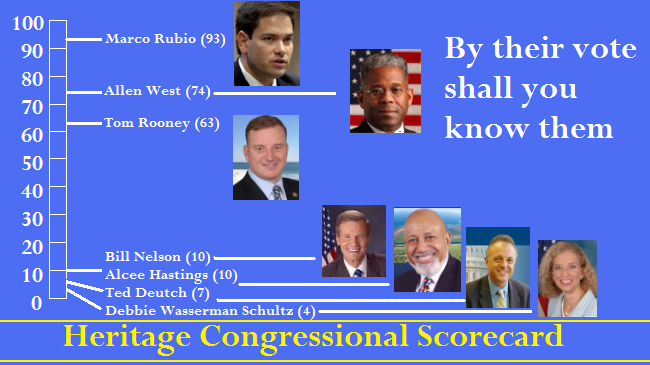 Heritage Action for America, a sister organization to The Heritage Foundation, produces a congressional scorecard for all Senators and Representatives, based on the bills they sponsor as well as how they voted on those bills of particular interest to conservatives.
In the most recent scorecard, there were 19 Senate bills and 30 House bills tracked. Of our local delegation of 5 Congressmen and our US Senators, Marco Rubio garnered the highest score of 93 (of 100), followed by Allen West with 74 and Tom Rooney with 63. The Democrats were far behind with Bill Nelson and Alcee Hastings tied at 10, Ted Deutch at 7, and Debbie Wasserman Schultz bringing up the rear with a score of 4 out of 100.
All the scores for Florida can be found at Heritage Action for America. Click on the names of the Congressman to see how they voted on the relevant bills.
Marco Rubio's votes aligned with Heritage on 18 of the 19 bills. The one where he differed was "S2-1011, Undermine Ability of Senators to Block Unanimous Consent: Change the rules of the Senate to undermine the ability of Senators to prevent legislation from passing by unanimous consent (i.e., eliminates so-called "secret holds")." He voted yes.
Allen West aligned on 23 of the 30 House bills, differing on H103, H143, H384, H555, H633, H677, and H690. The last two were involved with the debt limit increase deal which the Congressman supported but Heritage did not.
Tom Rooney aligned on 20 of the 30, differing on H103, H143, H179, H275, H384, H424, H455, H491, H677 and H690.
Click on the bill numbers for the Heritage explanation of the votes.