Pam Wohlschlegel Speaks at Local Republican Club
---
Palm Beach Tea Party founder Pam Wohlschlegel got an early start on our outreach campaign to other groups of activists in the county by speaking at the June meeting of the Republican Club of the Palm Beaches at Bear Lakes Country Club. Many members of that club have been political activists for long before there was a tea party movement, and have supported tea party and 912 groups from the beginning.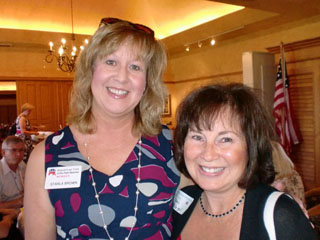 Pam at RCPB, shown here with Starla Brown.
In her remarks, Pam explained that the new group was formed to build a coalition of activists from related organizations dedicated to fiscal responsibility, constitutionaly limited government and free markets. She pointed out that she has been a Republican since her school days, but decided to work through a non-partisan group because of their success in attracting disaffected Democrats and Independents to the conservative cause. Hopefully, in the future we will all be working together to elect conservative candidates in 2012.
Keynote speaker at the meeting was former Ambassador Al Cardenas of the American Conservative Union. For more about the event, see "Al Cardenas Highlights June Lunch Meeting".
Pam and other PBCTP leaders will be doing more of these outreach meetings in the weeks and months ahead. Let us know if you would like a speaker for your group.